Martin Yan has been touring the U.S. for quite a while!
Here's a few pictures from the tour!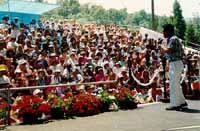 Here we see Martin entertaining hundreds of guests with his new standup comedy routine. Rumor has it that he has decided to start his own band called "Martin and the Woksters" and his fans were thrilled about this. Yan is the Man! Check out all of the flowers that were given to him too! He'll be using those in his next show "Wok with Flowers" in which he shows you how to prepare flowers into the finest meal you've ever been fortunate enough to drool over. Martin can do anything. He can Wok and he can Rock!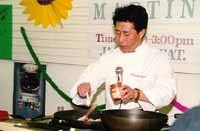 Martin is giving a cooking demo in Bloomingdale's in this picture! See, he doesn't expect you to come to him! He comes to you! If you are out shopping somewhere wanting a bite to eat, chances are he'll be in that store cooking up a storm just for YOU! Fair Warning: Should you try to dishonor him by saying you don't like the food, YOU WILL BECOME THE FOOD. I guarantee this. I saw a guy with HUGE muscles walk up to Martin and mock his food. The next thing I knew that big guy was on the floor with a meat-clever embedded in his forehead! Martin didn't even say anything, he just went right back to his cooking demo. It was beautiful!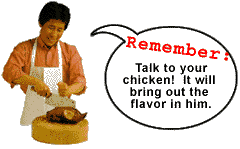 This is when he first showed signs of going crazy. He started talking to his food!



Click To See More Insanity Here On I-Mockery.com!