...CONTINUED

Outside of his fantasy video game world, things aren't going too well for J.J. When he gets home, dad shoves a bad report card in his face and decides to cut J.J. off completely from trips to the arcade. "YOU DON'T UNDERSTAND ME AT ALL! GO TO HELL! I HATE THE BOTH OF YOU!" he cries to his parents. Well I do J.J., I understand you. I understand your desire to be a winner in life by being a winner in video games. I also understand that you have a...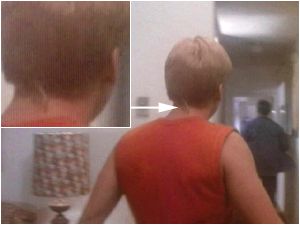 RAT TAIL!
Fuck all of you people obsessed with the mullet hairstyle, in my book it doesn't get any better than the Rat Tail! And look at J.J., he's sporting quite a nice lil' rat tail indeed! Bring back the rat tail people. Bring it back and you too can be truly punk like J.J. DO IT.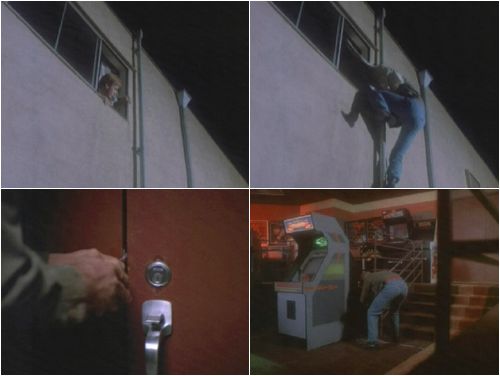 But like any rebel without a clue (but with a rat tail) J.J. sneaks out of his room later that night while his parents are asleep and heads for the Fox Hills mall. Now I don't know about malls in other states, but where I live, we have a thing called mall security. I'm not claiming they're an elite squad of highly trained killers, but chances are that they'd catch me in the act if I tried breaking into the place. Or at the very least, I'd set off some kind of security alarm. But the only thing you need to gain full access to the Fox Hills mall is apparently a screwdriver. No alarms, no guards, nothing. Somebody please tell me where this mall is, it'll save me a hell of a lot of cash when it comes time for xmas shopping this year.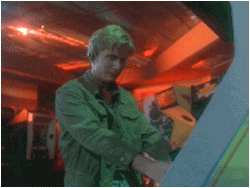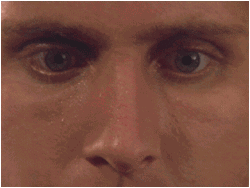 Anyway, J.J. heads straight for the arcade and turns on the Bishop of Battle game. No crowds, no time limits — just J.J and the Bishop of Battle... and the rat tail. He's extremely confident tonight, and not even the worst button configuration is going to stand in his way.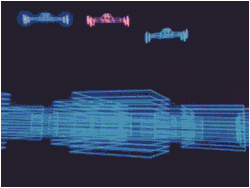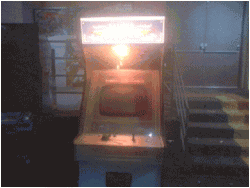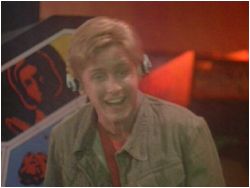 Fueled by the power of punk, J.J. overcomes the odds and he makes it to level 13! Way to go J.J.! Now you're part of the gaming elite along with that "kid from Jersey" that you kept blabbering about.
But not so fast, it looks as though the Bishop of Battle is a sore loser, because right after he beats level 12, the machine starts violently shaking and then falls apart with an impressive display of fireworks. And yes, they actually used silly little fireworks. I think they should've had a couple of crappy sparklers or cobras just to add to the cheesiness of the machine's collapse.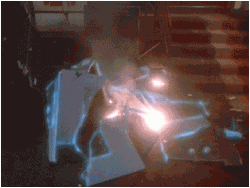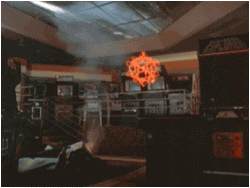 You are very, very good Earthling. You have just reached level 13.
Welcome! Let's begin..."
He's down, but he's not out. The Bishop still lives! And now he's brought the game into the real world! Bet you didn't see that one coming eh? Yeah I know, it's a really deep plot. So basically, this movie has gone from "Struggle of Punk Rock Rat Tail Boy" to "Pseudo-TRON" in a matter of minutes. Sure why not? Works for me.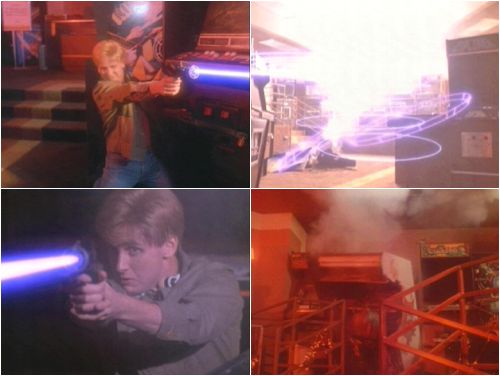 Now the minions of the Bishop are after J.J., but he manages to grab the crappy gun controller and EGADS! IT SHOOTS REAL LASERS! So now J.J. has discovered what the elusive level 13 is... it's a fight for his life. Well, I have to say, J.J. does a decent job gunning down some of the Bishop's minions... along with practically every awesome game in that arcade. It's really heartbreaking seeing some of those machines explode.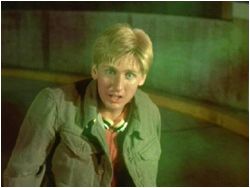 Well, J.J. makes a run for it into the mall parking garage, and for some reason he left the gun behind. I mean, sure, it's a piece of shit like I said before... but the thing was saving his life there just a few minutes ago. And now the Bishop of Battle appears before him annnnnnd........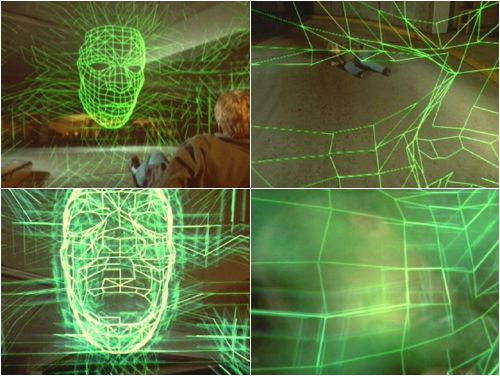 "YOUR HEAD A SPLODE!"
Yes, that's right folks... the Bishop of Battle ATE J.J. Cooney.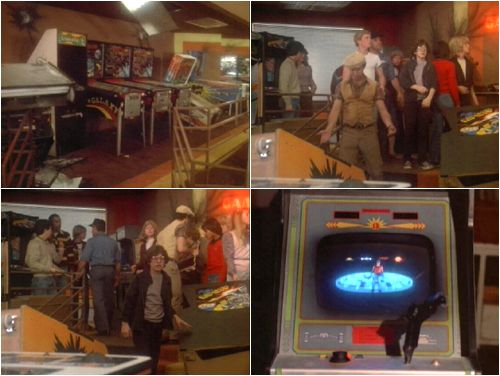 The next day, J.J.'s parents and his friend are worried about him since he vanished the other night. Being the sleuths that they are, they decide to check out the local arcade to see if he's there. Everyone is stunned to find that almost all of the games of been destroyed... all but one. Amazingly, the Bishop of Battle machine rebuilt itself and is working fine. But wait, there's something new about the game. J.J. is trapped in it!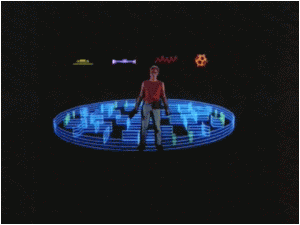 In the end, I think the reason his fate is so horrifying isn't because he's trapped in a video game forever. Hell, I think that could be a pretty cool way to go. But no, the tragedy about J.J.'s fate is that he's trapped in a sucky video game. That would be like being trapped in Gilligan's Island for the NES, and nobody deserves punishment like that. Nobody.
the end.
---
help support I-Mockery by supporting our sponsors:

---
BUY THE "NIGHTMARES" DVD AND WATCH "THE BISHOP OF BATTLE"!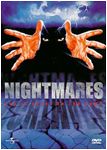 ---
Running a big site like I-Mockery takes a lot o' time and costs moola too.
Want to help show your support?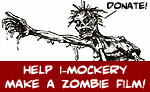 DONATE TO OUR ZOMBIE MOVIE!
Come talk about this piece & more on our Message Forums!