by: -RoG-
The greatest commercial ever. That's right... EVER. I'm sure you can think of quite a few commercials from the past that were really good. But, if you had to pick just one, what would it be? Could it be Wendy's classic "Where's The Beef?" campaign? Could it be Outpost.com's Gerbil Cannon ad (which I'm sure half of you have never seen anyway)? Could it be Wilford Brimley talking about his eerie passion for Quaker Oats? Well, all those commercials are fine and dandy, but there's one commercial out there that DESTROYS all other good commercials combined...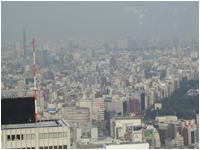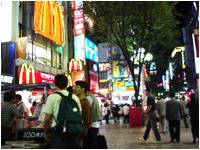 Ahh Japan... such a busy place. A place of technological wonder. A place that brought us that insanely angry looking brown monster known as "Domo-Kun". A place where bands like "Firehouse" can amazingly still make a living. One thing that's really popular in Japan is Western celebrities. So, what better way for a celebrity to make a quick buck than to charge absurd prices to do a Japanese commercial right? Well the folks at japander have archived tons of Japanese commercials that feature Western celebrities, but honestly... most of the commercials are weak. If you're lucky, the celebrity will speak once during the entire commercial, and walk away with some sickening amount of cash for doing so. You can even tell that with most of the bits, the celebrity isn't even into it. They just want to finish the commercial, get their paycheck, and get the hell outta there. But there is one celebrity who doesn't stoop that low. One celebrity who truly EARNED every cent that he was paid. In fact, I'm guessing that he was UNDERPAID for such an astounding performance. He put so much effort into this one performance that it deserves your complete and undivided attention. And just what brilliant actor am I speaking of? Why it's none other than...

ARNOLD SCHWARZENEGGER!
That's right folks, Ahhhnold himself holds the proud title of "GREATEST COMMERCIAL EVER". But, since so many of you are naysayers by nature (as you should be), allow me to take you on a tour of this insane, yet brilliant commercial.

Note: Before I start picking apart this commercial for you, please understand that I have absolutely NO understanding of the Japanese language. If I were to visit Japan, I would probably be found naked, trembling, and penniless in a gutter within 5 minutes of stepping off the plane.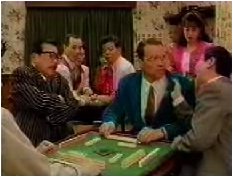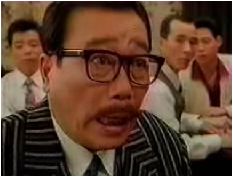 Ok, so from the start it appears that Arnold is is playing Mahjong with his Japanese buddies. Arnold is also looking particularly nerdy today for a giant musclehead. But, when he unveils what word he has come up with, the guy sitting next to him basically freaks out. I guess it wasn't a real Japanese word that he came up with. I dunno... he could've insulted somebody's family for all I know. Again, I don't speak Japanese. Now I can't be sure, but I think the guy sitting next to him called Arnold an "ignorant flabby bastard". I only say this because Arnold runs away from the table in shame really fast.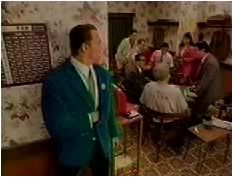 Having shamed himself, Arnold goes and hides behind a wall while the guys at his table argue about the improperly formed word. How on earth can Arnold possibly redeem himself at this point? Sorry Arnold, saying A funny line like "It's notta tuu-mah!" isn't gonna get you out of this hairy situation. You're gonna have to do something WAY better than that if you want to save your honor! So what does he do?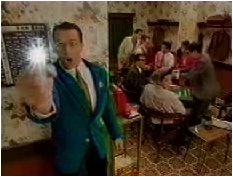 "YOSH!"
He reaches into his pocket and shoves a drink right into the camera (sparkle effects 'n all) and shouts out a mighty "YOSH!". This is the point in the commercial in which all hope of logic and reason flies right out the window.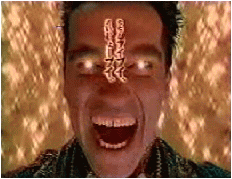 I swear, seeing this pic alone could keep some kids in therapy for years.
You know that rush that you used to get whenever Prince Adam raised his sword in the air and yelled, "I HAVE THE POWER!", which transformed him into He-Man? What happens here is 10 times more emotionally staggering. Arnold is literally transformed into the worlds greatest entertainer within seconds! The drink drags down over his nerdy face, tearing apart his flesh, and then unveiling the new and improved Arnold! He now has glowing eyes and a jacket so schnazzy that it would make Rod Roddy cower in fear. I swear to fucking god folks, this part had me crying. CRYING! And it doesn't stop there.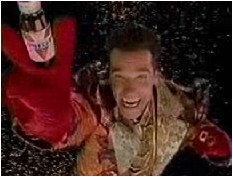 All of a sudden the screen flashes and you have Arnold flying through the air, directly at you with the drink in his hand. He even shouts something that, again, I have no idea what it means. It sounds like "moooweee bwaaaaain!"... which might be Japanese for, "My brain!", suggesting that his brain is on sensory overload. And now comes the pinnacle of insanity...
Arnold lands back at the table where he was once sitting and one of his pals is getting buried alive in noodles, or paper shreds, or god knows what. And they're all loving it! But the way Arnold laughs, holy god damn... it never ends! He just keeps laughing and laughing and laughing as he proudly displays the chaos he has created. "AH HA HA HA HA HAAAAAAA! AH HA HA HA HA HA HA HAAAAAAAA!" I can still hear it ringing in my head, accompanied by some sickeningly cute music that would fit in perfectly with a Hello Kitty commercial just as easily.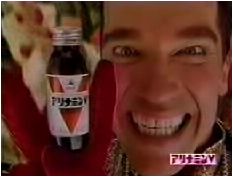 "BWAIN!"
Then cut to the final scene in which we see a close-up of superstar Arnold holding the drink that I *think* they're trying to advertise. He says "Bwain!" once more, so I guess that's the name of the drink, or he's just saying that his brains have been liquefied and stored in this convenient container. Either way, after seeing this commercial, I now must have a taste of this "Bwain" drink, because I'm convinced it will make me a flying, psychotic, manically-laughing superstar within seconds of chugging it down.
So there you have it.
Don't even try to argue with me on this one, this isn't an opinion.
This is a simple fact. It is truly the greatest commercial EVER!
[Click here to view the full .mov file of the commercial!]
(you'll need QuickTime or something comparable to view it)
There's also a sequel to this commercial in which Arnold saves his gal from rapists. Though the commercial isn't as good as the original, it still rules. The drink transforms Arnold once again, and he is actually able to levitate the bad guys in midair! :0
[Click here to view the full .mov file of the commercial!]
ENJOY!
-RoG-
---
CLICK HERE TO SEE ARNOLD SCHWARZENEGGER MAKE HIS DREAMS OF A SEQUEL TO "JINGLE ALL THE WAY" BECOME A REALITY!
---
help support I-Mockery by supporting our sponsors:

---
Running a big site like I-Mockery takes a lot o' time and costs moola too.
Want to help show your support?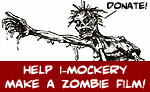 DONATE TO OUR ZOMBIE MOVIE!
Come talk about this piece & more on our Message Forums!