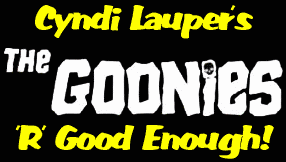 by: -RoG-
...CONTINUED FROM PAGE 1


Sure! Why kill them when you can take them hostage
so that they all have the chance to escape, right?
In part 2 of Cyndi's video we are quickly informed that she and the rest of the Goonies were taken to the pirate ship. They don't exactly explain how Cyndi was captured or anything, but I'm guessing one of them lured her off the log with a big can of hairspray.
That old sea-hag apparently has an appetite for Japanese cuisine, and since there's no "Last Chance Hibachi" on the ship, she tells Cyndi to go fetch some sushi. So Cyndi ends up having to battle a giant octopus and cut off one of its tentacles just in order to feed her captors. And yes, this IS the infamous "deleted scene octopus" that we've all heard so many (horrible) things about. As you may recall, at the end of The Goonies, they talk about how they had to battle an octopus. I always wondered what the hell they were talking about. Well the octopus was a horribly unrealistic looking puppet, and if you buy the dvd, you'll understand exactly why the scene was deleted. It really is that bad. I should also note that the octopus looks EXACTLY like the one from Popeye the movie.
While Cyndi battled the giant octopus I noticed that there were now some additional pirates on the ship that magically appeared from nowhere. Female pirates. Wait a second, those are just any female pirates...


HOLY SHIT, IT'S THE BANGLES!
Well I'll be damned, first they were walking like Egyptians and now they're pirates. These gals sure are multi-cultural. But what have they got against Cyndi Lauper, huh? You'd think they'd be on her side as opposed to helping out Rowdy Roddy Piper. It must have been his boyish good lucks that swooned them...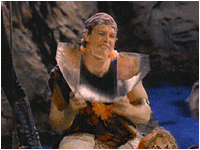 Hmm, perhaps not.

Soon enough, Cyndi and the Goonies break free and take the sea-hag hostage. Chunk somehow gains superhuman strength as he literally tears off his iron shackles. Hey, don't look at me, I didn't write the script for this damned thing. Anyway, Cyndi and the gang soon find "the treasure", which is filled with all sorts of fake jewels that even the Home Shopping Network would be wary of selling. Nonetheless, they toss some of the jewels to the pirates to distract them and...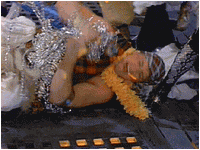 Well, it worked.
Pirate Rowdy Roddy Piper literally dives for the jewels and begins twitching on the ground. I'm not sure if it's his greed for the jewels that caused this or if it's just one of his attention stunts. He always was a hyper-obnoxious fella, so nobody seems to be surprised or in a rush to see what's wrong with him.


My heroes! *SMOOOOOOOCH*
While the pirates are all distracted with Roddy's antics, the Goonies all give the remaining jewels to Cyndi Lauper so that she can pay off the creditors and save Mom & Pop's gas station. What noble youngsters those Goonies are. You kids could learn a thing or two from them... you selfish maggots.

Cyndi returns from the hidden cave, happy as can be, for she finally has the moola to save Mom & Pop's gas shop. Unfortunately, the creditors feel like being bastards and tell Cyndi that her money is no good. I wouldn't accept fake jewelry either, but still, they're obviously just being assholes. Time after time, Cyndi and her family have been shat upon... I guess there's only one thing to do, right?


YOOOOOOO HOOOOOOO!
Completely frustrated, Cyndi turns around and whistles as loud as she can. A huge pink cloud flashes onto the screen. The cloud soon dissipates only to reveal...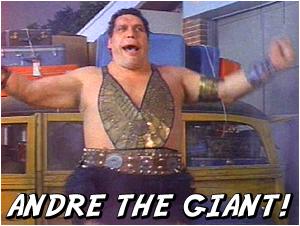 Really folks, can a video get much better than this? I don't fucking think so. Yes indeedy, Andre the Giant appears out of thin air to aid Cyndi Lauper in her time of need. Apparently, he's her magical genie. My only question is: WHY THE HELL DIDN'T SHE CALL HIM IN THE FIRST PLACE!? Sadly, this question will never be answered. But that doesn't mean we can't enjoy watching Andre smashing everybody in his path!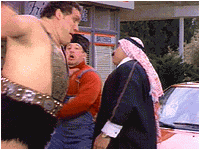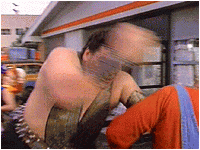 ANDRE SMAAAAAAAAAAAAAAAAAAAASH!

After making short work of the Iron Sheik and Nikolai Volkov, Andre the Giant sets his sights on Rowdy Roddy Piper. Sorry Roddy, all the hyperactive shouting in the world can't get you out of this one. Andre comes damn near close to raping the piper, but comes up with his jacket instead.

Piper makes a run for it, tries to pull a Grand Theft Auto... and fails miserably. So he and the rest of the battered creditors run off into the distance, never to be heard from again... or at least until the next Wrestlemania. Anyway, in the end Mom & Pop's Gas Shop has been saved thanks to Andre the Giant. So what have we learned here kids? If you're ever in trouble and you've nowhere else to turn, just let out a whistle and Andre the Giant will appear before your very eyes in a genie outfit to help you in your time of need. Either that, or he'll just eat all your food.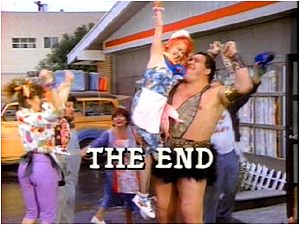 ---
BONUS #1: CLICK BELOW TO WATCH
THE ENTIRE TWO-PART MUSIC VIDEO!
---
BONUS #2: "GOONIES 2" NES GAME DOWNLOAD: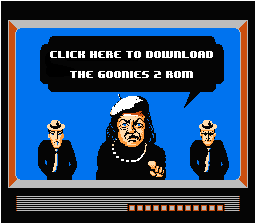 Click here to download
"The Goonies 2" NES game.
(An emulator is required to play the game. I recommend Nester.)
---
Want to see The Goonies and Cyndi's music video?
It's all on the DVD along with deleted scenes and more!
Buy it on Amazon!
---
help support I-Mockery by supporting our sponsors:

---
Running a big site like I-Mockery takes a lot o' time and costs moola too.
Want to help show your support?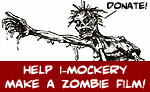 DONATE TO OUR ZOMBIE MOVIE!
Come talk about this piece & more on our Message Forums!