---
This is the best course of action. It's not good to rock the boat. Boat rockers get noticed, and very often not in a good way. Soon the power will be back on, and this whole unpleasant business of an arcade game you know nothing about that seems to work without power will be over. There has to be a logical explanation, and you're willing to wait for it, or better yet, not ask about it and hope it never comes up.

And when the power does come back on and a week or so later you return to the basement to do laundry, the game is gone. And that's good. Best just to forget about it. You did the right thing to ignore it. Unexplained things are best ignored until they go away.

And you go on with your perfectly normal little life. Day in, day out, nothing out of the ordinary. And if every day the fact that when you had a chance to explore the unknown you did nothing eats away at you... well, that's the price of a normal life, isn't it? Just like the minor humiliations at work from kids half your age who are only working for you until something better comes along, the steadily dawning knowledge that if your wife ever did love you she no longer does, the laughter, or worse, the pity behind your back.

And one day you find the note you always knew you would. With the kids in college there just wasn't any reason for her to stay anymore, was there? Your wife. You try to remember what she looked like when you met her, and can't.

You hang on and hang on at the job, getting less and less able to master the rapidly changing pizza ordering software and then one day you get laid off. And you sort of look for work, but there's always unemployment, and then that's gone to.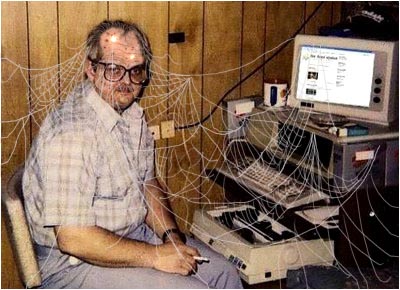 And you sit there like the lump you are wondering what the hell the point was, and when the pain in your left arm and jaw begin, you know the symptoms and you're kind of glad they shut your phone off, because otherwise you might not have the courage to keep from calling 911.
WOW. WHAT A POINTLESS LIFE. BUT THEN AGAIN, THAT WAS OBVIOUSLY THE WRONG CHOICE, WASN'T IT?
START OVER..
---
help support I-Mockery by supporting our sponsors: