---
"I'll open up the arcade cabinet to see what is powering it!" you exclaim aloud, "What an opportunity for scientific discovery!" And what an opportunity it is, Hort - You have standing before you the world's first powerless generator! Imagine the boon to society! Why, people could take their IBM-compatible computers outside, thereby completely eliminating the need for social interaction and saving everyone tons of time and money! You can barely contain the joy rippling through your dumpy frame and a powerful giggle and snorting session soon overtakes you.
Yes, Hort, do laugh on, for you are about to make one of the most important discoveries of your age! You gleefully bound around back of the cabinet and begin to loosen the screws one by one until NO, YOU FOOL! WHAT THE HELL ARE YOU DOING?!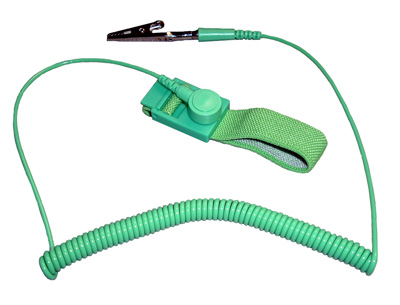 NOT WITHOUT YOUR TRUSTY ANTI-STATIC BRACELET!
Jesus Christ, that was a close one. Wiping the beads of anticipation from your brow, you turn to rummage through a nearby toolbox, eventually producing the ESD bracelet, or "Mindy" as you've grown to know her. Strapping Mindy around your wrist and carefully attaching the lead to a grounded screw on the side of the machine, you again set to work removing the screws and are allllmost finished when GOD DAMNIT HAVE YOU NO COMMON SENSE?!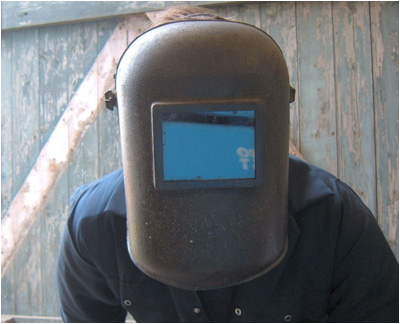 YOU'LL NEED TO WEAR THE PROPER PROTECTIVE EYEWEAR!
Did you suddenly forget your years of training in engineering school? Dr. Zavodney would be most displeased at the carelessness with which you've handled this task! Well, it just so happens that you have an assortment of welder's masks on hand in your basement, and a couple of Velcro straps later, you're back behind the machine, finally ready to...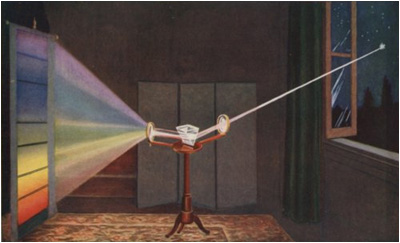 YOU'LL NEED THIS THING TOO.
You've really got to calm down and think this through, Hort. You're getting nervous and are starting to make some mistakes. What good is the most important scientific discovery since the microwave if you somehow damage the machine in the process of your examinations?
Well, now that you've got your bracelet, goggles, bizarre prism device, teddy bear, month's supply of cat food, and a battery-operated magic wand, you're finally ready to remove the back panel of the machine. Upon loosening the final screw, the panel unhinges and cracks you right on the head. In a dazed reaction, you stagger backward and reach out for a hand-hold, gripping the side of the machine and pulling it down on top of yourself in a thunderous crash. The screen in the cabinet cracks with the force of the impact and implodes, perforating your smashed body with inch-thick shards of tempered glass.
If only you had remembered the stabilizing brackets! Way to get ahead of yourself there, buddy!
ATTACH YOUR WRIST STRAP FOR PROPER
MOUSE SAFETY AND START OVER, BUTTERFINGERS!
---
help support I-Mockery by supporting our sponsors: