...CONTINUED
---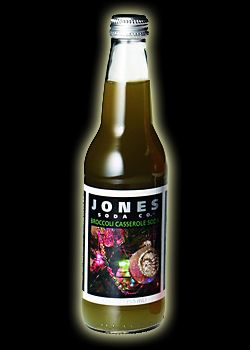 TASTE TEST #6 - BROCCOLI CASSEROLE!
SKEETER: "ATTENTION K-MART SHOPPERS! I'LL BE PERFECTLY BLUNT: AFTER DOING A TRIPLE INVERTED SUMMERSAULT IN MY MOUTH AND BREAKDANCING IN MY BELLY, THE BROCCOLI CASSEROLE WENT STRAIGHT FOR MY ASSERHOLE! MOVE OVER MILK OF MAGNESIA, THERE'S A NEW LAXATIVE SHERIFF IN TOWN, AND HE'S BRINGING OUT THE BIG GUNS!"

CONCLUSION: "DON'T FEAR THE REAPER! 67 ALBINO SASQUATCH CANNIBALS OUT OF 50!"
J-DAWG: "THIS BROCCOLI CASSEROLE HAD ME READY TO CASSER-ROLL OVER AND DIE AFTER THE GRAND PILE O' HURTIN' THAT IT HEAPED ALL OVER ME AND MINE! I GOTTA TELL YA, IF NOT FOR THAT INDUSTRIAL ACCIDENT BACK IN '82 THAT LEFT ME WITH STEEL PLATING ALL ALONG THE INNER LINING OF MY STOMACH, YOURS TRULY PROBABLY WOULDN'T BE TALKIN' TO YA HERE TODAY!"

CONCLUSION: "I GIVE THIS WITCH'S BREW OF HATE N' SPIT 18 INSTANCES OF THE PRESIDENT VOMITING ON FOREIGN PRIME MINISTERS OUT OF 2!"
BODHI: "WE ALL KNOW THAT, LIKE BEANS, BROCCOLI CAUSES MASSIVE GAS. WELL, I'M NOT EXACTLY STUNNED TO REPORT THAT CHUGGING THIS MURKY GREEN CONCOCTION IS NOT UNLIKE PARTAKING IN A POST-BROCCOLI CONSUMPTION LIQUID FART, AND I, FOR ONE, AM NOT AFRAID TO ADMIT THAT I FEAR THE REPERCUSSIONS! BUT MAKE NO MISTAKE, I WILL CRUSH MY FEARS LIKE LIKE A RUTHLESS TYRANT! NO MERCY!"

CONCLUSION: "7.5 BLOATED ABDOMINAL CAVITIES OUT OF 1,000 x 23 + 1.875/13.2 - 127,013 x 0 + 10!"
---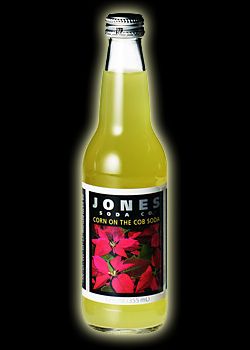 TASTE TEST #7 - CORN ON THE COB!
SKEETER: "MAYBE IT'S JUST THE BARRAGE OF ENDORPHINS THAT MY MIND IS ALWAYS RELEASING AS I PUSH MYSELF TO THE LIMIT EACH AND EVERY DAY, BUT SHOULDN'T THIS BE CALLED CORN OFF THE COB? I GAVE JONES SODA THE BENEFIT OF THE DOUBT AND TOOK A BITE INTO THE BOTTLE EXPECTING SOME CORNY GOODNESS, INSTEAD I BROKE A TOOTH. BUT HEY, ANY DRINK THAT MAKES ONE REQUIRE IMMEDIATE DENTAL ATTENTION HAS TO BE EXTREME! NEXT TIME I'M GONNA THROW IT IN THE MICROWAVE AND MAKE ME SOME EXTREME POPCORN... ON THE COB!"

CONCLUSION: "DURING MY MEDITATIONS, I CONSULTED BUDDHA AND WE'RE BOTH IN TOTAL AGREEMENT THAT THIS BEVERAGE GETS 38429 RABID DOBERMAN PINSCHERS IN A NURSERY OUT OF 575.11³"
J-DAWG: "'CORN ON THE COB'? I GOTTA TELL YA, THIS DRINK SMELLED (AND TASTED) MORE LIKE THE CORNS ON MY FEET THAT ANY CORNS ON THE COB THAT I'VE EVER DEALT WITH! I WASN'T WILD ABOUT THE DRINK ITSELF, BEING A LITTLE TOO BLAND TO WIN AN EXTREME CONTEST OF EXTREMOSITY, BUT I FOUND OUT IT MAKES A SOOTHING LIQUID TO SOAK YOUR FEET IN AFTER A HARD DAY'S WORK! THIS CORN WILL EAT YOUR FOOTY CORNS FOR BREAKFAST!"

CONCLUSION: "I GIVE THIS 7 DR. SCHOLL'S BALMY WART PATCHES FOR THE PRICE OF ONE!"
BODHI: "DESPITE LOOKING MORE LIKE MY MILKY URINE AFTER THOSE KIDNEY SHOTS I TOOK IN A BACKYARD WRESTLING MATCH AWHILE BACK, THIS CORN-FLAVORED TREAT TASTES PRETTY TAME. NOW, I'M NOT SAYING IT'S ALL THAT GOOD, A SODA FORM OF CORN POPS CEREAL WOULD'VE REALLY REVVED MY ENGINE, BUT COMPARED TO SOME OF THE ABHORRENT ABOMINATIONS MY GUT HAS COMMANDEERED IN ITS DAY, THIS SODA DOESN'T ROCK MY SOCKS OFF."

CONCLUSION: "IF THIS BEVERAGE WERE A TERM PAPER ON MINIATURE GOLF AS AN EXTREME SPORT, I'D GIVE IT A D-!"
---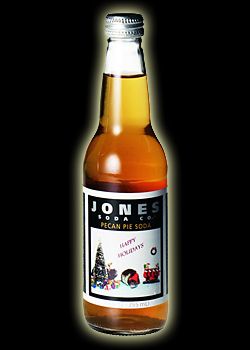 TASTE TEST #8 - PECAN PIE!
SKEETER: "WHEN I WAS A WEE LAD BODYSURFING ON THE FIERY COASTS OF EL SALVADOR, I SAW MY FATHER WRESTLE A SAND APE BACK ON SHORE FOR A BOTTLE OF PECANS. MY FATHER DIED THAT DAY AND I SWORE TO AVENGE HIS UNTIMELY DEATH BY OBTAINING A BOTTLE OF PECANS AT SOME POINT IN MY LIFE. NOT ONLY DO I HAVE A BOTTLE OF PECANS, BUT I'M PRETTY SURE I HEARD AN APE SCREAMING OUT IN PAIN SOMEWHERE OFF IN THE DISTANCE WHEN I POPPED OFF THE CAP. OR... THAT COULD'VE BEEN MY STOMACH REACTING TO THE FURY OF LIQUID PECAN!"

CONCLUSION: "I HAVE AVENGED MY ANCESTORS AND THEY ARE SURELY SMILING DOWN ON ME FROM THE HALLS OF BABYLON! 367 ANGELIC WHIRLING DERVISHES OUT OF 368!"
J-DAWG: "I WOULD SWEAR THAT I HEARD THESE PECANS SCREAMIN' FOR MERCY UNDER THE ONSLAUGHT OF MY MIGHTY X-TREME TO THE XTH POWER MOUTH SUCTION POWERS! THIS DRINK TRIED TO TAKE ME DOWN LIKE THE TIME THE SCHOOLYARD BULLY FILLED MY UNDERPANTS WITH ROCKS, BUT I KEPT ON COMIN' BACK TO TAKE AND DISH OUT MORE UNFATHOMABLE PUNISHMENTS!"

CONCLUSION: "IF THIS SODA WAS AN ANIMAL, IT WOULD BE A PAIR OF PARAPLEGIC CONJOINED-GERBIL TWINS HOPPED UP ON CRYSTAL METH AND LYING IN THE PATH OF AN ONCOMING 18-WHEELER!"
BODHI: "DO THE MATH: IS THERE ANYTHING MORE REFRESHING ON AN AUTUMN DAY THAN A TOASTY, LUKEWARM BOTTLE OF SODA FLAVORED LIKE SALTY NUTS? I THINK NOT, BROSENHEIMERS. THIS WAS MUCH MORE REFRESHING THAN THAT PINT OF BOAR SEMEN I HAD TO CHOKE BACK THE LAST TIME I LOST A ROUND OF EXTREME TEXAS HOLD 'EM! TALK ABOUT UPPING THE ANTE!"

CONCLUSION: "8 OUT OF 10 FULL-BLOWN, PIG-SQUEALING HOWLS OF 'REMEMBER THE ALAMO!'"
---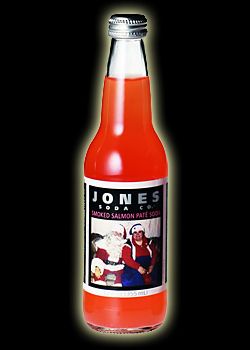 TASTE TEST #9 - SMOKED SALMON PATÉ!
SKEETER: "I DIDN'T KNOW THAT YOU COULD BOTTLE SATAN, BUT IT APPEARS THAT JONES SODA PEOPLE ARE IN TUNE WITH THE VIBRATIONS FROM THEIR POWER CRYSTALS AND WERE ABLE TO UNLOCK THE VORTEX WHICH HAS KEPT THE UNHOLY ONE AT BAY FOR MANY CENTURIES. NOW HE WALKS THE EARTH IN THE FORM OF BOTTLED SALMON AND WILL DESTROY ALL WHO GET IN HIS WAY! MAKE NO MISTAKE ABOUT IT, THIS IS THE PLATEAU, THE APEX, THE ZENITH, THE EVERLASTING HEARTSTOPPER, THE ONE THAT WILL BRING TEARS TO EVEN THE MOST BURLY OF BRAWLERS!"

CONCLUSION: "SORRY, THERE IS NO SCALE THAT TRULY DESCRIBES THIS WET WINDIGO! I'VE GONE HEAD-TO-HEAD WITH GODZILLA, I'VE CONSUMED RAW BLOWFISH, AND I'VE EVEN DEMOLISHED A BUILDING WITH MY BARE HANDS... BUT ALL OF THESE THINGS COMBINED DON'T COME REMOTELY CLOSE TO 1/598392725260234092368TH OF THE PAIN THIS BEVERAGE UNLEASHED UPON MY UMBRA!"
J-DAWG: "I GOTTA TELL YA, PART OF MY MORNING WAKE-UP RITUAL IS TO GARGLE A BULLET TO GET READY FOR MY DAY IN THE MOST EXTREME WAY POSSIBLE. WELL, NO MORE! NOW THAT I'VE TRIED THIS BOTTLED SALMON APOCALYPSE I HAVE REALIZED THAT THERE IS NOTHING MORE EXTREME IN THE ENTIRE UNIVERSE. NOW TO HARDEN MYSELF FOR MY INEVITABLE FUTURE IN PRISON, I WILL WAKE UP EVERY MORNING AND GARGLE THE SCREAMING SOULS OF DEAD SALMON INSTEAD!"

CONCLUSION: "OPENING THIS SODA IS LIKE BREAKING THE SEVENTH SEAL AND BRINGING ABOUT ARMAGEDDON ITSELF! THERE IS NO WAY TO MEASURE THE VAST DESTRUCTIVE POWER OF HELLFIRE AND BRIMSTONIOUS DAMNATION THAT IT WILL UNLEASH UPON THE WORLD!"
BODHI: "HOLY SCHNIKIES. MY BODY ACHES AS THOUGH I'VE JUST BEEN CAUGHT IN A MOSH WITH THE POSSESSED MACK TRUCK FROM 'MAXIMUM OVERDRIVE'. THIS GHASTLY CREATION GOES DOWN LIKE DEATH COUPLED WITH THE STENCH OF THE DISCHARGE OF IMPACTED CANINE ANAL GLANDS - AND TRUST ME, I KNOW. WHAT I DON'T KNOW IS WHETHER TO HUNT DOWN THE RESPONSIBLE PARTIES LIKE THE DOGS THAT THEY ARE OR BOW BEFORE THE ALTAR OF THEIR UNADULTERATEDLY BODACIOUS EXTREMITY!?"

CONCLUSION: "10 OUT OF 10 WIDESCREEN, SURROUND SOUND, PROJECTION SCREEN VIEWINGS OF BRIAN 'THE BOZ' BOSWORTH'S 1991 CINEMATIC EPIC, 'STONE COLD' - PLUS 10 MORE FOR THE ULTIMATE BLITZ!"
---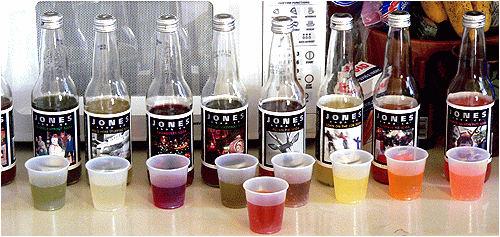 MEGA-EXTREME TASTE TEST - ALL FLAVORS COMBINED!
SKEETER: "ALRIGHT MY COMPADRES, THE TIME HAS COME. WE MUST NOW STRIP OUR BODIES OF ALL FEARS AND HESITATIONS! WE MUST NOW MIX ALL OF THE HOLIDAY PACK FLAVORS TOGETHER FOR A SUICIDAL SWIG THAT NO MERE MORTAL WAS MEANT TO GUZZLE!"
J-DAWG: "SKEET-O-BRO, I GOTTA SAY THAT I'M NOT TOO SURE ABOUT ALL THIS IF WE INCLUDE THE DAMNATION SALMON IN THE MIX! IT MIGHT BE TOO MUCH FOR YOU AND BODHI TO HANDLE!"
BODHI: "EASE UP THERE, PARTNER. SKEETER AND I DON'T WANT TO HAVE TO TAKE YOU TO SCHOOL! WE'LL SPIT DEFIANTLY IN THE FACE OF THIS POTENTIALLY DEADLY CONCOCTION AND ESCAPE UNSCATHED!"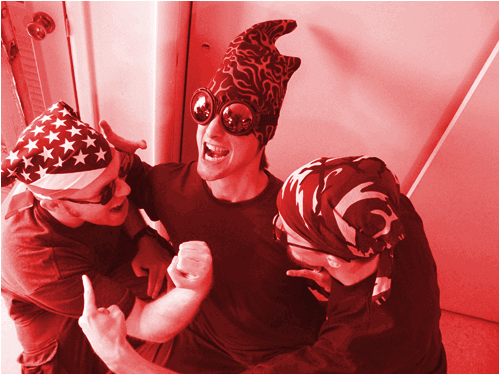 SKEETER: "FUNNY YOU MENTION SPIT SINCE OUR EXTREME SPITTLE IS IN EACH OF THESE BOTTLES BY THIS POINT! SO BRACE YOURSELVES FOR THE MECCA OF FIZZY VISCOUS BILE!"
J-DAWG: "MY SPIT WILL GIVE ME THE STRENGTH TO GO ON BECAUSE IT CONTAINS MILLIONS OF MICROSCOPIC POWER CRYSTALS!"
BODHI: "IN FACT, WERE WE TO KEEP GOING MUCH LONGER, THE HYPERCHARGED ENZYMES IN MY SALIVA WOULD START TO DISSOLVE THESE GLASS BOTTLES RIGHT BEFORE OUR EYES!"
SKEETER: "MY MY MY, I'M IN A WORLD OF HURT AND MY BODY IS REELING FROM THE DAMAGE THAT I'VE INFLICTED UPON IT! THIS IGNOBLE MIXTURE MAY HAVE PUT ME IN THE HURT LOCKER, BUT I HAVE NOW EMERGED AS A SEXUAL TYRANNOSAURUS WHO'S READY TO GO ON A RAMPAGE! IN A LAND FILLED WITH NON-HEINOUS PEDESTRIAN COCA COLAS, IT'S REFRESHING TO KNOW THAT OUR FREEDOM TO TASTE THE NECTARS OF THE UNHOLY INFERNO IF WE DESIRE STILL REMAINS INTACT! MAY THE WINGS OF EXTREME DRINKING LIBERTY NEVER LOSE A FEATHER!"

CONCLUSION: "I NEED A BAND-AID FOR MY TRACHEA! 923482 GLASS SHARD-DIPPED FISTS OF FURY IN A TORNADO OF SOULS OUT OF 3!"
J-DAWG: "THERE IS ABSOLUTELY NO EXCUSE FOR THIS DRINK THAT I DUB THE 'DOOMBRINGER'S' EXISTENCE! IF YOU'VE GOT AN ENEMY YOU WANT TO TAKE CARE OF, SIMPLY SEND THEM A BUCKET OF THIS LIQUID MADNESS...AND YOU DON'T EVEN HAVE TO SET IT ON FIRE FIRST! IT WILL CLEAN PIPES THAT YOU DIDN'T EVEN KNOW YOU HAD! THIS IS EVEN MORE INTENSE THAN THE TIME I DRANK ANTIFREEZE MIXED WITH WHALE BLOOD AT THAT SATANIC SEX RITUAL!"

CONCLUSION: "THIS DRINK WILL CHANGE YOUR LIFE FASTER THAN TWO WEEKS IN A TURKISH PRISON!"
BODHI: "CLEARLY THIS IS NOT WHAT OZZY HAD IN MIND WHEN HE WROTE 'SUICIDE SOLUTION', BUT I CAN THINK OF NO BETTER TITLE FOR THIS BLASPHEMOUS BEVY OF... BARF! DEAR LORD, IT'S LIKE SOME SORT OF CHEMICALLY TAINTED DOUCHEBAG FOR THE SOUL - EXCEPT I DON'T FEEL FRESH AND CLEAN, I FEEL LIKE MY INTERNAL ORGANS HAVE BEEN COMPLETELY SEARED BY THE UNDYING FLAMES OF ETERNAL DAMNATION. THERE IS NO REPRIEVE!"

CONCLUSION: "666 GOAT-HORNED SALUTES TO THE DARK LORD OF THE SUPREME UNDERWORLD! A MORE REVOLTING CONSUMABLE WILL NEVER EXIST!"
---
EXTREME CONCLUSION!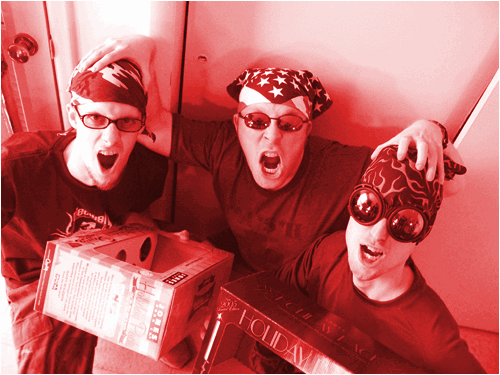 SKEETER: "MY EXTREME FRIENDS, TODAY WE HAVE GRADUATED! WE HAVE ASCENDED TO THE HEAVENS! WE ARE NOW THE GRANDMASTERS OF EXTREME BEVERAGE TESTING! OUR ABILITY TO RETAIN THE MOST GNARLASTIC BRUTAL BEVERAGES IS ALL THE PROOF YOU NEED! EXTREME BEVERAGE TESTERS 4 LYFE! PEACE OUT MY SATURATED SIDEKICKS!"
J-DAWG: "IF WE KEEP UP THIS TASTE TESTING FOR MUCH LONGER, WE REALLY WILL BE ASCENDING TO HEAVEN AND IT WILL BE OUR GHOSTS THAT DRINK THE SPECTRAL VAPORS OF THESE PHANTASMAL BEVERAGES NEXT TIME AROUND!"
BODHI: "I NEED A VACATION! ASSUMING MY TEETH DON'T ROT AWAY IN THE NEXT 48 HOURS FROM THESE CAUSTICALLY ACERBIC LIBATIONS, I THINK I'LL HEAD TO POLAND FOR THE INTERNATIONAL KIELBASA CHAMPIONSHIP! WHO'S GAME?"
THE END.
---
Comments on this piece? Email us!
---
Big thanks to the people at Jones Soda who supplied us with both the 2005 Regional and National Holiday Packs. They even supplied us with some Turkey & Gravy flavored lip balm! Don't forget that proceeds from these holiday packs go towards some great charities: St. Jude's Children's Research Hospital and Toys For Tots. So please do your part and help support their cause... even if it means drinking salmon soda.
---


Click here to see the Extreme Beverage Tester's take on Jones Halloween Sodas!
---
help support I-Mockery by supporting our sponsors:

---