When I was a kid (it still makes me laugh every time I say that, considering I just bought some karate kid toys on ebay a few days ago) the horrors of everyday life had yet to really hit me. I heard about all sorts of horrific things like "jobs" and "dating"... grown-up things. But when you're a kid, stuff like that doesn't worry you nearly as much as whether or not you'd ever be able to beat Metroid.

Since kids don't have jobs (unless Nike decides it needs some more shoemakers), they would find other ways to experience the horrors of life. Maybe when you were a kid you enjoyed trying to catch deadly black widow spiders and poisonous snakes, something nobody in their right mind would do as an adult (except the crocodile hunter, but he's missing that thing we call "sanity"). Doing things like this are all scary and exciting and stupid, but you at least have some idea of what you're getting into when you try to put your hand on the hot stovetop for "just a second".

But sometimes... sometimes the horrors will sneak up on you when you least expect it and leave you traumatized forever. You don't have time to prepare for it, it just hits you and you're lucky to still be breathing when it's finally over. This happened to me when I was a kid, and I never saw it coming.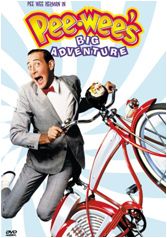 If you haven't seen this movie, leave my web site right now.
"I know you are but what am I?"... genius. Pure genius. How on earth could any kid NOT want to be just like Pee Wee Herman when he/she grows up? He dressed better than anybody we had ever seen; a tight gray suit that was one size too small and a schnazzy red bow tie. Eat your heart out runway models! Here was an adult that was still living just like a kid; he didn't appear to have a job, but he had tons of neat gadgets and goodies... and a bike. Pee Wee loved his bike more than life itself, so when it got stolen, he was determined to do whatever it took to get it back.

This set the grounds for "Pee Wee's Big Adventure", a wacky guy getting into all kinds of mischief in order to find the coolest bike on earth. A story like that had ever kid instantly mesmerized. But how were we to know?? HOW WERE WE TO KNOW!!?!?

The movie was going along just fine until the mood of the film changed. Pee Wee was left out in the middle of nowhere, in the middle of the night. He had nothing but his goofy hitchhiker's sack with red polka-dots all over it. It was completely silent until off in the distance two headlights appeared through the fog.

Now by this point, you stopped eating your overpriced movie popcorn. Something was definitely wrong. You could feel it creepy towards you, but you had no idea what the hell was coming. So the headlights drew closer, and soon you could see that it was a large truck. Like the wacky innocent loon that he was, Pee Wee stood right in front of those headlights and waved until the truck came within inches of him before stopping.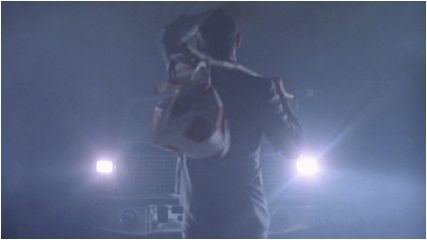 Pee Wee had found himself a ride, but at what cost?
Pee Wee hops into the truck and thanks the old woman behind the wheel for the lift. She doesn't even respond or look at him, she just starts driving the truck again! Even a happy-go-luck guy like Pee Wee could tell something was wrong with this. I mean, how often does a person come in contact with a guy like Pee Wee Herman and not react to him at all? Most people look at Pee Wee with wonder and amazement... but not this old lady. No siree.
Her name was Large Marge, played by Alice Nunn. She had brown, gray, and white hair that stood straight up! It was if the Bride of Frankenstein had graduated from trucking school and was now picking up hitchhikers. In a weird way, she kind of reminded me of my aunt... only a lot creepier. Still, every time I visited my aunt after seeing this movie, I couldn't help but think about Large Marge. Large Marge was wearing thick red flannel jacket and she NEVER blinked. And as we all know: Not blinking = Bad news.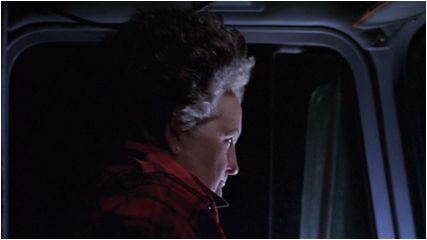 Large Marge: One Scary Lady.
Then without warning, she started to speak. And the tale she was about to tell, would be the tale that thousands of people have nightmares about TO THIS DAY whether they admit it or not:


---
On this very night...
10 years ago...
along the same stretch of road...
in a dense fog...
just like this...
I saw the worst accident I ever seen...
There was this sound...
Like a garbage truck!
Dropped off the empire state building!
And when they finally pulled the driver's body...
From the Twisted... Burning... Wreck...
It looked like...
THIS!!!!!!
hooo hooo hooo hooo hooo haaaah!

Yes sir...
That was the worst accident I ever seen...

---
TERROR. SHEER TERROR. (I hope that making the above text red added to the terror)

If you hadn't already pissed in your pants, you were at least hoarse from screaming in terror that first time you saw Large Marge transform into a hideous, big-eyed, tongue-lashing, freak fest! God how I hated that voice of hers... that eerie monotone voice that slowly got louder and louder, with drawn-out pauses after every few words. Then, all of a sudden, she turns to look at Pee Wee and presents us with the scariest piece of claymation any of us have ever seen: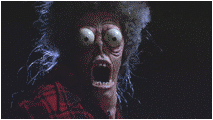 One of the scariest, yet most awesome moments in movie history.
Those huge eyes with the tiny black spec in the center, they were just too freaky for us to handle. Sure they might have just been a pair of white balls from a pool table, but when turned into eyes on a claymation ghost, they were downright scary. And then there was the tongue. It whipped around like it had a mind of its own! And the hair? The hair was just pure insanity. PURE INSANITY!

All of this terror wrapped up into a mere 5 seconds of film. It was as if we had just experienced everything evil and scary in life all at once. What was next? Would she jump out of the screen and eat us? Probably not... probably something worse.

Well, Pee Wee had been in the truck long enough and was ready to be dropped off at the next truck stop. He got out of the truck and turned around to look at Large Marge. You could tell he was like a deer in headlights, frozen with fear.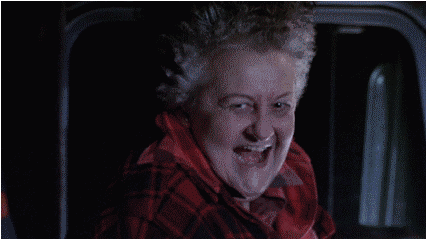 "Be sure 'n tell 'em, LARGE MARGE sent ya! AH HA HA HA HA HA HA HAAAAA!!!!!"
[click to hear her say it]
That's the infamous phrase that she she cackled at Pee Wee. Then the blank, emotionless stare came over her face once again as she started up the truck and drove off into the darkness.

As horrific as that was, at least she was gone. "IT'S OVER! THE HORROR IS OVER!!!!! THE SCARY LADY IS GONE!!!" we thought to ourselves. But it wasn't over, not at all.

Pee Wee walked into the truck stop, stiff as a board from the horror he just experienced. Still, he managed to deliver the message from the scary truck driver: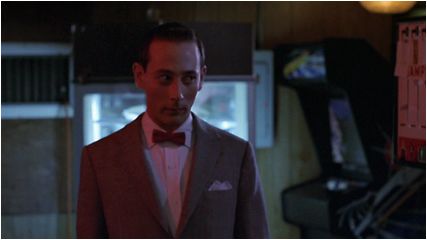 "Large Marge Sent Me."
Everybody in the truck stop stopped what they were doing and they all stared at Pee Wee in shock.


Imagine the horror of having the eyes of 20 people who are
all wearing plaid staring at you like you were talkin' crazy.
A younger trucker asks Pee Wee, "Did you say Large Marge?". Pee Wee tells him that indeed he did, and the young trucker is dumbfounded. "Why, Large Marge... she's... she's..."

A creepy, wide-eyed trucker stands up in the background. He begins to recite the exact same words that Large Marge was telling Pee Wee!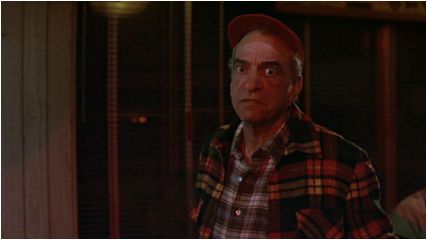 "It was 10 years ago, on a night just like this.."
NO!!! NOW JUST WAIT A SECOND! I'M NOT GOING THROUGH THAT SHIT AGAIN! WHO THE HELL IS THIS GUY? LARGE MARGE'S HUSBAND!? LOOK AT HIS EYES FOR CRISSAKES! DAMNIT! THIS GUY IS JUST AS BAD AS LARGE MARGE HERSELF!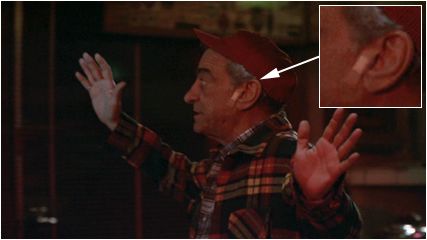 AND WHY THE HELL DOES HE HAVE A BAND-AID ON HIS EAR!?!?
DID HE HITCH A RIDE WITH LARGE MARGE ONLY TO HAVE HER TRY TO CHEW
HIS EAR OFF!? DID HE CUT HIMSELF SHAVING!? WHAT DOES THE GODDAMNED
BAND-AID MEAN!?!?!? I STILL HAVEN'T FOUND OUT AND I MUST KNOW!!
Well, the speech went on and on until the weird, wide-eyed trucker finally points to a memorial in the corner. The memorial was for a trucker who had passed away. That trucker was LARGE MARGE.

Pee Wee cringed, "But that means, the Large Marge I was riding with was..."

And everyone in the room says at once: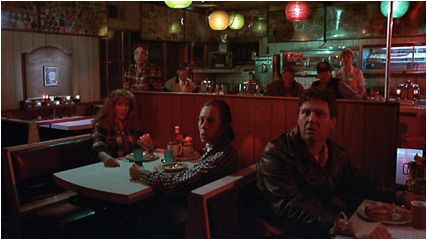 "A GHOST."
AHHHHHHHHHHHHHHHHHH!!!!!!!!!!!!!!!!!!!!!!!!!!!!! (commence with heart failure)

Then we see a close-up of the memorial, a ghostly wind blows out the candles, and as the screen fades to black we hear Large Marge cackling off in the distance one last time.

I couldn't believe it. This was just too much to take in all at once. How could such a fun-loving, hilarious movie take such an evil, twisted turn!? I was expecting to go home dreaming of owning an awesome red bike with a high-powered eject seat. Instead, I got to go home and lay awake in bed, sweating with fear that any minute, Large Marge would appear in my room and do that horrible face-contortion thing again and kill me.

Freddy was a piece of cake. Jason was a walk in the park. Large Marge, she scared us to death. And I guess that was the lesson us kids were supposed to learn from that scene in the movie. You can try to prepare yourself for all the horrors in the world, but no matter how many preparations you make... it's guaranteed that something will still shock the hell out of you, and perhaps give you a heart attack later in life.

With that in mind, go have a happy picnic. Go have a happy walk in the park. Go have a happy ride on a roller coaster. Everything will be juuuuust fine. I promise.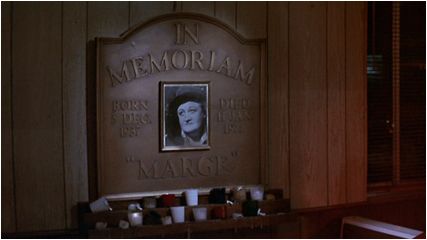 "AH HA HA HA HA HA HA HAAAAA!!!!!"
As an added horrific bonus, we've got the entire tale for you in .wav format:
Click here to listen to Large Marge tell her twisted tale!
or you can just watch it here:
This mini-mock was brought to you by I-Mockery.com and Mr. T Cereal.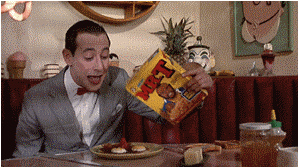 We pity da fool who neva' got to eat Mr. T cereal!
Questions or comments about this article?
Email -RoG-
---
Running a big site like I-Mockery takes a lot o' time and costs moola too.
Want to help show your support?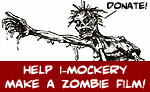 DONATE TO OUR ZOMBIE MOVIE!
Come talk about this piece & more on our Message Forums!