* VOTE FOR US ON NEWGROUNDS IF YOU LIKED THIS FLASH MOVIE! CLICK HERE! *
YOU NEED MACROMEDIA FLASH TO VIEW THIS PAGE!
ALSO BE SURE TO HAVE YOUR SPEAKERS TURNED ON!
HAVE ANY COMMENTS ABOUT THIS STARCRAFT/WARCRAFT PARODY MOVIE?
COME TALK TO US IN OUR MESSAGE FORUMS!
---
Running a big site like I-Mockery takes a lot o' time and costs moola too.
Want to help show your support?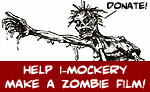 DONATE TO OUR ZOMBIE MOVIE!
Come talk about this piece & more on our Message Forums!
click here for more minimocks!

---


[Minimocks] [Articles] [Games] [Mockeries] [Shorts] [Comics] [Blog] [Info] [Forum] [Advertise] [Home]


Copyright © 1999-2007 I-Mockery.com : All Rights Reserved : ()
No portion of I-Mockery may be reprinted in any form without prior consent
We reserve the right to swallow your soul... and spit out the chewy parts.