It's that time again. It's time for us to dare to test out yet another do-it-yourself food making kit. We've tested out many of them in the past and our stomachs are still reeling from the experience. And why do we do it? We do it for you, the consumer. We do it because we care. We do it because we know that everybody, whether they're 15 years old or 50, is in the market for a toy which claims to create the same treats that you could buy at a fraction of the price without having to go through the trouble of actually making them. With that in mind, the product we are testing today is none other than the McDonald's McFlurry™ Maker!
Well damn, it sure looks like it makes a tasty McFlurry treat, but let's not all have a foodgasm just yet. Time has proven again and again with food toys like this that what you see on the box and when you end up creating are two completely different things. What is interesting is that there's no batteries or plugs with this thing, we're simply going to be making McFlurry treats with the power of our hands! *GASP!* Another thing we've learned from using products like these is that there's almost always something extra that you have to buy. So there's no giant pack o' batteries to buy, but if you read the fine print it does say that you'll need some Half & Half cream, table salt, and ice. At least it's stuff you normally have in the house, so it's easy enough.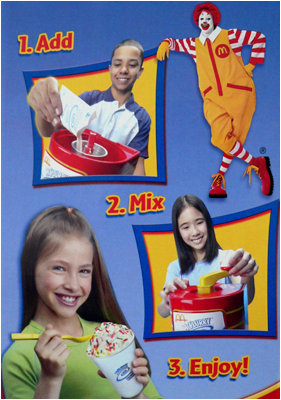 See, now this is exactly the kind of thing I don't want to see on the box of a product I buy. For one thing, you know it's NEVER as simple as 1-2-3. There's always additional steps and messes to be made along the way. And second, do you notice something wrong with this picture? Some people see simplified instructions on how to make your treat, but not me. I see racism. That's right, good ol' Ronald McDonald is putting each kid in their place. Notice how he's got the two non-white kids slaving away at making the treats while the white girl just sits there doing nothing but eating the fruits of their labor? The working kids are probably only smiling because Ronald threatened to kill their parents if they didn't put on a happy face for the camera. Hell, I'm sure there's some symbolism in that picture of the white girl eating colored sprinkles too. I'm onto you Ronald! I'm onto you!
Alright, let's crack this bad boy open and see what McFlurry fortunes are in our future.
Oh by the way, remember when I said it's never as easy as 1-2-3? I guess I was wrong. One look at these instructions, and you'll see that it's clearly as easy as 1-2-3:
I've seen plans for skyscrapers that have less assembly steps than this thing, but whatever. It doesn't matter if it's three steps or 300, nothing is going to stop us from indulging in a homemade McFlurry! Before assembling the thing, we did have a good cry about the daunting task that laid before us though.
After going through a box of tissues, we dried our eyes and began to assemble the beast. Had we not been high school graduates, we surely wouldn't have been able to complete this mighty task. You hear that kids? BE COOL, STAY IN SCHOOL, OR NO MCFLURRIES FOR JOO! Under my strict and what he described as "abusive" supervision, Protoclown managed to assemble the McFlurry Maker machine. Got that NASA? He put that machine together, so call him the next time you're building a space shuttle, ok? The lad may be unemployed, but he clearly has skills!
With the machine assembly out of the way, it was time to start making our McFlurry!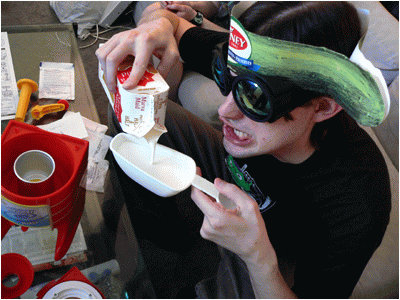 The first ingredient we had to add to the machine was the white blood of an albino sasquatch. Since there was none readily available, I substituted it with Half & Half cream. After carefully measuring a 3/4 cup of the creamy nectar, I poured it into the metal canister. Just you wait cream; you're going to go through quite a metamorphosis in the very near future!
Next up was the addition of the Dessert Mix. As soon as I tore open the packet, I was blasted with the scent of sugary goodness. Sure enough, sugar is the #1 ingredient in the Dessert Mix. Carrageenan is the 5th ingredient. Now I don't know what Carrageenan is, but I'm sure it's just a fancy word for "tasty carcinogen" or something like that. Either way, who cares, this stuff has lots of Sugar and Guar Gum in it. You just can't beat that combination. That's a 1-2 punch of flavor! Well if it was GWAR Gum instead of Guar, you could beat it, but that's the only way.
All this excited anticipation left me exhausted, so I handed back the baton of responsibility to Protoclown to continue where I had left off.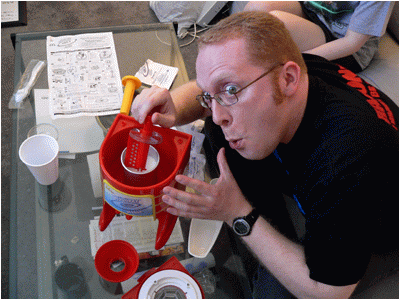 All he had to do was attach the mixing fin and the plastic lid to the metal canister, but Proto couldn't seem to let the thing go. He had to pump it over and over again as the sweat of ecstasy formed upon his brow. I had to remind him that we were making a delicious McFlurry and not making love. He then asked me, "What's the difference?"
And in a way... he had a good point.
Fearing that he might molest the next ingredient, I decided to help Proto with the next step. The McFlurry Machine demanded ice from us and who were we to deny it? So we hoisted the mighty bag of ice upon our broad, muscular and frankly sexy shoulders and dumped it into the machine!

Yes, we bought a giant bag of ice. And yes, we only used about 1/30th of its contents, but when the box says you need ice, you don't take any chances. You go out to the store and buy the biggest goddamned bag of ice you can find and don't look back! Words to live by.
Now it was time to make the ice cry like a slug by pouring salt all over it. This supposedly makes it easier to turn the crank handle, but I think they had us pour salt on the ice so that the roads would be clear by morning and then we'd all have to go to school instead of getting another snow day where we could all go sledding down the hill and laugh with glee and not let little Ricky join in the fun because he smells kinda funny and he stole my juice box the other week anyway and even when I told on him in class the teacher gave ME detention and he got off scot free! Well look who's laughing now Ricky, you sledless little fuck! LOOK WHO'S LAUGHING NOW!!! AHAHAHAHAAAAAAAA!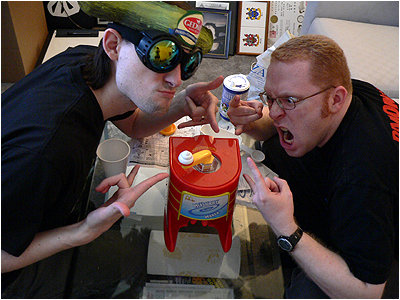 We then added some warm water to the ice to soften it up even more and now it was time to put on the main lid and prepare for some manly cranking! Little did we know that this cranking would be a brutal test of endurance! According to the instructions, we had to crank this thing for 4-6 minutes! They don't make Marines go through that kind of hellish exertion at boot camp, so why should we!? Because we want to make a McFlurry and no average joe can accomplish such a feat. Ok McFlurry, we haven't come this far only to quit now! Prepare to be cranked to the max!

NEVER GIVE UP!

NEVER SURRENDER!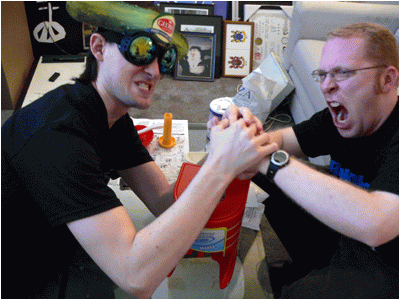 LOVE CONQUERS ALL!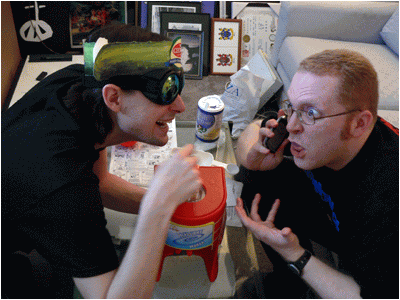 CELEBRATE DIVERSITY!

WAKE ME UP BEFORE YOU GO-GO!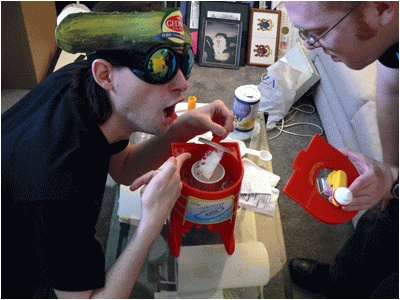 After what seemed like 6 months of cranking rather than 6 minutes, we determined that the McFlurry treat was ready for consumption!

So we removed the crank which had stood up to our inhuman strength for over 6 minutes, and loaded in the McFlurry Cup underneath the McFlurry Machine and aligned it with the dispenser spout. Yes! It was time! It was finally time to expunge the tasty fun from its oppressive McFlurry Machine captor!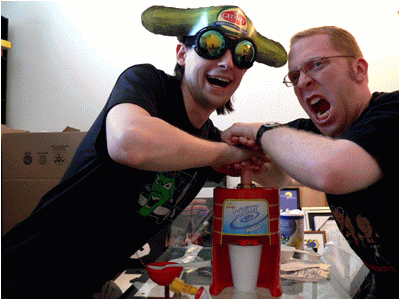 We thrust the plastic plunger deep into the gullet of the McBeast and pumped with all our might! In the end, we were victorious and the McBeast was slain! And as for the spoils of victory? Well...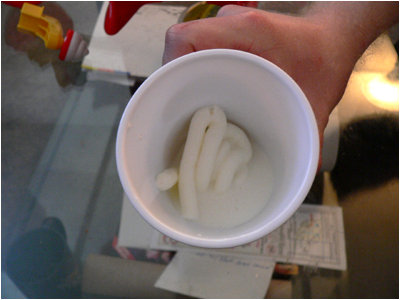 It kind of looked like ghost poop. Yes, as expected, our treat was a far cry from the one pictured on the cover of the box. Forget about the fact that it looked like ghost poop; it only filled up 1/3 of the cup at best! Oh but wait! Maybe we can make it look better after all! We forgot one major ingredient!


SPRINKLES!
Hrm, it looks a little more fun now, but it's still not quite there yet. Ah ha! The instructions say we need to use the crank with the lid of the cup to mix our McFlurry together! That's gotta be what magically transforms it into what we saw on the cover of the box!

Yeah well, that didn't happen. In fact, it turned our sprinkled ghost poop into sprinkled ghost poop soup. And while sprinkled ghost poop soup definitely has a nice ring to it, it still doesn't look like a McFlurry. Not unless said McFlurry was regurgitated into a cup. But hey, looks don't count for everything right? Shame on you society! Shame on you for judging people and McFlurries on their looks! Sure, this McFlurry may not be pretty on the outside, but you can bet that it has a GREAT sense of humor and is a lot of fun to talk to!
But what about how it tastes? That's what we're really here for right? To see if this thing stacks up against the flavor of a real-life McDonald's McFlurry? Well then, let's get right to it.

I filled two small saucers with the sprinkled ghost poop soup™; one for Protoclown and one for Christine - our rocktacular volunteer camera girl for the day. Me, I wasn't gonna eat out of a goddamned saucer... what am I, a fucking cat!? No! I would only drink from the cup of the carpenter, where the McFlurry was once semi-whole, like any real man would! We each had our McFlurry portions and it was time to dig in. Ok, well it wasn't solid, so we couldn't really "dig" in to it. But we could slurp it and that's just as good as digging. Try to debate me on this fact and I'll skull-fuck you.
ON WITH THE TASTE TEST!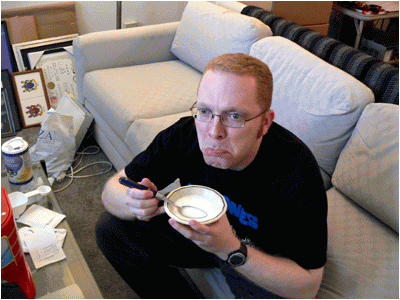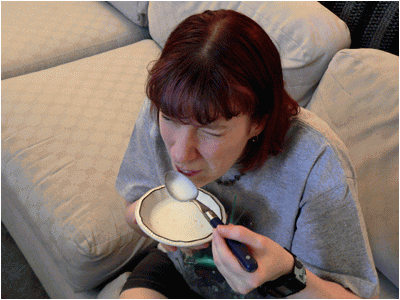 You may think those are sarcastic "thumbs up" expressions in those photos, but I swear to god they're not. If I'm lying, Rumplestiltskin can come to my home and forget about taking my first born child, he can tear off my testicles and do with them as he pleases. Seriously, it may not look tasty, but it was a cool sugary delight that was almost identical to the flavor of a real McDonald's McFlurry.
Of course the point is moot when you can only make two measly 1/3 cups of McFlurry treats with this machine before you have to go track down some more refill packs. If you want a McFlurry so badly, just go to McDonald's to save yourself the time and the hassle. As I've said before, toys like this only exist to make children feel like failures because their meal creations don't end up looking like the photos on the box.


NO REALLY???
Questions or Comments about this article?
email -RoG-
---
Check out some of the other Do-It-Yourself
DIY kits we've tested out in the past!
The Marshmallow Peeps Marshmallow Maker!
The Queasy Bake Cookerator Oven!
The Thingmaker Chill-A-Tron Lab!
---
help support I-Mockery by supporting our sponsors:

---
Running a big site like I-Mockery takes a lot o' time and costs moola too.
Want to help show your support?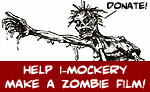 DONATE TO OUR ZOMBIE MOVIE!
Come talk about this piece & more on our Message Forums!