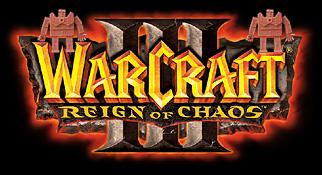 Blizzard Entertainment® announces "Mr. Blocky™" character addition to Warcraft 3™

Blizzard prepares to redefine massively multiplayer gaming via "blocky goodness"
LONDON, England - September 2, 2001 - At the European Computer Trade Show starting today, Blizzard Entertainment® showcased Warcraft® III: Reign of Chaos™, the highly anticipated continuation of the critically acclaimed Warcraft series. This latest installment marks the return of the legendary series that real-time strategy gamers have enjoyed for years.
In a surprise move, Blizzard announced the addition of the infamous Mr. Blocky™, from Mattel's M.U.S.C.L.E. figure line in the 1980's, to the game. The specifics of the character have been unveiled as follows:
Mr. Blocky

The joy-filled and brightly smiling Mr. Blocky is in fact the deadliest weapon that M.U.S.C.L.E. has sent into battle against the forces of darkness. His superior forces have granted him the title of Knight in the Order of Rubix, and protector of the sacred Pickle Hat. Legends claim the Burning Legion once held Mr. Blocky in their ranks, but exiled him for his ever-present smile. Certain is that now Mr. Blocky's presence will decide the fate of the war. Not even Baby Spiff or the dreaded HAND will be able to stop the awesome power of the Fury of Anorexia. Smile or die!

Sentinel Phase

Drawn in by the aura of glee that Mr. Blocky naturally radiates, enemies come dangerously close and are then mashed between the deadly rollers placed in his chest. Mashed units can not be resurrected.

Euphoric Aura Ambush

Drawn in by the aura of glee that Mr. Blocky naturally radiates, enemies come dangerously close and are then mashed between the deadly rollers placed in his chest. Mashed units can not be resurrected.

Pyramid of N'Klyaopzmu

Channeling the forces of Kl'Ach-truph in his smile, Mr. Blocky transmutates into a pyramid shape. This makes him powerless and highly unstable, but it confuses nearby enemies into surrendering.

Fury of Anorexia
[Ultimate]

This spell takes two days to prepare, during which Mr. Blocky doesn't eat a single thing. No longer happy as he is now hungry, he goes on a rabid killing spree, devouring every enemy in his path. There is no stopping him!

Vertigo Assault

In his ever loveable, but extremely lethal Top Spin form, Mr. Blocky storms through the hostile ranks like a cheerful cyclone. Enemies are scattered and remain confused, while those that are caught in his direct path are slashed into bits. All in the name of happiness.

Rubix Overlord
[Summon]

This spell allows Mr. Blocky to summon the dreaded Rubix Overlord for one day. All units in range of this Hero unit either flee in blind terror or spontaneously combust at the sight of his charismatic Grin of Absolute Doom. Be warned, though - the Rubix Overlord is as fearful an ally as he is an adversary, and won't hesitate to turn your legion into a horde of smiling morons.
It has not yet been unveiled just how the other races will be able to combat the awesome power of Mr. Blocky. All that is certain is that if a player is unlucky enough to be battling Mr. Blocky, he or she should be prepared to lose MANY lives.
Warcraft III immerses players in a compelling, dynamic 3D world of incredible depth and detail. Wandering monsters roam a landscape filled with neutral towns, strongholds, and temples, while stunning environmental effects bring the world to life.
Players will guide their elite forces through adventures, battles, quests, and non-player-character interactions. The war over Azeroth rages on, and players must adapt to the surprises that lie in store for them and devise strategies to defeat their opponents.
The four distinct playable races that populate Warcraft III are Orcs, Humans, Night Elves, and Undead. Each race is armed with unique units, magical abilities, and weapons of war to take into battle as they renew their struggle for dominance. Additionally, WarCraft III introduces Heroes to the Warcraft universe for the first time. Heroes are powerful units that can advance in experience level, utilize additional skills and spells, and employ auras that affect nearby troops when leading them into battle.
The game will include a robust campaign editor for creating custom 3D maps and complete missions, with scripts for units, spells, and event triggers. Expanded multiplayer options will allow for multiple game types, including cooperative play and questing.
Since its debut in 1994, the number-one selling Warcraft series has won industry acclaim and has shattered sales records worldwide with nearly 5 million copies sold*. In 1996, Blizzard followed the well-received Warcraft: Orcs and Humans™ with the critically acclaimed Warcraft II: Tides of Darkness™, which won multiple Game of the Year awards and is still considered by many critics to be one of the best games ever made.
Warcraft III: Reign of Chaos is currently slated to release in 2002 for Windows® 95/98/2000/NT and Macintosh® formats. The game will be available for approximately $55 at retailers nationwide and will also be offered directly from Blizzard at (800) 953-SNOW and www.blizzard.com.
Best known for blockbuster hits including the Warcraft® series, StarCraft® and Diablo® series, Blizzard Entertainment ® (www.blizzard.com), (a division of Vivendi Universal Interactive, Inc.) is a premier developer and publisher of entertainment software renowned for creating many of the industry's most critically acclaimed games. Blizzard's track record includes four consecutive number-one selling games and multiple Game of the Year awards. The company's free Internet gaming service Battle.net ® reigns as the largest in the world with millions of active users.
*Based on units shipped
Return to the Press Release Index