by: -RoG-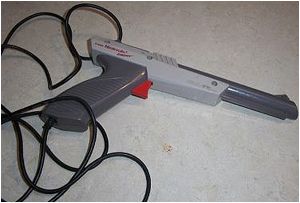 The Nintendo Zapper Gun!
Pling, pling, pling, pling... I swear, clicking the trigger on this gun was more addictive than clicking on one of those multi-colored retractable pens. Our first exposure to this gem was with a little game by the name of "Duck Hunt". The premise was simple... your dog (whom I always wanted to MURDER) would scare up some "game" and you'd gun the poor lil' bastards down with your Zapper. If you had a second controller plugged in, you could actually control the ducks and fuck with your friends.
Naturally, you're not supposed to sit right up against the TV with the Zapper, otherwise the games wouldn't be challenging at all. A lesser-known trick is if you had a decent magnifying glass and you positioned it in front of the Zapper, it would hit whatever is on the screen no matter where you aimed.
Cheating aside, it was a great controller and had quite a good chunk o' games for it. However, later in the life of Nintendo they did something to the Zapper that is completely unforgivable...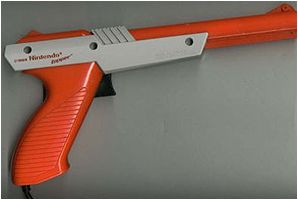 THEY MADE IT BRIGHT ORANGE!
I never understood the reasoning behind this. I mean, we've all heard how the original Megatron figure was discontinued because it looked too much like a real gun when transformed. But the Zapper? Come on, I don't know of too many real guns that are light grey with red triggers and wires sticking out of them. Guess I'll have to get a subscription to Guns & Ammo to search for one. Regardless, any cop that confused the Zapper for a real gun should be spending his days helping Revlon test out the irritant properties of their products on his eyes.
---
help support I-Mockery by supporting our sponsors:

---
Running a big site like I-Mockery takes a lot o' time and costs moola too.
Want to help show your support?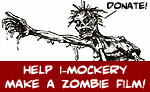 DONATE TO OUR ZOMBIE MOVIE!
Come talk about this piece & more on our Message Forums!