by: -RoG-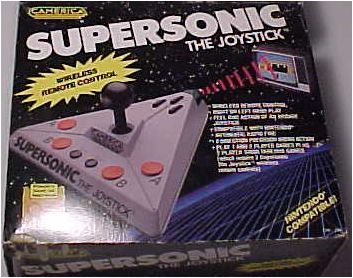 SuperSonic - The Joystick
Camerica's attempt to compete with the NES advantage by creating a wireless joystick that looked like a slice of robotic pizza was a bad idea from the beginning. First off, wireless wasn't that appealing to people when they had to constantly buy new batteries for the thing. Next was the construction of the SuperSonic. When you held it in your hands it just felt cheaper. The triangular shape of it was pointless and the button configuration wasn't too great either. And finally, I love how the name of it is written in huge letters on the sides: "SUPERSONIC - THE JOYSTICK". Yes, they wanted to make sure you understood it was a joystick and not "SUPERSONIC - THE ROBOTIC PIZZA SLICE" or "SUPERSONIC - THE WACKY SHURIKEN" or "SUPERSONIC - THE DIRTY LITTLE WHORE WHO WILL MAKE YOUR FANTASIES BECOME REALITY".
The only thing that was really nice was how it supported both right and left-handed players. It's always nice to see joysticks that support freaks... er, left-handed people.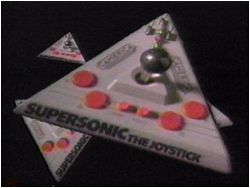 LOOK UP IN THE SKY!
By the looks of things in the commercial for the SuperSonic, we're apparently being invaded by these peculiar looking joysticks. Their mission was not to use up all of Earth's resources. No, no, no... their plan was something much more devious. They wanted to turn every family into a... a...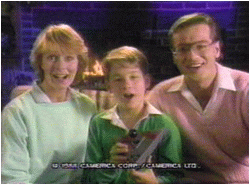 THEY REALLY ARE... AND IT'S ALL THANKS TO THE SUPERSONIC!
As happy as they may be, the SuperSonic is nothing compared to the theme song that was created for it. It was as if Beethoven himself had graced us with his presence...

Download the SuperSonic theme song and sing along!
Click here!

SuperSonic is the number one bet
it's got no wires, it's the one to get!
Arcade action is where you'll be
SuperSonic will set you free!

NO WIRES!

It works with Nintendo... it will do
Games for players one and two!
Higher scores is what you'll see
SuperSonic will set you free!

NO WIRES!

SUPERSONIC!
Damn, I can't get that song out of my head. And rather than type out the lyrics again and again for 15 more pages, I think now is a good time for us to sit back and reflect on all of the glories and horrors of the NES that we've seen so far. Good times...
---
help support I-Mockery by supporting our sponsors:

---
Running a big site like I-Mockery takes a lot o' time and costs moola too.
Want to help show your support?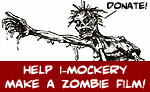 DONATE TO OUR ZOMBIE MOVIE!
Come talk about this piece & more on our Message Forums!