Ok let's see here... we've already made a Peeps Flash Game. We've already drove quite a distance just to see the Peeps Bus. I guess that leaves just one thing to do... we need to actually make some Marshmallow Peeps! Well, thanks to one I-Mockery reader (J.T.) who was cool enough to actually mail me a Marshmallow Peeps Marshmallow Maker Machine, I'm ready to do just that! Let's take a look at this bad boy.

Now while the machine looks awesome and the Peeps that it makes look pretty good from what the box shows you, one thing really raised an eyebrow. On the front of the box there's a notice that reads "Coupon Inside! $1.00 off 3 packages of Peeps!" So the brilliant people at Wham-O are basically telling people, "Yeah, this machine looks cute 'n all, but if you think you're gonna make Peeps with it, you're fucking crazy. So here, have a coupon so you can buy some Peeps of your own after this Marshmallow Maker machine sends you into a crippling depression as a result of your inability to self-produce Peeps." Man oh man, I can't tell you how pumped up I was to make these things!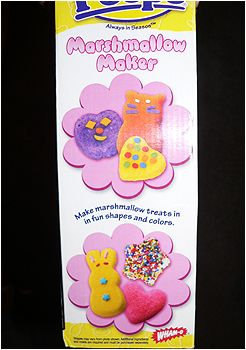 But look at the box! Look at those Peeps we're gonna be able to make! Yeah, go ahead 'n place your bets... we'll see just how close to the Marshmallow Peeps on the box these homemade ones really are.

And there's the $1.00 Off Marshmallow Peeps coupon! Er wait, it's expired. So much for their slogan "Always in season" eh? I guess that doesn't apply to their coupons. :(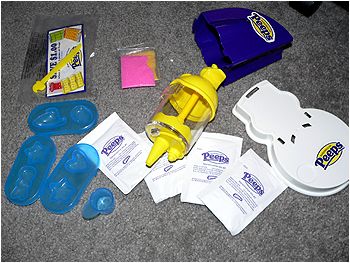 As you can see, the Marshmallow Peeps machine comes with all sorts of goodies. You've got your marshmallow mix packets, dusting sugar packets, marshmallow molds, quite possibly the smallest measuring cup in the history of mankind, a Peeps stirring stick, and the Marshmallow Peeps machine itself complete with plunger.
The Peep atop the plunger on the box had colored eyes, but this one doesn't. I guess I got the blind reject Peep plunger. No bother though, because it appears to be a damned fine plunger. We're talking world class chef quality here people. Alright, let's get down to business and make a batch o' Marshmallow Peeps shall we?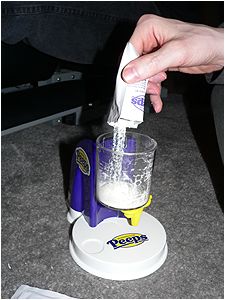 Step 1: Ok, so all we gotta do is pour Marshmallow Mix #1 into the extruder. Easy enough, and this stuff actually smells pretty damned good. Sugary vanilla goodness.

Step 2: And now we bust out that HUGE measuring cup, fill it to the top and then dump it into the extruder. We couldn't believe our eyes I say! How do the people at Wham-O expect a mere child to muster the strength to lift up such a massive cup filled with water??? Impossible!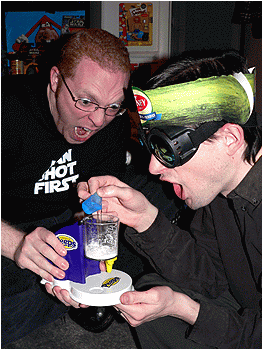 While it was a huge strain on my massive muscles, I managed to lift the filled cup and pour it into the extruder. You can't beat me Step #2, I've got Peep Power™.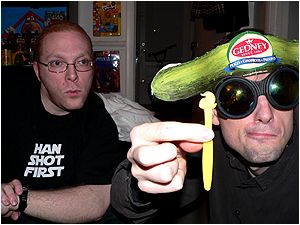 Step 3: And now my peeptacular pals, we must stir like the wind for 30 seconds exactly! Protoclown will time me to make sure nothing goes wrong. For if you stir for more than 30 seconds, the Marshmallow Peeps mixture will turn into an explosive compound.
THIS IS DO OR DIE MAN!
FAILURE IS NOT AN OPTION!

Step 4: Success! Now that it didn't blow up in our faces since we stirred it for 30 seconds exactly, we can go ahead and add Mix #2 to the batch. And after stirring it for a bit, it was clear that we had quite a foamy marshmallow mixture on our hands!
Step 5: Are you ready to rock? Good, cuz it's time to see just how good this marshmallow mixture really is. But before we fill up the Peep molds, we had a little something else in mind. And it got dirty... it got oh so very dirty.
RoG: "Pull it and push it back in again!"

Protoclown: "It's too sticky!"

RoG: "Just do it!"

Protoclown: "It's too sticky!"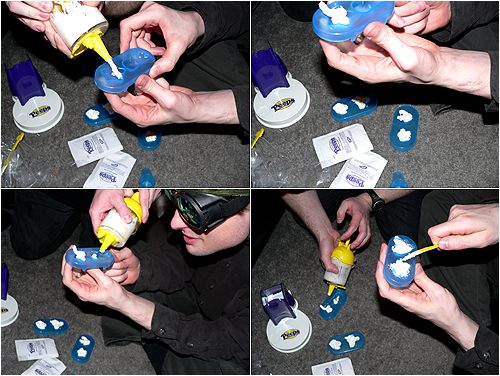 Ahem. Where were we? Oh yeah...
Step 6: Fill the Peep molds up with the marshmallow mixture. Now it claims that there's enough mixture to fill all 6 mold shapes, but that's a crock of shit. There was definitely not enough for all of 'em. By the time we finished filling up the last 2, the extruder was just about empty. Regardless, we had enough to at least try making some decent looking Peeps. So onward to the next step we go!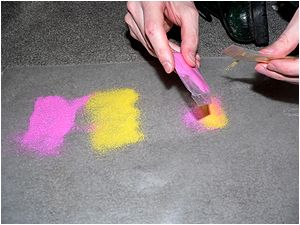 Step 7: Sprinkle the pink and yellow colored sugar dusting packets onto some wax paper. Then, carefully remove your Marshmallow Peeps from the molds by using the patented Peeps Stirring Stick.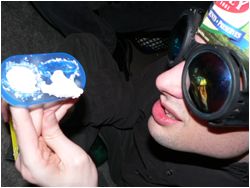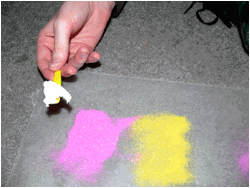 Well, in all honesty, the peeps weren't looking all that great. They looked more like sad little peeps that had been run over with a lawnmower. Still, compared to most of the other do-it-yourself toy kits of this nature (such as the Queasy-Bake Oven), I have to say the Peeps Maker stands above the rest in both ease of use and how the final product looks. And that's pretty sad when you think about it...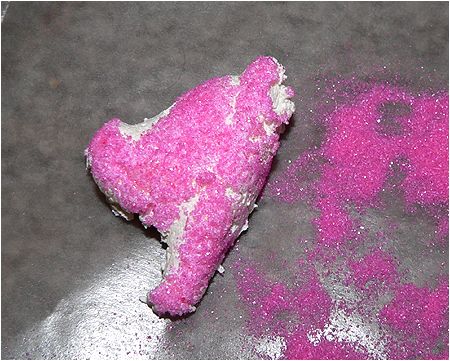 Not too incredibly bad I suppose, it's just not something that you're going to with a culinary prize with. But hey, maybe I just suck at removing the Peeps from their molds. Maybe Protoclown will have a better chance at making the perfect Peep.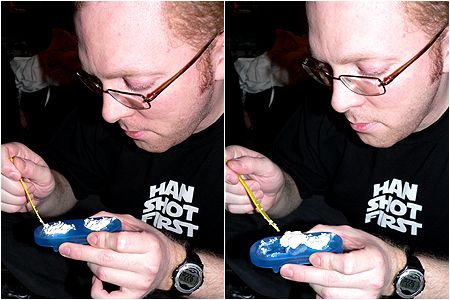 Admittedly, I had to shoot him up with tranquilizers to prevent him from eating the Peeps right then and there. The man craves his Peeps, and when you see his eyes get that crazed glare, it's obvious that no Peep is safe. NO PEEP IS SAFE!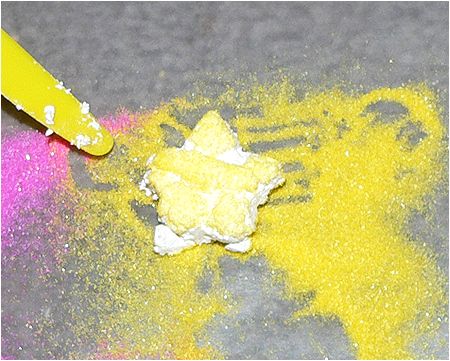 Ok, so it wasn't just me. His yellow star looked no better than my pink chick Peep. I guess this is just as good as it gets folks. But when you're a kid, I suppose these things look like the greatest culinary creation mankind has ever seen.
Just imagine mom and dad's face as you proudly displayed this mess to 'em! And yes, we ignored Egon's advice about crossing the lines... we mixed the pink and yellow dusting sugar together to create some über mutant Peeps. I supposed there's only one thing left to do... EAT THE PEEPS!
In a rare display of peepish generosity, Protoclown offered the first Peep to me. But honestly, they just didn't look all that appetizing, so I had to pass. And that's when he got that crazed look over his face. He knew that he had a batch full of homemade Peeps just waiting to be devoured.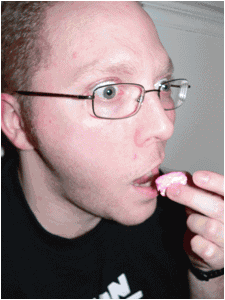 WAIT A MINUTE!
SOMETHING'S DEFINITELY WRONG!
PROTO! CAN YOU HEAR ME!?
WHAT IS IT! ARE THEY POISONOUS!?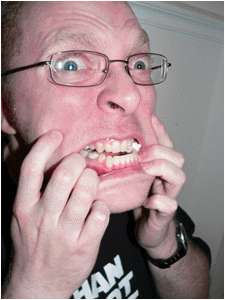 OH MY GOD!
WHAT'S HAPPENING TO HIM???
WHAT THE HELL WAS IN THOSE PEEPS!?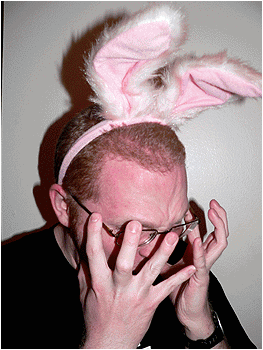 NOOOOOOOOOOOOOOOOOOO!!!!!!!
THE PEEPS HAVE SOMEHOW MUTATED PROTOCLOWN INTO A MUTANT EASTER BUNNY WITH NOTHING BUT MARSHMALLOWY ANGER TO FUEL HIS UNSTOPPABLE RAGE! HELP MEEEEE!!!!!
AAAAAAAAAAAAAGGGGGH!! NOOOOO!!!!
THAT BUNNY BASTARD BIT ME!!!!!
EEAAAAAAGHKKK!
NOW I'M TURNING INTO A...
A...
TURNING...
INT...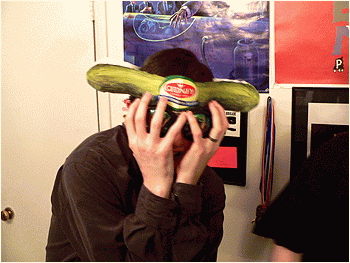 RAAAAAAAAAAAAAAAR!!!!
HUMANITY SHALL BE CRUSHED BY THE MIGHTY BUNNY SQUAD! NONE SHALL SURVIVE OUR PEEPTASTIC WRATH!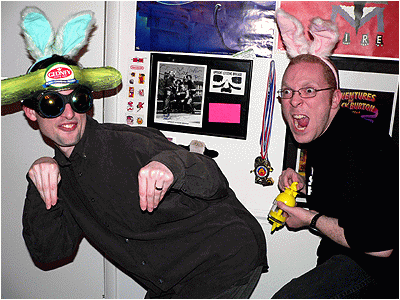 BUT FIRST WE GOTTA DO WHAT COMES NATURAL TO BUNNIES. WE MUST PROCREATE SO THAT WE CAN BUILD AN ARMY! PROTOCLOWN, GET THE PLUNGER AND IMPREGNATE ME WITH MARSHMALLOWY GOODNESS SO THAT I MAY GIVE BIRTH TO OUR ARMY!
HIPPITY HOPPITY GODDAMNED HIPPITY HOP! EASTER'S ON ITS WAAAAAAY!!!!!
MUAAHAHAHAHAHAHAHAHAHAHAHAA!!!
---
WANT TO SEE SOME MORE PEEPTASTIC FUN?
PLAY OUR PEEPS IN OUTERSPACE FLASH GAME!
OR
CHECK OUT OUR VISIT TO THE PEEPS BUS!
---
help support I-Mockery by supporting our sponsors:

---
Running a big site like I-Mockery takes a lot o' time and costs moola too.
Want to help show your support?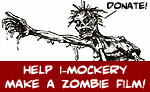 DONATE TO OUR ZOMBIE MOVIE!
Come talk about this piece & more on our Message Forums!