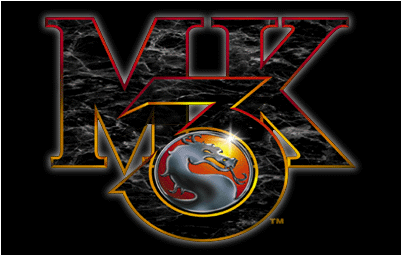 MORTAL KOMBAT 3!
Mortal Kombat has a special place in the hearts of many gamers worldwide. Its various ways to decapitate or disembowel a person disturbed parents and delighted kids. With each sequel, the creators attempted to outdo the previous game, though after Mortal Kombat 2, that became pretty much impossible. Even though Mortal Kombat 3 is probably my favorite of the series, it clearly leaned more on goofiness and re-used animations, and not much effort was made to visualize the gore, as illustrated by fatalities in which severed hands ended up floating next to severed torsos.

Still, the designers must've known they had to find a new source of shock material to keep the fans happy. Regular finishing moves just weren't cutting it anymore. So they introduced Animalities.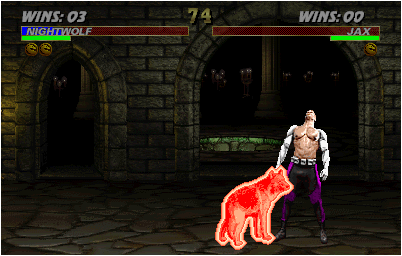 Ergo Nightwolf, having just transformed himself into a wolf to put the finishing touch on Jax. Hey, watch where you put that nose, mister. At this point you'd probably expect a brutal disemboweling. Well, you'd almost be right.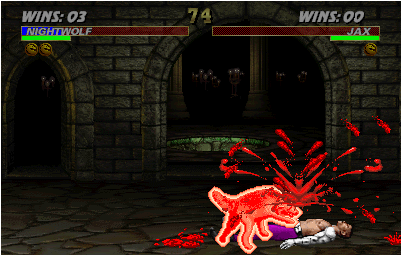 AGK! In some kind of jealous fit of pelvic rage, Nightwolf murders Jax's defenseless groin! Man, look at the blood fly.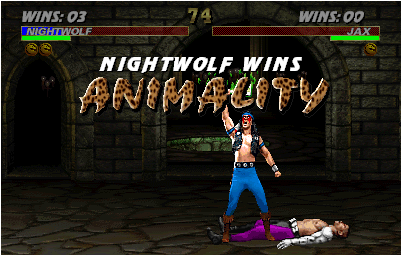 Nightwolf wins, yes, but at what cost? This was one of those moments that really made parents, teachers and politicians alike look away nauseously and briefly cup their testicles. And it wasn't like Nightwolf was the only one doing it. Remember what I said about re-used animations? Well...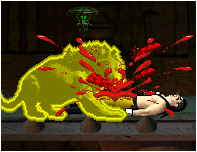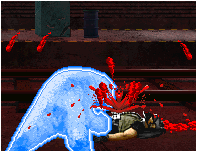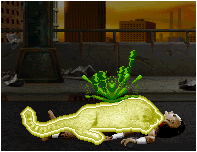 Jax, Sub-Zero and Kung Lao all join in on the crotch-rending mania, with Kung Lao occasionally going for all-out savage bestiality. Yeah, that was probably the original name for "Animalities" to begin with. After MK3 came a series of rehashes which, while it worked really well for the Street Fighter 2 series, kind of made the Mortal Kombat franchise bleed to death. It's good to know that the games won back their popularity with the release of the latest 3D versions. And as far as I can tell, there's no more mauling of groins. Thank heavens. Who knows what that could lead to in the long run?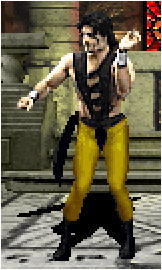 Yoo-hoo!
---