...CONTINUED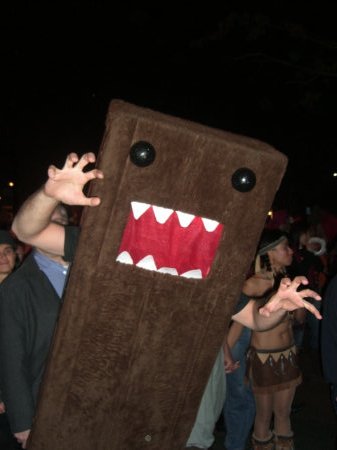 Domo-Kun says "RAAAAAAAAAAAAAAAAAAR!"
(Amusingly enough, the guy told me he had just been playing
my Domo-Kun game earlier that day! Small world, eh?)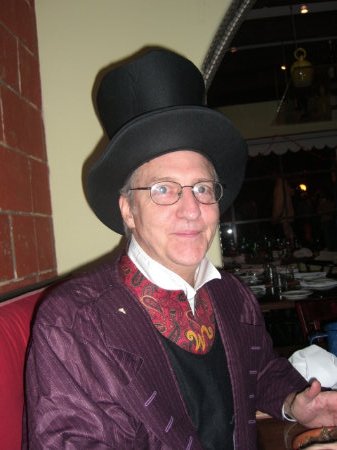 Willy Wonka was enjoying his soup... and it wasn't even made of candy!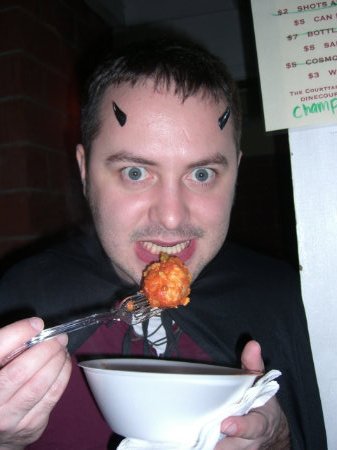 Zug the devil, however, enjoyed his evil meatballs.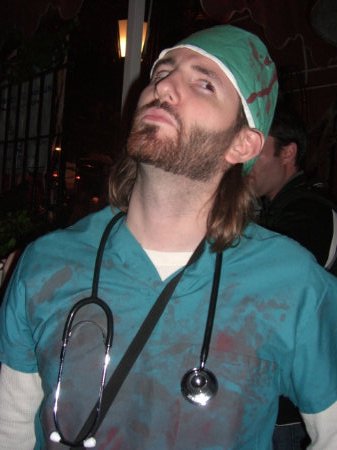 Like a surgeon! Hey! Cuttin' for the very first time!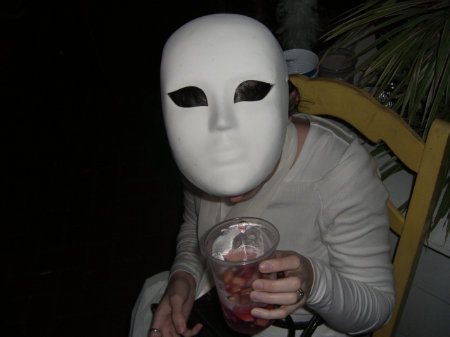 Even while enjoying some sangria, Re's mask manages to creep people out.

Remember how the Karate Kid dressed up as a shower for Halloween? Well that's it.
(unfortunately it was too crowded for me to get closer for a decent shot)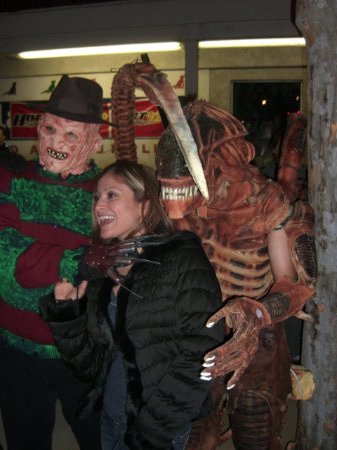 Freddy vs. Aliens vs. Predator? Nope.
Freddy & Aliens vs. helpless random girl who was "too cool" to dress up in a costume.

Well I'll be, it's Snake Eyes!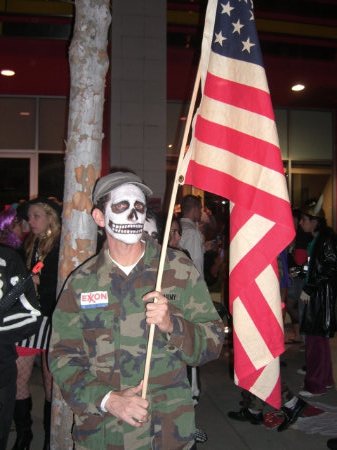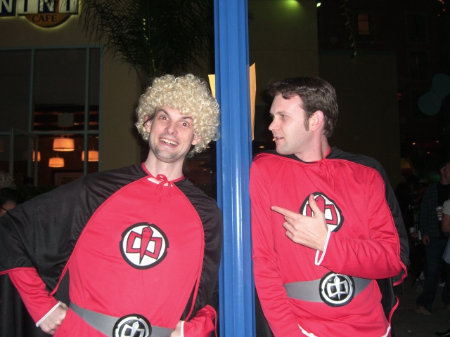 Believe it or not, somebody forgot to wear their whafro wig!

The rainbow afro squad tore through the massive crowds with rage. RAGE!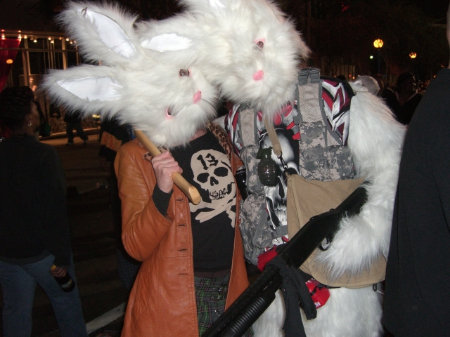 Some bunnies aren't cute. Some are armed to the teeth.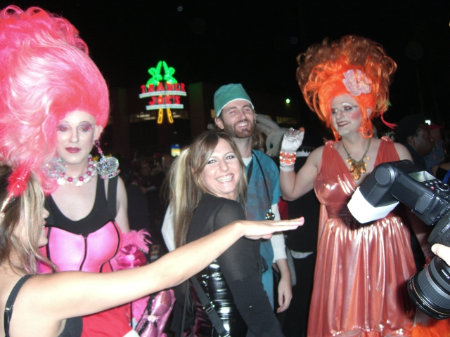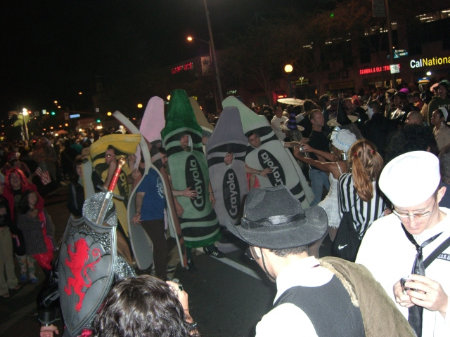 What's better than a pack of roaming Crayola crayons? A pack of completely
wasted roaming Crayola crayons! Yellow was especially plastered.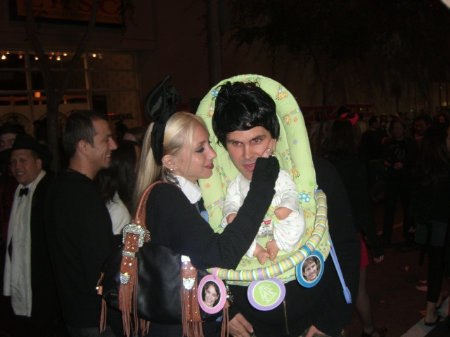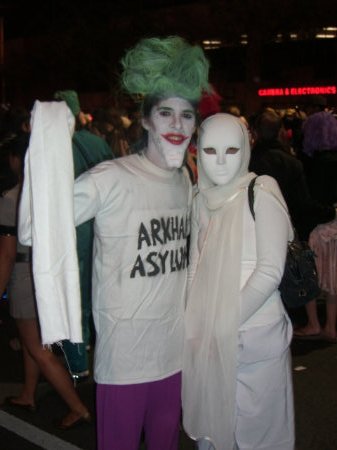 The Joker escaped from Arkham Asylum just to take a photo with Re.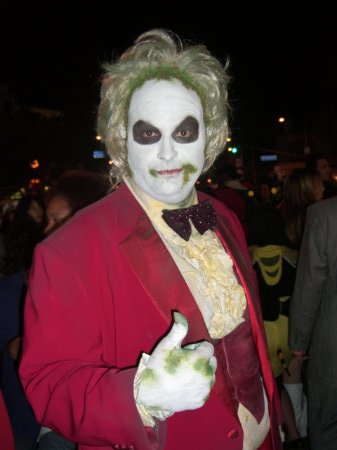 This guy was an AWESOME Beetlejuice and totally had the voice down.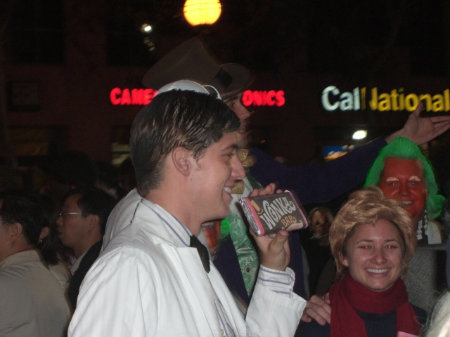 Another Willy Wonka along with all of the other characters from the film.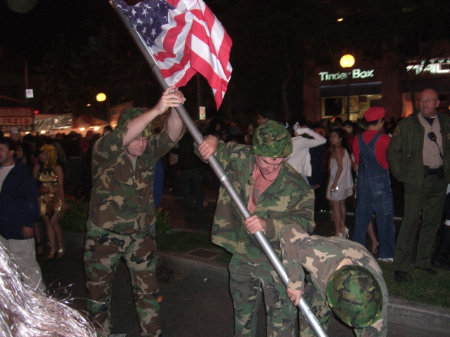 Hmmm, haven't I seen this in a photo somewhere before?
There's still plenty more Halloween photos to see!
CLICK HERE TO CONTINUE TO PAGE 5
OF THE PHOTO GALLERY!
---
help support I-Mockery by supporting our sponsors:

---
Running a big site like I-Mockery takes a lot o' time and costs moola too.
Want to help show your support?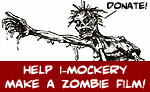 DONATE TO OUR ZOMBIE MOVIE!
Come talk about this piece & more on our Message Forums!