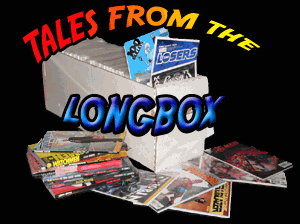 "One More Day"
1/8/08
by: Protoclown
Back in 2001, J. Michael Straczynski took over writing duties on Amazing Spider-Man, and hearing all the buzz surrounding the title, I became intrigued and started picking it up. I'd never really followed Spider-Man that closely before, so I'm by no means an expert on the character, but I found myself enjoying the majority of his run and followed it to its completion. Straczynski contributed a few crappy stories here and there ("The Other" and "Sins Past", I'm looking at you), but by and large when the editors weren't mucking around with his stories, he spun some fairly good yarns and introduced some interesting new ideas to the character (i.e. Peter Parker quit his job at the Daily Bugle and became a science teacher, the totemic origins behind his powers, etc). I still consider myself a Straczynski fan.
Unfortunately, his run just ended, and I am now done with Spider-Man. To Spider-Man, I say "fuck you". I am not finished with Spider-Man simply because Straczynski's run on the book is over. No, I am done with it because his last 'One More Day" story arc was the most horrible, insultingly stupid pile of rancid shit I've read in recent memory.


Little did they know that "one more day" was all they were going to see for decent sales on Spider-Man books.
But it's not entirely his fault. I would go so far as to say it's not even mostly his fault, as you can see the editorial influence all over this story like the blood and feces covered handprint of someone who must really like to touch things a lot.
But first, a brief bit of background: Back in 2000 Joe Quesada, an artist best known for his work on the indie comic Ash (about a firefighter with super powers), became Editor in Chief of Marvel Comics, and he has taken it upon himself to "fix" many of the things he sees as wrong in the Marvel Universe. Unfortunately, his idea of fixing things is to simply bash them with a hammer as hard as he can while screaming "LOOK AT ME! I'M FIXING IT CUZ I HAVE A HAMMER! SEE?"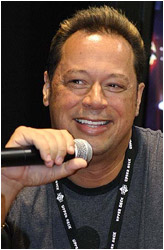 Joey Q, seen here during his gangsta rap days.
One of Quesada's earliest chest-beating proclamations after taking the job was that he didn't like the fact that Peter Parker was married, and felt that there just weren't very many good Spider-Man stories you could tell with a married version of that character. Mind you, Spider-Man got married back in 1987, so apparently they've been having no problem telling stories with a married Peter Parker for 20 years. Given that 20 years is only a little less than half the time the character has existed, I think the fans have probably gotten used to it now.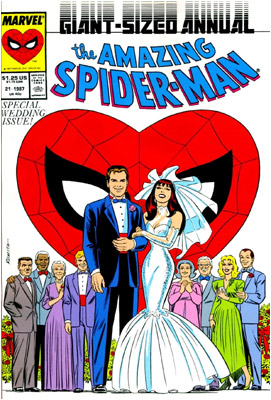 You'd better sell your copies of this issue while you can, because Joe Quesada
is on a mission to break into your house and destroy all the evidence.
But Quesada just wasn't satisfied and wanted to find a way to dissolve the marriage of Peter Parker and Mary Jane Watson. But he decided that a divorce was no good, because Spider-Man is a role-model for kids, so having him get divorced is simply unacceptable. He pondered over this for years, hoping to find a "satisfactory" way to end the marriage so he could tell the kinds of Spider-Man stories he thought should be told.
Then along came Civil War, and with it, the answer to Quesada's prayers. In the Civil War story, Spider-Man did a stupid and unmasked himself to the whole world, revealing himself to be Peter Parker (a decision which they planned to retcon all along). Well, wouldn't you know it, some of his enemies decided to take advantage of that knowledge, and the Kingpin sent a sniper to take him out. But the sniper missed Peter and shot his 90-year-old Aunt May instead, which left her in the hospital in a coma.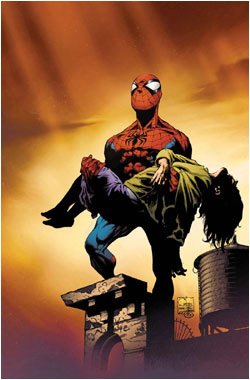 "Is there a doctor... uh, on the top of this building? Hello?? Anyone??"
For the better part of a year we were treated to a dragging storyline where Peter dressed back up in the black costume (right around the time that Spider-Man 3 was in theaters, how convenient) and was so mad that he was running around punching people way harder than he usually does. It was clear that he meant business. After Peter cried enough about his two-hundred year old Aunt May and bored the readers to tears as well, finally, Quesada's wet dream, "One More Day", could begin.
And considering that it started off with a quality panel like this, we just knew we were in for a real "treat":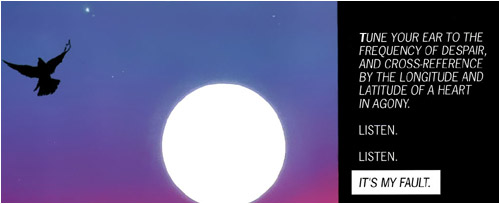 The imagery in this panel shoots this up to the next level from angsty teen poem to douchebag college student's "deep" art film.
Who the fuck talks like that? Seriously. We then see Peter and MJ in the hospital standing over Aunt May's hospital bed, while a teary-eyed Peter more or less obsessively punches himself in the balls repeatedly while sobbing "It's my fault!".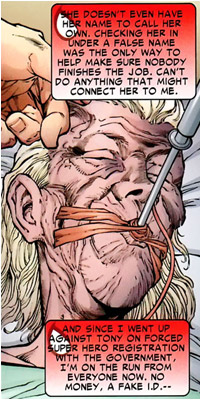 This was only moments before a terrible mix-up in which Aunt May got carted off to the Egyptian Museum's special Mummy Exhibit.
A doctor comes in and tells "Mr. Morgan" (oh, what a clever disguise!) that since there's no insurance or anything there's going to be a problem continuing to care for her (Peter obviously can't use his real name because he's a fugitive and they don't use May's real name because that would make her a target for Peter's crazy enemies). The doctor figures out who Peter really is because his face has been all over the news and tells him that he'll try to stall for more time before they transfer the 300-year-old May to the "dumpster ward" out back, because Spider-Man once saved his uncle.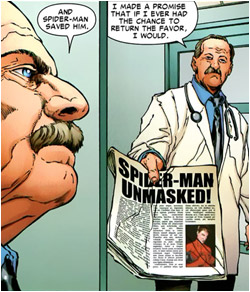 "Woah, Spider-Man! Can you autograph my newspaper?"
Peter determinedly rushes off to solve this problem, by web-slinging his way to Stark Tower, sans costume (why bother?) to confront Tony Stark and ask him to provide the money for May's treatment. After all, it's pretty much entirely Tony's fault that May is in a coma in the first place for making Peter unmask. Stark's security of course informs him of the crazy man who just broke into the tower, and Iron Man tackles him through a window and an aerial fight ensues.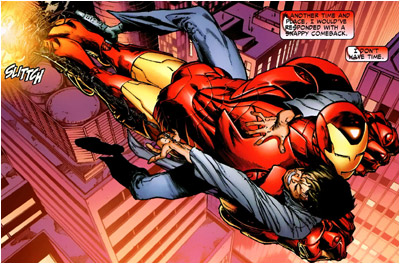 It wasn't until Iron Man got Peter away from all the crowds, the hustle
and bustle of traffic, the noise... that he could finally say "I love you."
Peter gets desperate during the fight and unleashes all of his webbing, creating a Tony Stark cocoon, which is the only way to get Stark to stop trying to arrest him and listen.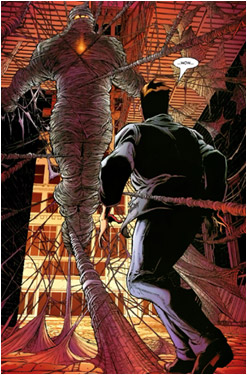 "I am Aunt May's mummy husband, and I have come for REVENGE!"
Stark tells Peter that he can't help him directly because he's a wanted fugitive, but he does agree to refrain from arresting Peter this time, out of respect for May. But when Stark arrives home, he arranges for his butler Jarvis to see to it that May Parker is financially taken care of.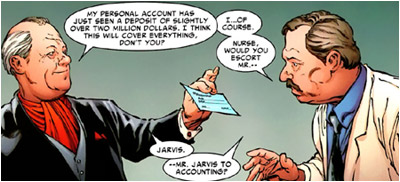 "I am as of now purchasing this hospital, so dance like a monkey, slave! DANCE, DAMN YOU!"
The doctor tells Peter that all the money in the world won't make a difference and that she's definitely going to die because she's like six hundred years old, but Peter won't accept that, as he's certain he'll find someone in that crazy crowd of rascals he hangs out with who can help her. Peter puts on his costume and heads back outside to find help. Next stop: Dr. Strange!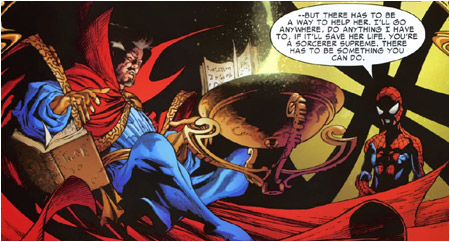 "Do you mind, Peter? I am a bit busy - playing World of Warcraft ON THE ASTRAL PLANE!!!"
Peter implores Dr. Strange to just wave his magic hands, or perhaps whip out and stroke on the Wand of Watoomb a little, and make everything alright. Dr. Strange sets him on his knee and explains to him that sometimes in life, people die, and that's natural. Peter says that if she were to die one day at old age (uh, hello? She's already 800 years old) or of natural causes, he could accept it, but that this is his fault, and he is cursed to punch himself in the balls forever every time he reminds people of that fact.
Dr. Strange refuses to use his magic to alter the fabric of reality (because this story does not call for it like all the others in which he does just that), but offers to use an artifact called the Hands of the Dead to transport Peter around the world so that he can ask others for their help. He beseeches aid from the likes of Mr. Fantastic, Dead Girl, Beast, Hank Pym, Black Panther, even Doc Ock and Doctor Doom, but they all tell him the same thing: that they can't help him.
Dr. Strange leaves Peter alone in the room full of powerfully dangerous artifacts to go fetch him a drink, so Peter decides to parrot the incantation uttered by Dr. Strange and use the artifact himself.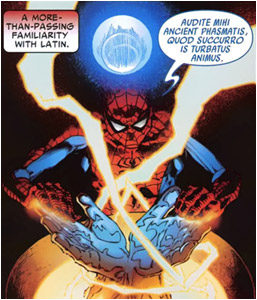 Some mother somewhere saw this panel in her kid's comic, thought Latin was "Satanic gibberish" and threw it away.
Peter must have been paying attention in Magic School, because he goes back in time to the very day that May was shot by the sniper. He encounters the sleeping sniper in the building across from the hotel where the shooting took place, and decides if he punches him a lot he just might be able to save Aunt May.


"Take THAT, Professor Charles Xavier!"
Unfortunately for him, he discovers that he's incorporeal and can do nothing to affect the world around him. He decides that maybe he can somehow get his past self to "feel" his presence there and understand that something is wrong, but some crazy time critters attack him at that point and distract him from his goal.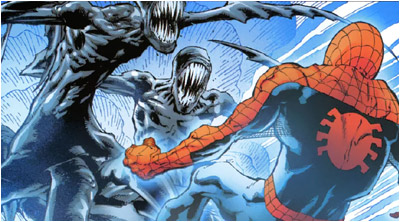 It's the story we've waited decades to see - Aliens Vs. Spider-Man.
He manages to fend them off and rush into the hotel room just in time to rewitness Aunt May getting shot, and realizing there's nothing he can do about it.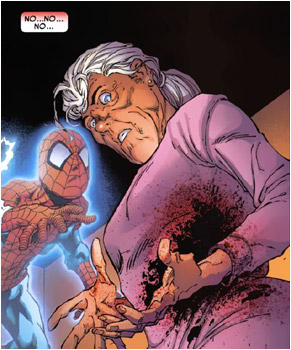 Is he trying to save his aunt or COP A FEEL? You decide!
The time critters attack again at this point, and they're just about to kill Peter when Dr. Strange comes in to the rescue, driving them away and teleporting them back into his sanctum sanctorum. He uses his magic to heal Peter's wounds, and explains that he can use his magic on Peter but not for May because of "magical cures for magical ills".
Doctor Strange gives Peter some valuable advice, telling him that he's wasting his time running around trying to find cures that don't exist when he should be at his aunt's side, so that he can be there the moment she expires. But Peter punches himself in the balls and is not convinced. He leaves Dr. Strange's place and encounters a little red-headed girl on the street who tells him "He was right. You cannot change that. But I... can."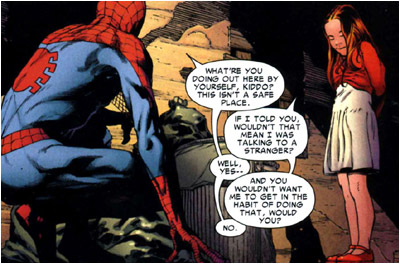 "Hey, I know a fun game we can play, little girl! Let's dig through this trash and find you something nice."
The girl creepily says a bunch of things she shouldn't know, and asks Peter "Do you want to save her or not?" and starts walking away. Peter follows and asks her if her parents aren't worried about her. She says no, that they don't worry because she's super-smart, taking after her dad. But she says she'd rather take after her mom, because she's beautiful. Peter assures her that someday she'll grow up to be beautiful, and she counters with "And what if I never grow up?"


In his early years, Spider-Man briefly tried a beret instead of a mask. It didn't work.
We soon understand that this is some kind of vision Peter's experiencing, and at this point all but the densest readers realize that this is a future possibility of Peter and MJ's as-yet-unborn daughter (who will arguably become Spider-Girl). She tells Peter he's selfish and he's an idiot, and walks off, saying that it's time for her to just "let everything go", because by the end of this story, she'll never have a shot at existing.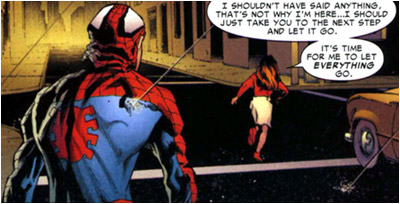 Milkman Dan annoys the hell out of Karen in his Spider-Man costume.
Peter tries to follow her down the dark alley she's just run into, but she's completely disappeared. He then encounters what looks remarkably like a fatter, nerdier version of himself, sitting on a park bench and reading Atlas Shrugged.

How many guys do you think were reading this and were like "Holy shit! That's me in the comic!!"?
Fat, nerdy Peter explains that he's a video game designer, and he loves playing games and reading books to escape the dullness of reality. He wishes that he lived in a world where real heroes existed and he could save damsels in distress and fight off bad guys with a sword, and he'd be damn grateful if he had the chance to be a storybook kind of hero like our Peter is.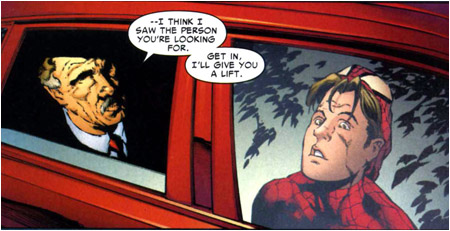 "I'm kind of light on cash at the moment. How much for just a blowjob?"
Just then a car pulls up with some old, rich dude inside who tells Peter that he thinks he saw the girl he was looking for, and invites him to get in. He explains to Peter that he's a rich and successful scientist, and boy did he sure show all those bullies in high school who are janitors and gas station attendants now. Peter comments that he must be very happy then, having gotten everything he'd ever wanted. And this older, obviously alternate version of Peter explains that he's actually quite miserable, because the one thing he wanted most, this beautiful girl he once knew and lost, he can never, ever have. It's as if J. Michael Straczynski himself is saying "Boy Peter, you sure would be an idiot to give up a true love like Mary Jane, huh?" In fact, after each of these little encounters, I kind of expected one of those things you see on political ads, maybe a panel of JMS saying "My name is J. Michael Straczynski, and I approve this message."
The old man lets him out and points him down another dark alley, and Peter encounters a dark and mysterious woman in a red dress.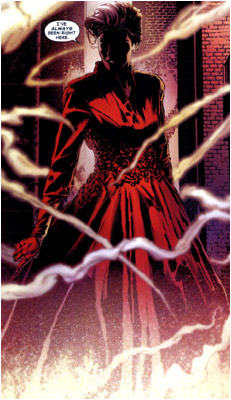 The Scarlet Witch reveals her sinister intentions to participate in yet another bad story.
The woman in red talks about dream worlds and alternate futures and illustrates that changes to little moments are all that's necessary to change the course of someone's entire life, and shows him that he could have easily become either one of the other versions of himself he encountered. Peter asks in just which reality he would be a little girl, and the woman says that's another story she's not ready to tell just yet. Shortly after this, the woman in red reveals herself to be Mephisto, who is basically the equivalent of Satan in the Marvel Universe.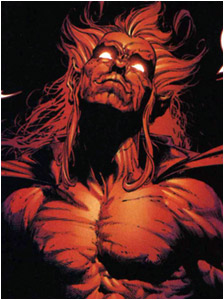 The ol' "cape with no clothes" is not a style that really works anymore.
Mephisto says that he can save Aunt May's life, and he will be happy to do so. All he wants in return is Peter and MJ's marriage. Yes, it really is as retarded as it sounds.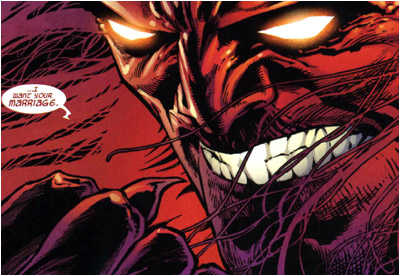 Even comic book villains want to destroy the Sanctity of Marriage. Where oh where does it end??
Peter finds himself back with MJ and learns that Mephisto approached her with the same offer. Peter is about to tell Mephisto where he can shove his crappy deal, but MJ says "Wait a minute - let's hear him out." She inquires what his terms are, and he tells her to enjoy the world as it is while she can, because she will only have it for one more day.
Mephisto explains that they will not consciously remember making any such bargain with him, but some tiny part of their souls will know that they have lost something very special and that he will take great joy in listening to that part of their soul screaming for eternity. Reality will be altered, and they simply will never have been married. They have exactly 24 hours to decide what they want to do, and at the stroke of midnight the following night, they will either lose their marriage or Aunt May will die.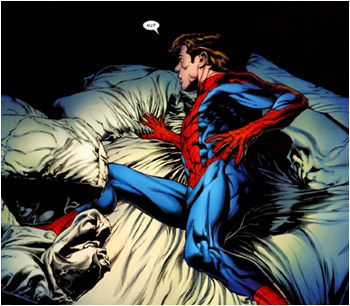 If I had Spider-Man pajamas, I'm sure I'd wake up in an empty bed too.
Well apparently they waste a good portion of that 24 hours sleeping, because we next see Peter waking up in his Spider-Man costume, noticing that MJ is not there. The reader is left to think "My god! Did he make the deal? Is it too late?" But we soon see that MJ is in the bathroom, presumably puking her guts out over the notion of actually making a fucking deal with the Devil. Also, I don't know about you, but if someone told me I only had 24 hours left before I had to decide whether to make the monumental decision of making a deal with the Devil, I'd probably stay up all night thinking about that shit rather than "sleeping on it", especially if I only had a limited amount of time left to share with a person I loved. I think I'd deal with being a little groggy the next day from lack of sleep.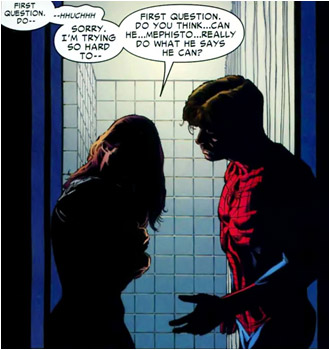 "I'm kind of low on cash. How much for just a blowjob?"
Peter and MJ talk for a long time, and MJ asks if maybe it isn't simply May's time to go. She is, after all, a million years old, so maybe it's just time for her to move on. But Peter says that he can't accept her death because it's his damn fault she's in a coma, before punching himself in the balls. If she was dying of old age, he'd be okay with it, but knowing that it's his fault she would die would "break him in two". Peter then declares that if the two of them decide together not to save Aunt May's life by not bargaining with the darkest forces of darkness, he could be okay with that.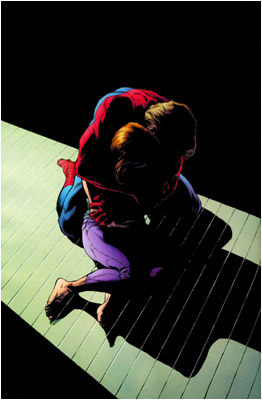 "Don't... move... MJ. The shadows here are really fantastic. Goddamn, this is one iconic image!"
Peter and MJ spend most of the remainder of their time just holding each other on the floor, when midnight finally rolls around and Mephisto pops back in, ready to hear their decision. MJ points out to Mephisto that even if they do make this bargain with him, nothing will change because everyone knows that Peter is Spider-Man, so some other lunatic will just come along and shoot Aunt May later. Mephisto then explains that he'll be glad to make it so Peter never revealed his identity too, because they have the rarest gift of all: true love "that comes about but once in a millennia", and to take that away from God would be such a great victory for the side of eternal darkness. And it's at this point that MJ blurts out that their answer to his offer is "yes".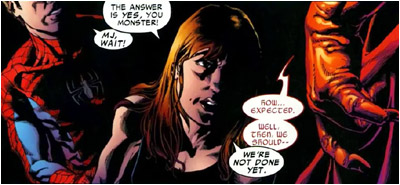 MJ accepts the terms of the blowjob, and thus concludes our trilogy of blowjob jokes.
Wait, what? Was MJ not listening? Surely she missed the bit where Mephisto was all like "You have something truly special and rare, far more so than mummified aunts who are even older than I am, and it would make me, the Supreme Lord of Darkness, very happy to take this thing away from you, especially since only a total tard would make that decision."
MJ demands that Mephisto put Peter's life back just how it was and give him a real shot at happiness because of what she can offer him. She then goes and whispers something in Mephisto's ear. We do not find out what this secret is, but hopefully this is something the writers can use as a back door to undo this crappy story after sales bomb miserably.


"Hey! No secrets, you two!"
But Mephisto can't go forward with the arrangement until Peter agrees as well. So with tears in her eyes, MJ tells him to be a selfish asshole and alter fucking reality just like everyone warned him not to do and save his aunt. Peter then agrees to Mephisto's terms.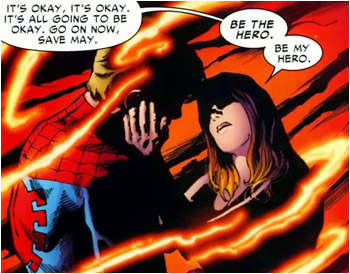 "You go fraternize with the Devil, my hero!"
Mephisto comments on how he's surprised that Peter didn't think to ask about the little girl from before, causing Peter to shit his pants and ask who she was. In a surprise to nobody whatsoever, Mephisto reveals that the girl was the daughter that he and MJ were destined to have, and now never will.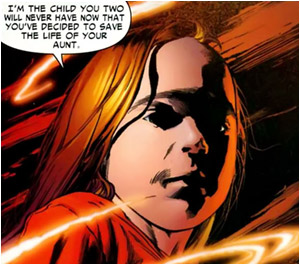 "Looks like ya dun fucked up, awwww snizzzaap!!!"
Of course, Peter is full of rage when he learns this and MJ has to hold him back from charging at Mephisto, reminding him that they only have a few short seconds left together. She explains to Peter that she believes they're truly meant to be together, that there's no force in heaven or hell that could keep them apart, and that she's confident that they will find themselves together again someday (when a new Editor in Chief takes over at Marvel).
Then we're treated to a collage of memories and happiness before it all goes to shit.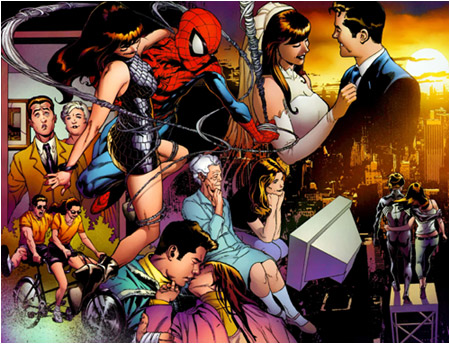 The comic should have come with a little button you press that plays a Journey song or something when you get to this page.
Goodbye happiness! Hello shittiness!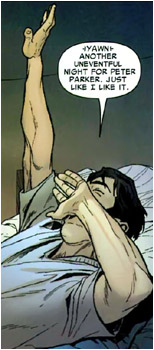 This is the panel where all the prior events of the story should have been revealed as a really dumb nightmare.
The next thing we see is Peter waking up in his own bed, alone, exclaiming that he sure does like having uneventful nights of not getting laid. Yes, I can certainly identify, because each night of sobbing myself to sleep in my cold empty bed is just a barrel of treats, let me tell you.
The next thing we witness is quite disturbing, as Peter comes down the stairs and some off-panel person is calling him "tiger", just like MJ used to do. Well, that's Aunt May. Not only is she perfectly alright, but apparently Peter is now in his thirties and still living with her in their old house in Queens that had burned down in the previous continuity. I gather that he's probably never moved out and been on his own. But given their disturbing relationship, that's no surprise: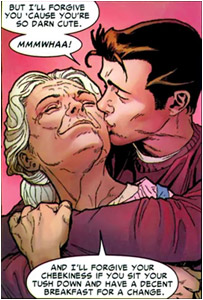 Peter traded his hot wife for this. What an asshole.
Peter has always seemed a bit too "into" his Aunt May for my comfort, and shit like this really only makes it worse. Anyway, May's fixing up some "wheatcakes" (they're sort of like pancakes to us normal people) for breakfast, but Peter realizes he's late for a surprise party, so he stuffs his face full of food and rides his bicycle into the city, looking like the world's biggest retard as he yells back at her with his mouth full of food.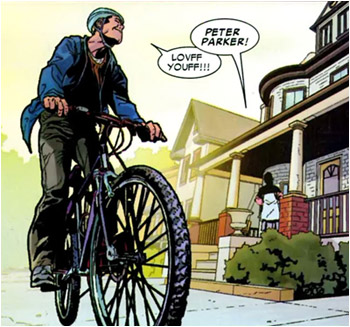 I wouldn't trust this version of Spider-Man to save me from an untied shoelace.
Peter arrives at the penthouse apartment where the party is taking place, and can't help but show us what a goober he's become when he gets off the elevator and takes a look at the place, calling the apartment "swanky digs." Soon enough, Harry Osborn gets off the elevator and everyone yells "surprise". Even Flash Thompson is present so apparently the whole high school crew is back together (except Gwen, thank god).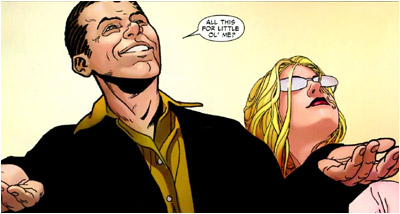 Harry Osborn is so rich he hired a girl to stand around behind him and pose like she's on an album cover.
Harry Osborn has been dead for years, so this is something of a surprise, as it doesn't seem to relate at all to the bargain that was made with Mephisto. Does this have something to do with the whispering MJ did in his ear, or is this just random, stupid, and insane (I'm voting for that one)?
Peter gets to be a ladies man now because he's single, but when approached by an attractive girl who's trying to introduce himself, he's distracted by the sight of MJ getting into the elevator and looking rather sad.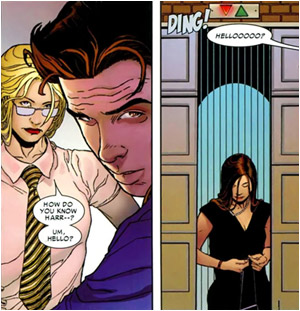 When Peter sees MJ going down on the elevator, a small screaming
part of his soul thinks back... to the blowjob. (Okay, so there were four jokes).
That's all we see of her, and then Harry proposes a toast for his "best pals". Peter refuses any of the alcohol because he doesn't drink and Harry laughs, calling him the "same old boring Peter".
The book ends with everyone holding their glasses to the air (and Peter with his empty glass, oh how symbolic), cheerfully toasting "a brand new day", which is the name of the next story arc. Which I will not be reading. Oh, and to make things even more insulting, they reprinted Peter and MJ's wedding at the end of the last issue of this arc.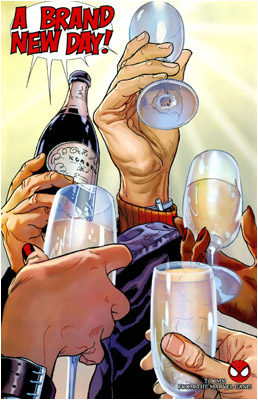 You can see here that Peter's organic webshooters are gone, and he
doesn't appear to be very careful about hiding his mechanical ones.
So basically, twenty years of continuity was just fucked up because of an editorial decision that was painfully evident through every step of the story. Hell, instead of Mephisto, they may as well have had Joe Quesada in the story and they could have made a deal with him directly.
They took a mature and growing character twenty years backwards because Joe Quesada didn't think he was "relatable" to his readers (who at this point are mostly adults) anymore. They've done everything short of having him back in diapers in their effort to make him seem younger again. But it's actually just pathetic that he's now a thirty-something guy who's never moved out of his aunt's house (although maybe that does make him relatable to many readers).
The problem with that argument is that for eight years now you've had Ultimate Spider-Man for your young, unmarried Peter fix. Alternate continuity, teenage, unmarried Peter Parker. Not to mention Marvel Adventures Spider-Man and Spider-Man Loves Mary Jane, aimed at younger readers and girls, respectively, and feature a younger, unmarried Peter Parker. The nice thing about the "core" universe book was that it was actually different by having a married, more mature Peter. But now that's gone, and all we have left are heaping servings of the same old shit, no matter which "flavor" you go for.
Quesada also didn't want Peter to get a divorce because that wouldn't be a good example for the children. IN WHAT FUCKING WAY IS MAKING A DEAL WITH THE GODDAMNED DEVIL MORE ACCEPTABLE?? Not only that, but pretty much every character along the way told Peter that altering reality was a bad move and pointed out the precious nature of true love. So now our "hero" Peter comes off as not only immoral, but a complete fucking moron for making what everyone else could plainly see was a horrible decision.
Aunt May needs to die. She's an utterly useless character at this point. She does nothing but hold Peter Parker back as a character, and will only continue to stunt his growth. At least Straczynski did interesting things with her, having her finally learn that Peter was Spider-Man (not that it hadn't been done and undone before), which resulted in probably the single best issue of his entire run. But now that's obviously been undone, and she is no longer aware that he is Spider-Man.
Which makes one wonder: just what other shit is no longer valid? Supposedly the only thing that was supposed to be altered was that Peter and MJ never got married, and that's it. But we've already seen that's not true, because Harry is back from the dead. If Peter never took off his mask during the Civil War, would he have stayed on Iron Man's side? Would this have affected the death of Captain America in some way? Is Peter still on the New Avengers? Because if his house didn't burn down he wouldn't have moved into Avengers Tower, and how many events would that have changed? It's going to become a continuity nightmare, and I don't envy the editors with the task of sorting this shit out. Comic geeks are nitpicky creatures and they're going to relentlessly point out every continuity error they find (of which there will be many).
Also, with this "Brand New Day" storyline, Marvel is doing away with the Sensational Spider-Man and Friendly Neighborhood Spider-Man titles, because it was no big secret among readers that those books were fucking worthless. All the important stuff only happened in the Amazing Spider-Man book, so only the most hardcore of fans bothered with the others, which weren't very good to start with. But now they're consolidating everything into Amazing, which will be released three times a month. So now the fans can shell out even more money to keep up with the title, of which only one-third of the issues are likely to be any good.
Quesada thinks there are many more interesting stories to tell with an unmarried Spider-Man than with a married one. Gee, I don't know though, I was kind of digging on the potential of that whole fugitive from the law whose identity was known to the whole world thing. How is that not interesting, exactly?
Straczynski reportedly wanted his name removed from the last story because Quesada meddled with it so much that he was very unhappy with the results, and I can see why. My friend Sal put it like this: He grew up reading Spider-Man comics and came to be really fond of the character. So when the horrible Clone Saga (a bullet I dodged, fortunately) came around, he suddenly felt like one of his oldest friends had said "fuck you!" and kicked him in the nuts. So he and his friend spent a long time apart, until Straczynski came on board. He heard rumors that his old friend seemed to be back, and despite some shaky moments where his friend threatened to punch him in the nuts, the rumors appeared to be true. Until very recently, when his friend suddenly kicked him in the nuts again, harder than ever, only this time, it was different. This time, he kicked Sal in the nuts because his parents the editors told him to.
So that is why "One More Day" is shite. I urge you Spider-Man fans not to buy "Brand New Day" when it comes out. Vote with your dollar, and let Marvel know that this kind of shitty deus ex machina storytelling is not worth anyone's money.
Found any weird, bizarre, stupid or funny comics that
should appear in a future "Tales From the Longbox" column?
Email Protoclown and let him know!