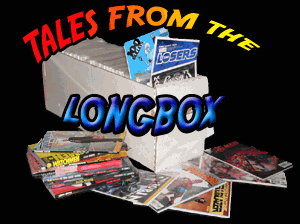 "More Odds and Ends"
2/21/08
by: Protoclown
Every once in a while I like to do a column on random things in the industry that I feel are worth talking about, but each individual one isn't large enough to get its own Tales From the Longbox column. This is one of those times. Sorry Marvel fans, but the House of Ideas has given me more to bitch about lately. I'll get around to trashing DC later.
Brand New Day
First and foremost, I'm sure many of you are curious about Brand New Day, the followup storyline to the absolutely craptastic One More Day storyline running through the Amazing Spider-Man comic. I certainly don't want to devote an entire column to Spider-Man right after I just did one, but I think this is definitely worth discussing to some degree.
And let me just get this out of the way right off the bat. When I said I wasn't going to buy this crap, I meant it. I've read these books, but I did not spend one penny on them. Nor do I intend to. And the only reason I bothered to read them at all is to keep you guys informed of the shit they're publishing right now. The sacrifices I make for you guys, I swear.
The very first page of Brand New Day, opens with Peter Parker making out with some girl in a club, because hey, now that he's free from the burden of marriage, he's free to do whatever he wants, right?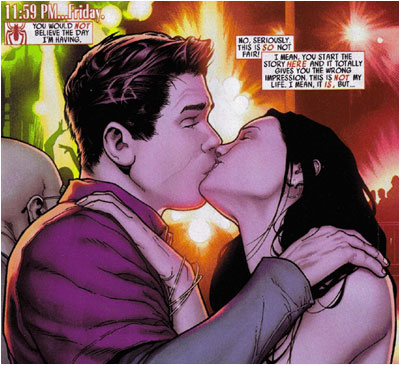 This is the point where we, the readers, are supposed to feel like high-fiving Peter Parker.
We have some scenes of news reporters talking about what a menace Spider-Man is (that sure is a fresh take on the character), and then just in case you forgot how lame Peter's living situation is, his Aunt May enters his bedroom and wakes him up.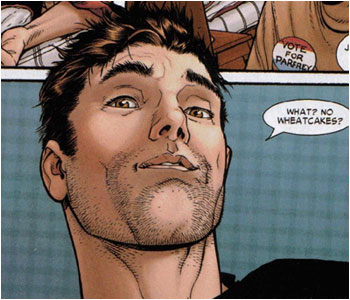 Peter gave up his marriage with his insanely hot supermodel wife for these wheatcakes,
only to find that they are UNAVAILABLE! OH, THE IRONY! CURSE YOU, MEPHISTO!!
They introduce a new villain in this arc, Mr. Negative, who they're obviously trying to push as some badass new member of Spidey's Rogues Gallery. Unfortunately he comes across as totally uncompelling and uninteresting.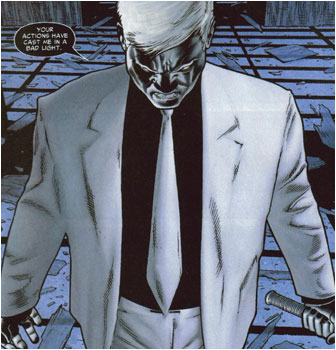 Mr. Negative's super power is that you have to look at a negative picture of him to see
what he would really look like normally. Not very dangerous, but incredibly annoying.
Mr. Negative's big plan hinges on poisoning a couple of Maggia (sort of like the Mafia, only they hire super-villains and shit) crime families, and then, I don't know, taking over their shit or something. He acquires an ancient tablet with a magical poison recipe that allows him to cook up a special poison blend that will only affect people belonging to a certain bloodline. Meaning he can disperse it into a crowd and not have to worry about killing anybody but his enemies and their family members (what a conscientious villain!). Spider-Man learns of his plan and saves a bunch of Maggia children from being killed, which makes him a friend of the Maggia.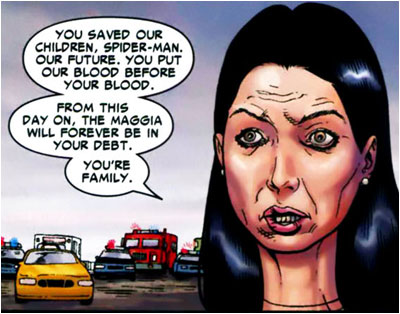 "I was selected to speak to you, because I am the ugliest. No one else would come."
Splendid! Not only is Spider-Man threatening the "sanctity of marriage", but now he's a friend of the Mafia as well! I'm glad to see that he's such a good role model for the youngsters out there who are reading the book.
Unfortunately for Spider-Man however, the only way he could save all the children was to give Mr. Negative a vial of his blood. See, Mr. Negative had one of the Maggia children hostage with a knife to her throat, so Spidey had no choice but to surrender his blood.


"Lucky for you I just happen to carry a syringe everywhere I go, fiend!"
Then Mr. Negative threatens Spider-Man's family members if he should ever mess with any of his schemes again, only this is kind of a stupid threat considering that Spidey's secret identity was magically put back in the bottle by Mephisto, so Negative has no idea who his family is.
But, oh my god! Wait!! Shortly after this we see Mr. Negative turn off his negativity and reveal his true face as - someone we don't recognize!! But then, Peter calls in to check on Aunt May, and she tells him not to worry about her and that she's going to get a ride home from Mr. Li, who just happens to be Mr. Negative!! Oh my goodness, I've just blasted shit all over the room I am sitting in! Seriously, it'd be easier to move into a new apartment than it would be to clean up this mess, I'm so surprised by this revelation!


"With a mere touch of his healing hand, Mr. Li makes Aunt May look twenty years younger."
UNTIL - I remember that I don't care! Firstly, Mr. Li probably doesn't know who Aunt May is in relation to Spider-Man, and even if he does, we've seen this dance before with the Osborns, with Dr. Octopus, etc, and it's frankly gotten a bit old. Secondly, since Marvel didn't have the balls to kill Aunt May before, to the point that they altered reality with the biggest Deus Ex Machina ever, I'm not exactly filled with tension over what her fate will be. Oh sure, Mr. Negative will kidnap her and tie her to the minute hand of some big clock tower or something, but is she in any danger of actually dying? Of course not.
The second story arc introduces another new villain they're hoping will stand the test of time and earn a permanent place of honor among Spider-Man's more memorable villains: The Menace! And with a name like that, he's bound to be forgotten by the middle of the summer.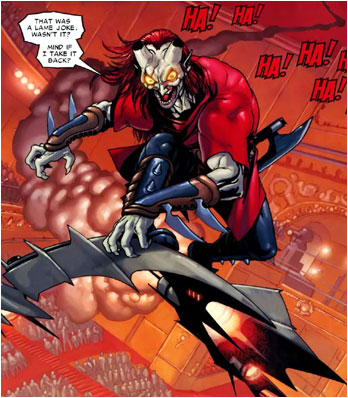 This guy looks like a Green Goblin wannabe who got all his equipment at the thrift store.
Oh my, how original! A kooky looking dude with a mask flying around on a little glider! Man, I sure am glad that this bold new direction for Spider-Man is taking us into totally new territory without anything that we've seen before!
Also, the horrible rumors about Mary Jane running around as a costumed hero named Jackpot are sadly true. I have no idea how she got super powers, nor do I have the foggiest idea what her super power is aside from the ability to put on a tacky costume, but nevertheless, she is now a registered superhero in New York City. Hell, maybe this is what she whispered into Mephisto's ear about.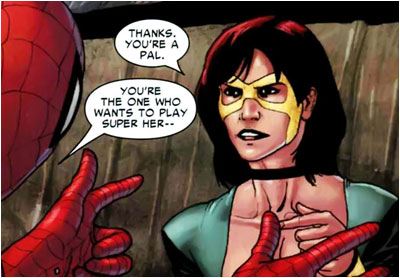 Oh, the romantic comedy banter between these two is unbearable! Seriously.
Pretty much the moment Spider-Man first sees her, he asks her if her initials happen to be "MJ" and she refuses to answer. But this doesn't deter him, because the next time he sees her, he asks if her name is "Mary Jane". She lies and says no, but it's fairly obvious he's figured it out by this point. I'm glad to see they're really milking it and taking advantage of this whole "rebooted" reality situation they've created and not making it all irrelevant within the first five issues. Because you know, then it would seem kind of pointless and about a million times more insulting.
Oh, and speaking of insulting, now that Spider-Man's not married to MJ, he can totally beat the crap out of her and it's okay because she's not his wife!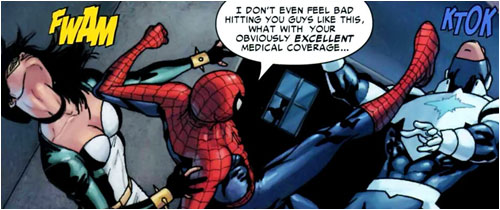 "You totally can't call me a 'wife beater'! Booyah!"
Brand New Day certainly is pretty so far, because they've gotten some fantastic artists working on the first couple story arcs. Unfortunately that's about all it has going for it, and they're not going to lure me in to something that sucks based on the artwork alone.
Another thing that annoys me is that they're writing the whole comic in this insulting, retro manner that's fine for children, but not so much for the adults that probably make up a larger portion of the comic reading market than kids do these days.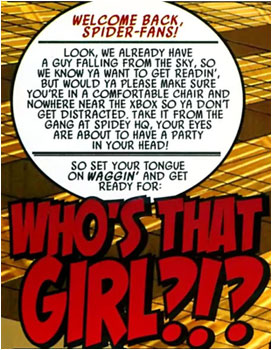 I just love when books I'm reading treat me like I'm retarded.
I understand it's a whole "style" they're going for, but it's lame and they should be writing the comic for a more advanced audience so that children reading it now can grow into it and keep reading it as they grow older. Kids are always interested in what the bigger kids are interested in, so writing for an older audience isn't going to take away from that demographic any.
And it's not just restricted to the narration boxes either. Take a look at this laughable dialogue from Mr. Negative's henchmen:


I had an "evil plan" once that involved not flushing and leaving a little "surprise" for my roommate.
"Curses"? Their "evil plan" is ruined? Who the hell refers to their plan as their "evil plan"?
One more thing worth mentioning is that J. Jonah Jameson is no longer in charge of the Daily Bugle. It seems that he got so upset with Parker coming in and demanding to get paid for the work he's done that he had a heart attack, and while he was unconscious at the hospital, his wife decided to sell all of his shares of the Bugle to Dexter Bennett, a guy who'd been wanting to buy the Daily Bugle for some time. Oooh! Lookout! They're totally shaking things up! I can't stand it!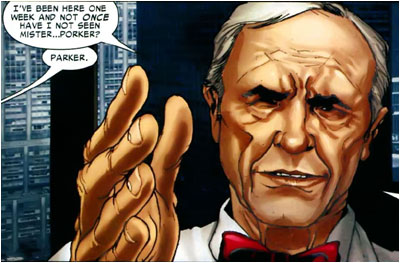 "I'm your new boss, Orville Redenbacher. Now let's get out there and pop some popcorn."
DC Hard Covers
Here's something that's been pissing me off for a while now. Back in the day, you used to have to wait quite a while for any book you were following to be collected into a trade paperback, if you were lucky enough for it to be collected at all. More than likely you'd have to hunt down older stories in the back issue bin at your local comic shop, no matter how popular or mainstream the stories were.
These days however, more and more collected editions are coming out relatively soon after the series they're collecting is completed, and more material than ever before is being republished in the trade paperback format (no matter how crappy it is). Sometimes though they're in such a hurry to get those collected editions out there that they don't even wait until the series is completed, or at the very least until it has reached a logical stopping point to collect into a single volume.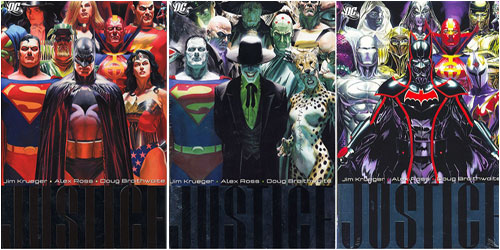 One for the price of three? Wow! What a deal!
Take for example DC Comics's Justice mini-series, twelve issues beautifully painted by Alex Ross, and definitely worthy of anyone's comic collection. The problem is that the series came out bi-monthly because the painted artwork took a long time to complete. So DC got a little impatient and decided to release the first hard cover collected edition a bit early. This $19.99 book contains four issues. Yes, that's right, the cover of the book is thicker than what's inside of it. Buying all three books separate will cost you $60.
Take an older twelve issue series, Watchmen, that contains not only twelve issues worth of material, but all the extra supplemental material that came in each issue, and that costs $20 (paperback). The paperbacks of Justice that have yet to come out are priced at $12.99 each, and there will be three of them to collect a twelve issue series.
This is happening more and more these days, where a story arc that's only ten or twelve issues will be published in two or three collected volumes instead of the more reasonable one volume. And it's not because the binding process can't handle that many issues together. It's really for one reason and one reason only: greed. They're collecting what could easily be compiled into one book into several just so they can charge you more for it, and on top of that, it's a bigger pain in the ass to shelve three books instead of one.
So I say, fuck you, DC. Fuck you.
Captain America's New Duds
Many of you have heard by now that Captain America has returned after the Red Skull killed him off last year. Thing is, it's not the Steve Rogers Cap. He's really dead and gone (for now). But Captain America is more of a role, or a costume, than a single man, so it was only a matter of time before he would be replaced. And Bucky Barnes, his old sidekick from World War II is the man for the job, and believe me, it's not as lame as it sounds. In fact, if you've been following the series, you'll see that Ed Brubaker has brought him back in a pretty cool way and done a fine job of setting everything up for him to take on the role of Captain America.
The only problem I have with the new Cap is his godawful costume designed by Alex Ross. Normally I'm a huge fan of Ross's painted artwork, but with this costume I have NO idea what he was smoking.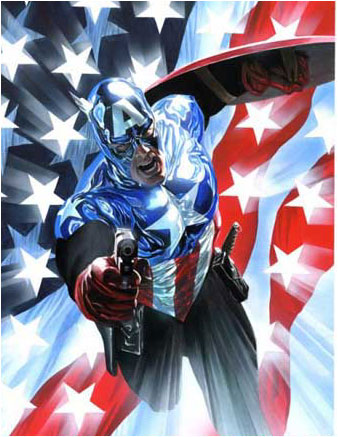 I certainly hope that Cap never goes on a mission that requires any kind of stealth.
What a fucking eyesore. Look how shiny that thing is. On a sunny day, he would blind friend and foe alike with that ridiculous getup. And notice how it all looks to be hard and metallic all over? Do you notice a problem with that? I don't know about you, but I would never wear a metal suit that involves a giant pointy metal spike sticking down near my crotch. Assuming that whole thing is made out of hard, unmovable metal as it appears, how in the hell does he sit down without stabbing himself in the nuts? Take it from me; you never want to have a metal pointy thing anywhere near your junk.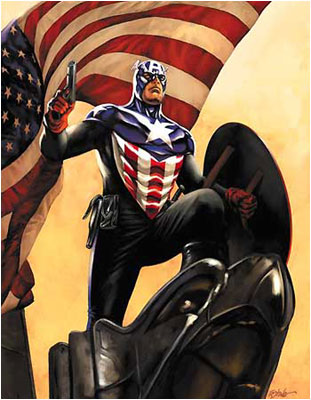 Captain America has never looked more delicious. And I don't mean that in a gay way.
Here's another look. It looks like he's wearing a fucking dessert cake. Tell me that doesn't look like tasty icing dribbling down his belly there. And what I really don't get about this is that they're trying to update Cap and make him more badass with the black pants and the whole carrying guns bit and everything, and then they go and have him dressed up in dessert. Ah well, the book is still worth reading at any rate, but hopefully this horrible design won't last long.
Secret Invasion
And finally, there's the upcoming big Marvel event of this year, Secret Invasion, in which a good portion of the Marvel universe has been replaced by Skrulls (really gay shape-shifting aliens, for those of you who don't know).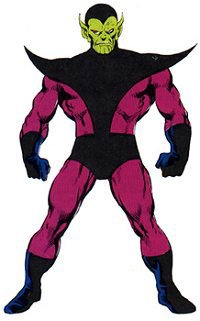 Since they're shape-shifters, maybe they can change into something that looks halfway threatening?
But does anybody really give a shit? The last Bendis "event", House of M was underwhelming and left the X-Men franchise a fucking mess. While it would be nice to have certain characters' (Spider-Man, Iron Man) recent insane behavior explained away by revealing they were skrulls this whole time, something tells me it's the fringe characters who don't really matter who are going to be skrulls. I mean, come on, Black Bolt? When was the last time that guy did anything of consequence? And I'm supposed to give a shit that he's a skrull? Same with Elektra. She's been off in Japan for so long and not doing anything that matters, I honestly couldn't remember if she was alive or dead.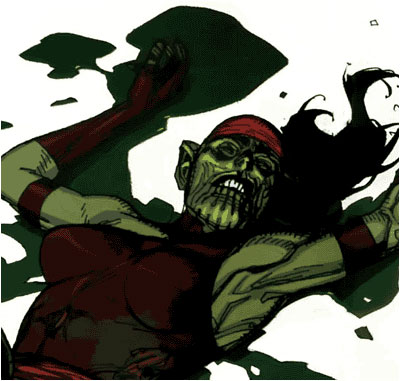 "Yep, I always suspected that Elektra was 'juicing'."
I'll reserve judgment until the crossover actually happens, but I for one am getting sick and tired of these big "events". Can't they just give us a break from all these Crises and Wars for a couple years?
I have plenty more to bitch about (what self-respecting comic geek wouldn't?), but that's all for now. If there's anything you'd like to see me address in a future Longbox column, let me know by sending me an email or posting in the comments thread down below.
Found any weird, bizarre, stupid or funny comics that
should appear in a future "Tales From the Longbox" column?
Email Protoclown and let him know!