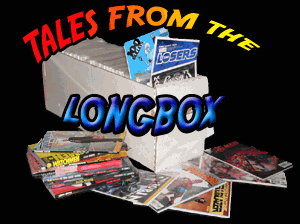 "The Dead Travel The Cosmos... In Spandex!"
10/08/08
by: Protoclown
...CONTINUED
Spider-Man and Wasp desperately try to stop him, but he grabs Spidey by the arms and begins pulling apart his torso like he's made out of paper mache.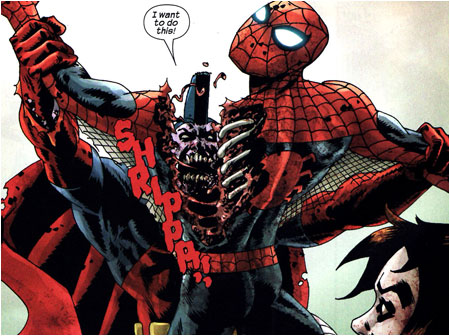 "Make a wish, Spider-Man! Bwahaha!"
Luke Cage (whose top half was also trapped within the sphere) swoops in on Gladiator from behind and stops him from completely tearing Spider-Man apart, but it's a temporary distraction at best, because none of these heroes are a match for Gladiator's strength in a toe-to-toe fight. But just then someone shows up in Iron Man's oldschool armor and gives Gladiator the serious stomping that he deserves!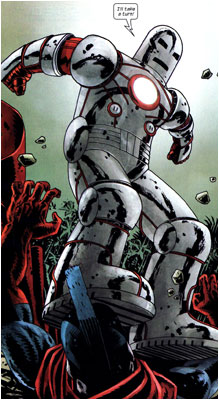 "Yeah, that's right, I been walkin' in DOG SHIT all day, bitch!"
"Iron Man" then tells Spidey and Luke Cage to focus their Power Cosmic energy on Gladiator at the same time. They blast his head directly with the full force of their power, causing his head to explode, completely removing this zombie from the board. The real Iron Man demands to know who the imposter is, and he takes the helmet off, revealing himself to be...Forge! (Like you couldn't have guessed).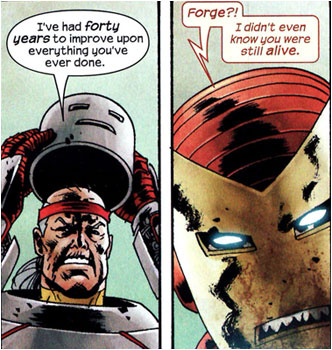 Forge: "Damn right I improved upon your suit design! There's a little
toilet back here now, so I don't have to wear a diaper like you do!"
Iron Man: "No one knew about the diaper! DAMN YOU, FORGE!!!"

Forge mocks him for a while, pointing out that he's had four decades to study and improve on his technology. He says they're never going to get through the force field so they may as well just go to some other planet and leave them alone. Remembering that they came back to Earth to use Reed's old dimensional transporter anyway, the zombies quickly give up and go to the Baxter Building in search of the device.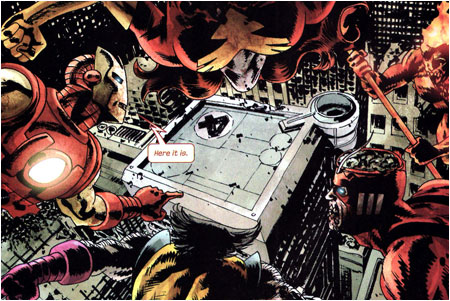 "OMG you guys I think Macy's is having a sale!"
We cut back to New Wakanda and see the humans and zombies recovering from the attack. Spider-Man and Luke Cage are considered full fledged allies now and are fitted with cybernetic limbs to replace all the damage they took in the fight. And we also learn that the humans have managed to capture the Hulk (in Bruce Banner form) and are keeping him sedated so he doesn't freak out and rampage through the whole place. Cortez comes in, and Forge convinces him to reluctantly team up with the zombies, knowing that they cannot win the inevitable upcoming fight without them.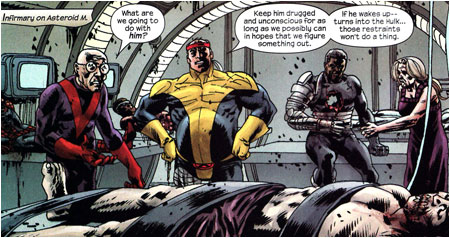 "Damn, Forge! You got a secret food stash somewhere? Cuz your ass got FAT!"
After reattaching Wasp's head to her robot body, Reynolds confesses that he's always loved her, that he was so afraid that she'd died in the battle that he was watching from safely within the bunker, and that she was always the one for him. So then she kisses him unexpectedly. Or, more precisely, she presses her teeth up against his face.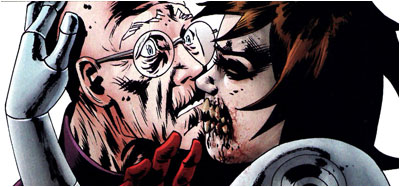 "Mmmm! Your lips taste like rotted flesh, Jan! Or, they would, if you had any left."
Of course everyone in the room is disgusted by this, human and zombie alike. But hey, when you're an old man, or a zombie, beggars can't be choosers. You stick with what you can get, you know?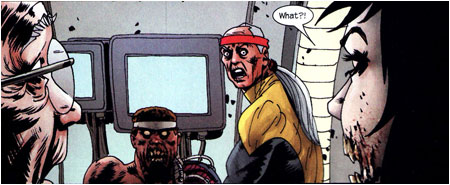 And thus it was that Forge's face became forever frozen into that horrible, horrible death mask.
Forge asks the zombies why they came back to Earth, and they tell them about their plan to use the dimensional teleporter. This is very amusing to Forge, as he reveals that he long ago removed the device from the Baxter Buildling and brought it to New Wakanda. And of course, we cut back to the zombies as they realize they've searched the whole building and it's simply not there. Iron Man concludes that Forge must have taken it--if he got into Stark Tower and stole all of his technology, then it's not much of a leap to assume that he would've gotten into the Baxter Building as well.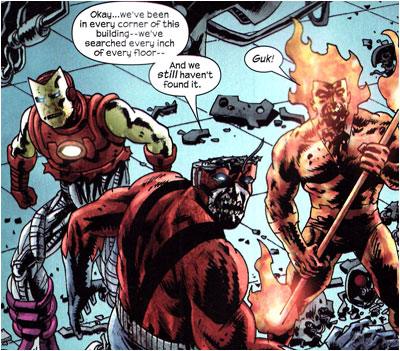 "Uh oh! Security robots! Firelord, use your flaming Q-tip to destroy them!"
Forge explains that even though he took the dimensional transporter, he could never get it to work, so it's completely useless. The New Wakandans know that the zombies are going to come back after they realize the device isn't there, and Black Panther points out that they're seriously outnumbered and outgunned when they come back. Reynolds says that they have one ace up their sleeve yet, and he reveals a secret project he's been working on, which is the brain of Colonel America that he discovered and then placed into the deceased body of Black Panther's son.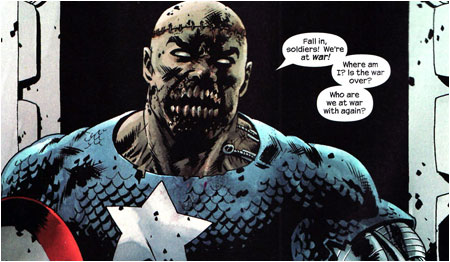 If Frankenstein's monster had dressed like this (and been in America), he
would have been completely accepted. See, it's all about branding.
For some unfathomable reason, Black Panther is slightly offended that Reynolds was secretly performing FUCKED UP ZOMBIE EXPERIMENTS with his son's dead body. I mean, come on, T'Challa's got to get with the times! Everybody's doing fucked up zombie experiments these days!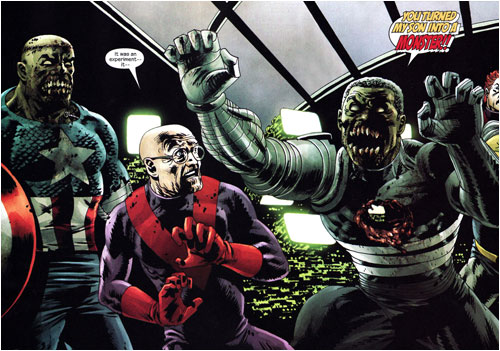 "Uh, surprise! Your son is back? No? You're going to kill me now, aren't you?"
Colonel America seems a bit...confused by the sudden fight breaking out and calls for the Avengers to assemble and just starts punching anybody and everybody who gets in his way. He doesn't seem to remember the whole "being a zombie" thing, seeing just a bunch of freakish monsters standing before him.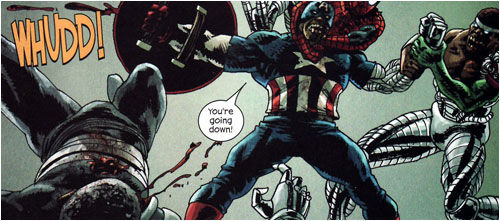 Let's be fair here. If you saw that your friends had become zombie robots,
you'd probably punch first and ask questions later too.
The heroes finally get the Colonel under control, and a short time later the cosmic zombies arrive, frustrated that they can't break down the forcefield, but fully aware that they have all the time in the world to wait around for something to go wrong. T'Challa comes out and greets the zombies through the forcefield, and offers them a deal: he will let them use the dimensional transporter without putting up a fight, so long as the zombies will leave them in peace and go feast on some other poor dimension. Giant Man agrees to this, at which point the forcefield is dropped, and then T'Challa and the others enact their master "plan". Are you ready for this? It's a doozy. The plan is to storm outside of the forcefield and attack them while Reynolds raises up the forcefield again, locking them all outside to duke it out. Wow, what a stroke of genius! I'll bet it took a five-year-old to come up with that.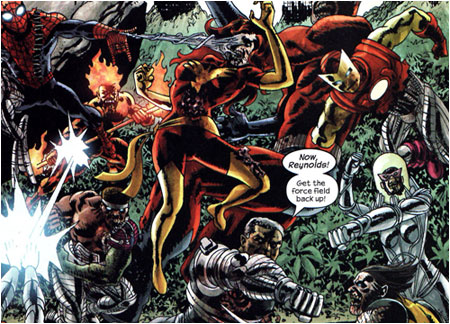 Look at poor Hawkeye, stuck in a girl's robot body. I'm surprised the others can even keep a straight face while fighting him.
Of course, one thing that goes terribly wrong with their poor excuse for a "plan" is that Iron Man seems to have gotten stuck on the other side. He tells the other evil zombies that he'll be sure to leave them a few scraps after he's chowed down to his cold black heart's content.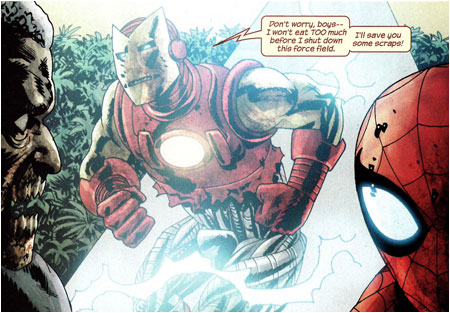 "Thanks for the invite into your home, boyos! Pip pip, cheerio!"
Iron Man roams around in the base while the battle rages outside (during which the Phoenix goes a little nuts and starts raining liquid fire down on everyone), until he finally rounds a corner and finds the humans he was looking for, but he also finds a couple other things he wasn't exactly expecting...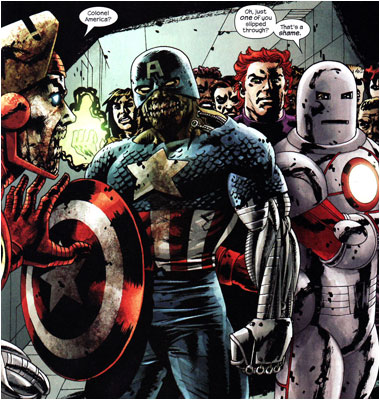 If they really wanted to be dramatic, they would have broken into the Thriller dance right then.
Back in the battle outdoors, Giant Man grows huge and starts smashing the shit out of as many people as he can, smearing Black Panther into ground paste, and smashing Wasp's head right off her body, which is a bit reminiscent of the scene where he bit her head off in the original story.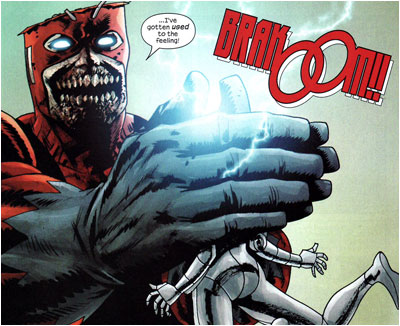 Unfortunately for Janet Pym, this was not the first time that her husband gave her the clap.
And inside Reynolds's lab, Bruce Banner has broken free of the restraints and attacks Reynolds, knowing that if he doesn't satisfy his hunger the Hulk will emerge at any moment and then he'll go on an insane killing rampage. During the struggle that ensues between them, Banner accidentally knocks Reynolds into the big obvious and oh-so-inconvenient lever sticking out on the control panel next to him, which of course happens to control the forcefield.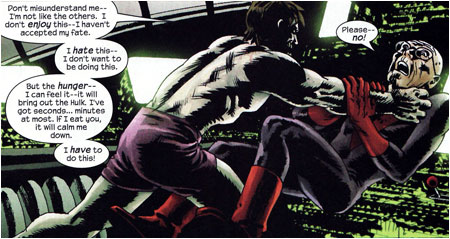 "Gah... if I told you... I had a huge... erection... right now, would you... stop choking me?"
After the forcefield goes down, all of the evil zombies rush in and quickly find where the humans are locked away in a bunker, for their protection. Giant Man grabs Black Panther's wife (Aunt May) when it suddenly occurs to him out of the blue that he's just not very hungry anymore.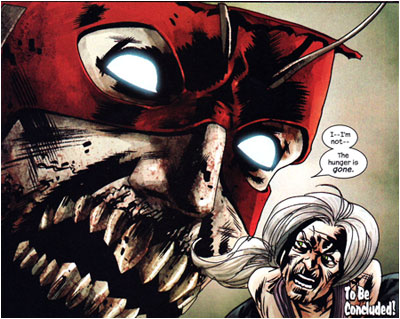 "This is...well, it's sort of embarrassing, but after all this trouble, I'm really not hungry at all.
Not the slightest bit peckish! Terribly sorry for the inconvenience!"

Giant Man quickly convinces the others to stop attacking and note that the Hunger is completely gone (why it took far longer for these guys than it did for Black Panther and Wasp is beyond me), and then he realizes that they can go back to their old heroic ways and help them rebuild.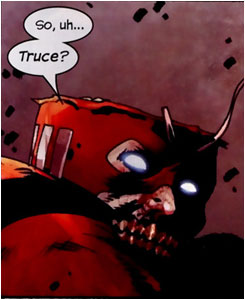 "So look, I know I ate everybody you people ever cared about,
but I can never wear a hat again. That's a fair trade-off, right?"
The humans aren't particularly happy about this at first (especially Cortez), but right as they're talking things through, the Hulk smashes through the wall shouting about how hungry he is.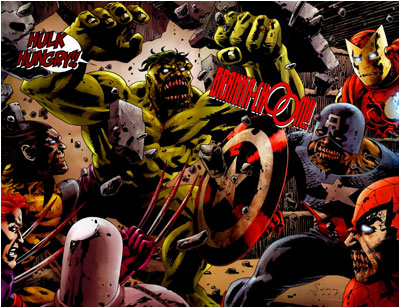 "HULK HEAR THAT SOMEBODY HAVE KOOL AID!"
A brutal fight ensues, wherein Hulk punches a hole through Phoenix and smashes her her head to a pulp, decapitates Firelord, decapitates the breasted Hawkeye robot, pops Iron Man like a grape inside his armor, and then feeds on Reynolds who runs out and commits suicide by Hulk because he believes that Wasp is dead and gone.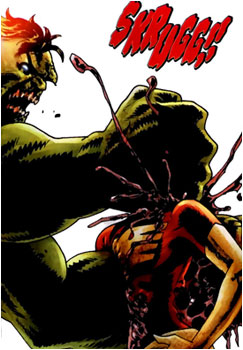 "Hulk dates never go so well, but Hulk not understand why?"
After finally getting a taste of human flesh, Hulk calms down and reverts back to Bruce Banner, who immediately tells the others that they have to kill him. They're basically like "you don't have to tell us twice!" and immediately blast his head off with their cosmic Galactus rays.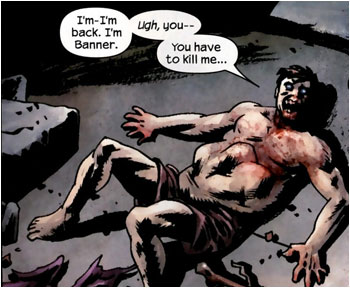 "HOLY shit you guys, I think I'm about to give birth here! You have to kill me
before the impending bowel movement does!"
With the threat now passed, they hold a funeral for all the fallen and the few remaining zombies (consisting now only of Giant Man, Spider-Man, Colonel America, Black Panther, Wasp, Luke Cage, and Wolverine) help the humans rebuild. Which I'm sure is kind of awkward, laying bricks next to somebody who ate your wife's brains like candy.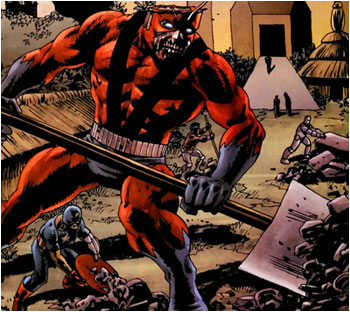 If I were Giant Man, I would shrink down to a smaller size so I could do a smaller share of the work and slack off more.
A few weeks into the rebuilding process, Giant Man holds a meeting at the now-repaired dimensional teleporter, stating that they don't have enough supplies, nor do the humans have enough of each other to fuck, to sustain themselves for more than a few generations. So he suggests searching alternate dimensions to find a new home where they can make a fresh start. You'd think it was a ploy to eat more people, but it really, truly is not.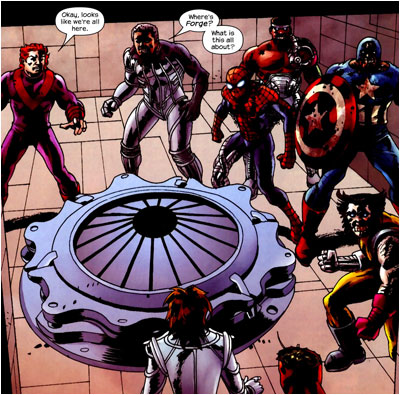 "So we finally figured out what this big thing does...we think it's a webcam."
However, at this point, Cortez reveals his sinister plan, telling them all that it was he who sabotaged the teleporter all that time ago (he removed the sparkplugs), and he admits that he did try to kill Black Panther, that it was he who killed Black Panther's son, and that he's now going to kill his grandson as well. T'Challa of course is like "What the fuck, why are you telling me all this when you know I will kill you?" but then Cortez is like "Whoops, clumsy me, here's the switch to the teleporter!" and sends them all away to some unknown dimension.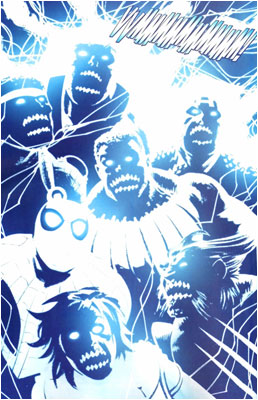 Enjoy your stay in... THE DIMENSION WITHOUT COLOR!
Forge runs into the room too late and screams at Cortez a while, shouting "You imbecilic fuckhead, what have you done!?" Cortez doesn't care to be questioned like this, so he cold cocks Forge, knocking his ass out, and then he turns to the ceiling to shout to nobody at all about how the zombies are now somebody else's problem.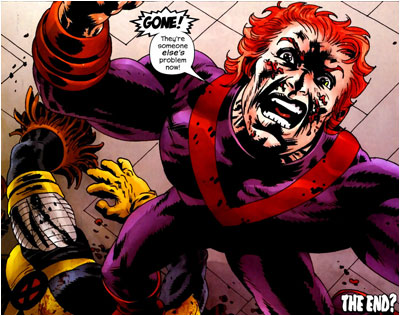 "Do you hear me, ceiling? Well, DO YOU???"
And of course, "The End?" appears with a question mark, so we just know there's going to be a Marvel Zombies 3 (the first issue actually comes out this week). The problem is, does anybody really care at this point? I mean, the first series was nice because it was a novel concept, but was the second one interesting at all? (I'll help you out here: the answer is "no"). Now that there's only a tiny handful of zombies left, none of whom suffer from the Hunger and are all ready to play nice with the humans, what reason do I have to care where they end up? I'm sure we'll all learn the answer to that question next year, when I do the inevitable Tales From the Longbox for Marvel Zombies 3.
In the meantime however, Arthur Suydam has again done a fantastic job with his Marvel Zombies 2 covers, all of which are tributes to older Marvel comics from back in the day! Like last time, I felt that they deserved to be shown off, so click on any of the images below to see a comparison of the classic cover and the zombified homage!
Found any weird, bizarre, stupid or funny comics that
should appear in a future "Tales From the Longbox" column?
Email Protoclown and let him know!