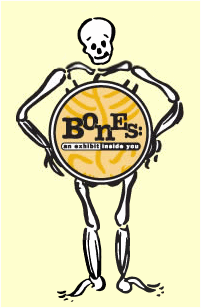 Not too long ago, The Bones Exhibit came to the local science museum and we went to check it out. It's a spooky educational exhibit, and we all know education means fun, right kids? Right. So here's a quick tour of some of the things we saw...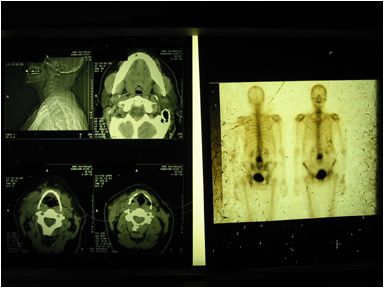 A wide variety of cool looking x-rays were the first thing in line. I'm pretty sure the guy on the left had a bag of cocaine hidden in his rectum.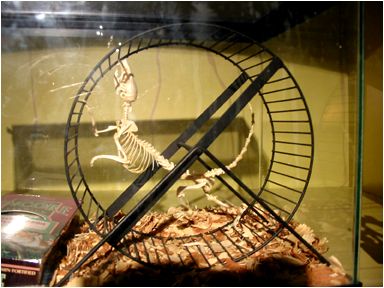 As nifty as it looks, I gotta say I was disappointed with the skeletal rodent wheel. I really wanted to see it run. You know, like a button you could press that would make it move. I mean, come on, this is a science museum we're talking about. There's gotta be somebody with some experience in robotics around. Probably the same person who had this rodent skinned alive. :(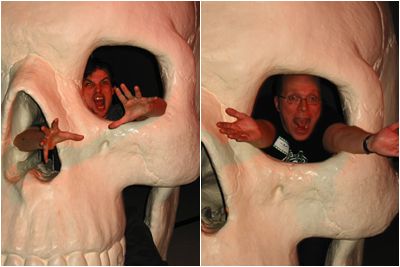 Going inside the giant skull was scary, a little too scary.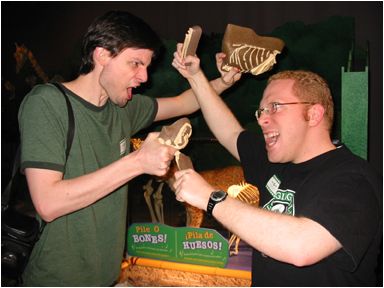 The fake archeological dig drove Protoclown and I into an uncontrollable fiery rage. We grabbed the plastic dirt 'n bone pieces and starting wailing on each other with 'em. The battle went on for hours, and in the end, neither of us won. So, we finally decided to call a truce and take a nap instead.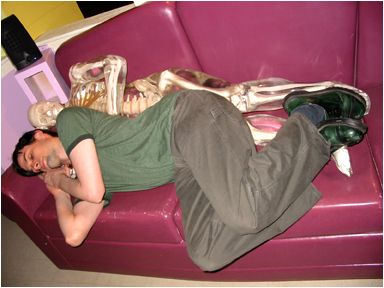 Nothing like spooning with a skeleton to relax the mind and body.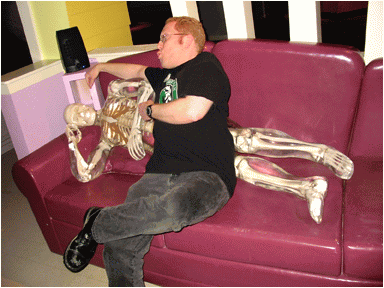 Proto said he was gonna take a nap too,
but I guess he had different things in mind...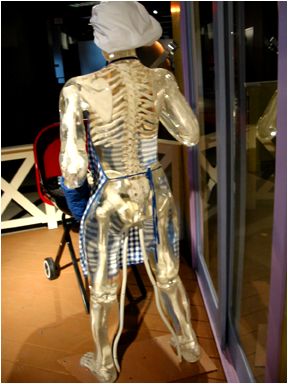 Something about this cook just didn't sit right with us. Sure, he was wearing an apron, but where were the rest of his clothes? He was practically cooking naked! Oh no! His bone is on the grill!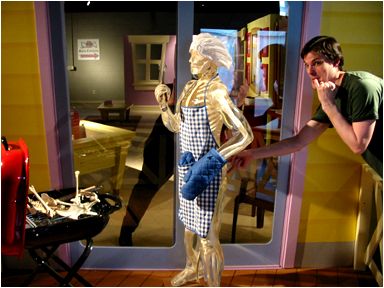 Oh wait, that's just some other bones. No need to worry.
And don't lie, you would've given him a pinch too...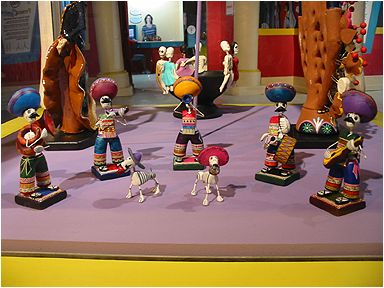 Sadly, these awesome Day of the Dead figures weren't for sale.
They did have some tasty freeze-dried astronaut ice cream for sale though. Not sure what that has to do with bones, and I really couldn't care less because I love how that stuff tastes.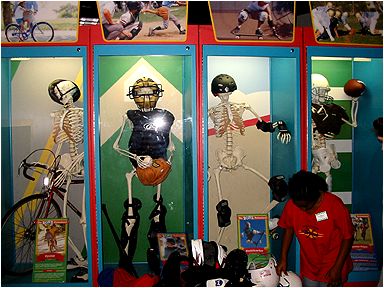 Next up was a look at the things we do to protect our bones when engaged in athletic activities...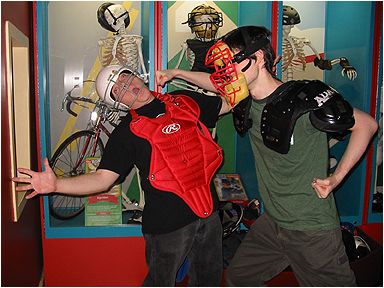 Yep! Protective gear works just fine!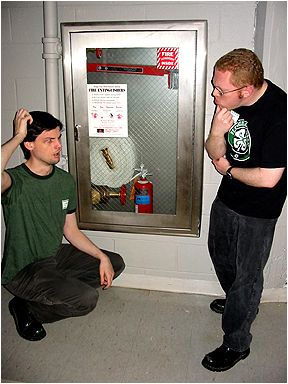 We were totally confused about this part of the exhibit though. What did it have to do with the skeletal system? I fear that we'll never discover the answer.
Well, it wasn't a very long exhibit, and definitely can't compare to last year's Grossology exhibit, but it was educational. I guess in the end the one thing I learned is that since we people have skin, we're a lot less naked than skeletons are.
Knowledge is power.
---