by: -RoG-
It's well known that Halloween costumes have evolved over the years, from simple paper and plastic masks, to extremely elaborate and gory costumes that make even the most seasoned law enforcement officials do a double-take to ensure that nobody was actually just murdered. Well, I bet you didn't know that there was a time when the Topps trading card company tried to release some costumes in their old wax packs.
Yep, back in 1967, Topps released Disgusting Disguises - a set of 24 cards with horrific designs printed on them that were perforated so you could tear them out and wear them all over your body (primarily on your face). Each pack also included "Skin Stickers" you could wear to help make your monstrous costume all the more disgusting... or ridiculous.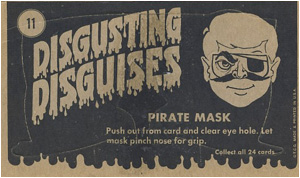 As you might expect, because the purpose of these cards and stickers was to wear them on your body, not a whole lot of them survived through recent decades. As a result, the cards fetch a fairly high price among hardcore collectors these days (especially the uncut sheets). Well, if you're like me, you don't have that much cash to blow on some cheap novelty Halloween disguise cards and stickers, vintage collectors items or otherwise. Still, these cards are certainly a very unique oddity from yesteryear and were all painted by the extremely talented Norman Saunders, so their memory must be preserved for all to enjoy... not just those with deep pockets.
With that in mind, I'm happy to present you with the complete set of Disgusting Disguises cards and stickers. What's most amusing about the set to me is how some of the the cards have absolutely nothing to do with horror whatsoever. Let's take a look: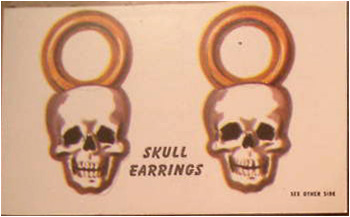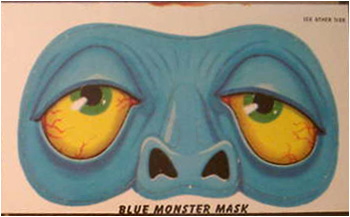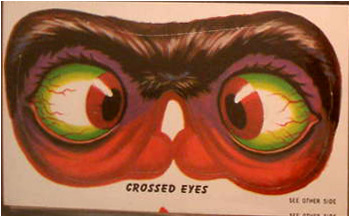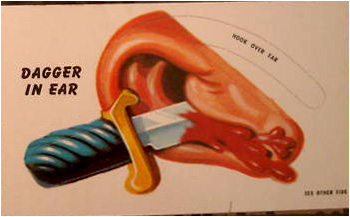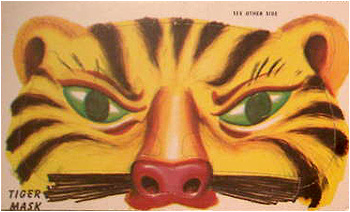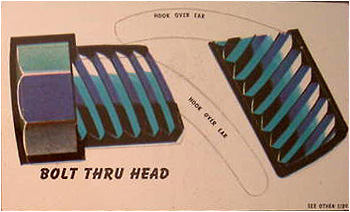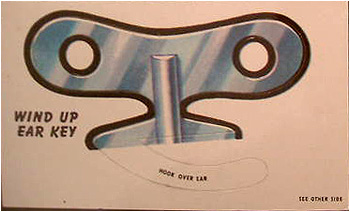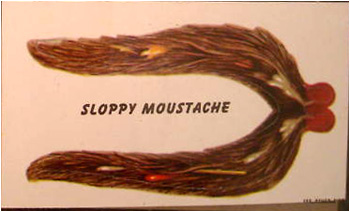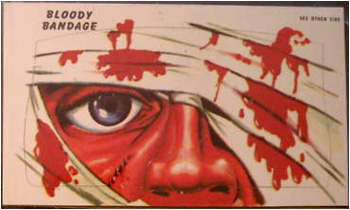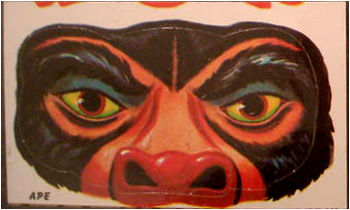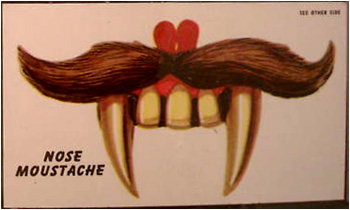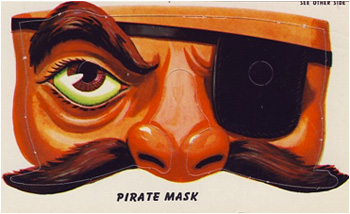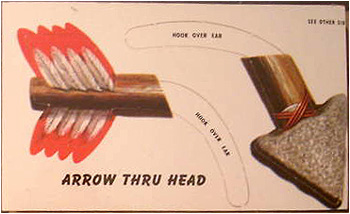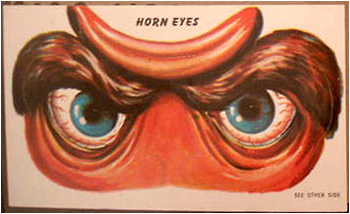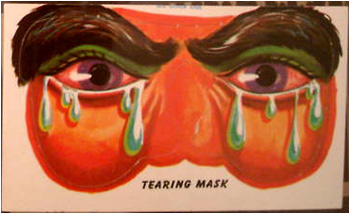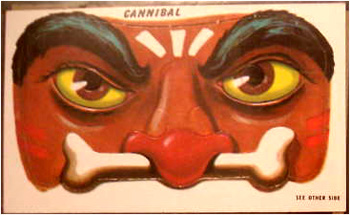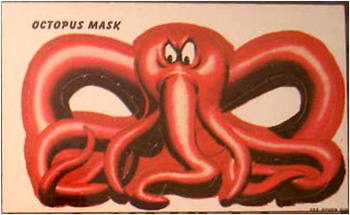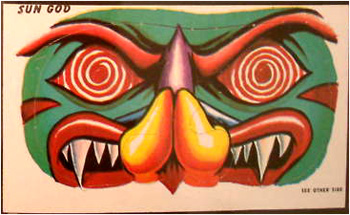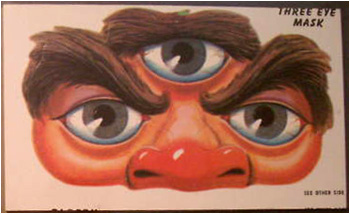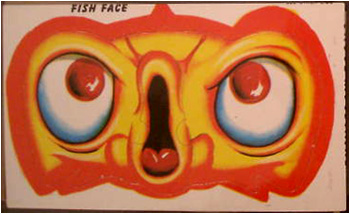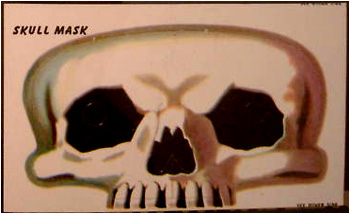 Granted, any of these tiny cards are gonna look ridiculous on a person's face, but that aside, there are definitely some cards from the set that stand out from the rest of the pack:
Dagger In Ear - Ok, now this one actually lives up to the name of the set. A dagger in your ear, or anybody's ear for that matter, is pretty disgusting. When people think of others getting stabbed, 9 times out of 10, they picture it happening to somebody's chest. If you're that tenth person who pictures a person getting stabbed in the ear, chances are it's because you've actually done this to some poor bastard.

Sloppy Moustache - The name alone on this one is pretty disgusting. In fact, just thinking of that phrase without even seeing the card kind of makes me want to vomit. Add in the fact that you actually have to stick the prongs of that sloppy moustache into your nose to make it work, and you have yourself a one-time use novelty on your hands. I can't believe I just typed "stick the prongs of that sloppy moustache into your nose." Only during Halloween season does this kind of shit happen to me...

Diamond Earrings - Really? So you're telling me the creators of Disgusting Disguises had a meeting one day in which they decided that Diamond Earrings are disgusting? Wait! Maybe it's a subtle social commentary about the horrors that people in nations like Africa go through just to get diamonds for rich American women to wear? Well played, Topps... well played.

Nose Moustache - Though nowhere near as disgusting as Sloppy Moustache, I'm curious as to why there's not a single mention of the vampire fangs that are attached to it. I'm just saying, it would take a far more impressive moustache to distract me from the fact that somebody has vampire fangs. We're talking world champion moustache competitors here, folks.

Horn Eyes - I honestly don't even know what's going on with this one. It's not disgusting per se, and it's not like we're seeing a horn protruding through somebody's forehead. No, what we're seeing here is the impressive feat of somebody balancing a horn (or possibly a banana gone bad) upon their two ultra-bushy eyebrows.

Octopus Mask - Sure, I can see how some people would see an octopus as disgusting, what with them being so slimy 'n all. Do you know what's really horrifying here though? This octopus appears to have an awful birth defect, for it has an extra tentacle coming out of it's mouth! You'd look pretty pissed off and scary too if you were forever barfing up a fat tentacle.

Oriental Mask - I guess this one is supposed to teach us that racism is disgusting, right?

Three Eye Mask - I've seen plenty of depictions of people with a third eye in the middle of their forehead, but it usually doesn't include a third bushy eyebrow. I like it.
So that covers all 24 cards in the set. Now let's move on to the complete set of stickers (27 in total, though there are a few duplicates in there for some unknown reason) from Disgusting Disguises. I apologize in advance if you're unable to stomach such horrifying things as traffic signs, ladybugs, anchors and butterflies.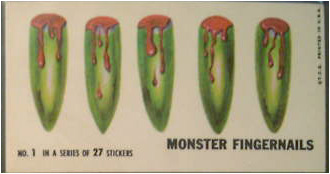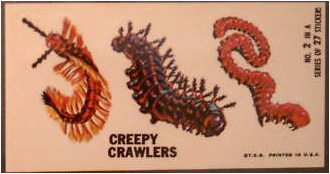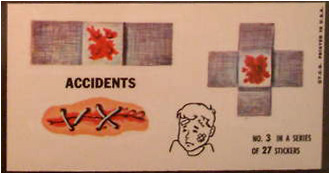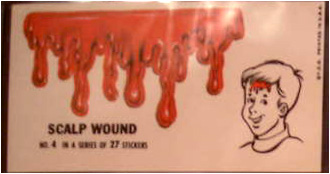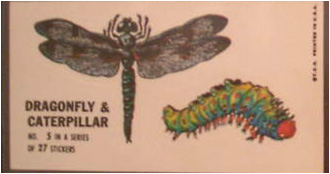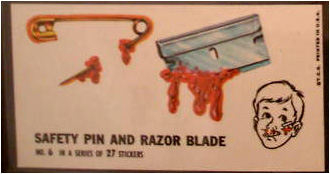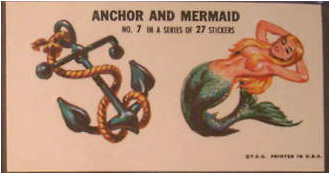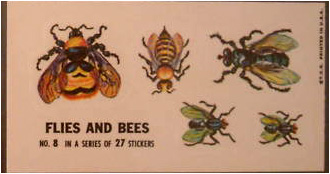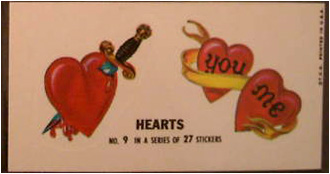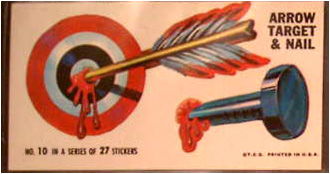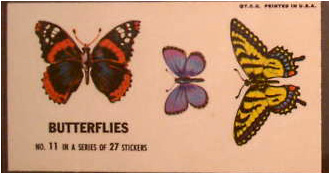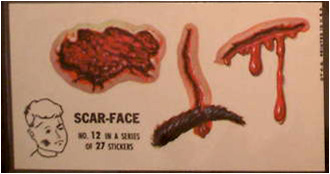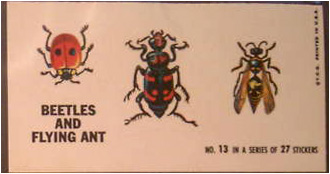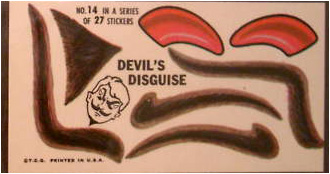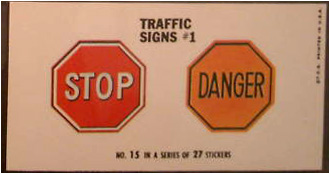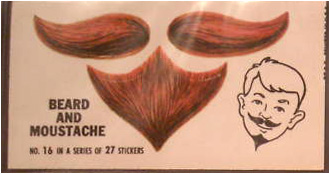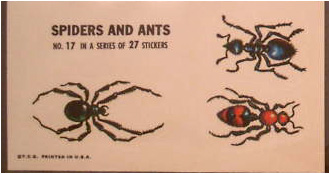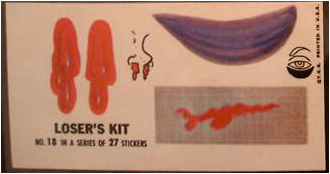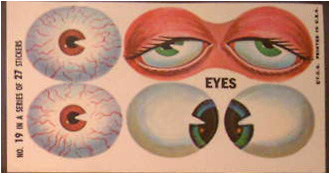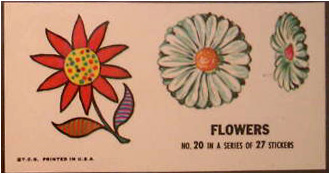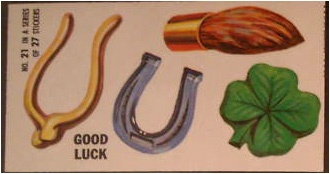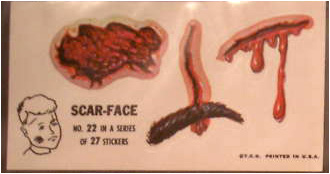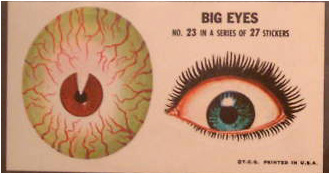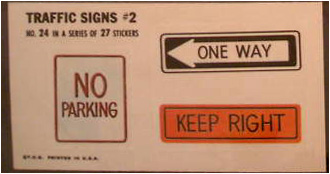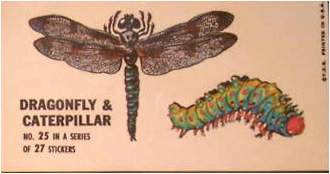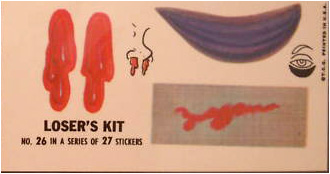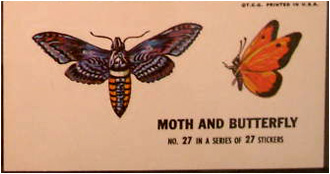 I have a few notes about some of these stickers too:
Accidents & Scalp Would - I just want to know why the kid depicted in the accidents appears to be really downtrodden, while the kid with a gaping scalp wound seems to be having the best day of his life.

Flowers - The one on the left doesn't even look like it's part of this set. I'm guessing they just added it in at the last minute from some other sticker set to fill up the empty space. That really doesn't matter though, when the only question we should be asking is, "Why the hell are there flowers in a set called Disgusting Disguises?"

Traffic Signs #2 - Nothing disgusts me more than a "No Parking" sign. Nothing.

Loser's Kit - Isn't calling this bloody nose and black eye sticker set a "Loser's Kit" a bit extreme? I mean, chances are any kid who dared to wear these was going to get beat up anyway, so why make them feel like even more of a loser when they get real cuts and bruises? Way to pour salt into the wound, Topps.
And that does it for the complete set of Disgusting Disguises. Just remember kids, when you go out trick-or-treating on Halloween this year with costumes that ran you in excess of fifty bucks, there was a time when kids wore trading cards and stickers all over their bodies. You have it so easy these days.
Have any questions or comments about this piece?
SHARE YOUR THOUGHTS IN THE READER COMMENTS SECTION BELOW!