by: -RoG-
The animal kingdom is chock full of creatures that could tear our flesh apart as if we were made of tissue paper. Sharks, bears, lions, crocodiles... these animals and many others wouldn't hesitate to devour every last bit of you if given the chance. But there's another horrifying creature that has invaded seasonal Halloween shops this year. Yes, I'm naturally speaking of FROGS. For some inexplicable reason, frogs are a hot Halloween item this year and I thought we should take a look at a few of 'em today. Look, I'll be honest with you... there aren't many chances for a guy to write about frogs during the Halloween season, so when they do pop up, I have to hop at the opportunity. Holy shit, was that ever a bad pun.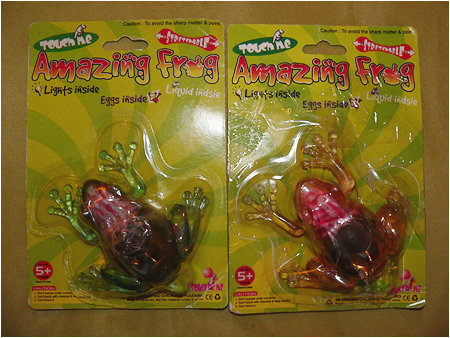 First up is the "Amazing Frog", which has a hell of a lot to live up to with a name like that. According to the packaging, the Amazing Frog has several noteworthy highlights including "Lights inside", "Eggs inside", "Liquid inside" and "Stretchable". But it's not all fun and games... there are some serious precautions one must take before using an Amazing Frog.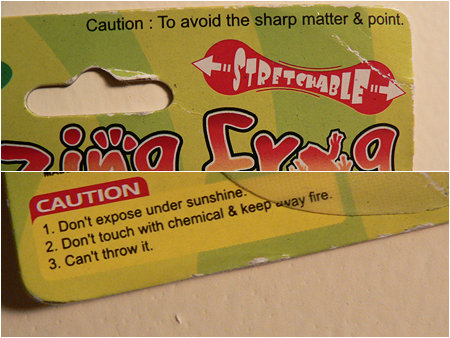 First, you must use caution "to avoid the sharp matter & point." So I guess that means you're supposed to avoid all sharp materials by pointing at them? Next, you can't expose it under sunshine. This is a seriously ominous warning. What the hell happens to this thing if you bring it into the sunlight? Will sun kill it like a Gremlin? I'm too afraid to find out. Frogs really are scary, you know. The next cautionary statement reads, "Don't touch with chemical & keep away fire." That's a bold thing to put on your packaging, telling fire itself to keep away. "KEEP AWAY FIRE! YEAH, WE SEE YOU HANGING AROUND THE FROGGY SCHOOL, INVITING THE FROGS 'N TADPOLES INTO YOUR CREEPY LOOKING VAN. WELL WE'VE HAD IT UP TO HERE WITH YOU! KEEP AWAY FIRE! KEEP AWAY!"
And finally, you can't throw it... unless, of course, the frog has been punctured by sharp matter, doused with volatile chemicals and set ablaze. If that has happened to your Amazing Frog, then I suggest throwing it immediately, into the sunshine.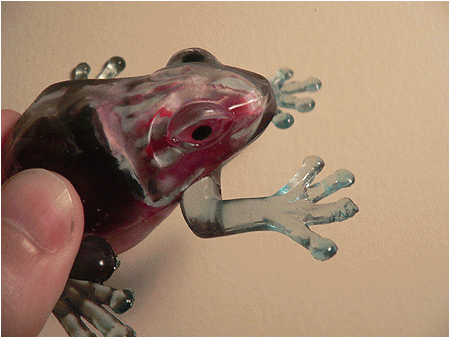 So, I bought the last three Amazing Frogs they had at the local "Halloween Adventure" shop, not just because they were all slightly different colors... but because several of the packages were taped together and I had my doubts that any of them would even work. The first frog looked just fine, and you could see all of its innards... but where were the lights and eggs inside? I squeezed it with all of my might, but nothing happened. Amazing? Hardly.
I'm excited to tell you that something amazing did happen with the next two frogs however... it's just not what you'd expect.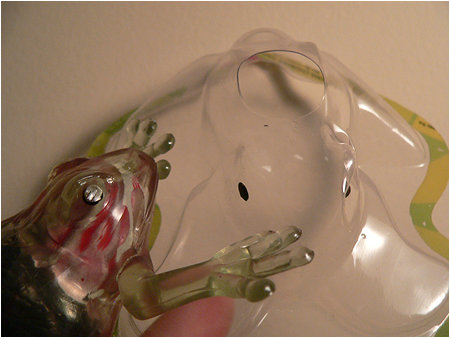 HOLY SHIT! THE AMAZING FROG'S EYES ARE AMAZINGLY STUCK TO THE INSIDE OF THE AMAZING PACKAGE! NOW HE'S AMAZINGLY BLIND! ISN'T THAT AMAZING!? AREN'T YOU AMAZED!? AMAAAAAAAAAAAAAAAAZING!!!!!!!!!
This happened with both of the two remaining frogs, so they are forever blinded. They're also both completely broken just like the first one. Blind and broke. I, for one, am truly amazed.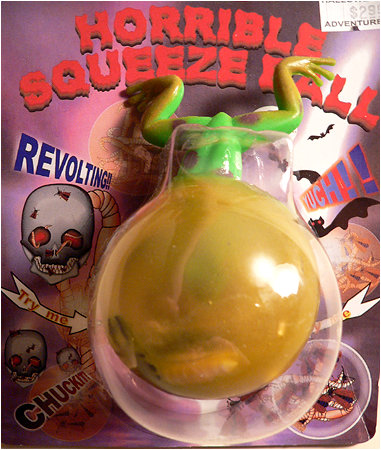 The other Halloween frog item I would like to look at is this bad boy - the Horrible Squeeze Ball. Creepy squeeze ball toys are a dime a dozen during the annual Halloween season, but this one really was unique. Rather than containing everything within the ball itself, they actually has the frog's lower torso sticking out of the ball!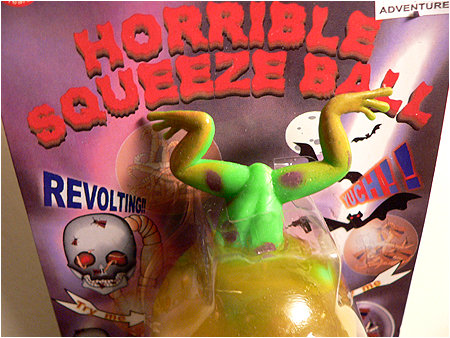 Call me easy to please, but I absolutely love how this thing looks. It's almost as if the frog's vocal sac got over-inflated and now it's stuck inside. These are the kind of things that are usually reserved for "incredible freaks of nature" shows at a sleazy local circus, but this one somehow made it into toy form. And just as with the Amazing Frogs, the Horrible Squeeze Ball comes with some interesting reading material on the back as well.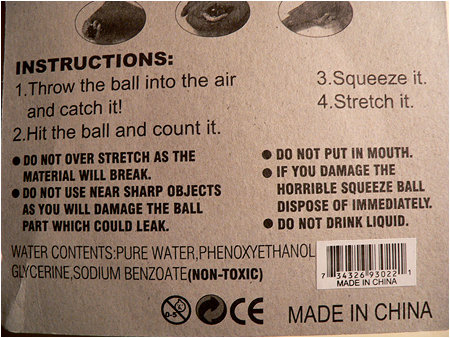 I was unaware that these gross-out squeeze ball toys required any instructions whatsoever, but apparently this one does. Sure, you can throw it in the air and catch it... sure you can squeeze it and stretch it... but did you know you can hit the ball and count it? When it comes to Engrish, that's about as bad as it gets. I can't even imagine what instructions they were trying to get across there, but the humane society might want to look into this company as they apparently are encouraging people to commit violent acts against amphibians while keeping an accurate count of each act.
It's also a good thing they put the warnings about not putting the frog in your mouth or drinkin the liquid inside the ball...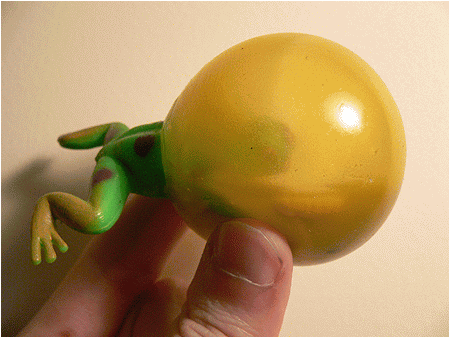 After just one look at the yellowish-brown film that was left on the inside of the ball when I sloshed the liquid around, I was ready to chow down on that thing like it was my birthday cake. That's one French delicacy that I'd be alllll about if it wasn't for the warnings on the package. Anywho, unlike the Amazing Frogs, the Horrible Squeeze Ball does not disappoint in any way. It's filled with nasty maggots and flies and a horrified frog who will forever remain inside its own disgusting vocal sac. If you can track down this lil' fella, he'd definitely be a worthy addition to any Halloween collection.
If you can't find him, don't let it get you down too much. There are still some far scarier frogs you can enjoy this Halloween.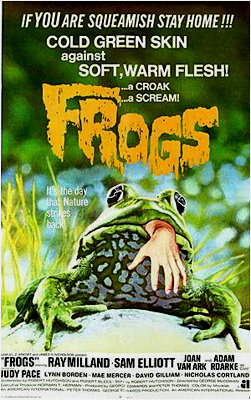 A CROAK... A SCREAM!
Have any questions or comments about this piece?
-RoG-