We've already seen a pile of Halloween candies that you can find in just about any grocery store this year, but there's more than just that stuff out there. Target, for example, has totally embraced Halloween this year... going above and beyond the call of duty and I salute them for it. Not only did they already have large sections of their store dedicated to the holiday in early September, but they've got all sorts of great new exclusive goodies. First and foremost, there's Jones Halloween Sodas which you've all heard about by now. But there's also some great candies produced by Galerie called Gruesome Chew-Somes. These gummi candies are so nicely packaged and cool looking, you'd rather keep them as decorations than actually eat 'em...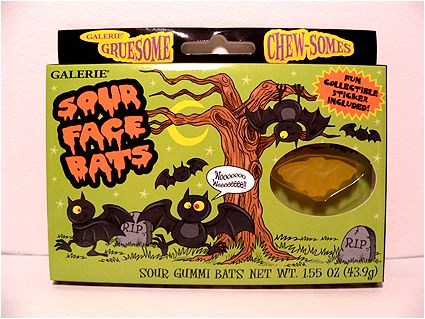 First up we have Sour Face Bats. These candies came with the promise of being so sour that you'd instantly pucker up your lips and shout "Wooooooo Weeeeee!!" Well, at least that's what the bat on the cover is doing.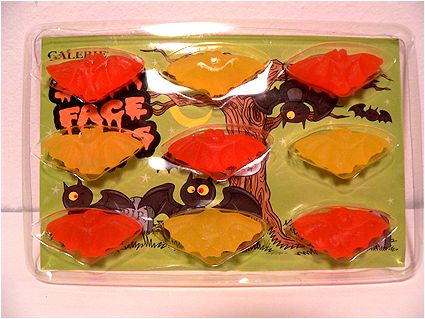 Just like the package art, the gummi bats are extremely vivid and and nicely designed. Problem is, the bats themselves aren't very sour at all. They just taste like regular gummi candies to me. Maybe just the slightest hint of sour... but nothing like Sour Patch Kids or anything. Not even in the same league... or cave.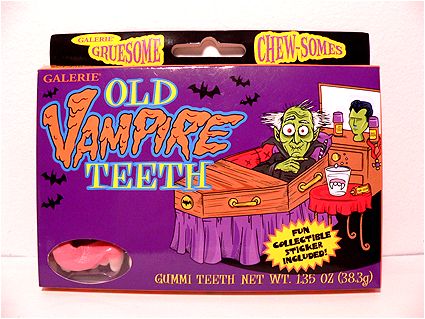 Not just Vampire Teeth... Old Vampire Teeth! Let's hope the "old" part is referring to the age of the vampire and not how long ago these candies were actually made. I'm gonna assume we're safe since the vampire on the box looks pretty elderly and his dentures are cleaning off there in a cup.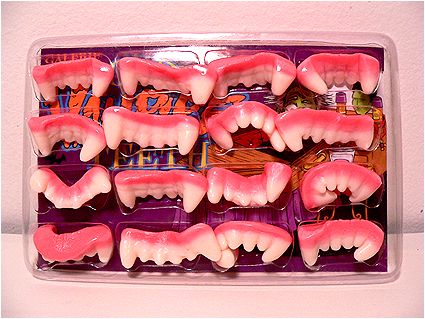 Holy sweet bastard! These just may be the most awesome looking candies I've seen in ages! These don't belong in my stomach, they belong on a jeweled fucking plaque for all to see! And let me just say that these are perhaps the gummiest of the gummi gandies I've ever tried. I swear, rubber must be one of the ingredients.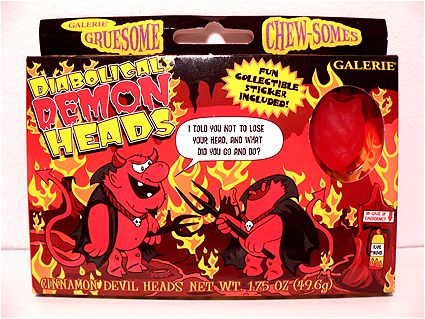 "I told you not to lose your head, and what did you go and do?" Har har har! Such brilliant humor can be found on the package of the Diabolical Demon Heads candies. And look in the bottom corner there, instead of a fire extinguisher, it's a flame thrower for use in case of emergency! Har har har again! Hmmm... let's just hope the taste of these candies isn't nearly as bad as the jokes.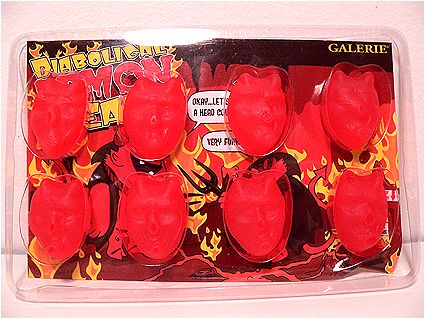 Well these things certainly smell good, a nice cinnamon smell hits you as soon as you open the box. The flavor is ok, but I've never been into big chewy cinnamon candies. I definitely prefer the tiny little cinnamon hearts over these.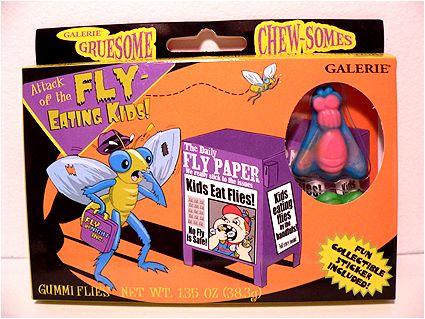 Attack of the Fly-Eating Kids! That's the actual name of the candy! No fly is safe! Just look at the sheer terror on the face of Mr. Fly there as he goes in to his job at "Fly by Night, Inc." Wow, they really do load these packages with the gags, eh? Seriously though, I'd love to hear a cooler name for a candy than "Attack of the Fly-Eating Kids". I have serious doubts that it's possible.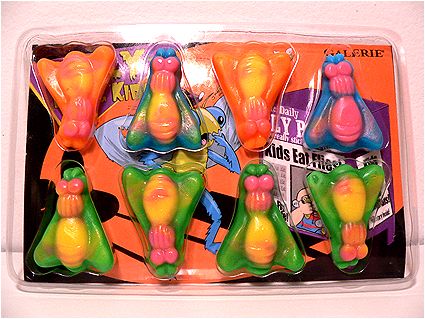 And talk about colorful little goodies, these flies have it all. It's no wonder the kids want to eat them. Plus they smell like fruit roll-ups. I guess that makes them fruit flies, ha ha ha! Ok, now their terrible humor is rubbing off on me.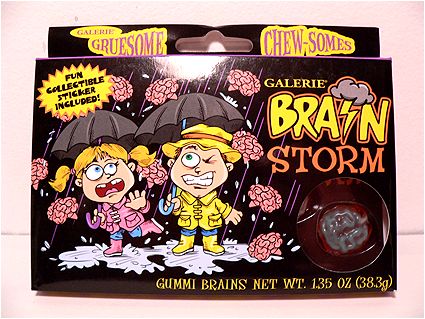 Ok, this is by far my favorite of the candies. Not only do the Brain Storm candies have a fantastic cover, but the candies themselves look great too. RAINING BRAINS!? That definitely beats raining frogs in my book any day. It's obvious that the girl is horrified by the brain storm, but the boy I'm not so sure about. He seems to have the look of a satisfied pirate, and why shouldn't he? It's raining goddamned brains for chrissakes! That's something he'll be telling the grandkids about when he's older.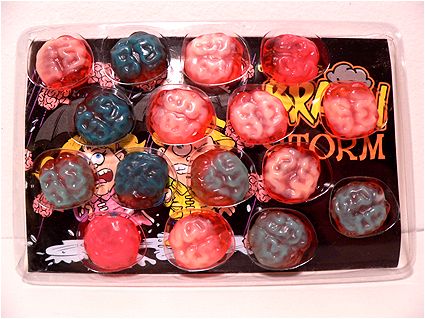 Just look at those juicy cerebellums just aching to be devoured! Yeah I know they're brains, but you can't tell me they don't look delicious. Well, unfortunately looks prove to be deceiving, because they still aren't all that tasty.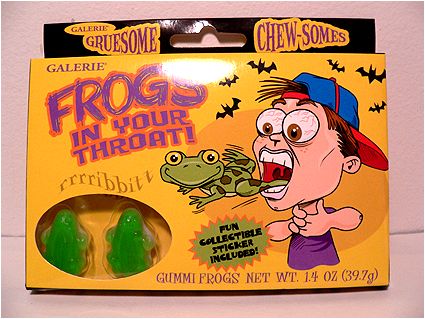 And finally we have Frogs In Your Throat candy, runner-up in the contest for best candy name. You see the look on that kids face? That's pretty much the look I had when I opened the package.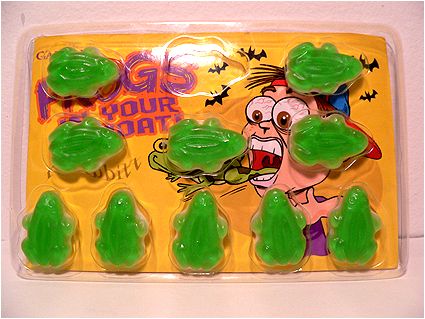 Notice something? That's right, one of the frogs was missing! The package was sealed too, so I dunno how it did it. Perhaps it escaped overnight and resealed the package to conceal the evidence, and now it's determined to kill me. Just like the frogs did in that movie, "Hell Comes to Frogtown". As fate would have it, I also made that same face when I actually tried to eat one of the gummi frogs.
All in all, the Gruesome Chew-Somes may not be too tasty, but they sure do look better than 99% of the treats out there. And good packaging goes a long way. Oh and let's not forget the one other thing that they throw in with each candy pack: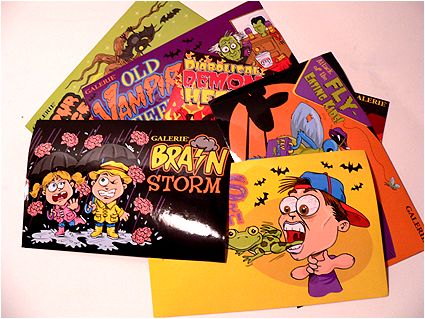 BIG STICKERS!
See? When you have candies that look this good and they come with stickers, you really don't need to concern yourself over trivial little things such as, "How do they taste?" Frankly, it just doesn't matter.
---
Want to see more new 2005 Halloween Candies?
Check out this Big Pile O' Candy!

---