Every Halloween I like to get a wide variety of candy to give out to the Trick or Treaters (before I go out trick or treating myself that is). I have this internal fear that one day people will no longer go trick or treating, so I feel that it is my duty to provide an awesome candy assortment for those who venture out in the night and visit my home. Sure, it's fun to think about kids telling their friends, "Oh man! There was this one house that had an insane variety of candy and they just dumped it all in our bags! They were so cool!" But it's also fun to think that this might inspire more of 'em to go trick or treating the next year.
Now, I must admit... last year I didn't buy nearly enough candy because I was planning on leaving very early that night for some Halloween parties 'n what not. So one kid came up to my house and he was all excited to get some candy. And he totally deserved candy cuz he had a nice Frankenstein costume 'n all. Problem is, I was all out and I felt horrible. Then an idea sparked. I dashed into my kitchen and returned to the front door with...
A BOX OF SPAGHETTI!
You wouldn't believe the insane amount of joy that the kid emitted upon receiving the box of spaghetti. He looked like he had just won the trick or treating lottery. His parents just laughed, but he walked away as happy as can be. I swear that will always be one of my favorite Halloween memories.
Anyway, since most people don't give out boxes of spaghetti, let's get down to what trick or treaters are really lookin' for this year...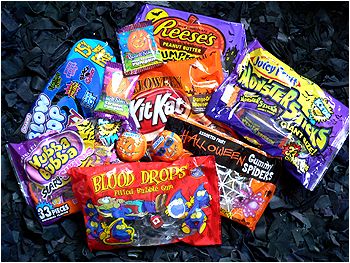 CANDY!
So I went to some of the local stores to stock up on my candy supply for this Halloween and came home with a big pile o' candy that would make any person with a penchant for sweets drool uncontrollably. Now while the most horrific thing about these candies may not be the decorative holiday packaging, but instead the maniacal laughter of your dentist when he hands you your next bill, it still shouldn't stop you from buying 'em. After all, what other holiday gives you the perfect excuse to gorge on nothing but pure sugar for weeks on end?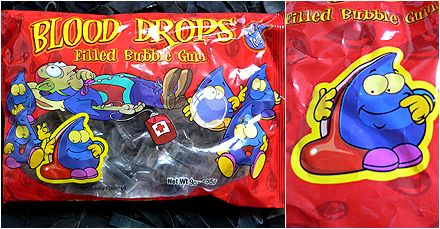 First off, we have a bag of "Blood Drops" bubble gum that's filled with bloody red liquid goo. It's basically a less cooler version of the old "Skull Crushers" candies, you know, the skulls that you could crush and they would bleed candy red ooze. I gotta say though, I do like the lil' Blood Drops mascot. Just look at him, smiling with innocence. It's almost like he's thinking, "Tee-hee! I'm bleeding!"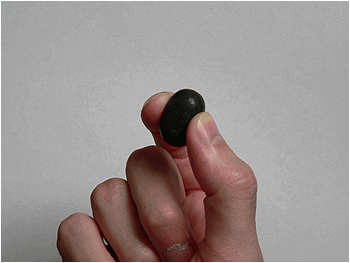 The candies themselves don't really look that interesting, they could've at least shaped them more like one of the drops on the package... you know, like a Hershey's Kiss. Still, they do what they claim to do... taste good and bleeeeeed.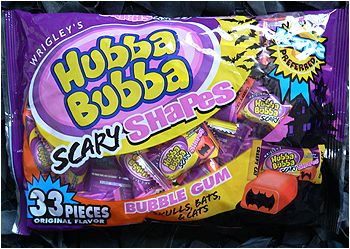 I have many memories of the Hubba Bubba bubble gum commercials from back in the 80's... in particular the one where the cowboys face off which one another to see who can blow the bigger bubble. Of course, the one with the Hubba Bubba always won. It's just good to see the gum is still alive 'n kicking after all these years. Their new "Scary Shapes" Halloween gum definitely lookd promising.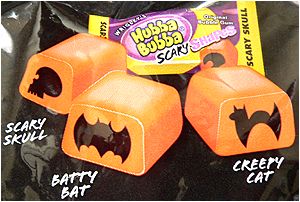 Orange gum filled with black skulls, cats, and bats? How could you possibly go wrong with that? Now they look great on the package. Well the cat doesn't, the cat looked like it was kicked from underneath with a giant boot. Still, will the actual pieces of gum look like the ones on the package?

Actually, the gum was more yellowish, but since it's original flavor, it probably doesn't matter that much. Of the three scary shapes, I'd have to say the Bat had the most successfully implementation. Scary Skull just looks like a typical blob of filling. It's also kind of hard to tell Batty Bat and Creepy Cat apart. Actually, Creepy Cat looks more like a bowtie than a feline so I guess it's not that hard to tell 'em apart after all. Nothing, and I do mean nothing, is scarier than a bowtie.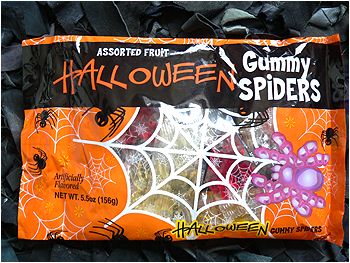 Gummy snacks are a staple of Halloween. Take any creature, be it a snake, a scorpion, a bat, a lizard, or a spider and it can be turned into a gummy snack. And for you foot fetishists out there who can't get enough sole food (har!), they make gummy feet too.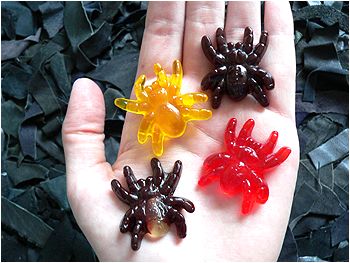 The fruity Halloween Gummy Spiders are nicely done and all of 'em taste pretty good, considering they're just a generic brand from Wal-Mart. One of my black spiders appeared to be a mutant, because it had a clear stomach. Perhaps it was pregnant and preparing to have some gummy spider babies. Well, let's hope they enjoy hatching in my stomach...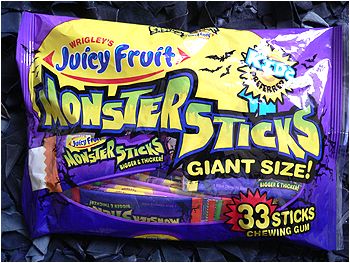 Juicy Fruit rules. I don't know what is is about it, but I could eat 50 pieces and still want more. The taste is just too good. That being said, you can imagine my delight when I discovered they put out "Monster Sticks" for this Halloween!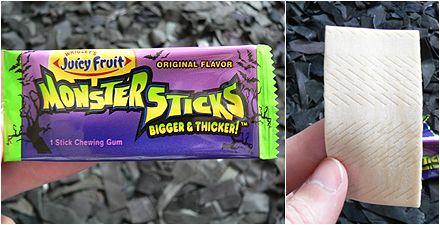 Well the gum definitely lives up to its name. That is one big friggin' stick o' gum. In fact, THAT'S NO STICK OF GUM! THAT'S KONG! Now if you think a kid is going to put just one small piece of gum in his or her mouth and be satisfied, you're simply out of touch with reality. Fact is, they'll shove as much as they can fit into their little mouths. Juicy Fruit is simply saving them the trouble of having to open twice as many wrappers by combining a few pieces of gum into one monster stick. This may be even better than Juicy Fruit's theme song.
Juicy Fruit, it's gonna move ya!
It chews so soft, it gets right to ya!
Juicy Fruit, the taste the taste the taste is gonna move yaaaaa!
Ok, maybe it's not quite that great cuz that's one hell of a song, but these monster sticks of gum are still pretty spiffy.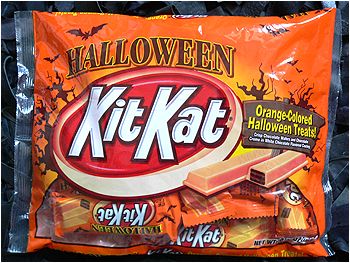 Kit Kat continues with their successful orange colored Halloween treats again this year. They're actually white chocolate instead of the regular milk chocolate that you'd expect from a Kit Kat.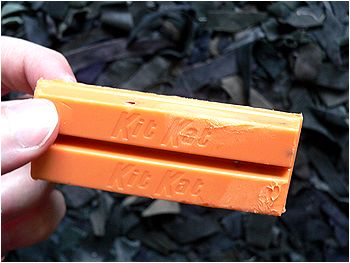 Sure enough, they're orange as hell. It's kind of weird eating something orange when it doesn't taste orange. That doesn't change the fact that these Kit Kats are absolutely delicious.
Is it bad that I just ate 6 of them?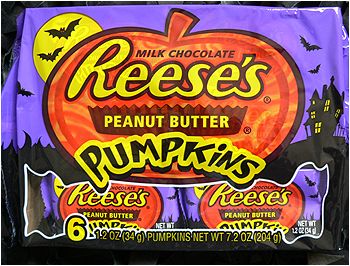 Ah good ol' Reese's Peanut Butter cups, where would we be without you? And who needs a peanut butter sammich when you can have a peanut butter pumpkin instead? These are a seasonal favorite of mine, because they're just like regular Reese's cups, only bigger.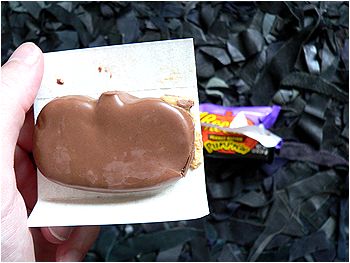 I think a rule for any seasonal candies is that they should always make them twice as big as they normally are. To all you other candy companies out there, learn from the Reese's Pumpkins and Juicy Fruit, for they are wise in the ways of happy taste buds.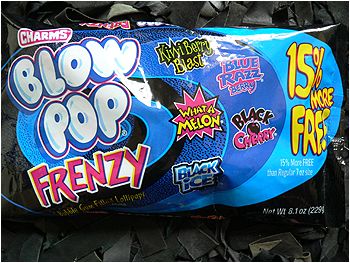 A Blow Pop Frenzy, how could one possibly resist? I've always been a fan of the "Blue Razzberry" flavored ones, but what really caught my attention was the "Black Ice" flavor. It was so mysterious that I just had to buy a bag to find out what the hell it was!
Ah ha! It's BLACKBERRY flavored! Ok, I'll be honest, I've never had a blackberry before so I can't say whether or not this thing tastes just like one. All I know is that it tasted pretty damned good and I wish they'd sell them individually, because there were only TWO measly Black Ice pops in the entire goddamned bag!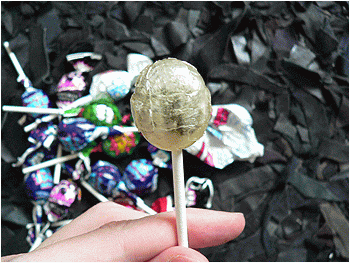 I was hoping the icy black blood of the earth would come gushing out of the center of this pop, but instead it was just more gum. Still, all in all a damned fine Blow Pop if I do say so myself.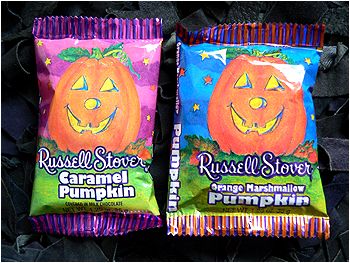 Russell Stover pumpkins, always an easy fallback for a quick candy sugar rush every October. Problem is, you'll be lucky to find one that isn't mashed. I don't know if it's because of poor handling during shipment, or simply because some people love squishing the packages; but at least half of these things that I've ever bought look like they had spent the greater portion of their existence underneath someone's boot.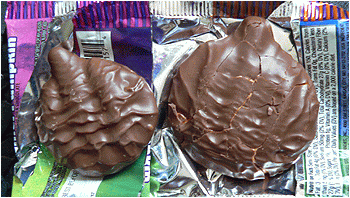 Sure enough, the marshmallow one was already squashed, but that doesn't make them any less tasty. Personally, I prefer the caramel pumpkins over the marshmallow. I'm sorry, but caramel does beat marshmallow in the battle for sweet supremacy.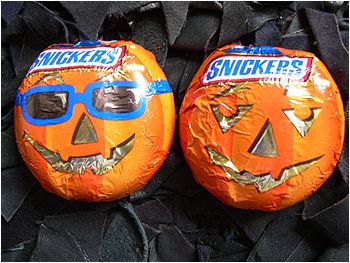 And finally, Snickers is getting in on the Halloweenistic action with some pumpkins of their own. They have several different wrappers on their pumpkins, some with shades to signify just how cool they are, and some with the standard Jack-O-Lantern faces. Either way, it's a Snickers, so it's gonna taste just fine.
Nice thing is they actually took the time to put faces on the chocolates, unlike a lot of other candies (such as the Reese's Pumpkins). They also tattooed the Snickers logo on its forehead, just to remind you that you are eating a snickers. After all, most people just shove Halloween candy their mouths without even wondering what it is. Sometimes they'll even eat the foil wrapping.
Well, this was certainly one of the most delicious pieces I've had the pleasure of working on in recent memory. Now if you'll excuse me, I need to go expunge the frightful combination of chocolate, bubblegum, marshmallow, caramel, peanut butter, and gummi candy that is quickly rising up in my esophagus.
---
If you enjoyed this piece, check out the all new 2006 candies!


I-MOCKERY'S ULTIMATE GUIDE
TO THE HALLOWEEN
CANDIES OF 2006!
---
Want to see more new 2005 Halloween Candies?
Check out the Gruesome Chew-Somes!

---