by: -RoG-
While there are countless things I love about Halloween - from haunts and hayrides, to candy and costumes - I'm always excited to see what spooky toys will start creeping their way into the season each year. Now I know we're still over a month away from Halloween, and more toys may come out between now and then, but I thought I'd go ahead and share with you some of my favorite Halloweeny toys of the 2016 season so far while you still have a chance to pick them up.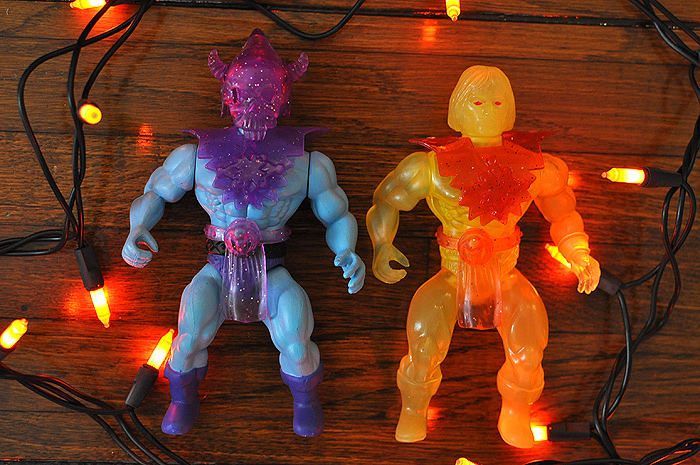 Realm of the Underworld: Slimed Drones!
Some of you may recall the Realm of the Underworld figures that I reviewed here on I-Mockery some years back. Well, as you can see, Mike from Zoloworld has been quite busy since then. He's made his throwback style action figure line even better by introducing the beautiful "Slimed Drones" series of figures. The sculpts are just as good as ever, complete with interchangeable body parts, which connect using ball joints instead of being held in place by rubber bands like many classic action figures were.
What's really great here is that the figures look amazing with their translucent features - living up to their name, the Slimed Drones actually look like they were born of slime! Mike was good enough to send me two samples - Solar Burst Krysis and Acromancer (Lord of Chaos) - and as you can see, they're exactly the kind of thing you need in your collection. Plus, if you have some toy slime, they look even more amazing when you dump some on them.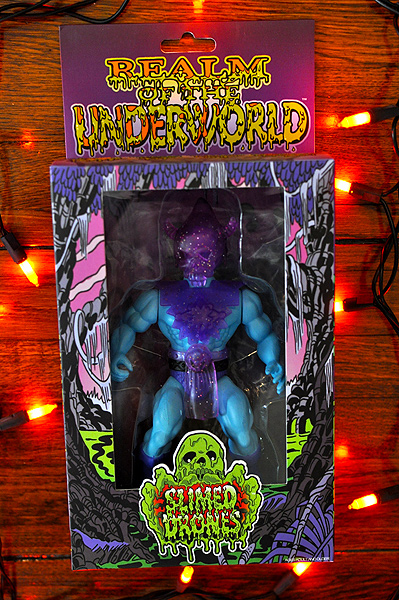 Another nice change, the packaging is FAR better than what they had for the original RotU figures. They now come in killer window boxes, with vibrant artwork by Chris Faccon that really makes them display nicely. Plus, unlike the old figures, you're not going to ruin the packaging if you want to take them out of the box. I always appreciate it whenever toy makers give you the ability to not ruin the packaging, and this is definitely the kind of packaging you're gonna want to keep. There are even hidden illustrations inside the packaging once you open it up.
Most importantly, these are gorgeous figures that want to be covered in slime. What could be more Halloweeny than that?
The latest wave of Slimed Drones (including the ones you see here) are going to be available at New York Comic-Con this October 6th - 9th. Any remaining ones will be put up for sale after NYCC on the UnderworldFigures.com site, and at ZoloCon on February 18th, 2017. Get 'em while you can, because the previous waves of Slimed Drones have almost completely sold out on their site.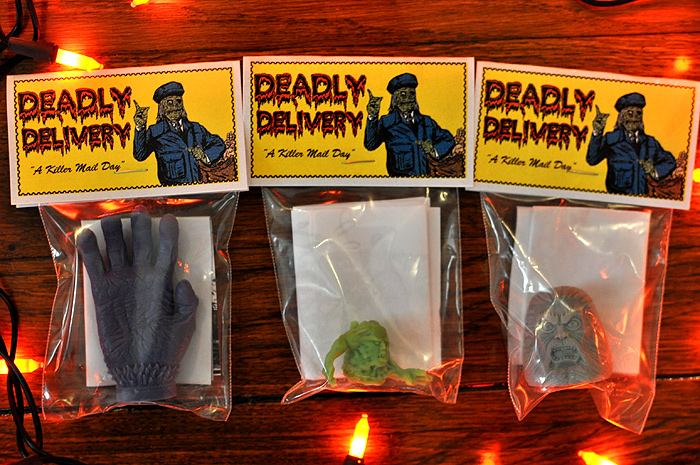 Deadly Delivery!
From his first Night of the Creeps release, to his current line of original "MEATS" figures, My buddy Aaron from Retroband is well known for creating some of the greatest custom horror toys in recent years. Earlier this year, he and TheLastZectron started up a new line of easily affordable mini-figures called "Deadly Delivery". The toys are limited releases that come in a variety of colors, and they pay homage to creatures and oddities from the realms of sci-fi and horror. In other words, everything we love.
Their first release included Belial (from Basket Case), Zardoz, and a Monkey's Paw. They come bagged with a skeletal mailman illustration on the header card that looks something straight out of a classic comic book advertisement. Awesome. They also included the option to order a "Dark Market Mystery" figure inspired by Crack Jack prizes and old cereal premiums.
While that initial release sold out earlier in the year, they have a new release slated for October which will include a Necronomicon, Trog, and another Dark Market Mystery figure. The previous mystery toys were recreations of some rare Cryptkeeper and Toxic Crusader mini figures from Japan, and given that they're only $5, it's a no-brainer purchase. Be sure to keep your eyes peeled for the next figures to be released on the Deadly Delivery site this October. I've already seen a preview of them, and they look absolutely great.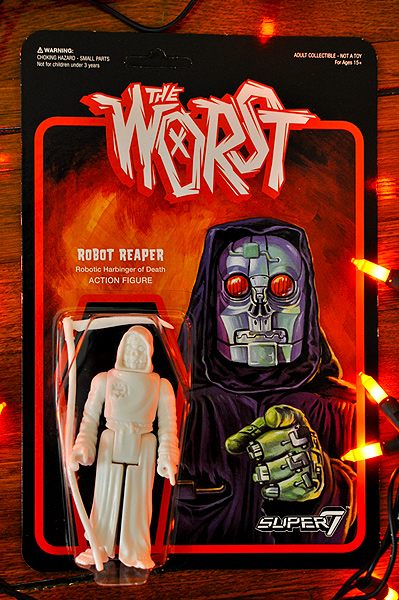 The Worst!
Super7 has always been hit or miss with me, but when they get something right, it's almost always worth reporting. This past summer at Comic-Con, they introduced a new lines of figures called "The Worst". From what I gathered, it was a lot like Suicide Squad, in that they're all basically bad guys who've teamed up. Only difference is... they're not trying to save the world. They're just being evil together. Works for me!
These figures are the same size as the other ReAction figures, including the horror ones I showcased last year along with the Haunted House playset. At Comic-Con, they released pure white prototypes of the figures, and I picked up my personal favorite - Robot Reaper. I mean, come on... the Grim Reaper and a deadly robot all in one? How could I not buy it?
And let's not ignore the incredible artwork on the cards themselves. Ed Repka really outdid himself with these, as I know many people wanted to buy the figures solely for the artwork alone. Honestly, this might be my favorite action figure card art I've seen all year long. It also doesn't hurt that the blister on the pack that holds the figure in place is shaped like a coffin. It's a subtle detail, but I really appreciate little things like that.
While the white prototypes were SDCC exclusives, you'll be glad to know that they've just released a fully painted, complete "Midnight Special" set of The Worst in the Super7 online shop. You'll get Robot Reaper, Black Falcon, X-2 the Unknown, Gas Phantom, Snake Tut, and Batula.
Suffice it to say, if there was ever a sequel to The Monster Squad, I'd love to see those kids battle these sinister characters from The Worst. Honestly, who wouldn't want to see a live action Robot Reaper on the big screen?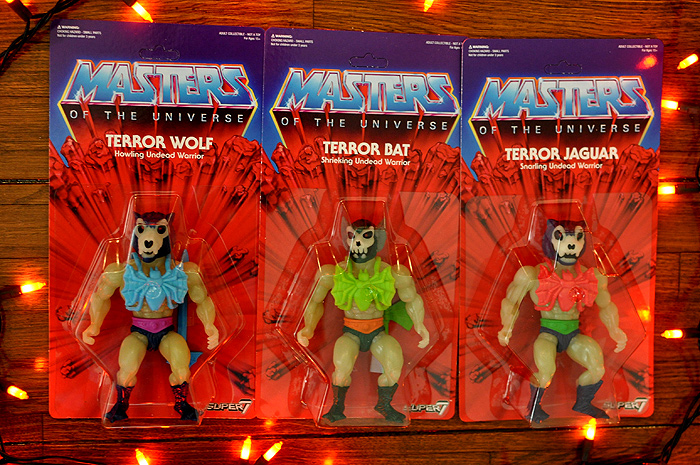 Masters of the Universe:
Curse of the Three Terrors Action Figure Set!
Another release from Super7 is this "Curse of the Three Terrors" set, expanding the Masters of the Universe line that they recently took over. You may have heard that they already created a new cartoon episode of the same title, and it's done in the same style as the original MOTU cartoon. Well, these are the first toys to come from it, and I really love some of 'em.
The Three Terrors themselves aren't all that different from each other, save for alternate head sculpts - Terror Bat, Terror Wolf, and Terror Jaguar. Okay, let's be honest... I feel like they ran out of ideas when they made it to Terror Jaguar. Seems like such a random creature to base one of the three terrors on, whereas wolves and bats are classic movie monsters. Nevertheless, these monsters glow-in-the-dark like nobody's business, and I *love* how their chest armor looks like the cheap, novelty spider rings you get on Halloween. I'm sure they weren't going for a cheap look when they produced them, but that's what they look like, and I find it both hilarious and endearing.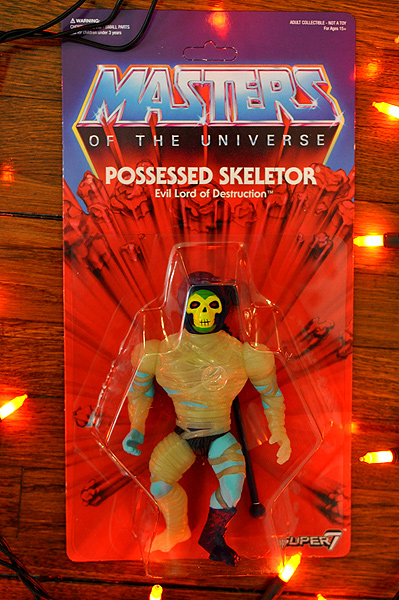 But the real star of the show here is Skeletor... or as he's now known - Possessed Skeletor, Evil Lord of Destruction! His body is almost entirely wrapped in glow-in-the-dark mummy gauze, save for a few hints of blue skin peaking through. Skeletor as a goddamn MUMMY!? Are you kidding me!?!? It's like he met up with Mumm-Ra and decided, "Yeah, mummy wraps will definitely be a better look for me."
If you ever told 10-year-old me that I would one day own a glow-in-the-dark mummy Skeletor, I wouldn't be talking to you today. I would've had a heart attack and dropped dead right there on the spot. Guess it's a good thing you don't have a time machine. And if you do... why are you using it to go back in time and tell me about future toys? You should be going back in time to kill Hitler, or buy thousands of original Star Wars figures to save for a few decades so you can retire early.
If you're interested in the complete Three Terrors figure set, they're still available on the Super7 Store in limited quantities.

Star Wars - R2-Boo!
Speaking of Star Wars, this one was a complete surprise to me. It turns out Disney has decided to further capitalize on their Star Wars property by introducing their characters to an even darker side - Halloween! If you visit Disneyland or Disney World this season, you can pick up this limited edition "R2-Boo" figure. Luckily for me, my friends Chris and Katia have season passes, and they were nice enough to pick me up the R2-Boo figure (thanks guys!). While I wish Disney gave him a specific Halloween-oriented file card on the back of the package, I really can't complain, because look at him. Look at him! R2-D2 is now covered in orange, black, green, & purple Halloween colors. That's something I never knew I needed, but now that they created it, I need more. C-3PGhost? BooBacca? Luke Gravewalker? The possibilities are endless.
Don't worry - if you're not planning on going to either park, there are plenty of people selling them on eBay. You'll have to pay a little more than the $13 they go for at the parks, but it's still far cheaper than their absurd admission prices these days. That's probably your best option anyway, unless you already have a season pass.
So are you going to add any of the aforementioned toys are you gonna to your collection this season? Which are your favorites? Also, are there any other new Halloween toys you'd like to see me review? Let me know in the comments below and I just might cover them in the future!
Have any questions or comments about this piece?
SHARE YOUR THOUGHTS IN THE READER COMMENTS SECTION BELOW!