by: Dr. Boogie
Rich people problems.
Your new maid accidentally overwaters one of your priceless orchids. You miss the big soiree at the yacht club because the ignition in your Bentley went out. Your adopted son is about to discover you are part of a cabal of hideous mutants that absorb poor people for food and literally meld with each other in horrific orgiastic rituals at each other's homes. Who can relate to that?
Society is sort of like if Clueless had been written by H.P. Lovecraft and directed by David Cronenberg. As horror movies from 1989 go, Society is a bit of an oddball. It doesn't so much scare you as it builds a consistent tone of creepiness by presenting characters who are totally blasé about totally horrifying things happening around them, with an occasional disturbing image (like the main character seeing his sister in the shower with her head and arms on backwards) to really weird you out.
All that changes in the final half hour of the film, and it's that time frame which we're going to focus on today.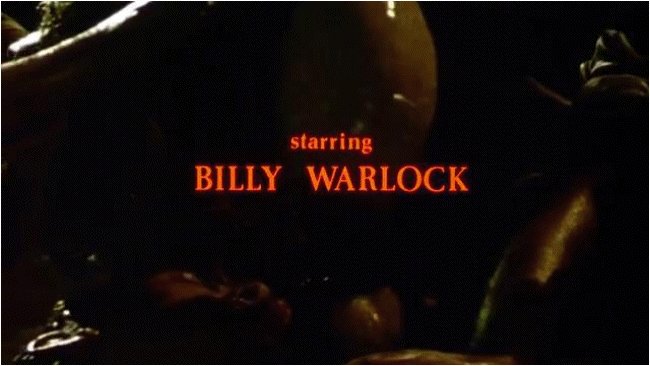 At the very start of the film, the credits roll over some bizarre shots of slimy body parts writhing around in piles with other equally gross things that don't appear human, and you wonder just what the hell you've witnessed for the entirety of the movie. Well you get your answer with the final sequence, in which confused young man Bill Whitney finally discovers that his family and their high society friends are grotesque creatures that have been raising him as food.
Words don't do this sequence justice. Better to get started with the pics:
Bill is shocked to discover that Blanchard, his sister's ex who clued him in to all the weird goings on with his family, is not as dead as he was made out to be. In truth, the rich folk have kept him alive for use in one of their horrific "shuntings". What's a "shunting" you ask?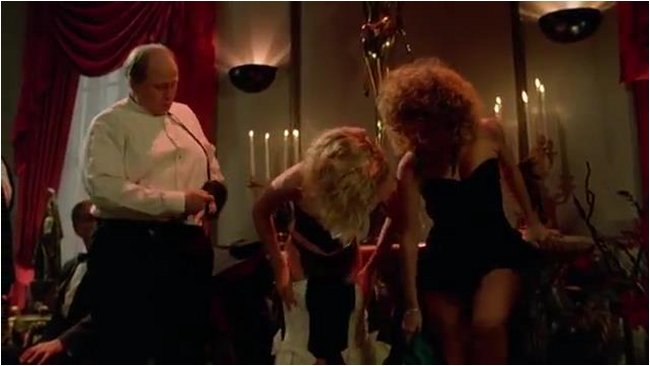 Well it starts with everyone getting nude. That means a lot of naked old people, but any disgust you might have about seeing acres of sagging old man ass is quickly topped once the rich folk get to work on Blanchard.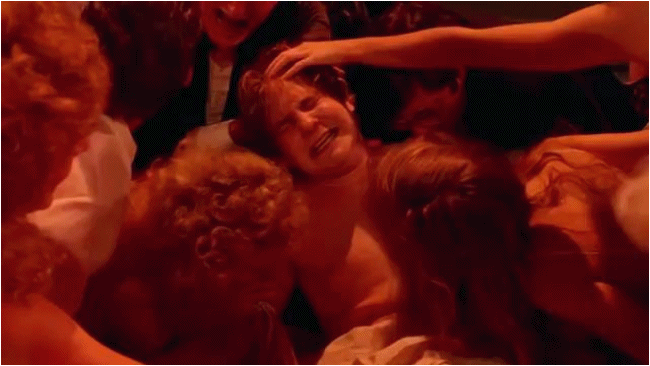 There's a lot going on here, so I'll do my best to try to explain what it is you're seeing: the horde starts rubbing and apparently kissing Blanchard, then they start secreting some kind of thick ooze that seems to make all of their bodies a lot more malleable. Their faces bond with his limbs. Their fingers sink right into his flesh. In short, Blanchard's body takes on the properties of melting butter. This does not sit well with Blanchard, who is way past the point of horror and settled firmly in the territory of horrified groaning.
At the peak of this transformation, someone announces, "He's getting pliable, Your Honor!" And the Honorable Judge Carter steps in to get the first... let's say scoop.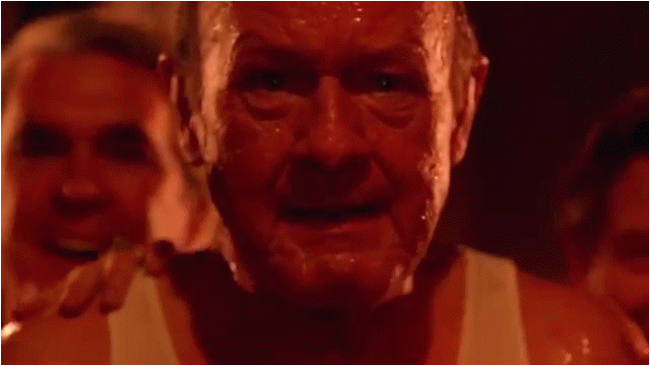 Blanchard's weak cries fall on deaf ears as the Judge gropes his pliant flesh. Then he makes the strange observation, "And now... we'll get to the bottom... of this!"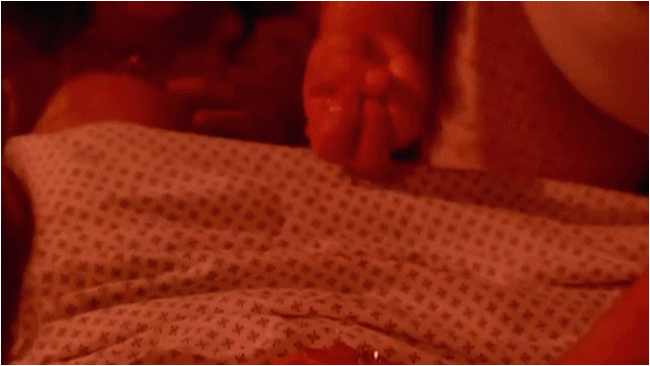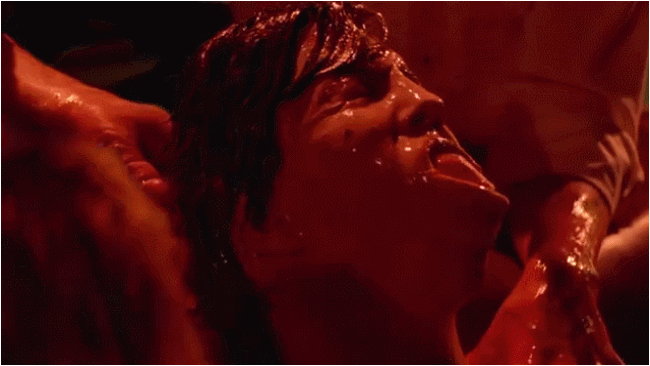 I do like puns, but the sight of his fist going up Blanchard's gown and coming out his mouth was kind of a distraction.
In the commotion, Bill's weird girlfriend Clarissa manages to free him from the noose around his neck. She's one of these freaks too, but she loves Bill. Just not in a "turn-you-into-silly-putty-and-absorb-your-body" kind of way.
No one's really paying attention to Bill as all eyes are pointed shunt-ward. He escapes upstairs only to be followed by his therapist, who now bears more than a passing resemblance to Jack Nicholson's Joker: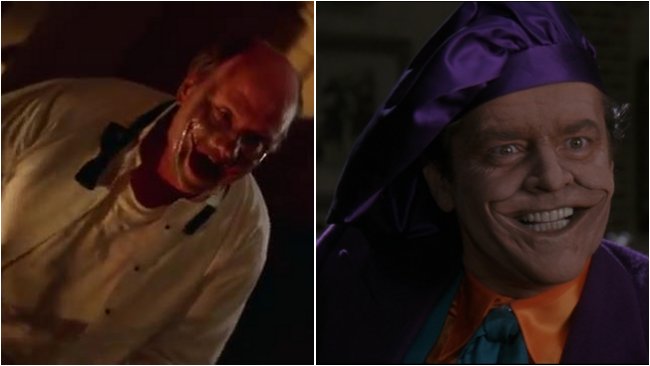 He tries to nab Bill with the catch pole, but Bill eludes him. Or maybe he let Bill slip past so he could unleash this gem: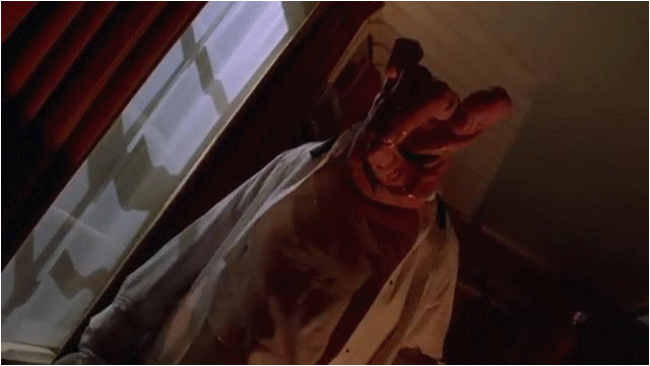 "Let me give you a HAND, Bill!"
I appreciate the effort, and there's no denying his commitment to the gag, but Bill didn't really set him up for that hand pun.
Bill slips into his parents' bedroom. There, he catches him mom in bed.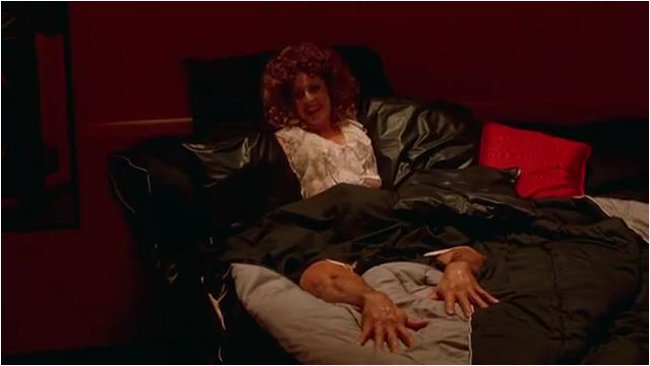 This is what happens when you skip leg day.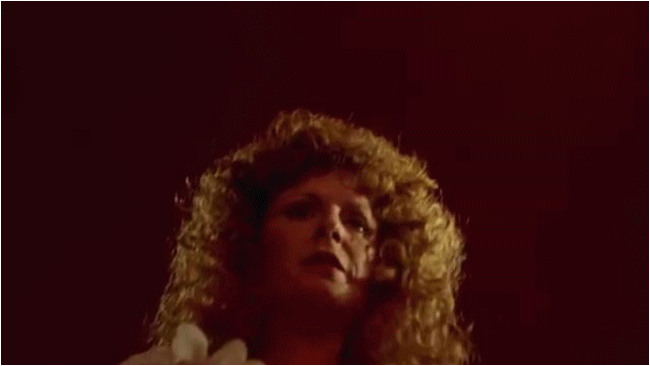 I can't even remember the plot of the movie at this point. All my thoughts are about trying to make sense of what I'm seeing right now. And then this happens: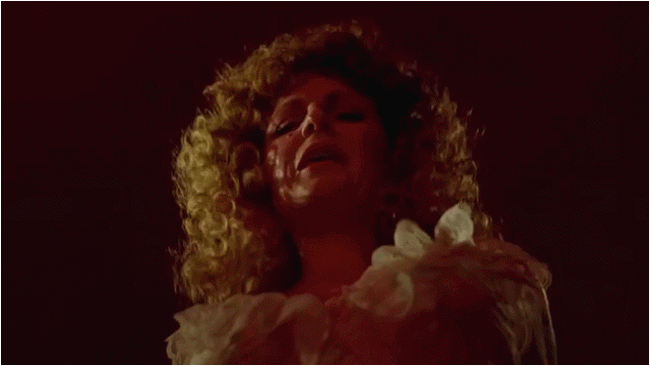 "Do you have any oedipal fantasies you'd like to indulge in, Billy? Now's the time!"
To recap, his mom has his dad's arms for legs, and his sister's head as some kind of prehensile tail. So where is his dad in all this?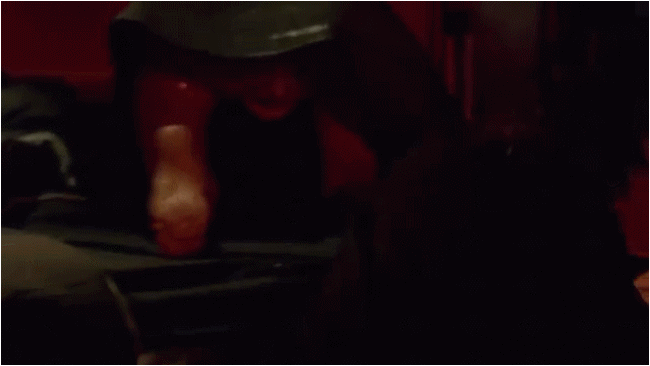 I... yeah. There he is.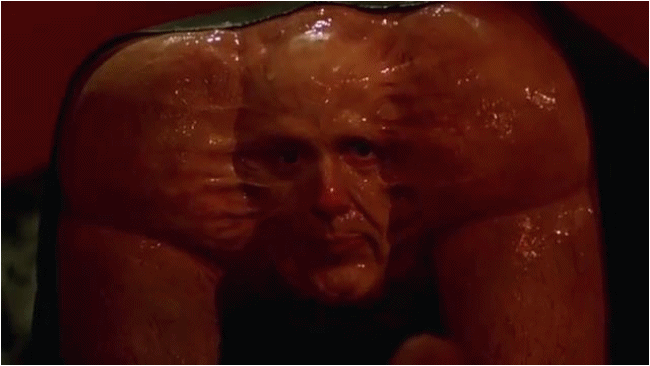 "Well son, I guess you were right: I am a butthead!!!"
Oh, so that's why they had that earlier scene where Bill transformed into Biff from Back to the Future and called his dad a butthead. These aristocratic horrors sure do love their puns.
Bill races back outside and gets snagged by his therapist. Normally, I'd complain about the character forgetting about the danger he just ran from, but consider what he just saw: liter family bonding! See? I'm making puns too!!
Not as many as the mutants, though.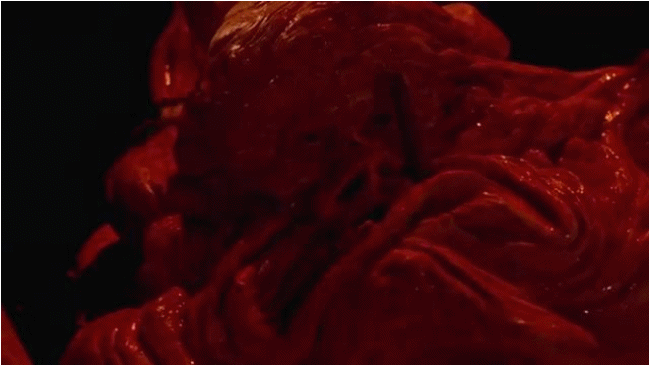 Somewhere in this undulating pile of meat is what was left of Blanchard. The rest... you can't even tell where one mutant ends and the other begins. Bill's friend Milo infiltrates the party disguised as a cop, and full credit to him for stumbling onto a scene like this and not just staring, mouth agape in abject horror and disgust. He tries to blend in with the crowd of human silly putty as Bill is hustled back downstairs.
In the midst of all the red-toned grotesqueries he's witnessed, Bill is still angry enough to challenge his yuppie rival Ted Ferguson to a fight. Sensing the impending conflict, the mound disperses.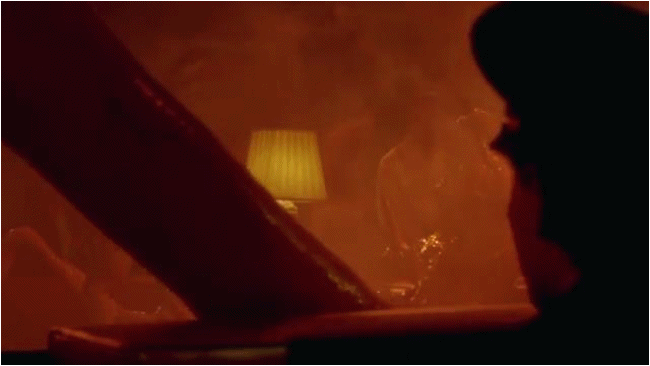 The Judge emerges with Blanchard's beauty mark on his own cheek. He wearily utters, "I'm getting too old for this." Oh man, this is just like that scene in Lethal Weapon where Danny Glover shoves his hand up Mel Gibson's ass and sucks the nutrients out of his pliant corpse!
The Judge decides to halt the freak orgy long enough for the two men to have a fist fight. I'm sorry, I mean teenagers. I forgot that Billy and Ted are both supposed to be seventeen.
Anyway the Judge introduces them: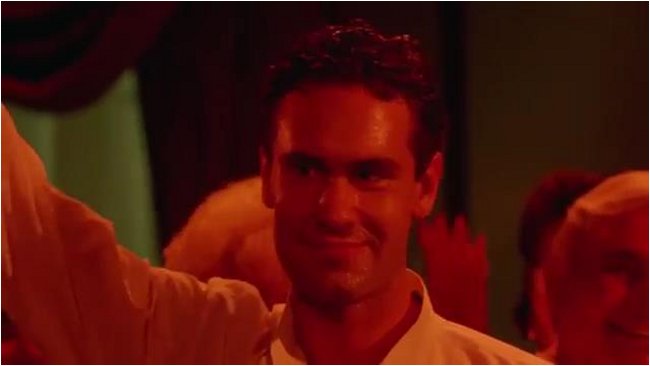 "Master of the hunt, champion of the shunt, Ted 'The Tycoon' Ferguson!"
Cheers.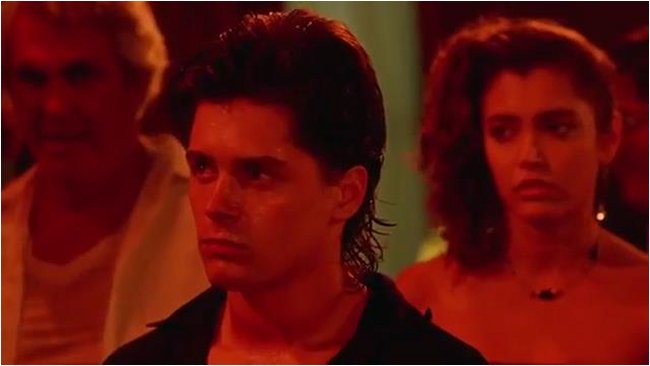 "Bill 'The Bastard' Whitney."
I have more questions about shunting, like how can you be a champion of temporarily devolving into a boneless flesh monster, but these will have to go unanswered. It's time for a preppie beatdown...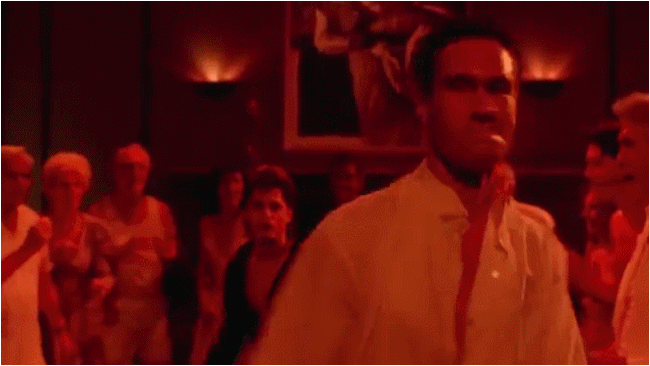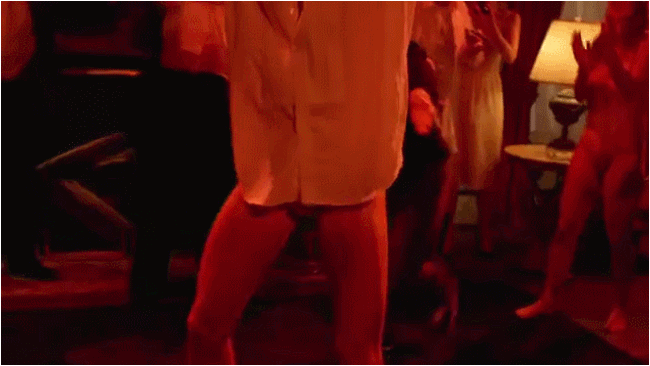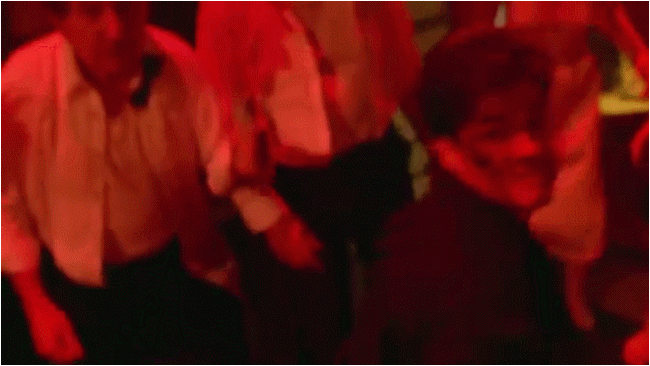 ...is what I was expecting, but it turns out Ted is quite the martial artist. And he must have absorbed several very strong poors, as he handily whomps Bill.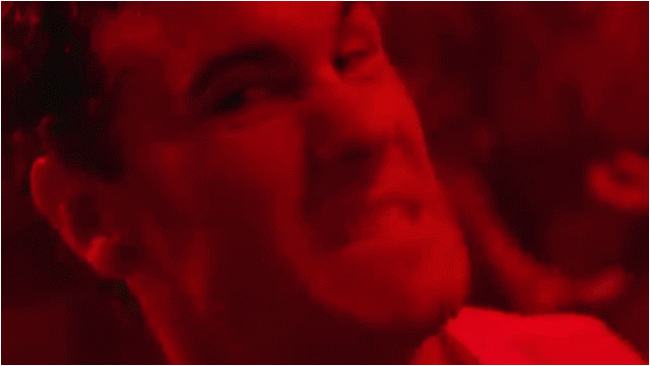 Right about now, it just gets humiliating for Bill. His punches have no effect on Ted, and even when his girlfriend jumps in to save him, he decides to give up and just start accepting uncontested punches to the face.
Finally, Ted forces him down and delivers the coup de grace: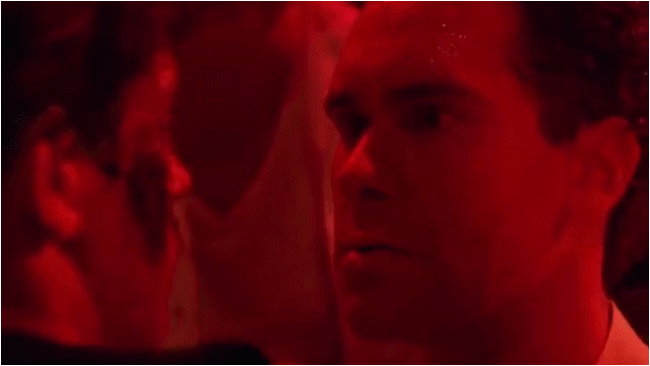 He initiates the deadly soul kiss and gets ready to slip Bill the fist, if you know what I mean.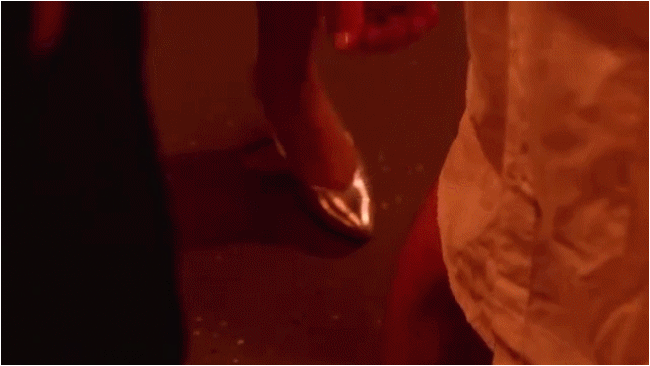 Bill was paying close attention when the Judge pulled this maneuver on Blanchard. He's ready for it, and you know what they say: turnabout is fair play.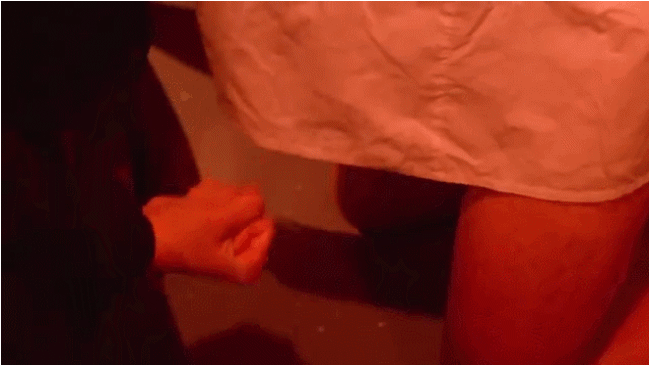 First rule of mutant fight club: Do not talk about mutant fight club.

Second rule: Bring a barf bag.

Third rule: Make sure to guard your bunghole when you start getting soft.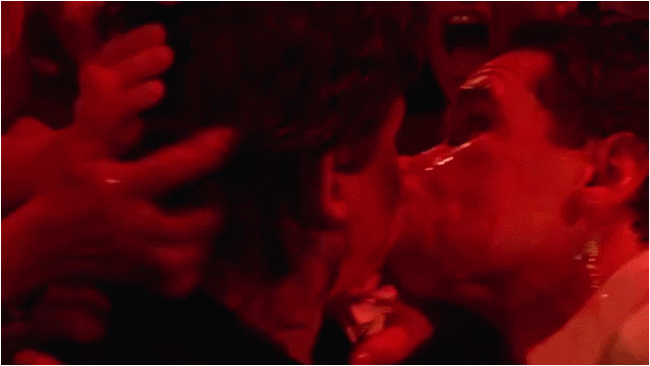 The fourth rule is probably something about dying with dignity, which means you definitely shouldn't make this noise when someone turns the tables on you.
Bill's hand continues its long, bogus journey up Ted until he's wearing him like the world's slimiest Muppet, and then it keeps on going: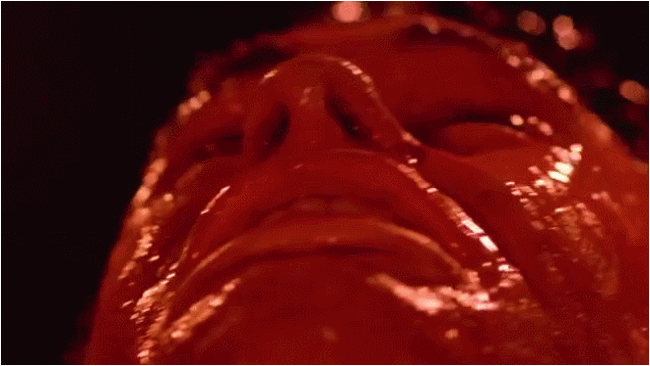 And then it abruptly changes course.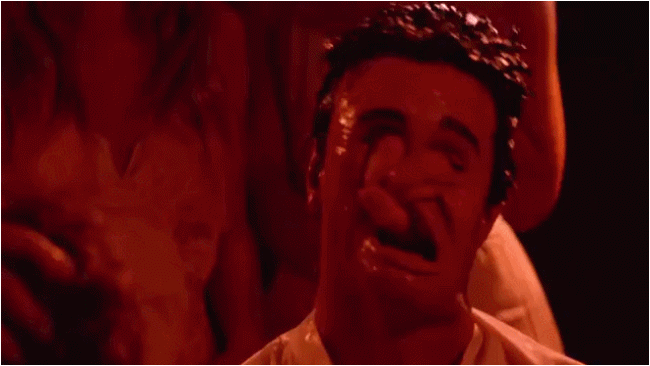 Are you not entertained!?
ARE YOU NOT ENTERTAINED!?!?
The crowd is understandably stunned. Bill has just crossed into a world where hyperbolic threats become reality: He shoved his hand up Ted's ass and turned him inside out. Literally! They're probably terrified he's going to rip off their heads and shit down their necks next!
Suffice to say, no one stops him and his friends from walking right out the door. Except his father, whose head is now firmly on his shoulders.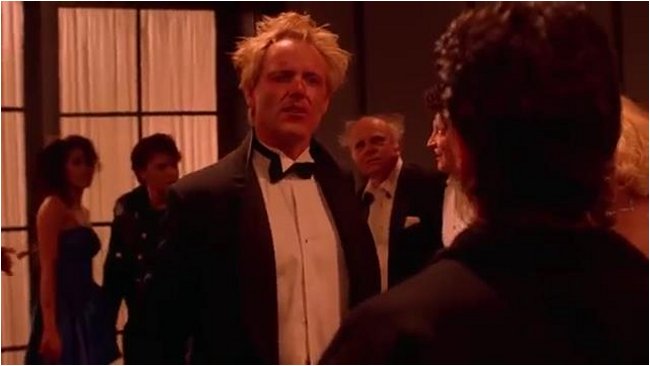 "You'll never get away with this."
Bill responds the only way a rebellious "teen" can: he punches his dad and tells him, "Don't count on it... butthead." And then our heroes... just kind of drive off.
I mean, his dad is probably right. We know the titular Society has members throughout law enforcement and the judicial branch, and throughout the movie they've orchestrated kidnappings and cover-ups that pretty much guarantee they can stay hidden. Hell, they caught Bill and had him declared dead. He only escaped because no one thought to actually restrain him in any way. Even if he leaves, they will probably catch up to him and either frame him for some crime or just kill him.
But hey, it's a movie. Even if he goes down, he can take pride in knowing that he beat his rival by punching him in the anus, reaching up through his guts, grabbing his face like a bowling ball in reverse, and yanking him inside out. And there's no better feeling than that.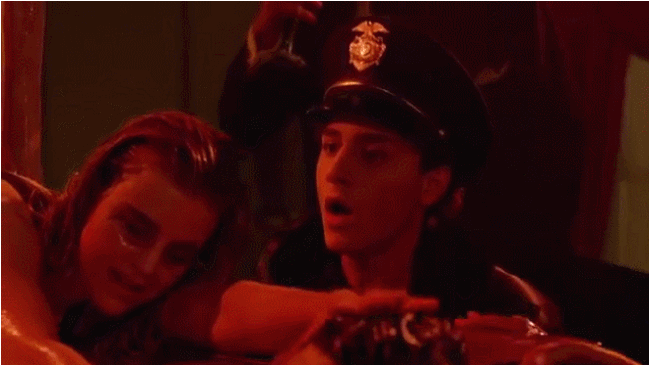 Have any questions or comments about this piece?
SHARE YOUR THOUGHTS IN THE READER COMMENTS SECTION BELOW!