So you're all grown up and there's no way you can squeeze another year of trick-or-treating out without someone calling the cops. Plus, the ankle bracelet makes it impossible to go to any of the Halloween parties your restraining order doesn't already prevent you from going to! LIKE ANYONE INVITED YOU TO A PARTY! Does all that mean Halloween can't still be the bestest Holiday of the whole year? Well, yeah, pretty much. But it can still be pretty darn good, you big cry baby! Here's how.

WHEN THEY SAY 'TRICK-OR-TREAT', YOU SAY:
WOW! Great costumes!


OH! You scared me! Hey, dig in!


Oh! Oh my goodness, what cute costumes! Honey, come and take a look at these adorable trick-or-treaters!


Spooky! You guys really went all out! Here, have some treats!


Look what we have here! A ghost, a witch, a fairy princess, a pirate, another witch, and what are you, what is that, some sort of store bought 'Scream' costume? Were you even born when that came out? Oh well.


Candy's in the bowl. See you next year.


So, what are you supposed to be?


OH! HOLY CRAP! Woah! Sorry. You just scared the crap out of me, man. Here, have some candy.


You kids like smokes? 'Cause that's all I got.


Sorry, sorry, I got his collar, don't worry, just take some candy, quick for Christ sake, this dog is STRONG!


Oh, look, a Pirate! ... Well, you sure look like a Pirate. What? A clown? What the fuck is the patch for? Yes it's a fucking patch. It IS! Okay, okay, have it your way, but that's the shittiest make up job I have ever seen.


Know what? Why don't you trick me this year? Seriously. 'Cause I don't think you have the sack to back that shit up. Stop it. Stop crying.


AAAAAAAAAAAHH! AAAAAAAAAAGH! SWEET fuckin' CHRIST, my HEART! Shit, man. SHIT! That is the fuckin' scariest costume I have ever seen in my life, I thought you were gonna fuckin' murder me. I'm just kidding. You look like crap.


Great costume. Seriously.


You know the Power rangers were all fags, right? Even the girl. She was, like, a girl fag.


Uhm, okay, you're what now? Seriously? I don't see it.


Awesome costumes, kids! A Witch, a Ghost and a Pirate! Know what I got in this bowl, kids? Macarthur Genius Grants. I shit you not.


Let see now, store bought, store bought, store bought, store bought. What, are all your Moms, like, drunks, or do they just not love you?


WOAH! That is AWESOME! Did you make that yourself? That is Amazing! I have absolutely NO clue what you're supposed to be. No, no, don't explain it to me, don't, look, shut up, okay, don't... Okay, you fuckin' ruined it. DO NOT go into that damn spiel at the next house. Just let your costume speak for itself. You ruined it. By explaining it, you ruined it. It's like you pissed on it. Seriously. I could not be more offended if you whipped out your little crank and pissed all over it. I can't give you any candy for that shit. Just go. Jerk.


Oh, geeze, I'm sorry, I'm all out of candy. I had, like, all these full size bars, I really went all out this year, like full size Hershey Bars, Snickers, Butterfingers, not that 'fun size' shit, what the hell is fun about that, am I right? I'm all out now though. I should have bought more. Sorry. I'm kidding, I was never going to give you any candy.


No.


Is it Halloween? Again? Fuck me.


Oh, hey, a store bought costume. Know what? How about you get the fuck off my porch?


IT'S OKAY, IT'S OKAY, I GOT HIM BY THE CHOKE COLLAR! STOP THAT MOTHERFUCKING BARKING! Sorry, sorry, just reach in the bowl, I got him. SHUT THAT BARKING! I WILL BEAT YOUR ASS!


Okay, I have not got one clue what you're supposed to be. Not... one... clue.


Say, is that your Mom back there? Tell you what, why don't you have her come ask me for some candy. 'Cause no offense, but you are not doing shit for me.


Say, is that your Dad back there? Tell you what, why don't you have her come ask me for some candy. 'Cause no offense, but you are not doing shit for me.


Say, is that your Dog back there in the Bee costume? 'Cause pardon my French, but that shit is hot. H-O-T, know what I'm saying? That gets a whole bowl of candy. Oh, yes. We are no longer fun size, you getting my drift?


I'm attracted to your Dog.


OH GOOD SWEET MOTHER OF PEARL I'M GOING TO DIE, SAVE ME, SAVE ME, FUCK, FUCK, FUCK, OH, FUCK-SHIT-PISS-COCK BASTARD, HAIRPIE, BALL SACK! BALL SACK!... Oh. Oh, thank Christ; you're just a kid in a costume. Fuck. I almost shot you.


I don't understand what your costume is supposed to be. I see... like... sort of a lamp... and a what, a what, is that, like, a potted plant, or a cola bottle?


Oh, hey, a pirate! Lotta pirates this year. A LOT of Pirates. 'Cause of Pirates of the Caribbean, right. Pardon my French, but Kiera Knightly? I would do her in like a New York minute. Totally. And Johnny Depp. And Orlando Bloom. And that guy with the Squid Face. I just, you know, the wife hasn't touched me in years, man. Years. I'm hard up. Seriously, thanks for listening. I feel better. Have some candy. I know it's only fun size, but, like, I'll owe you. Come around some other time, we'll have a beer, shoot the shit about who we wanna fuck, kay?


No. No. I can't give you any candy for that.


So, what, you're what, a Zombie, a Hobo, a Drunk? Shit. No, put your hand back, you don't get shit.


No. No. That costume isn't anything. That's just a bunch of shit you had laying around.


It's okay, it's okay, I got him by the collar, he won't hurt you, he's just curious. Plus, like, he's probably hungry 'cause I haven't fed him in, like, a week. Oh, and I put on a power ranger costume and poked him with a barbecue fork, and he's all chained up and he can't do a thing about it, it makes him fuckin' nuts. So what are you supposed to be, like some kind of Green Ninja?


What are you supposed to be now?


I GOT 'FUN SIZE'! IT'S FUN 'CAUSE IT'S SMALL! ISN'T THAT JUST LIKE LIFE?? ANYTHING THAT'S SWEET IS JUST BITE SIZE AND IT'S OVER IN A SECOND! BUT THE PAIN GOES ON AND ON AND ON!


OH!... Oh... I'm... I'm sorry, kids, just, just... give me a second here... it's just... your costume young lady, it's like the one my own daughter wore on her... her last Halloween... I... I... No, I'm kidding, she's just with her Mom, I get her next weekend. Gotcha, though, right?


What the FUCK are you supposed to be? Know what, take it, just take it, just take the fucking bowl. 'Cause I'm done.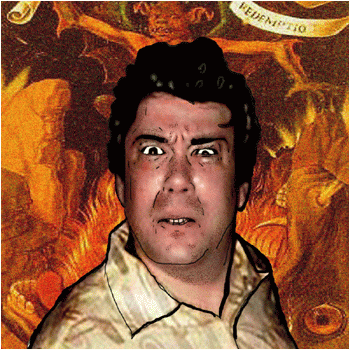 Trick-or-Treat?
---
If you enjoyed this piece, be sure to check out:




50 Ways To Make This
Halloween An Unusual
Departure From Past Ones!
---
---