BOO! LET'S PRAY!

Feel better? I sure do, and so does Jesus! And if you're a recently converted sinner experiencing guilt over a bad case of Halloween envy, we FEEL YOUR PAIN and UNDERSTAND the DANGER to your IMMORTAL SOUL! Because just as vegetarians never truly loose their craving for meat and so produce simulated meat products, the reborn need to satisfy their constant hunger for sinning with soul safe, spiritually nutritious simulated sin!

That's exactly why I founded "Wicked Christian!" and why we're proud to market the Wicked Christian Hell House Kit, the only Hell House kit on the market that's a GUARANTEED road to Salvation! And not just for you! Studies show a small but certain percentage of paying customers who tour your 'Wicked Christian' Hell House WILL BE SAVED! That's called 'Soul Bundling' and GOD LOVES IT!

You see, it wasn't that long ago that I was a Jew. It's true, and I'm not ashamed to admit it! You may not know this, but at one time a pretty important person to Christianity was a Jew too. Would you be surprised to know I was talking about… JESUS CHRIST? I sure was! You could have knocked me over with a kosher feather. And like Jesus in his Jew days, I found myself weighed down with earthly concerns, in my case a garage full of unsold Max Burbank's "Wicked Spooky" Haunted House Kits that weren't selling for shit, pardon my Hebrew!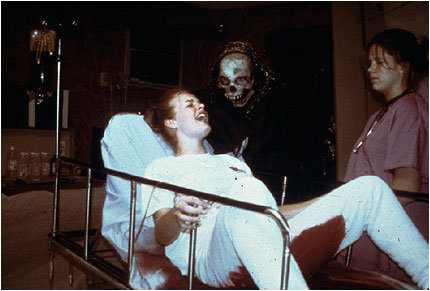 I've found that good props really drive the good news home. Blood-soaked white pants never fail to make your patrons consider the downside of premarital sex, like bleeding to death... and ruining pants.
"SOUNDS GOOD, MAX! BUT JUST WHY DO I NEED THE 'WICKED CHRISTIAN' HELL HOUSE KIT?"

Halloween is fun, right? Sure it is! Fun and popular enough to be a multi million dollar American institution! But so is sex with prostitutes and I've cut way back on that. Because fun is swell but not if all you understand are the upfront costs and not the BACK END! And I learned about up front and back end the hard way! From prostitutes! Just like Halloween, you shell out for the candy, the costumes, the decorations, the guarantee of confidentiality and you think you're ALL PAID UP! But the BACK END comes around for soon enough when the GRIM REAPER takes you on a boat ride across the RIVER STYX past the BIG THREE-HEADED DOG and chucks you in an ETERNAL LAKE OF FIRE! While it's true that only one of those four images is even arguably Christian, WHO WANTS TO SWIM FOR ETERNITY in a LAKE OF FIRE? No one, that's who!

But does FEAR OF ETERNAL DAMNATION mean you can't ever have a little FUN? HELL no! Or maybe I should say "Hell HOUSE, no!" because that's where the '"Wicked Christian" Hell House kit comes in! And what's more fun than making money off of people who crave sin but are TERRIFIED of GOING TO HELL and DESPERATE to FEEL SUPERIOR to their peers? NOTHING that's what!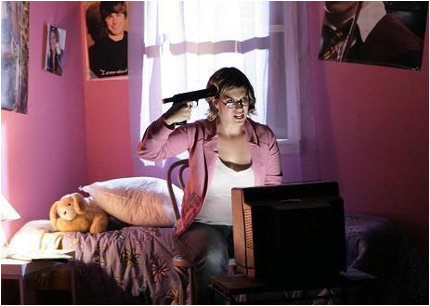 It's all about the details! What makes this teen suicide seem so real? That's right, the Zac Effron poster on the wall! (Zac Effron poster not included)
"COULDN'T I JUST MAKE MY OWN HELL HOUSE AND PREECH THE GOOD NEWS IN A SPOOKY AND FUN WAY FOR CASH MYSELF?"

No. And here's why. Firstly, you're already dangerously close to the SIN OF PRIDE and in addition, you'll probably get it wrong and mess it up. Chances are you don't even know which risks to the soul are the most riskiest, or how to set up a room, or "Sin Station" to address that sin! What were you going to do, put out a bowl of peeled grapes and tell sinners they were eyeballs? You know what Jesus hated even more than money changers? Amateurs, that's who!
Let your heathen neighbors do the screwing up and getting damned! Sure, a 'Wicked Christian' Hell House is fun, but more importantly, it's a vehicle of drama, that vividly communicates to all witnesses the spiritual battle raging each day that they live! That battle is for the eternal destiny of their souls, and if they choose to follow the world's pathway of sin, the results will be a very real hell on earth as well as an eternal hell. Sin and rejection of God's truth always bring devastation and destruction! And that's why the Johnson's annual neighborhood 'Garage of Terror' is free and your 'Wicked Christian' hell house is five bucks a head!

"WOW, MAX! WHAT A WELL CRAFTED, COMPLETELY CONVINCING ARGUMENT! BUT HOW DO I KNOW YOU'LL COVER SIN IN A WAY THAT'S LURID AND ENTERTAINING, BUT STILL REASSURES ME THAT I'M ALREADY SAVED AND PEOPLE WHO DO THINGS I'M UNCOMFORTABLE WITH ARE HUMAN GARBAGE?"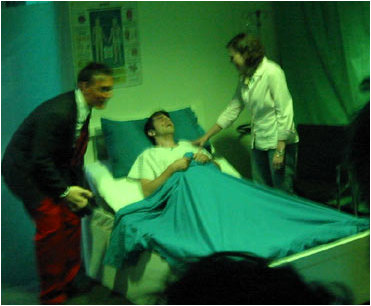 When depicting AIDS as God's punishment on filthy sinners, I don't
skimp on green light bulbs. (Green light bulbs not included)
That's just the kind of astute question I'd expect from somebody destined to be raptured! When you order the "Wicked Christian" Hell House Kit, you'll get everything you need to create 'sin stations' covering the following sins!

HOMOSXEUALITY: We all know God HATES man on man love and is only willing to turn a blind eye on Women with Women if they are both pretty. If that weren't the case, why would you feel so guilty about how much you like Professional Wrestling, gym class and pastoral youth counseling? One visit to the GAY PUBLIC TOILET OF DESPAIR will scare your customers straight when they find out the tapping shoe of the congressman in the next stall is a CLOVEN HOOF!

ABORTION: You know what might make all your teenage girl customers think twice about compounding one grievous sin with another, even if the grievous sin the committed was being raped or abused by a family member? A "Wicked Christian" Demon Doctor with a cleverly concealed spray pump and a sixteen gallon drum of "Wicked Christian" fake blood! They'll remember this 'sin station' for quite some time, because our fake blood isn't washable!

SUICIDE: Suicide is for losers! What better way to convince desperate kids to hang on than SCARING THE CRAP OUT OF THEM! No matter how hopeless your life is, it sure beats spending an eternity having a "Wicked Christian" naughty nurse in a rubber pig mask tear out your liver (not included) and eat it right in front of you!

SATANSIM: Who doesn't love the Harry Potter Books? All your paying customers, that's who! Especially after they watch as a hapless young fantasy enthusiast is DROWNED beneath THOUSANDS OF GALLONS of RAW SEWAGE (not included) spewing from the pages of "The Deathly Hallows"! Its not just Deathly! It's STINKY!

JUDAISM: Anyone can accept Jesus Christ as their personal savior, but Jews can be very stubborn do to a genetic tendency to think they know it all. Many evangelicals believe that a mass Jewish conversion is a necessary feature of the end of days, so it's never a waste of time to pressure our Hebrew friends. Just don't hold your breath!

At the end of your "Wicked Christian" Hell house, your patrons get a choice of two exits. Those who accept Jesus then and there get door number one;

HEAVEN: Your easiest room! A few white robes, a little tinsel, and Enya CD and your all set! (White robes, Tinsel, and CD not included) This is also a great opportunity for prayer and a request for donations.

For the unrepentant, the ignorant and any wise crackers who say they've 'already accepted Christ' it's door number two, which takes them straight to:

HELL: This is where you pull out all the stops, always assuming you've signed and mailed your 'Wicked Christian' liability waiver! While it's true I STRONGLY RECOMMEND the largest display of pyrotechnics you can afford (Pyrotechnics not included), as a RECOMMENDATION and not a requirement, it has no legal status. As long as we're clear on that, I will say that if you don't scare the living crap out of your hell bound patrons, you may well end of damned yourself. I'll never know if you gave a 100%, but God will.

Now, it's true. You don't HAVE to order the "Wicked Christian" Hell House Kit. Maybe you already have plans for Halloween, and it's not up to me to Judge them Sinful, especially since it's a sure bet the Good Lord already has. Who knows, maybe some one else in your neighborhood is already planning on giving God a few dozen saved souls this Halloween. I can't say what you should do with your holy gift of free will. I've said my piece, and all I can really add is this: If you don't buy the "Wicked Christian" Hell House Kit from me, you will die from a particularly virulent STD within the month, and you will go to hell for all eternity, and you will spend eternity begging to return to the level of pain that STD caused you every time you tried to pee.

Thanks for your time,
And God Bless!
---
If you enjoyed this piece, be sure to check out:




Vampires, Vampires, Vampires!
AND
---
---