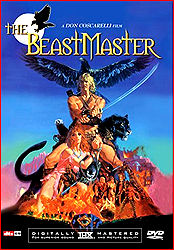 Yeah, yeah, yeah... The Beastmaster isn't technically a horror movie, but it's got enough horrific moments in it (besides the acting) to be mentioned on this list. From sacrificing children, to killing pregnant mothers, to turning men into mindless gimps who flail around while making sparks on everything they slam their gauntlets on, to drowning ferrets in quicksand... this movie has plenty of horror. So there you have it. It's an action-adventure-horror flick. Furthermore, it was created by one of my all-time favorites horror directors - Don Coscarelli from the Phantasm series.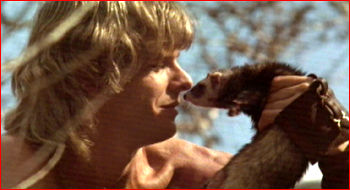 Anyway, The Beastmaster is basically about three basic things. First off, The Beastmaster (Dar) is played by Marc Singer. Now for some reason I always used to get him and Kevin Bacon mixed up. Granted he's a lot bigger than Kevin Bacon, but they definitely have similar faces. I can't be the only one who thinks this. Well, Dar has this special bond with animals. It's nothing sexual, but they sure are all keen on one another. He's got an eagle, a panther, and a pair of ferrets who help him on his many adventures.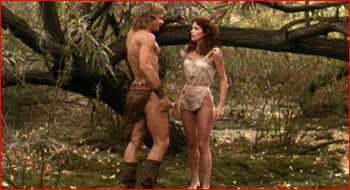 The other thing you'll find abundant in The Beastmaster is people who seemingly hate clothes. The Men are all in loin cloths and the women are either bathing naked in a pond, or barely covered by some shredded fabrics.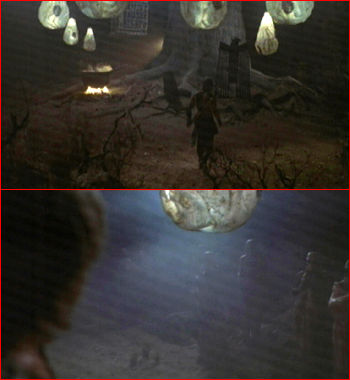 The final thing you'll find in The Beastmaster is action and gore. Now there are plenty of great characters in the movie with some impressive costumes, but none scared the bejesus out of me like the Birdmen. Ah yes, the infamous Nest of the Birdmen scene...
So Dar heads on up to the top of this mountain where he sees some weird glowing lights hanging from a tree. It's never revealed what they are, but I'm guessing they're some kind of cocoons. Aside from finding a boiling cauldron of human heads, he finds a midget in a trap hanging from a tree.
Soon after, Dar realizes that he's now surrounded by some strange creatures. The Birdmen! Dar sets the midget free and he tries to run away, but one of the Birdmen catches him. Dar can't help but watch the slaughter in disgust...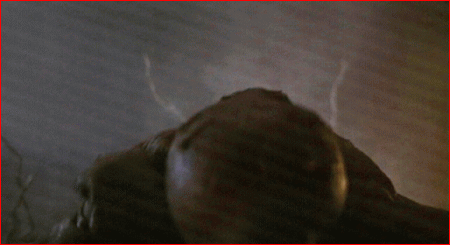 Immediately after catching the poor lil' fella in it wings, the Birdman creates a vacuum of sorts around him that he can't possibly escape from. Then we start to hear all sorts of nasty, gelatinous sounds, and you just know it can't be good news for that guy...
Poor guy can struggle all he wants, but when in the Birdman's grasp, there is no escape!
Oh it's not over, not just yet. That's right, it's Slime Time! Slowly but surely, the flesh of our lil' dwarf pal is being dissolved into dripping piles of green goo. Kinda makes you wonder if there's gonna be anything left of him, eh?
Unless those are someone else's bones being dropped to the ground, I believe that pretty much answers the question about what happened to that guy now doesn't it?