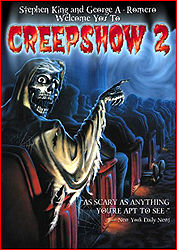 Creepshow was easily one of my favorite horror collections when I was a kid, so it was only natural that I was extremely excited when they released the sequel. Now in both movies there are a ton of great moments... Stephen King blowing his brains out, Ted Danson drowning Leslie Nielsen, and much more. But out of all the stories in both movies, one has always stood out in my mind over the years. And that one is "The Raft" from Creepshow 2.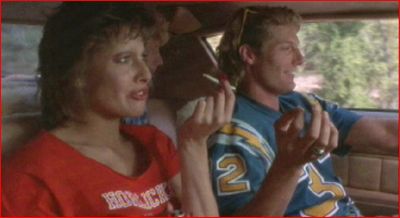 So a bunch of teenagers are cruisin' down the highway, smokin' some dope and lookin' for whatever thrills await them. It's your typical horror movie gang... jock guy, slut girl, nerdy guy, and timid girl. They soon pull the car up to a lake and decide to hop in for a swim. This gives the viewers a chance to view jocko in his speedo. Lovely.

Anyway, they're all swimming towards the raft in the middle of the lake when nerdboy notices a duck off in the distance. The duck is quacking madly and appears to be struggling to stay on the surface of some strange substance floating in the water.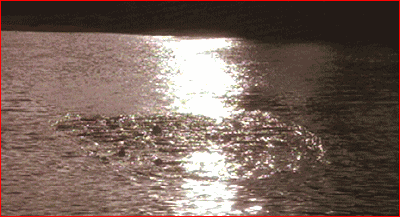 They all make it to the raft, but notice that this strange substance was moving directly towards them. They theorize that it's an oil slick at first, but I don't know too many oil slicks that look like this nasty, chunky mass of floating crap.

So nerdboy worries more and more about the blob that is hanging out near their raft, while jockboy and slutgirl are only concerned with getting stoned and getting it on. The other girl, however, appears to be a bit too curious when it comes to the floating mass. She sticks her finger in it and before you know it, it grabs onto her and yanks her in. It then lifts her up into the air so her friends can all see her as she screams about how much "It burns! It burns!!!" No, she's not turning into Gollum, she's really in pain.

Next on the ol' smorgasbord is jock-o. He makes the mistake of stepping on one of the cracks on the raft. You remember that old rhyme "step on a crack, break your momma's back" right? Well, I don't know about this guy's momma, but he sure fucked himself up pretty bad. The blob grabs him from under the raft and turns his foot into a pulsating hideously bloody mess. That's one hell of a case of athlete's foot. Get it? GET IT? Hey, it's 2am, and I haven't slept in quite a while and I think that was pretty damned funny. Yes, yes it was. Anyway, the blob then yanks him down through the wood, snapping his leg a full 180 degrees upward.

So, the only two left are nerdboy and slutgirl. They decide to stay awake in shifts while avoiding the cracks in the raft. But hormones get the best of our nerdboy friend, and he decides to become "MISTAR BOOBIES INSPECTOR!" while slutgirl is fast asleep. He's so enthralled with her cleavage that he doesn't even notice that he accidentally laid her face down on one of the cracks! So slutgirl wakes up to find her face covered in burning goo.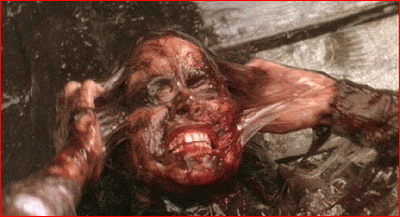 I hope checkin' out her rack was worth it nerdboy. I'm sure she thinks it was!
Well, nerdboy decides to jump off the raft and make a swim for it while the blog is still digesting slutgirl. He actually makes it to shore just before the blob reaches him. He then cackles with glee as he points at the blob, "I BEAT YOU! HAHAHA! I BEAT YOU!"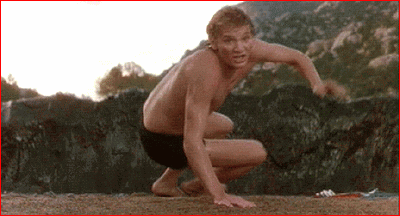 The blob then jumps into the air and lands on nerdboy. I cannot tell you how hard I was laughing the first time I saw that, and it is because of this that The Raft is by far my favorite out of all the Creepshow tales. Gory, hilarious, and a total classic!