Bub the Zombie. If that name doesn't strike a chord in your heart, then not only have you not been exposed to some of finest gore that horror movies can offer, but you're perhaps more brain-dead than the zombies themselves. Day of the Dead is the third film in George Romero's zombie trilogy, and it really raised the bar when it came to zombies and gore. While I'm a bigger fan of Dawn of the Dead (the original), there's no denying that the zombies and the gore were improved tenfold with Day.
From the very start of the movie, it's quite obvious that the special effects wizard, Tom Savini, was looking to outdo himself. Furthermore, I have outdone myself by messing around with the animation and creating a head-banging zombie. \m/ ROCK! \m/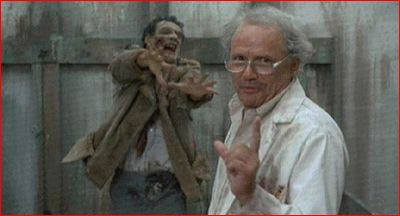 This wacko is Dr. Logan. He's down in an underground military complex with some other scientists and soldiers. Believe it or not, he wants to find a way to make it so that humans and zombies can coexist. He believes that by rewarding them for good behavior, just as you would with a child, they will eventually learn not to attack humans and consume their flesh. Yeah, well, keep that dream alive Doc...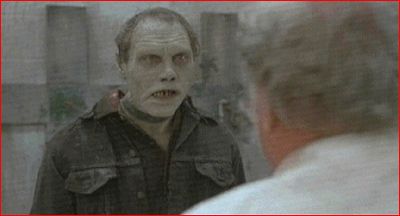 Meet Bub the Zombie. Really... is there any greater name for a zombie than Bub? Absolutely not. Bub the Zombie. If any of you are about to have a child and haven't already decided on a name, I propose that you go with "Bub Zombie". At least if you do that and the world is overrun by zombies, they'll think your kid is one of them and they won't eat his brains. Zombie logic!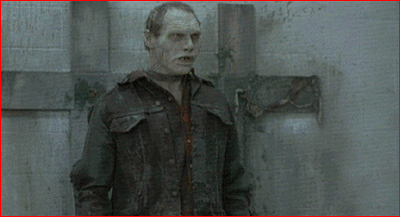 Bub just happens to be the most loveable zombie in the history of... well, zombies. He has a really innocent quality about him and I think that's why some many horror flick fans fell in love with the big guy. It's not a zombie you'd be afraid of, it's a zombie you could keep as a friendly pet. A zombie with a heart of brains. Well anyway, Bub actually appears to not be agitated when the doctor goes near him. He doesn't try to eat him. He even shows signs of intelligence as if he's remembering what he used to do before he became a zombie. So when one of the soldiers walks into the room, Bub stands attention and gives the soldier a salute! GO BUB! YOU'RE LEARNING!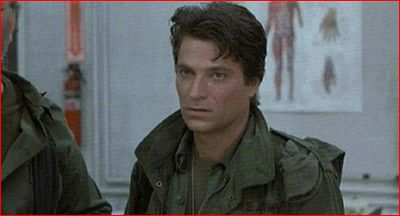 Rhodes, the main military guy and the #1 dickhead of the movie, refuses to return the salute to Bub the Zombie. In fact, he thinks everything the doctor is doing is a waste of time and resources. He's so easy to hate, and that's why you know his death is going to be exquisite once it finally comes along. So let's get right to it!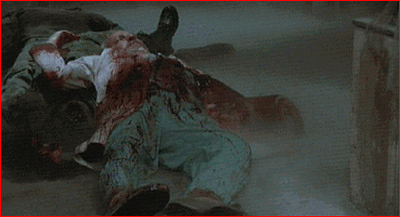 Towards the end of the movie when all hell has started to break loose and the zombies are overwhelming the complex, Dr. Logan gets killed by Mr. Asshole himself, Rhodes. Eh, he probably would've been eaten by zombies anyway. Still, this comes as heartbreaking news to Bub the Zombie when he finds the doctor. The doctor was like Bub's only friend, and now with the doctor gone, Bub picks up a gun and goes to hunt down the killer of his bestest friend in the whole wide world. :( GO GET 'EM BUB!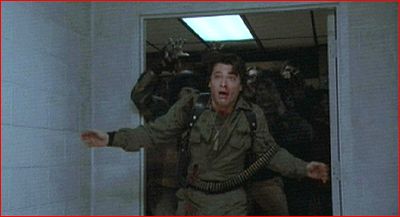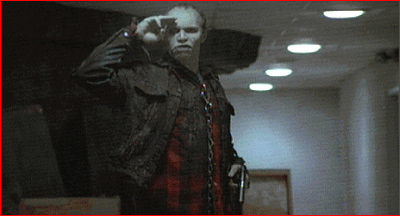 Bub tracks down Rhodes and starts shooting at him as he chases him down the corridor. Eventually Bub shoots Logan directly in the chest right after Rhodes realizes that he's trapped. Damn if he's that good of a shot when he's undead, imagine how good of a soldier he was in real life. ROCK ON BUB!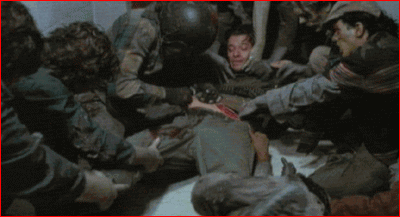 And while he remains defiant until the very end as he screams "CHOKE ON 'EM!" at the zombies who are eating his guts, I don't think Rhodes will be receiving the Purple Heart anytime soon. In fact, I think the rest of the zombies just took his real heart, along with the rest of his tasty innards. Incredibly gory and one of the most memorable zombie death scenes ever!