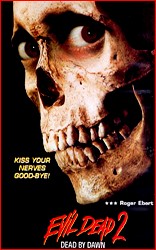 Ash is probably the greatest anti-hero ever to grace horror cinema, and we're all hoping that we'll see him in at least one more Evil Dead. There are so many classic over-the-top moments in all three of the Evil Dead flicks that it was damned hard decide which one to feature. In the end, I had to go with a scene from Evil Dead 2: Dead by Dawn that always sticks out in my head. Yep, it's really just that groovy.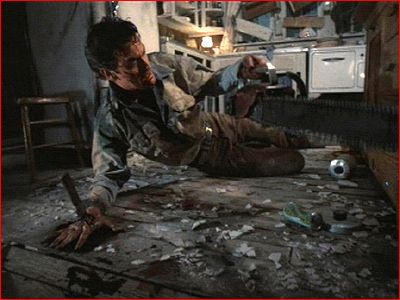 We pick up a little ways into the movie where Ash had pinned his right hand to the floor with a knife. This is because his hand has become tainted with evil and he no longer has any control of it. If he allows it to stay like that for much longer, it will spread through his entire body. So what do you do when a part of your body goes bad? The answer is quite simple really...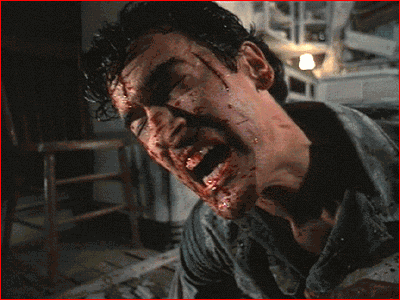 You lop it off. Remember that kids... the next time you injure yourselves and you can't use a certain part of your body, just lop it off. Broken bones? Lop it off. Paper cut on your thumb? Lop it off. Erectile dysfunction? Lop it off.
So anyway, Ash takes a chainsaw to his hand and lops it off at the wrist, and while a swift chop with an axe probably would've been less painful, it sure makes for a great splatterific scene. But we've only just begun...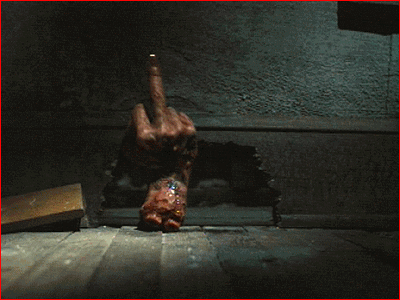 Just because he severed his own evil hand, doesn't mean it can't still do evil things. Why just look at it there, giving Ash the very evil bird. Most severed hands would give you a "hang loose" gesture, but evil hands... they go with "the bird" exclusively.

So the hand scampers off into the walls and Ash is really pissed off at it and proceeds to shoot the walls with a shotgun. Eventually he hits the hand and as it bleeds, Ash smiles with a great sense of accomplishment. The strange thing is, for such a tiny hand there's an awful lot o' blood coming out of the wall where it was shot. The blood flow continues to increase until...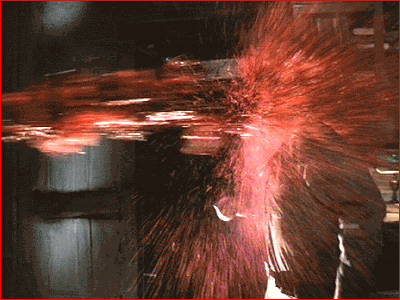 Ash is slammed with a stratospheric amount of blood. It just pours and pours from the wall for so long that it even rivals the blood in movies like "Dead Alive". All that blood from a tiny little hand, gotta love it! Eventually the blood turns black and it reverses itself, leaving Ash completely shaken. But don't worry, when it comes to hanging out in that Evil Dead cabin within the woods, there's one thing that's certain...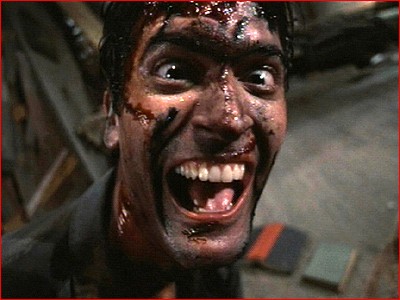 EVERYTHING'S AOK IN CRAZYVILLE!