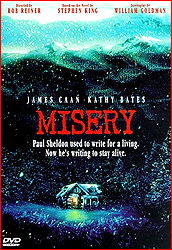 I remember when Misery first came out in theatres, it seemed like everybody was talking about it. Sure, Kathy Bates did an amazingly good job as a completely twisted psychopath, but there was much more than her acting that had people talking about the movie based Stephen King's bestselling book...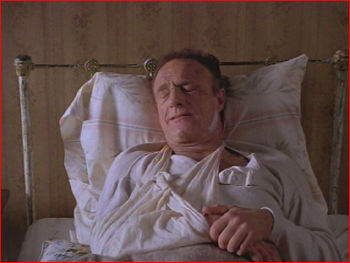 Paul Sheldon (played by James Caan) is a best selling novelist on his way back to New York from a wintry getaway when he gets caught in a blizzard and his car flips over. Annie Wilkes (Bates) rescues him from certain death and nurses him back to health. And wouldn't you know it, she's also his number one fan!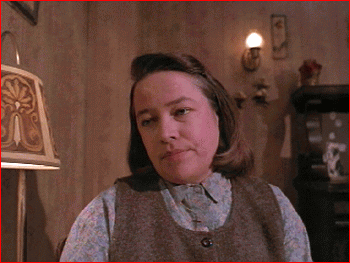 Annie is a simple woman, who lives by herself on a remote farm. She enjoys sitting down and reading Sheldon's novels over and over again. She tends to say innocent things such as "dirty birdy," "oh poo," "well isn't that an oogy mess," and "mister man". She also now believes that god wants her to help Sheldon write his next book as she basically holds him hostage.
Problem is, she has a bit of a temper problem as you can see. Paul realizes this pretty quickly as she gets crazier and crazier with each passing day, so he tries to find a way to escape. Now if you're gonna try to escape, the one thing you gotta do is make sure you don't get caught...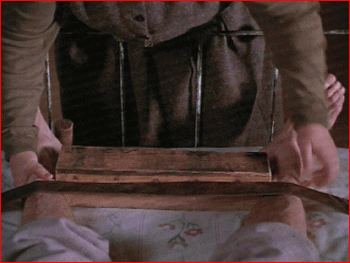 Annie explains that in the old days that they would punish native workers who stole diamonds. They would punish them by making sure they could never run away again with an operation known as "hobbling". She puts a wooden block between his ankles, picks up a sledge hammer and says, "Trust me... it's for the best."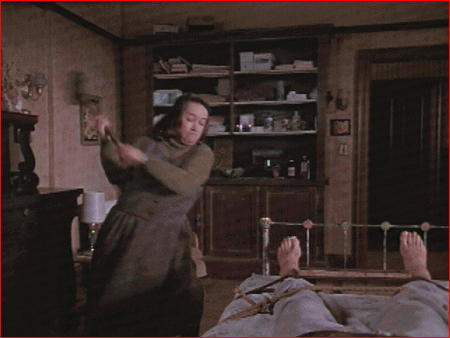 OW OW OW OW OW OW OW OW OW OW OWWWWWWWWWWWWWWWW!!!!
The entire world winced in unison upon seeing this scene. Hell, I think I hobbled out of the theatres just from watching it. You'd expect them to cut away from that scene since it was a major theatrical release, but they didn't. Definitely one of the most memorable horror movie moments you'll ever encounter. If you haven't seen Misery yet, do yourself a favor and check it out... you dirty birdy!