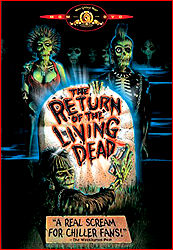 Return of the Living Dead. Where do I even begin with this one? If nothing else, this movie is one of the zombie movies that really causes people to make fun of zombie movies. It's got plenty of gore and random nudity sure, but damn near all of the zombies in this movie say that infamous word: "BRAAAAAAAAAAAAAAIIIINNNSSS!!" So if you're looking for a zombie movie to point the finger at for the "brains" stereotype, this one is as good as any.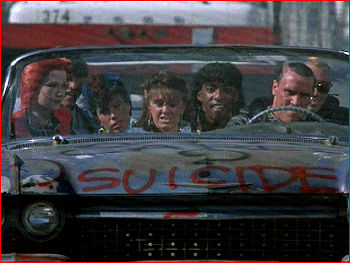 So it's your basic "chemical gets unleashed and now the dead are rising from the grave" kind of story. But there's also a group of punks who love hanging out in the graveyard. One of them also seems to enjoy removing her clothes constantly for no reason whatsoever, so I'm sure that contributed to the popularity of this film. That and the fact that some of the zombies in this film are actually smart enough to use a CB radio of an ambulance and call for more help. And when I say "help" I mean food... er... brains!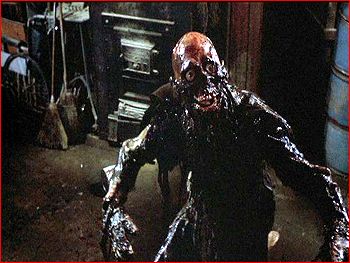 Now before you go getting all worked up about how I haven't mentioned him yet, there he is... one of the coolest zombies you'll ever see. The main "BRAINS!" zombie who looks like he was dipped in a vat of tar. While he does enjoy a good brain chomping in the movie, it's not my favorite one...
Later in the movie when the zombies have the locals trying to barricade themselves indoors, one of the punks decides to lend a hand. He reaches down to grab a board to put up against the window, but a zombie lady grabs his arm. Now I don't know what it is that gives zombies superhuman strength, because they barely seem to have the energy to walk half the time. Still, this lady zombie is able to pull the punk dude outdoors with ease.
The lady zombie, which is obviously a puppet, chomps down on punky's head...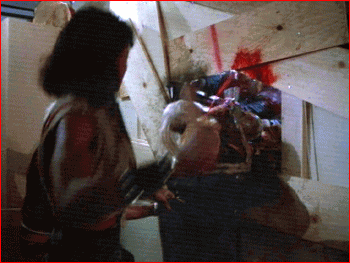 His friends try to pull him inside, but it's too late.
The blood starts splattering everywhere!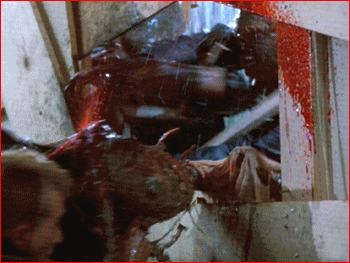 And I do mean everywhere!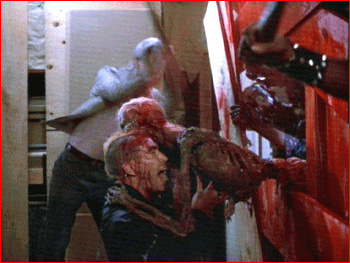 They manage to chop the lady zombie in half, but she just keeps on eating his brain...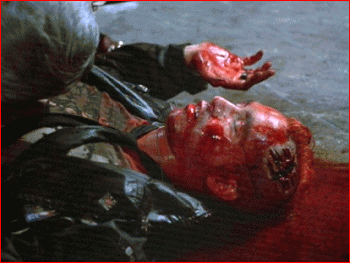 In the end, the punk dude is dead and the lady zombie has a mouth full o' brain. The entire scene is splatterific with plenty of the kind of blood squirting that you'd see in Evil Dead. Oh and that lady zombie? They later on interrogate her. No seriously, they get her to explain exactly why zombies eat brains. And why do they eat the brains? To ease the pain of being dead.
Hmm... makes perfect sense to me!