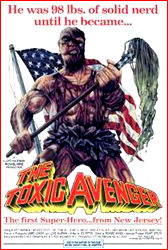 "He was 98 lbs. of solid nerd until he became... THE TOXIC AVENGER!" With a tagline like that, how could you NOT want to see this movie? The Toxic Avenger is independent film in its most pure and raw form. No rules, no restrictions, just people who clearly loved making fun movies that they could laugh about with their friends. And I gotta say, with so many movies trying to be shocking just for the sake of being shocking these days, it's easy to forget just how ahead of its time The Toxic Avenger really was when it came to being politically incorrect.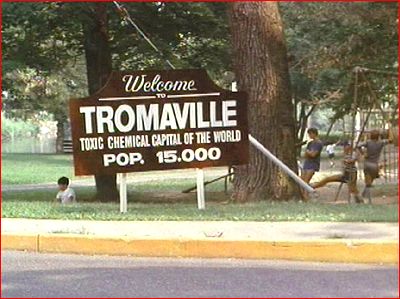 Yes Tromaville. It's Troma's mythical town where magic can happen around any corner... provided you spice it up with a little toxic waste. Well the fine people of Tromaville need to keep their bodies fit if they're gonna be able to stand up to all those toxic fumes on a daily basis, so they all work out at the local gym where this guy is the janitor...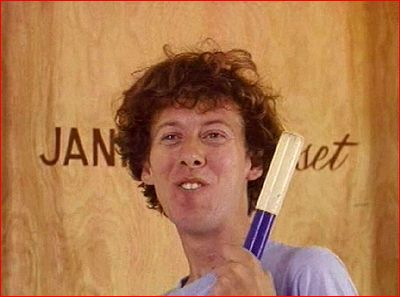 Meet Melvin Junko. With a name and face like that in an 80's movie, I'm sure you're thinking "Whoah! He must get ALL the ladies!" Well brace yourself for a shocker: he doesn't. I know, I know... I couldn't believe it either when I first saw it, but it's true. So true in fact that he's downright unpopular.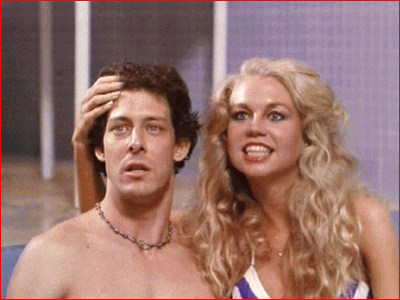 Ok, unpopular isn't the right word... everybody basically hates him. But the popular kids in this town aren't your typical kind of bullies. Sure, in regular movies the "bad seeds" would give you a killer wedgie or steal your lunch money or something. Not in the awesomely independent films of Troma. No sir! The bullies in the Toxic Avenger are fucking evil and sadistic!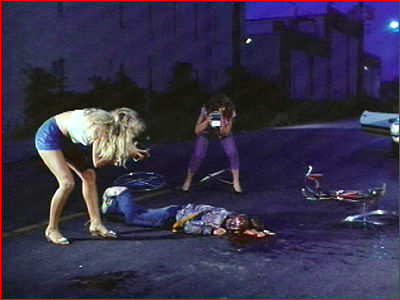 The bullies in Tromaville enjoy going out for a night of fun-filled drunk driving and running down innocent children on their bikes. After they do this, they back their car over the kids head just to make sure he's good 'n dead. Then they take photos so they'll always have a nice keepsake to remember this special night of their young lives forever.
Well my friends, you can't be bad forever without eventually paying the price. Er, that's at least true if the Toxic Avenger lives in your town. You see, the bullies drove Melvin to jump out a window and land in a vat of toxic waste. Now he's a mutant antihero with super-strength and tons of rage. So he heads back to the gym to get revenge on the people who laughed at him for so long... and that brings us to my favorite moment in the Toxic Avenger (other than seeing the bullies beat up a helpless elderly woman):
Work those legs all you want pal, the Toxic Avenger is gonna give your cranium a crash course on weight lifting! Don't worry, I'm sure he'll spot you in case you can't handle the weight!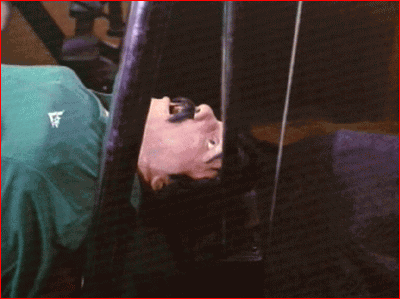 Hmmm, ok... maybe not.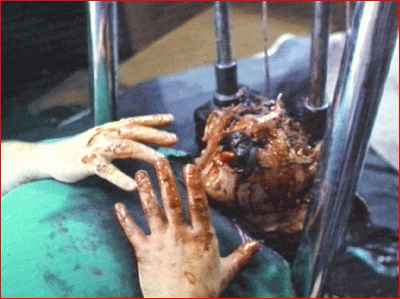 Guess he'd be better off sticking with the Thighmaster and leaving the weights to the real professionals, but it's a little late for that now. So let this be a lesson to all of you "bad seeds" out there. You can keep running over kids with your cars and beating up the elderly all you want... just know that you might have to answer to an angry mutant with a mop...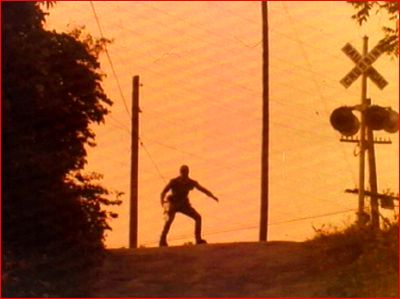 THE TOXIC AVENGER!