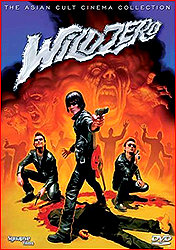 Wild Zero... easily one of my favorite zombie movies ever. What other zombie movies combine horror, forbidden love, and the power of rock & roll so perfectly? None I say, none! The true stars of this movie are without a doubt Japanese rock & roll super-band, Guitar Wolf! These guys truly are rock & roll incarnates...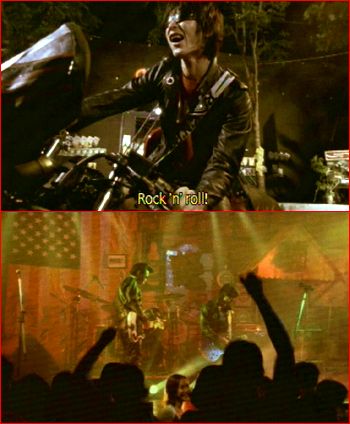 Slicked back greaser hair, wearing shades at all time, leather jackets, motorcycles, and of course rock & roll music... these are the things that make the members of Guitar Wolf so inspiring. And then there's the love story of the film: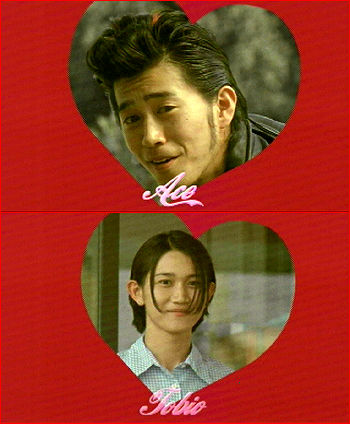 Ace and Tobio; oh how they make such a cute couple. Ace informs Tobio that his name means he's the number 1 guy. You got that? ACE! Well, Ace goes through a lot during movie as his hero, Guitar Wolf, teaches him lessons about Courage and Rock & Roll.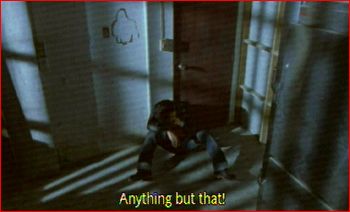 Even though he's becoming more confident in himself, Ace must pass some true hardships. At one point he even goes through some mental anguish when he learns that his true love, Tobio, is really a man. Oh no! What will Ace do now? This sounds like a job for Guitar Wolf!
Now do you see why Guitar Wolf rules so much? No? Well then perhaps we should move right along to what I consider to be the "greatest horror movie moment" of Wild Zero...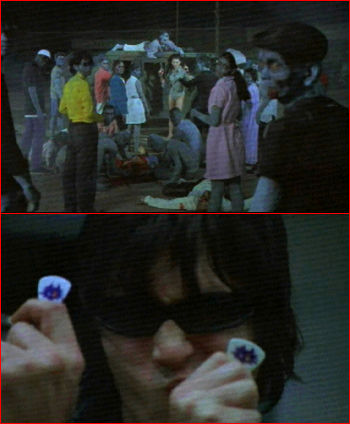 Completely outnumbered, there's hordes of zombies attacking some of their pals. That's when Guitar Wolf intervenes by breaking out some of his guitar picks. But these aren't just any guitar picks, these guitar picks have THE POWER OF ROCK & ROLL!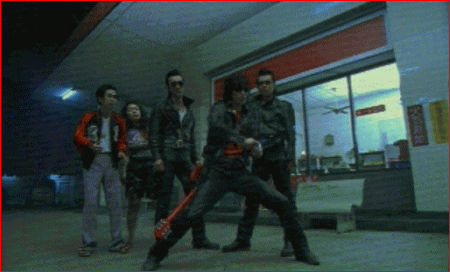 Guitar Wolf begins throwing out the guitar picks at the speed of a gatling gun, and they hit each of the zombies in the head with exact precision. And less than a minute later...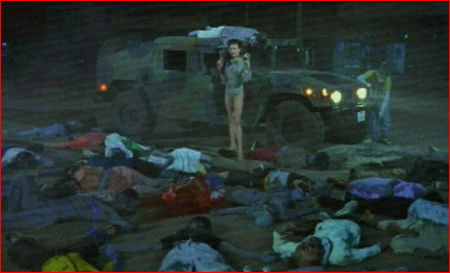 No more zombies! All thanks to Guitar Wolf's super-speedy reflexes!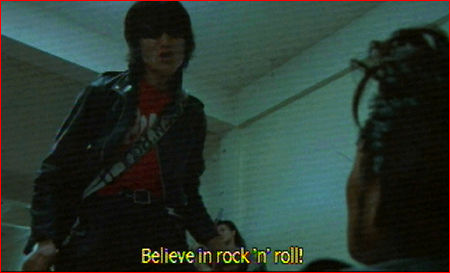 Oh I do now Guitar Wolf... I DO NOW!