My friends, we find ourselves at a fork in the road. We must make a difficult decision, knowing full well that many hearts will be broken along the way. I'm talking about the most important vote you will ever make in your lives. Something extremely vital to the foundations of the very society in which we live. Something even more important than our own lives.

Yes, I speak of the decision about what is the greatest Nightmare on Elm Street "Freddy Rap" song of all time. There are two songs centered around Freddy Krueger from the Nightmare on Elm Street films:
The Fat Boys "Are You Ready For Freddy!"

and

DJ Jazzy Jeff & The Fresh Prince's "Nightmare on My Street"
Admit it. You're already agonizing over the thought of having to choose between these two rap masterpieces. But fear not, for you are not alone. We're right here with you and many people will be casting their vote for which song they like better over the next two months. Who will win? Who will lose? These questions will be answered in due time. All can truly be sure of is that Freddy will be laughing all along the way.
So please, listen to each of these amazing songs below and then cast your vote for your favorite one. We also suggest that you post on our message forums your reasons for voting for who you did.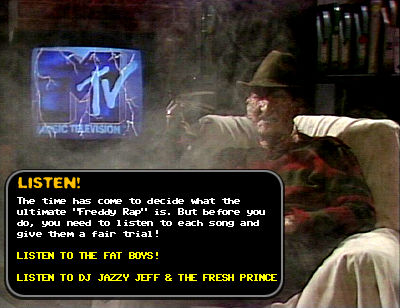 CLICK HERE TO JOIN IN THE
FREDDY RAP DISCUSSION THREAD!
(NO REGISTRATION REQUIRED!)
MAY THE BEST RAP WIN!