MARTIN YAN IN THE HEADLINES AGAIN!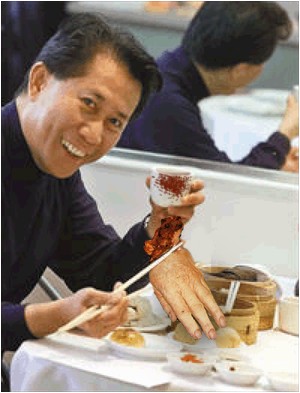 Martin Yan, enjoying a handful.

Once again Martin Yan has been up to his usual murderific ways, but this past week he allowed fans to catch a rare glimpse of him enjoying one of his own meals! Normally, fans are used to seeing him prepare astoundingly creative meals from various human body parts. But this week, he allowed a TV crew to follow him to one of his own restaurants, "The Woky Grill", to see what his dish of choice was.
Once he was seated, Martin spent a while looking over the menu. He never stopped showing his pearly whites as he perused over the choices which he himself created. At moments he began to cackle out loud like a maniac, but when he was questioned about it, he claimed he was "just drunk on the blood saké".
In the end, Martin was down to two choices:
The Sautéed Baby Cheeks or
The Tenderized Severed Hand with stuffed with green peppers.
Yan explains why he decided to go with the latter: "I had recently cooked my own children on national TV. So with a camera crew following me around, I didn't want to show people the same kind of thing twice. Besides, I must admit that I do like chewing my way through a human hand. The stuffed peppers inside them really bring out the flavor of the flesh. Flavor of the flesh, ha ha! I like that! I think that's what I'll call my next book!"
The TV crew tried to ask Mr. Yan some more questions, but he started laughing even louder and his eyes grew wider. We asked the TV crew about why they left the restaurant early. "He still looked hungry after he finished chowing down on that hand, and there was no way in hell I was going to stay around just in case he wanted me for dessert!" exclaimed the cameraman. One reported claimed that Martin Yan said, "Your brains would look exquisite if they were smashed on a platter and drenched in chocolate sauce!"
Horror aside, Martin Yan has proved once and for all that he not only takes great pride in cooking his homicidal meals, but he also loves to consume them!
CLICK HERE TO SEE THE PREVIOUS MARTIN YAN HEADLINES!
MORE WOKARIFIC HEADLINES COMING SOON!