...CONTINUED
#35: S.T.U.N. Runner
I was never one for racing games, unless you were talking about those racing games where they added some gimmicks to make it interesting, like driving an armed hovercraft of some sort. That's where S.T.U.N. Runner came in. Oh sure, you'd start out as just a wimpy hover Ferrari, but once you got past the first level, they'd strap some wings, a nosecone, and a gun turret to your ship, and you were ready to start tearing ass around the long, tubular highways, gunning down any hapless motorists that were going too slow for your liking. Time just seemed to fly by on this machine, and let me tell you, that boxy plastic bench you had to sit on while playing the game was coooomfy! Plus the machine itself looked like it could pass for a futuristic vehicle of some sort. When you're a little kid trying to play this game, though, you were often better off just standing on the damn thing so you could get a good angle on the screen, but of course, some concerned parent would always be waiting somewhere nearby to scold you for standing on that narrow plastic seat, but hey, if they'd have put an accelerator pedal down there instead of just making the acceleration automatic, we wouldn't have had that problem in the first place.
#34: Top Skater
Joysticks can be useful for the majority of arcade games. Still, however useful they may be, you can't expect players to walk away with your game in mind if there isn't something special about it. Sure, you could try to make a memorable gaming experience with entertaining gameplay, but that will only draw in so much money. The real cash comes from drawing in casual players who are just trying your machine on a whim. Top Skater went for this angle with their tilting skateboard controller, the first of its kind. The player would stand on the board and tilt it left or right, forward or back, depending on what trick was to be performed. A nifty innovation by itself, but thankfully, the developers also had the foresight to install railings on the side so that you wouldn't simply fall off and twist your ankle the moment you attempt your first trick. You could still slip right off and smack your head on the railing on your way down, but it was still an improvement. Just make sure you aren't wearing flip-flops when you hop on the thing unless you enjoy having arcade crows laugh at your mishaps.
#33: Starship 1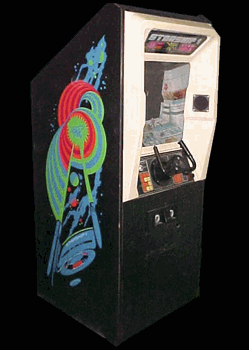 A few decades ago, there wasn't much to most arcade games. Graphics and CPUs had only advanced so far, so developers would often try to spruce up the cabinet to make up for this. In the Starship 1 cabinet, in order to simulate the feel of space, the makers of the cabinet put in an angled mirror that reflected the image from the monitor onto a drawing of space. It's a pretty nifty way to make up for hardware limitations, and it must have been quite impressive back in the 70s. And let's not overlook the unusual futuristic plastic molding that was inserted into the front of the cabinet merely for aesthetics. Also, there were no in-game crosshairs (which are quite handy to have when running a combat flight simulator), but this was fixed by applying a couple strips of tape in a cross. Ah, the wonders of technology.
#32: Hang-On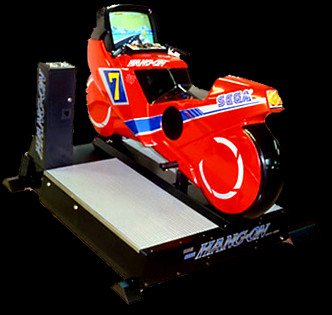 With racing games, the basic rule of thumb is to put a steering wheel on the cabinet so the player will be drawn into the game. With motorcycle games, you use some fake handlebars, plus you can save extra costs by putting the accelerator on the handle. Of course, if you're standing up while all this is going on, the illusion is ruined, so Sega decided to turn out a version of the game with a plastic motorcycle that you had to lean left and right on to turn. It was quite unique, and it helped distract from the unremarkable graphics such as the solid blue sky and the generally barren areas on the ground.
#31: Thunder Blade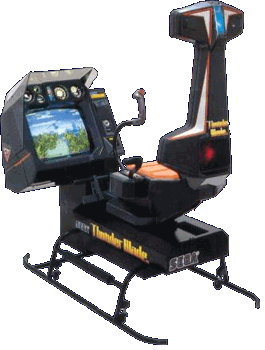 Arcade versions of flight simulators are fairly easy to come by. Most of the time, the manufacturer will just slap a special joystick with a trigger on the underside and a little button on the top, usually for machine guns and missiles respectively, on a regular upright cabinet and be done with it. If they were feeling generous, they might also throw in a lever for adjusting your throttle, or altitude, or whatever other bit of avionics they feel is necessary to get your precious quarters. Normally, that would probably be the case for 4 out of 5 Thunder Blade players. However, if you were fortunate enough to visit a ritzier arcade than those other chumps, you might happen upon a version of the game that used a cockpit-like setup that would tilt left and right according to how you moved the joystick. Fortunately, the developers had the foresight to include some metal cups for your feet so the machine wouldn't chuck you over the side after a sharp turn. However, that's not to say it didn't happen, especially if you made a right turn (no throttle joystick to catch your hip before your fall).
#30: Skydiver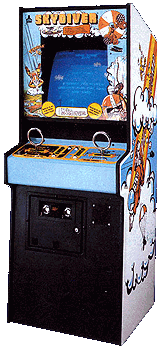 For those who were too fearful of trying their luck at real skydiving, Atari had things covered with their 1978 release of Skydiver. This game created challenges for your sky diving character based on timing jumps and variable wind factors in order to eventually land on the target. What was truly unique about this cabinet is that the controllers were actual ripcord rings instead of typical joysticks! And if you didn't pull the ripcord in time? Well, your diver got splattered on the pavement and then an ambulance would come onto the screen to take the diver away. I'm sorry though, if you actually have a skydiving accident, you don't need an ambulance... you need a hearse.
#29: Paperboy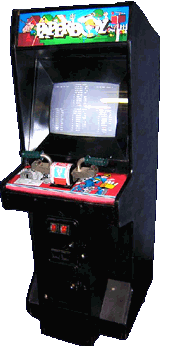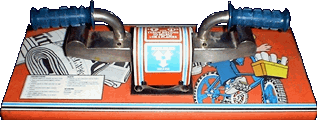 Paperboy instantly caught my attention in the arcade, not because of the insane things happening in the neighborhood where the main character has his paper route (fights, breakdancing, the grim reaper showing up, etc.); it was the handlebar controller that piqued my curiosity. In a weird way, it really did feel like you were riding a bike for the first time when you played the game. Problem is, all too often people would steal the rubber grips that were on the handlebars, so you'd be stuck playing the game by gripping two metal bars. You're clearly going places in life if you think stealing two plastic grips off an arcade machine is worth the effort. You know, roughly 30 years from now, there will be an elderly man living in a trailer somewhere, telling his grandkids about the wild days of his youth and when they ask him what it was like, he'll just wink and point to a couple of plastic grips he stole from the Paperboy arcade machine which he now keeps on the mantle like trophies. Paperboy is another game that I think could be remade for arcades today; the new version would have the player both steer and peddle the bike instead of just steering it like in the old version. It might not be easy to play, but at least it'd be good exercise.
#28: Tron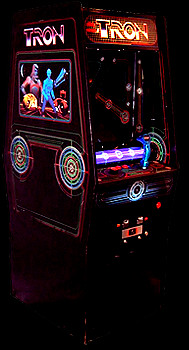 In any discussion of cool arcade cabinets, it is pretty much required that you mention the cabinet for Tron. Disney wanted this game to be as successful as the movie, if not moreso, and they spared no expense to make the cabinet eye-catching: The sides of the cabinet featured scenes from the movie, the control panel and a bunch of the surfaces around the screen were painted with white lines like those you'd find on a circuit board. Here's the real kicker: The cabinet also had a pair of blacklights, and when they were on, the circuit lines, and even the joystick, would appear to glow. It was a very cool effect, especially in a perpetually dark arcade. And as if all that weren't enough, even the profile of the cabinet was a unique shape compared to the rest of the games you'd find in an arcade. In fact, the only downside to the cabinet was that the screen was placed at an angle so that you looked down on it as you played. This meant that if you were short, you were basically screwed. On the other hand, isn't that just a fact of life?
#27: Sea Wolf II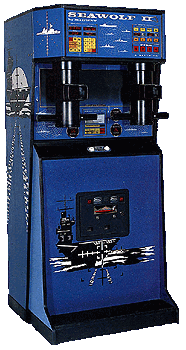 Yet another old school game makes it onto our lists. As is the case with a number of other games we've mentioned, this one's an arcade-style simulator. You look through the periscope to spot ships in the distance, and fire your torpedoes with a thumb button on the joystick. For added effect, when you hit a ship, and when you've fired all your torpedoes, lights alerting you to these things will light up inside the scope itself. Better yet, the cabinet has two submarine periscopes side-by-side so that two players can go head to head to see which one of them can sink the most ships in the least amount of time. Word to the wise: during the second round, make sure you torpedo the RMS Lusitania in order to enter the WWI Lightning Round!
#26: TX-1
Let's face it: it's hard to improve upon the racing game. Apart from improved physics and graphics, there really isn't much room for innovation. TX-1 threw that notion out the window. In addition to cutting-edge graphics (green grass, blue sky, gray road) and state-of-the-art physics (car is held to the earth by gravity), Atari went a step further and put three screens into the cabinet. On straightaways, it's not a particularly useful feature, unless you want to make sure that the ground is the right color. However, when you come to a turn in the road, you'll notice that you're actually able to see more than ten feet of the road ahead of you. It was the most amazing thing to come to racing games since the steering wheel. Eventually, developers would learn that if the perspective shifted with the car, you didn't need to have extra monitors, but until that time, it was all about TX-1 and its fancy new setup.
#25: Dance Dance Revolution (DDR)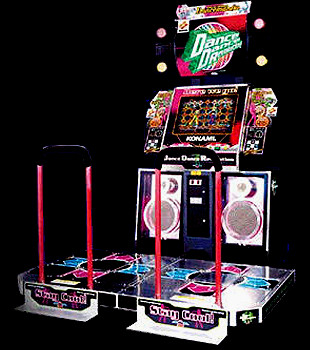 Personally, I don't care to do a lot of jumping and stomping while I'm playing my games. When I do some of that, though, it's usually because I just realized I haven't saved my game in almost two hours. Regardless, DDR took a very unique approach to the game of Simon. Each DDR unit consists of an upright cabinet with two huge speakers, and two dance stages, each with four pressure pads set up in a cross formation. You'd think these things would be in constant need of repairs, what with all manner of players stomping on them in the course of a normal day, but the dance stages were remarkably sturdy. Heck, the machines are even being incorporated into the physical fitness programs at a few schools around the world. Now you too can impress your classmates with your ability to match the rhythm of a whole assortment of J-pop songs!
#24: Guitar Freaks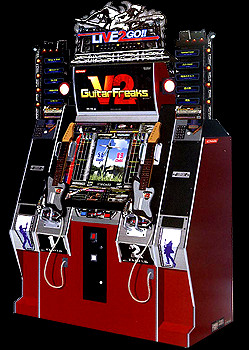 These days, you'll be hard-pressed to find someone who's never heard of Guitar Hero. For that very reason, it's worth acknowledging its arcade predecessor on this list. The cabinet had two guitar controllers with it, each with a fret bar and three colored buttons on the neck, which presumably makes it easier than Guitar Hero, with its five colored buttons. The cabinet could also be linked with the arcade game, Drummania, which is the same sort of game but with drums. Even better, those two systems could then be linked with the game Keyboardmania. What this means is that not only do you have the progenitor to the Guitar Hero games; you've also got the earliest version of the game Rock Band!
#23: Panic Park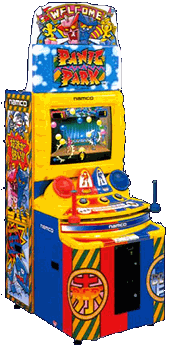 Pushing and shoving... it's what friendship is all about. Well, some brilliant people at Namco figured out a way to make it into a video game. Panic Park consists of a series of mini-games in which you must take your controller and try to physically push your opponent out of the way at just the right time. Keep in mind, your opponent is trying to do the exact same thing to you, so the end result is a big shoving match and a lot of laughs. And no, there's nothing wrong with kicking your opponent in the shins to give yourself that extra "edge" needed to win the round! Come on, you know you've always wanted to shove your friend into a raging fire... Panic Park actually gives you that chance! If you've got big hands though, watch out, because you can really smash your knuckles when ramming those two controllers together if you're not careful. Then again, what do a few bloody knuckles matter in the grand scheme of things if you win the war?
#22: Arm Champs & Arm Champs II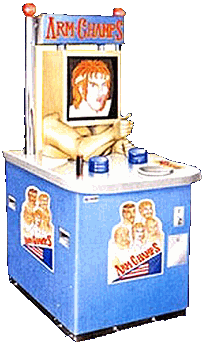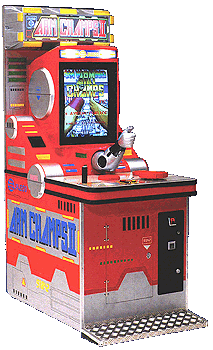 Here's another game for those of you who like to show off your machismo at the arcade. Arm Champs had no joysticks or buttons to mash, you simply grabbed onto the arm which protruded from the machine and tried to pin it down. For added amusement, they included a monitor which features the head of your opponent so you could see 'em struggle when you were winning or see 'em laugh at your weak ass when you lost. While Arm Champs II had a wider distribution and a few more characters to arm wrestle, I prefer the cabinet of the original simply because it had a molded, muscular upper torso and the monitor blended in with it much better. The original one also had lights on top of it which flashed at the end of each match, which could be extra embarrassing for you if you lost. Oh and if you're wondering why Arm Champs II had a robotic arm, it's because the final opponent in the game was an android named "Specks" who looked kinda like Robocop.
#21: Caveman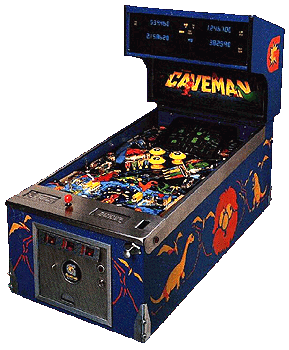 You're probably asking yourself, "Why the hell is there a pinball machine on this list? That's not the same as an arcade game!" Well before your head explodes with bewilderment, take a closer look at the machine. Notice anything different? That's right, Caveman was the first Pinball machine to have an arcade game built directly into it. After you hit some of the proper targets with your pinball, it would place the ball in a holding location while it switched to the video game mode. You would then grab a hold of the joystick and try to guide your caveman to hunt down some food, but if the T-Rex ate you during your game time you'd lose a ball. While the idea of creating a pinball/arcade hybrid game was unique, it unfortunately never really caught on and only a few more games of this nature were ever created.
#20: Death Race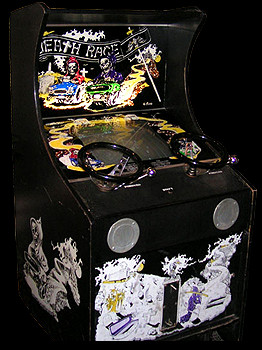 I had always believed Carmageddon to be the father of vehicular homicide-themed racing, but that was before I found Death Race. Though the art on the cabinet itself gives the impression that this is just a friendly race between two grim reapers, but in truth, the goal is to run down as many pedestrians as possible. And if you had a friend, you could compete to see who could run over the most people in a limited amount of time! It all sounds quite grand, until you consider that the 70's era screen could only render black and white stick figures. Plus, the bezel itself was at least as big as the screen that actually showed the game you were playing. Still, it was quite upsetting to people back then, though that may be due to the fact that the game became linked to the hilariously bad Sylvester Stallone/David Carradine vehicle (no pun intended), Death Race 2000. Perhaps they could've sold a few more of these cabinets if those two had appeared on the side of the cabinet. Then again, Death Race was banned due to its violent (stick figure) content, so it's unlikely they would've sold many either way.
#19: Star Trek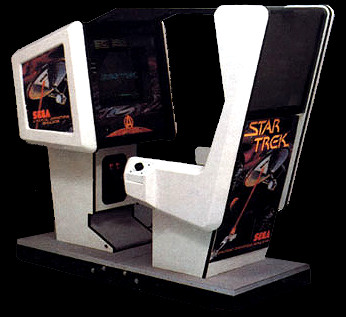 This game came in the standard, garden variety, mom-and-pop upright cabinet, but for my money, you'll be much better off if you experience it through the "captain's chair" model. Granted, the captain shouldn't have to push his own "photon", "warp" and "thrust" buttons to get things done, but this is at least a step in the right direction. A "Strategic Operations Simulator" must be designed to prepare you as a captain to take over in case your button-pushers are burned by hortas. You even got Scotty and Mr. Spock to introduce you to the game and call you "the captain". I guess they were willing to take anyone over Shatner.
#18: T-Mek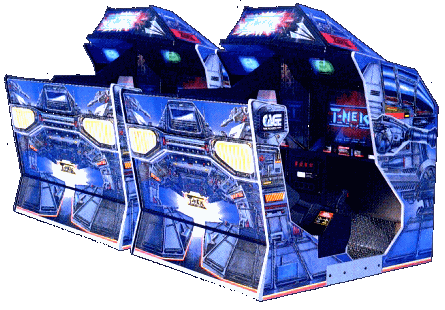 Competition. It'll spice up even the most mundane trip to the arcade. I brought my younger brother along with my whenever I went in part because he brought his own quarters, but also because I could persuade him to try just about any game with my as long as it had some sort of gimmick. In the case of T-Mek, it was the chairs with the speakers built into the headrests, and the two joysticks you'd push and pull in various combinations to get your T-Mek in gear, use your special weapons, etc. Sure, other games would come along where you used two joysticks to pilot a tank, or a giant robot, or something (but usually one of those two), but they didn't have the tank/robot that you piloted painted on the sides of the cabinet like a bitchin' van mural! Plus, there was a light above each player's chair that let everyone standing nearby know that someone was handing out an ass-kicking.
#17: F-114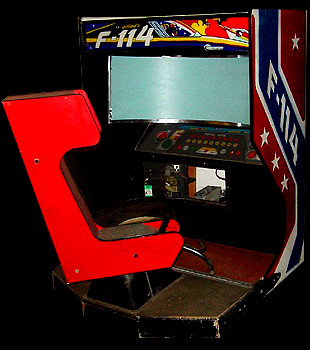 This cabinet was easily one of the largest ever made. The player would sit in a swiveling chair and steer with the aid of a joystick mounted on the right side of the chair (sorry all you southpaws). All the action was displayed on a large curved projection screen, and all the sound effects came from, believe it or not, an 8-track player within the cabinet. I'm not overly familiar with 8-track players, as they were created and phased out before I was even born, but apparently someone knew of a way to wire one into the cabinet of an arcade game. There was also an area just below the screen made to look like the console of an aircraft, albeit with light-up hit counters that I doubt are included in real military aircraft. Or maybe I just need to watch Iron Eagle again. While I'm at it, you think the soundtrack is available on 8-track?
Click here to continue onward to
more arcade cabinets from our list!