...CONTINUED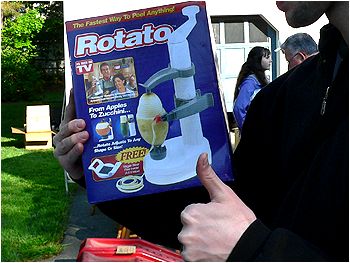 There's only one thing that brings a tear to my eye in this world, and it is the Rotato. Yes the Rotato was an ingenious invention which allowed you to peel your potatoes with ease with the simple turn of a crank. Just imagine how the lives of countless soldiers would've been improved if only they had the Rotato during their potato-peeling sessions. Sadly, like most "As Seen On TV" products, the Rotato has been reduced to making public appearances only in yard sales. But don't fret Rotato... I still love you.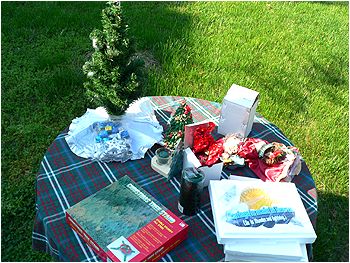 Good ol' Xmas decorations... you can always find 'em at yard sales just like we found them at the "45-family yard sale" from last year. Fake trees, scented candles, "peace on earth" ornaments, assorted lights and tree stands... if you're in need these things, look no further than your neighborhood yard sales.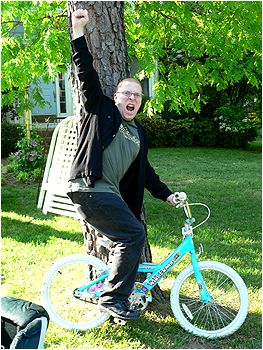 Proto's been pretty depressed lately about his car needing all sorts of repairs, thus quickly draining his bank account. That is, he was depressed until I found him an alternate means of transportation. Look at what a big boy he is, what with the training wheels removed 'n all!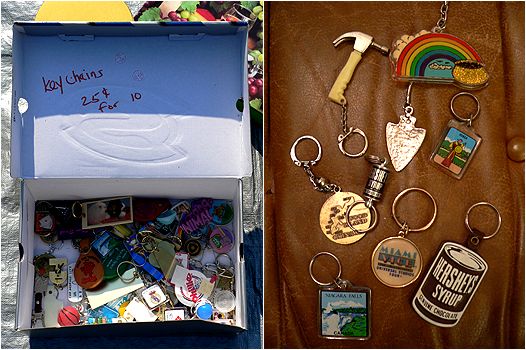 Awesome. Now this was one of the more exciting finds of the day... a box filled with assorted key chains. And the deal? You could get ten key chains for 25 cents! I went through the box and pulled out some great finds: A miniature hammer, a rainbow with a pot of gold, a Niagara Falls one, a Korea one, an Okinawa one (hey, I'm a fan of the Karate Kid movies what can I say), an arrowhead, a Miami Vice one, two Hershey's chocolate syrup ones and then there was the ULTIMATE keychain find...
Wait for it...
Wait for it...
Wait for it...
Wait for it...
Wait for it...
Wait for it...
Wait for it...
Wait for it...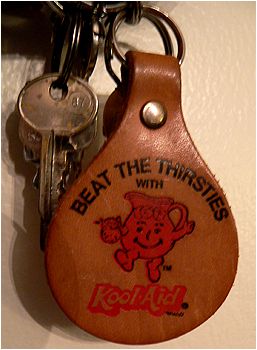 YES!
A goddamned "BEAT THE THIRSTIES WITH KOOL AID" key chain! This item alone made the entire day worth it for me. I would've paid up to 5 bux for that thing, and here I was getting it for a mere 25 cents!?? "OH YEAH!" Only at a yard sale my friends... only at a yard sale.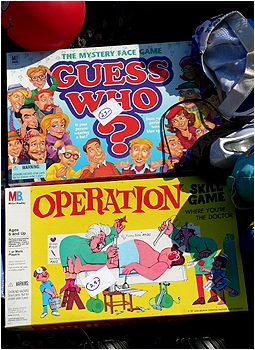 Many board games including "Operation," which was missing half of the pieces including the "funny bone", were seen so far... but oddly enough, I still hadn't found a copy of "Mouse Trap" which seems to be at almost every yard sale I've ever been to. But we still had more yards to scavenge through, so hopefully we'd find it soon enough.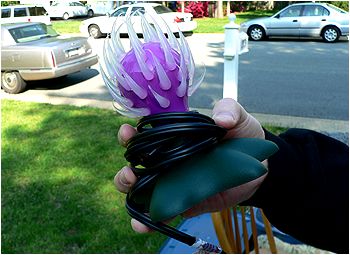 You know those "wicked awesome!" lights you saw at Spencer's in the mall? Yeah, well don't go spending 20 bux on 'em... because they go for about a buck at yard sales.
SAY KIDS! GUESS WHAT TIME IT IS???
THAT'S RIGHT! IT'S...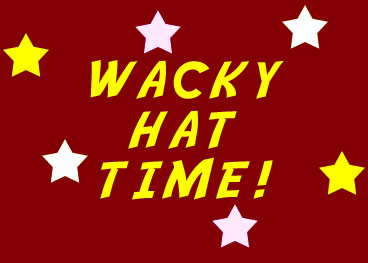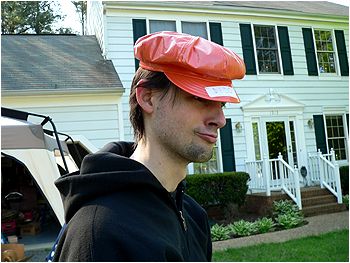 Ok, well this year's "wacky hat time" wasn't nearly impressive as the one from last year. In fact, this was the only hat that we found the entire day. Still, you've gotta admit, I put J-Lo to shame.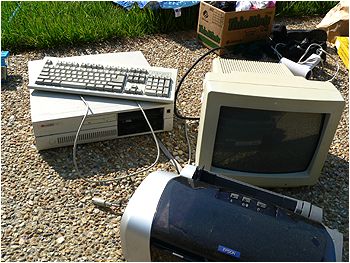 Eugh, more ancient computers that can't possibly work anymore. This one had a huge crack in the side of the case, so you know it was handled with care. And let's not forget that CGA monitor... why it looks almost as good as the display on your calculator! The simple fact of the matter is, when computers die, they get buried in yard sales.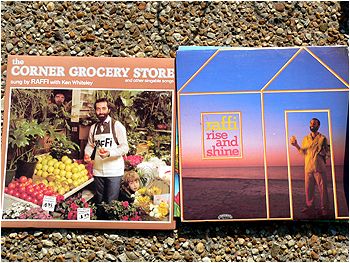 What yard sale would be complete without multiple finds of really bad music? This yard sale was no exception, for we found not one but a stack of Raffi albums! Yes, with albums such as "Rise and Shine", "The Corner Grocery Store", and "Bananaphone"... you're sure to put all the ladies in the mood in no time! Move over Barry White, for Raffi has arrived!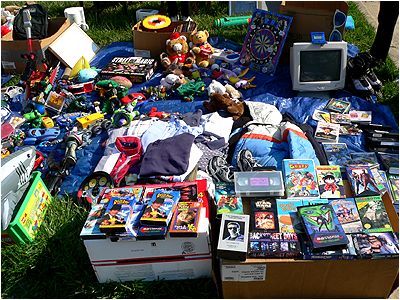 Now these are always fun; the yard sales where people have way more crap than they know what to do with so they just chuck it all out on their lawn and hope somebody will be interested in it. Some decent VHS tapes, but unless it's something that doesn't exist on DVD, I don't bother buying VHS tapes anymore... they just take up too much space. But check this out...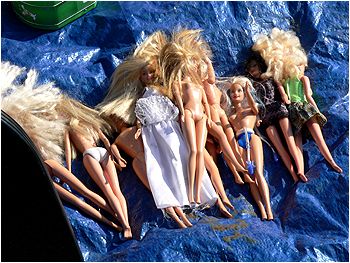 Why is it that you never seem to find fully-clothed Barbie dolls at yard sales? I'm not saying I'm looking for a Barbie or anything, but jeez... it's a bit creepy when there's just a pile of naked dolls for sale. Kinda makes you wonder what the people were doing with 'em in the first place, ya know?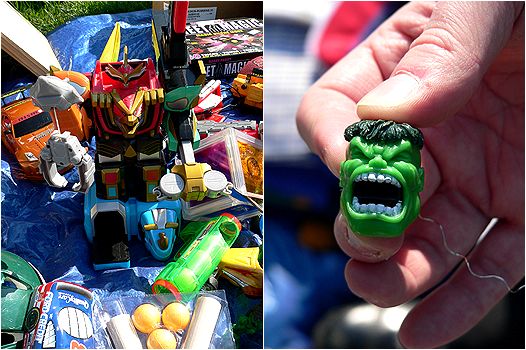 We also found a wide assortment of generic toys, including some giant pseudo-Voltron robot thing that had a built-in crane machine. Still, out of everything in this particular yard, I have to say that the angry severed Hulk head was the most amusing find. Just look at his face... it's as if he's screaming, "WHERE HULK BODY IS??? RAAAAAR!!!" Easily my favorite photo of the day. Then things took a turn for the worse...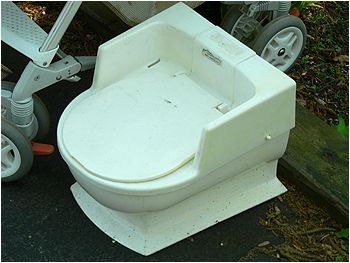 I couldn't believe it when I saw it; someone was actually selling a used training toilet. That's right, some little kid learned to piss 'n shit on this thing... and these people still had the nerve to sell it. Some little kid splattered his Gerber-scented diarrhea all over the insides of this thing... and these people still had the nerve to sell it. Amazing.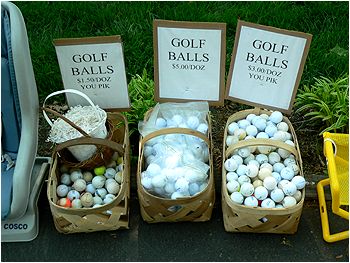 Fore! Looks like somebody spent quite a bit o' time on the greens, because they were selling a shitload of golf balls. Not only that, but they had them broken down into categories. You had your new golf balls which were $5.00 per dozen, you had your used golf balls that were still in pretty good condition which were $3.00 per dozen, and you had your used golf balls that were in extremely shitty condition—half of which were likely stolen from the local miniature golf course. Gotta love the how they spelled "pick" wrong on the "You Pik" signs. And you thought golf was a sport for the well-educated...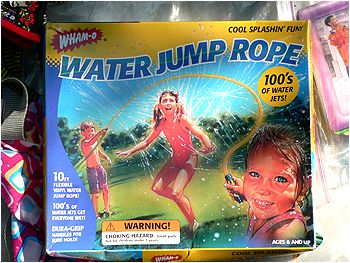 Alrighty! From the makers of "Slip 'N Slide" comes another ingenious creation. That's right, we found a genuine "Wham-O Water Jump Rope" still in the box! Of course, kids normally ended up turning it into a makeshift "Water Whip" rather than a jump rope, but the point is you still got wet with it either way. Even if your back did end up with more scars than a slave, you still always had a great time.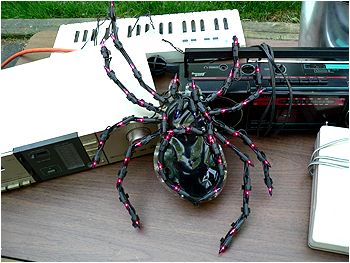 At the last yard we found some more ancient stereo system relics, cordless phones, and another casio keyboard. But we also found a bent light-up purple wall spider. Of course, when we plugged it in, half of the lights were burnt out... big shocker there. Funny thing is, they were still trying to sell it for 3 bux.
Much to my surprise we didn't find the "Mouse Trap" board game, which is the one thing I always seem to find at yard sales. Then again, this yard sale was closer to 30 families than the 50+ they had advertised. Ah well, at least we finally found Protoclown an item that he had been looking for his entire life...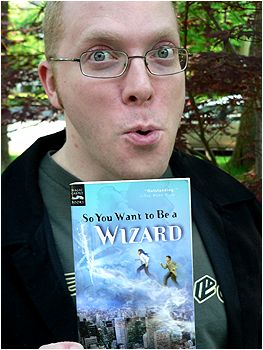 the end.
REMEMBER: if you haven't checked it out yet, be sure to check out
last year's adventure at the 45-family mega yard sale of doom!
SUGGEST THIS PIECE TO A FRIEND!
---
help support I-Mockery by supporting our sponsors: