by: -RoG-
...CONTINUED

Playing games all day works up a hearty appetite. Thankfully, a nearby Mexican restaurant had some killer albondigas soup.
Sure, it's random, but I want to be the only arcade & pinball games article that also discusses albondigas soup.
So yeah... that albondigas soup? Delicious stuff.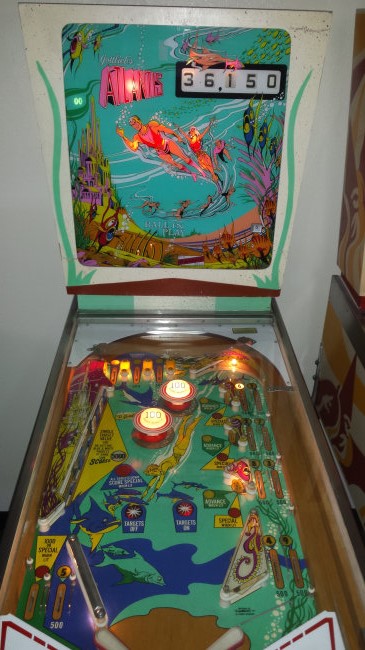 Enter the aquatic pinball underworld of Atlantis.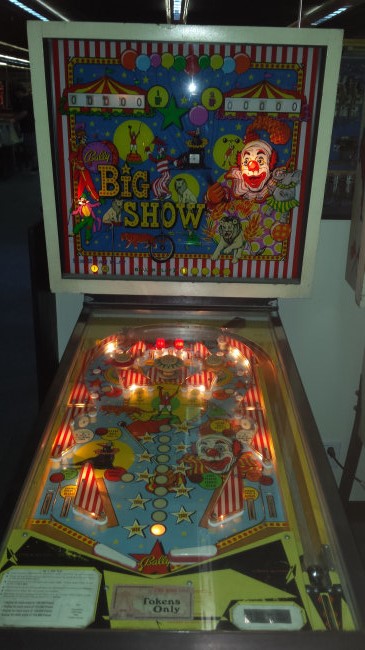 Another classic circus-themed pinball machine, Big Show.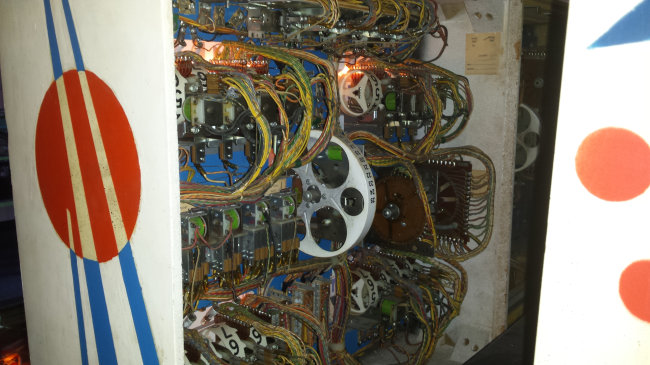 Make no mistake about it... pinball machines are complex. I can't even imagine designing one of these.

Embryon getting some love.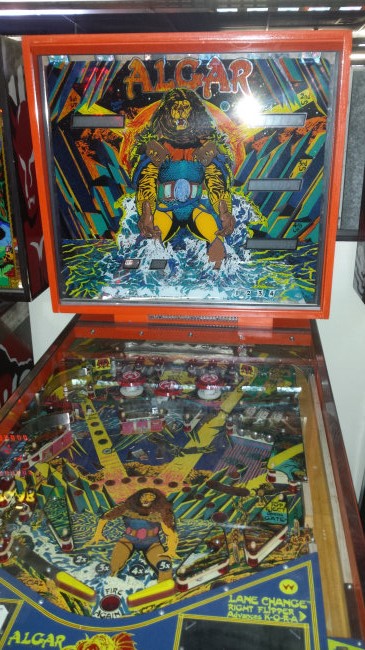 Algar looks like he could've been one of the Battle Beasts.

The artwork for Gorgar is absolutely stellar.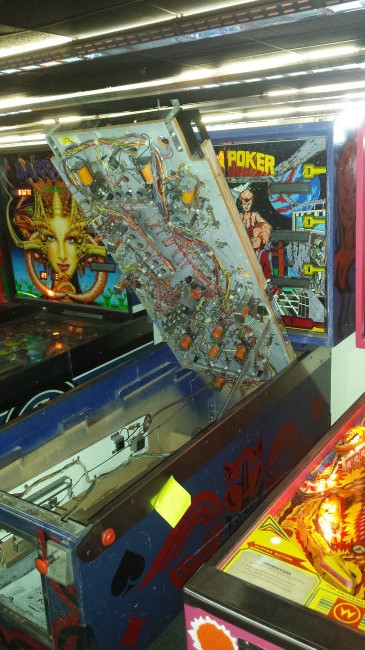 Time for some repairs.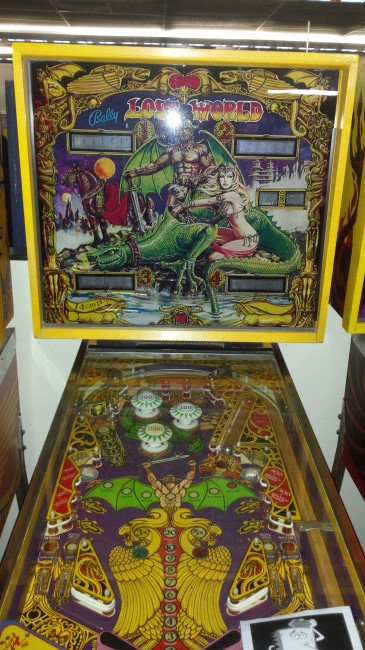 Wouldn't mind a poster of this Lost World art hanging on my wall.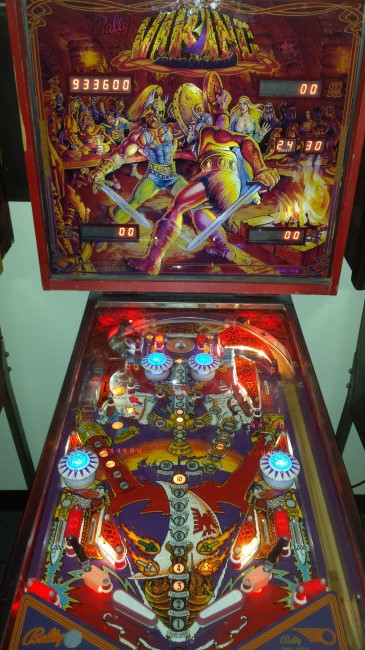 Viking pinball. Mead not included.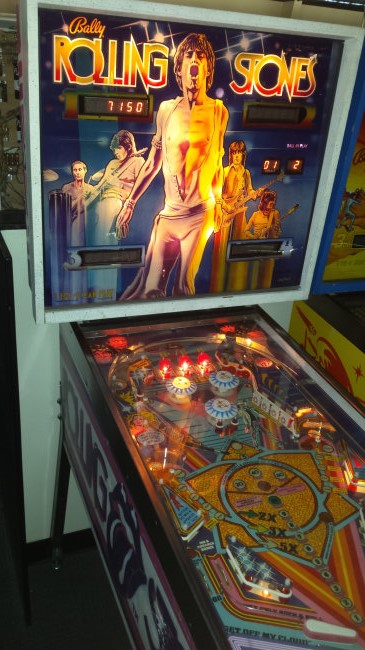 They sure went out of their way to accentuate the crotch on this Rolling Stones pinball machine.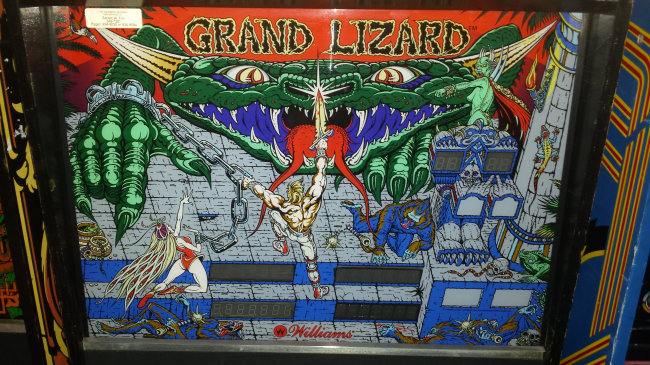 I could practice for a lifetime, and still never come up with something as amazing as the art for Grand Lizard.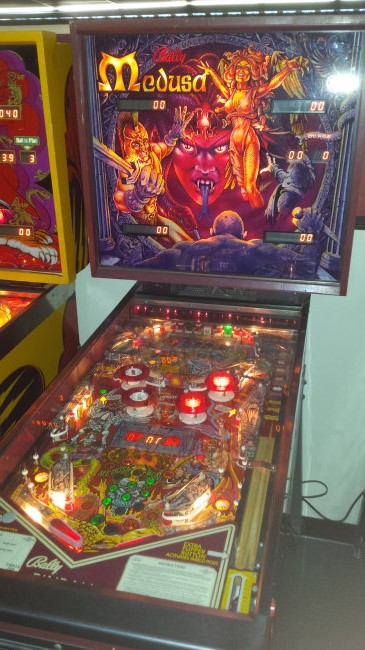 Apologies if my photo of this Medusa pinball machine turned you to stone.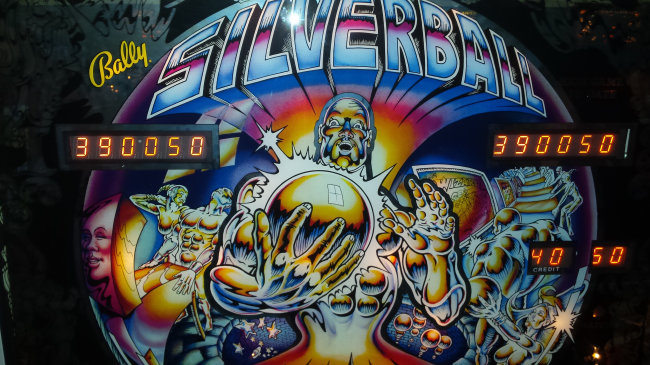 I must call your attention to the guy on the left who appears to be humping the pinball machine with all of his might.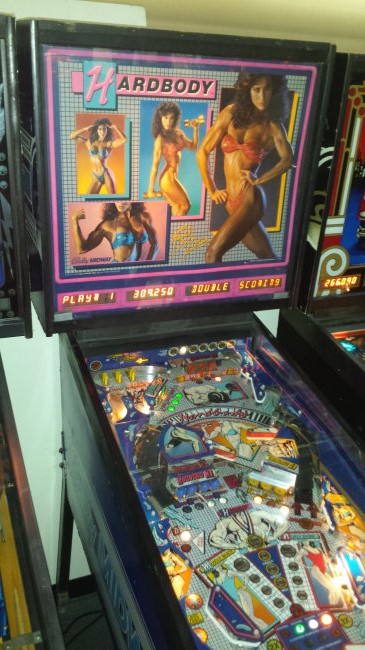 I've never seen a pinball translite that looked like it was taken directly off of an 80s exercise VHS tape until now. Amazing!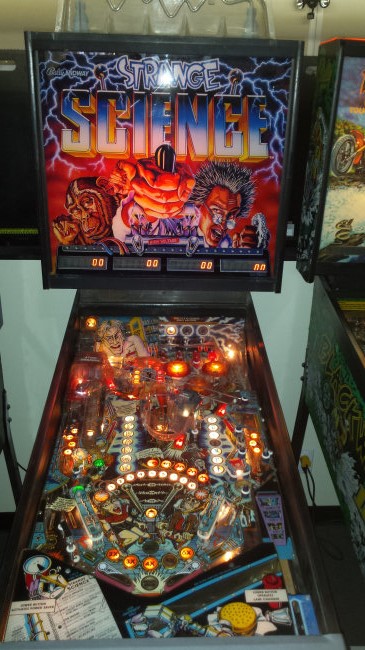 Strange Science. Surely, they weren't trying to cash in on the success of Weird Science, right?

Radical! is about as 80s as it gets.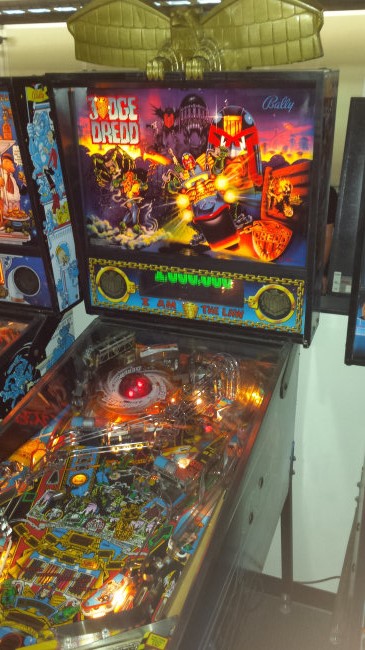 Judge Dredd may be pouting, but it's actually a really fun pinball game.

Yes indeed, that is Hercules - the largest pinball machine in the world.
You may recall seeing it in my article about the amazing Super Bear Arcade, which has now sadly closed.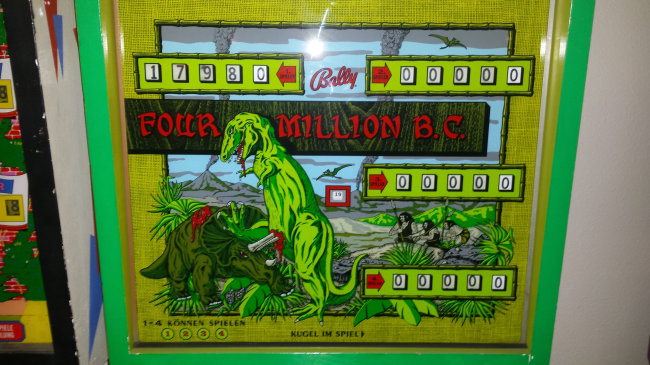 Holy crap! Four Million B.C. depicts some SERIOUS dinosaur-on-dinosaur violence!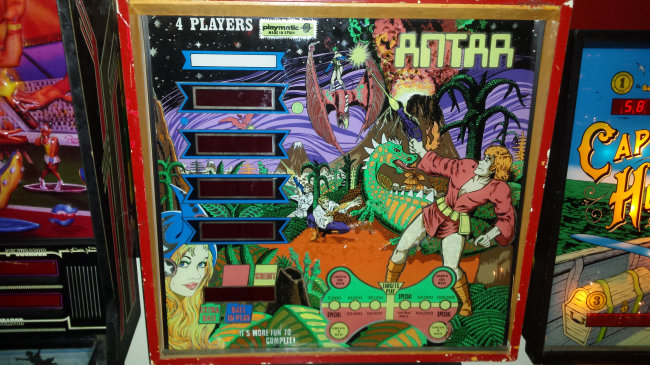 Antar looks far too happy to be fighting those monsters.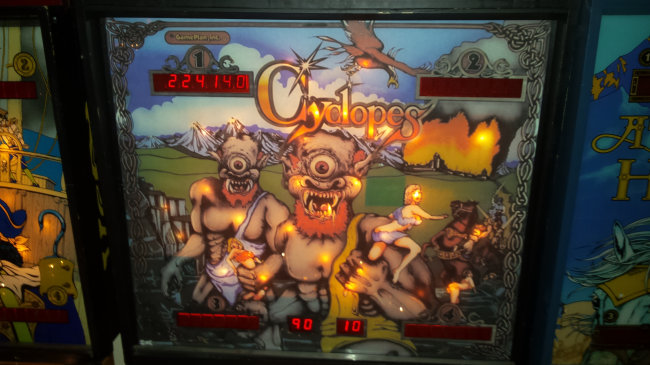 Cyclopes. A spelling error or a catchy pinball machine name? You decide.
(Since it's apparently the plural form of Cyclops, I guess it's a catchy pinball machine name after all!)

This is not the Coney Island I remember from my childhood in New York. Well, maybe that creepy clown.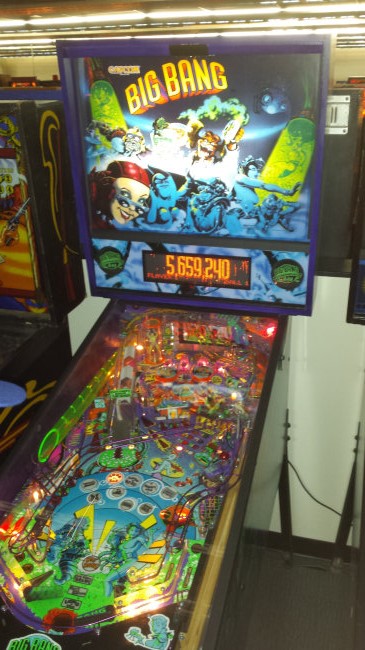 Loved the long, translucent green portal tube in Big Bang pinball. Super colorful machine.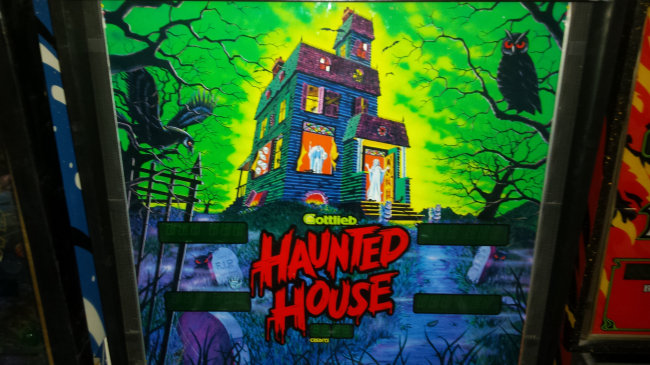 As featured in my Pinball Machines of Horror article, Haunted House has one of my favorite pinball illustrations. Perfection.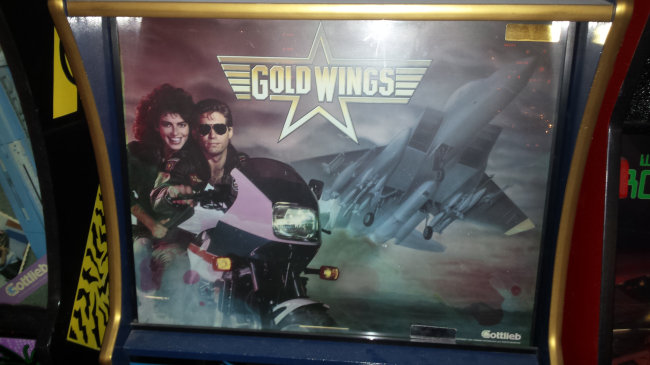 Gold Wings pinball is pretty much the greatest rip-off of Top Gun you'll ever find.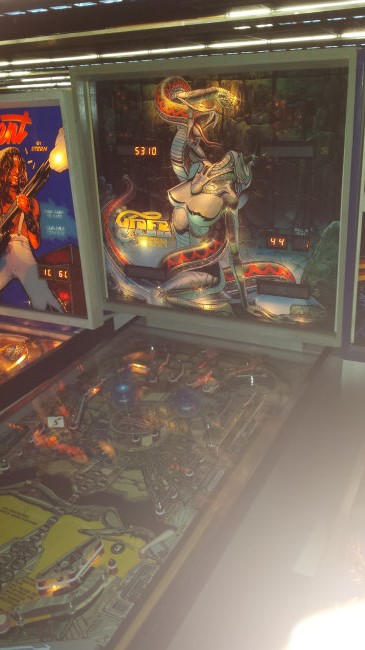 Funny, I don't recall this Viper pinball machine being on fire.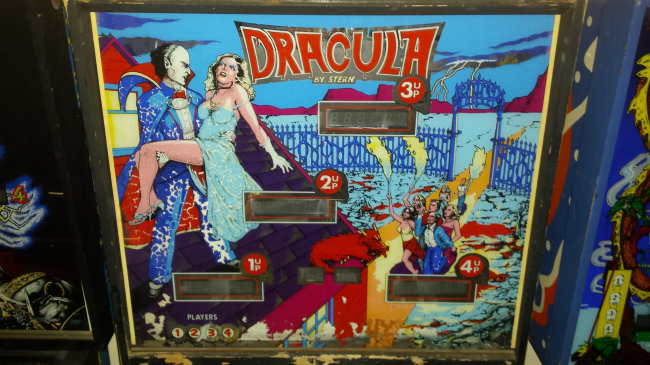 Classic depiction of Dracula on this old Stern pinball machine.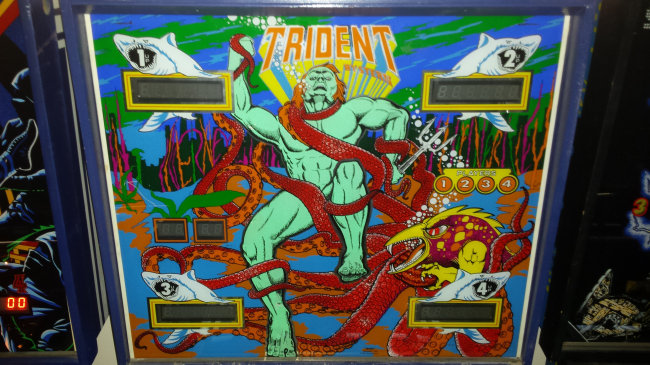 All hail Trident. Worship him, for he is your new god.
The first Arcade Expo may have been a somewhat long drive out to Banning, but the incredibly vast array of arcade games and pinball machines we got to test out made it absolutely worth it. Regardless of where you live, if you have the means of making out to the next one, I highly suggest you take the trip. See you next year, Arcade Expo!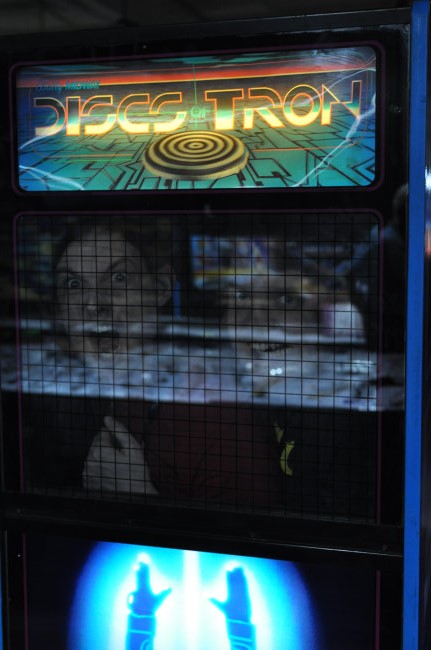 Until then, we'll just wait inside this Discs of Tron cabinet, okay?
Have any questions or comments about this piece?
SHARE YOUR THOUGHTS IN THE READER COMMENTS SECTION BELOW!