by: Roger Barr
Whenever a man professes his love for a lynx, people usually assume that he's one of those weirdos that's into furries or something. Well, today I stand before you and I am professing my adoration for a different kind of lynx - The Atari Lynx! To this day, it still remains my favorite portable system, and with good reason. So let's take a stroll down memory lane by looking at the features and history of the system along with my picks for the 10 best games.
The Lynx was Atari's one and only handheld gaming system; originally known as "The Handy" and developed by a company called Epyx (who was already well known for having released a plethora of popular games), Atari bought the rights to the system and released it in 1989. Believe it or not, it was the first handheld console with a color display. That right there would suggest that it would hold a higher place in the handheld gaming archives, but half of the self-proclaimed gaming aficionados I've spoke with over the years don't even seem to remember the Lynx!
One of the other things that was really interesting about the system was how it was made to support both lefties and righties. That's right, it was an ambidextrous system. With the touch of a button, you could flip the screen upside-down and play games as a lefty. In addition to that, some games (such as "KLAX") actually had you turn the system 180 degrees on its side and play it on the screen vertically. It was little features like this that really put the Lynx in a class of its own.
Using the optional ComLynx, you could hook up your system with some friends for multiplayer action (4-player Gauntlet was a blast). You could actually hook up to 17 other systems to each other, but in all honesty, you'd be lucky to find another one or two people that owned the thing. This normally meant you had to convince your friends to buy one. The system also had some very faithful ports of everyone's favorite arcade hits.
So what happened? Why didn't a system with so much going for it do well in sales?
For one thing, it was initially priced at $189.95... quite a leap from the low price tag of Nintendo's immensely popular Game Boy. It was also fairly large for a handheld. This thing was practically the size of two Game Boys, but honestly, I liked how it was that big (probably because I have huge hands). You could still easily store it in a bag, and if push came to shove, I'm sure waiving it in the air like a weapon would scare off most would-be assailants. And honestly, after owning the original Lynx for a while, you'd start to notice that it formed "battle damage". The top layer of paint would often wear away in random spots, making the Lynx look all the more edgy. Again, this was just all part of the Lynx's charm.
Another issue was battery consumption. This thing took 6 AA batteries, and with its powerful CPU and other features, it could drain them all in under four hours. Believe me, the most important accessory for the Lynx was the A/C adapter. So in a nutshell, the Lynx was the SUV of portable gaming systems - an oversized fuel-guzzling mofo.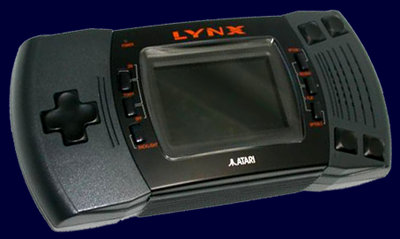 Atari tried to save the system by releasing the Lynx II, which was a little bit smaller, cheaper, and had better battery life. It was a valiant effort, but the damage was already done. Even with their published advantages over the other systems of the time, by the mid-90's you could barely find a Lynx for sale. Then again, if you did find one for sale, chances are it was pretty damned cheap by that point. I remember one shop unloading all of their Lynx games for a buck a piece. Yes indeed, that was one hell of a good day for me.
A lot of people will tell you that as far as first-generation portable color gaming consoles go, the Game Boy Color or the Sega Game Gear are cream of the crop. A few will even mention the grossly overpriced TurboExpress. And while each of those portables had their own merit and managed to gain some nice chunks of the handheld market, I really don't think any of them compared to the quality of the Lynx. In fact, no portable system really compared to the Lynx until the Game Boy Advance came along.
Alright, so now you know a little bit about the history of the Atari Lynx. But what about the games that were released for it? There were a little over 100 games created for the Lynx, which is more than one would expect considering the poor sales of the system. It wasn't easy, but I've narrowed down all the games and made a "top 10" list of what I consider to be the best releases for the Lynx. So without further delay, let's begin:

#10: Ms. Pac-Man

Yeah, yeah, I know what you're thinking. "Wow, Ms. Pac-Man... haven't seen THAT one before on a console." Well the fact is, a lot of the ports of "Ms. Pac-Man" over the years have been far from the quality of the arcade versions. The Atari Lynx version, however, does not let disappoint. It's as close to the original arcade game as you can get, and Ms. Pac-Man is always a must own for any portable system if you ask me (even your only portable system is a cell phone). Furthermore, the Lynx version had some nifty secrets in it such as a speed boost and some extra lives. You simply can't go wrong with quality portable Pac-action like this.

---

#9: California Games

Portable gaming was all about the hardcore gamer's refusal to actually go outside and engage in any kind of physical activity. "California Games" on the Lynx is how gamers would meet the outdoorsy types halfway. Sure, gamers would be outdoors and participating in sports, but they'd be playing these sports on their portable Lynx! I'm sure carrying that heavy Atari Lynx around outdoors was considered to be exercise by some sad individuals. Regardless, the Lynx version of California Games is very faithful to the original one we all grew up playing on the Commodore 64. Furthermore, this is the game that was actually packaged with the original Atari Lynx system. Nothing like playing the hacky-sack (footbag) mini-game and trying to hit the seagulls that fly by.

---

#8: Rampage

Let's face it, being out in the real world exposes you to the many annoyances of society. Bad drivers, noise, pollution, drunken pirates... you name it. Sometimes when you're exposed to these things, it just makes the inner beast within you want to come out and smash things up for a while. That's pretty much where "Rampage" comes in. It's a perfect port of the arcade classic, only they introduce a fourth character so you can have a 4-person multiplayer game! You've got Lizzie the Lizard, George the Gorilla, Ralph the Wolfman, and now Larry the Lab Rat! Lizzie will always be my favorite simple because she was the closest thing to Godzilla, but I definitely dig Larry if for no other reason than he's the only one of the four monsters with a pot-belly. Sadly, his pot-belly is not used to smash the buildings... even though it should be.

---

#7: KLAX

The Nintendo Game Boy had "Tetris", the Atari Lynx had "KLAX". Now while KLAX didn't have the advantage of the awesome in-game music of Tetris, it was still every bit as addictive and challenging. So just what does "KLAX" mean? A KLAX was how you earned points in the game. As the multi-colored tiles came tumbling down you had to place them in vertical, horizontal or diagonal patterns. If you got three or more tiles of the same color in a row, that means you got a KLAX. One of the coolest things about the game was that you actually had to turn your Atari Lynx 180 degrees sideways to play it! This gave the screen more vertical space, and believe me, for a tricky game like KLAX you wanted that extra space and then some! And finally, to add insult to injury, whenever you lose a round the audience groans at you. Yes, you have an audience watching you play this game. No pressure.

---

#6: RoadBlasters

I was torn between this one and "Checkered Flag" because they're both racing games. But in the end, "RoadBlasters" won the decision since it involves both racing AND shooting things. That's a combination that both myself and Mad Max will always be a fan of. The story behind the game is simple: the surface of the planet has been devastated by nuclear weapons, so it's up to you and your gun-mounted car to stop all the evil members of the death squad. You get to shoot their cars, including limos, with a variety of explosive weapons such as the patented "U.Z. Cannon" and the "Cruise Missile". Honestly, the only thing this racing game was missing at the time was the 3D glasses option that "Rad Racer" provided us with on the NES.

---

#5: Gauntlet: The Third Encounter

This was another game that you could play with the Lynx turned 180 degrees sideways. At the time, I remember being amazed that somebody finally put Gauntlet on a portable system and it was a real solid version of the game. The object of "Gauntlet: The Third Encounter" is pretty much what you'd expect from any Gauntlet game: battle your way through impossible odds in the form of spiders, ghosts, slime and even land sharks all in the hopes of rescuing the Star Gem from a deadly castle. And what Gauntlet game would be complete without some great characters to choose from: An Android, a Valkyrie, a Gunfighter, a Nerd, a Pirate, a Punk Rocker, a Samurai and a Wizard! When it comes right down to it, I've always believed that Gauntlet is a multiplayer game at heart... I mean, who wouldn't want to see a Nerd and a Pirate fighting side-by-side? The Lynx does allow you to play the game with up to 3 other people, and unless you're doing just that, chances are you won't appreciate it as much.

---

#4: S.T.U.N. Runner

Oh "S.T.U.N. Runner"... how I wasted so many quarters on you at the local Chucky Cheese joint when I was younger. This was definitely one game that I never expected to see on a console, let alone a portable one, at the time. The impressive 3D graphics just didn't seem like something a little portable Lynx system could handle. I was wrong. This was a damned fine translation of the arcade classic, and it played surprisingly smoothly. S.T.U.N. Runner is a racing game with a futuristic twist. The object is to complete each course before time runs out, or before your ship is completely destroyed due to your ramming it into everything in its path. You can do some impressive jumps and twirls around the tunnels in this game. I'm sure any fan of the F-Zero series would be able to appreciate this classic gem. Oh and if you were wondering what the "S.T.U.N." stands for, it means "Sub-Terranean Underground Network".

---

#3: Blue Lightning

Yes, California Games was the first game I ever played on the Lynx since it came with the system, but it wasn't until I played "Blue Lightning" that I was extremely impressed with a Lynx game. Fighter jet games were nothing new at the time with titles such as "Top Gun" and "Afterburner" making their way onto home consoles, but I don't think they had anything on Blue Lightning. This game really showed off the Lynx's impressive hardware scaling capabilities with its super-speedy 3D graphics. Hell, I'd do the barrel roll move sometimes just to see the cool animated graphics. The cool scenery, great graphics and nonstop action really made this game one of the most well-known titles for the Lynx. You're the best pilot in the Air Force, so get up in the skies and prove it, Ice Man!

---

#2: Ninja Gaiden

There's no denying that the NES version of "Ninja Gaiden" was one of the most entertaining and challenging games ever released for the system, but the Atari Lynx version had a lot going for it. For starters, it introduced a lot of people to the original arcade version of the game, which was quite different from the one on the NES. Lots of psychos in hockey masks and angry tree-swinging lumberjacks wanting to kill our ninja hero. This was a damned nice translation of the arcade version, unlike that piece o' shit that was made for the Sega Genesis. It even has the infamous buzz-saw continue game screen, where if you wait too long to continue, your ninja gets killed. I swear it was hard deciding on whether to continue or to laugh as the ninja grew increasingly panicky as the saw blade drew closer to his abdomen. Good times!

---


#1: Todd's Adventures in Slime World

Aside from the huge amounts of time that I spent playing this addictive adventure game, I believe "Todd's Adventures in Slime World" was the first game to ever include a hidden mini-game in which the object was to pop a green zit faster than your opponents by mashing the buttons quickly. That's about as good of a hidden bonus as I've ever seen. But the main game itself, my god... how could a brilliant piece of work like this go virtually unnoticed by the masses for so long? I'm being dead serious here when I say this is easily one of the greatest 2D scrollers of all time. There's some ridiculously cool animated characters in it, a unique ever-shifting rich slimy landscape bubbling with danger for Todd to explore, and to top it all off, you can play a co-op multiplayer game with your friends OR you can hunt them down! Forget Contra. Forget Metroid. I'll gladly take the nasty, sticky, ooze-o-rific gameplay of Todd's Adventures in Slime World over those games any day! I just can't say enough good things about this game, so I guess that means you should play it, huh?

---

PLEASE NOTE: to play any of these games, you'll need to download the "Handy" Atari Lynx emulator. You can get the Atari Lynx Handy emulator here.
So there you have it... that's my take on the Lynx, its history and some of the best games that were ever released for it. The majority of gamers may not care about, or even remember the Atari Lynx, but it will always hold a special place in my life as far as portable game consoles go. The fact that the Lynx wasn't more successful proves that there's no justice in this world. Don't worry Lynx, at least I'll always have your back...

I demand that you print out this image and make stickers with it.
Have any questions or comments about this piece?
SHARE YOUR THOUGHTS IN THE READER COMMENTS SECTION BELOW!