The Recent Blackout
Recently -RoG-'s house had a blackout due to a big storm that made its way through the town "just like butta". After the rain, wind, and lightning had done their damage, -RoG- and the other occupants in the household were left without power for over 24 hours. So how was he to write something new for this web site without his computer? He would have to do it by hand. He always hated writing by hand because 1) his handwriting is that of a caveman, 2) He types MUCH faster, and 3) Did I mention his handwriting blows? Well, it was either write stuff down by hand or don't write anything at all. After taking into consideration the fact that there was no power on in the house and there was nothing else to do, he opted to write this new piece by hand.

So I scanned in all of the pages and here they are in their original form: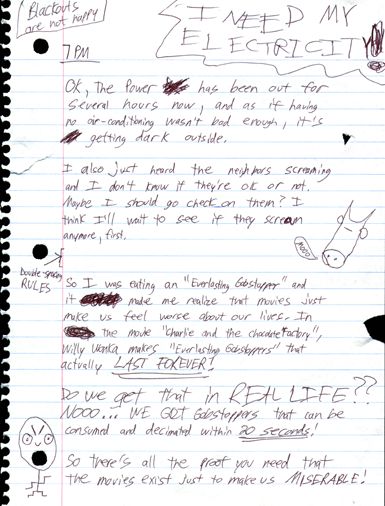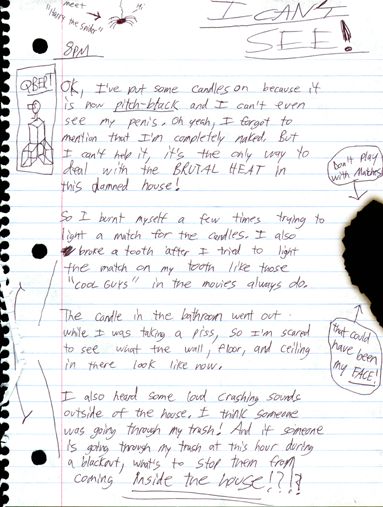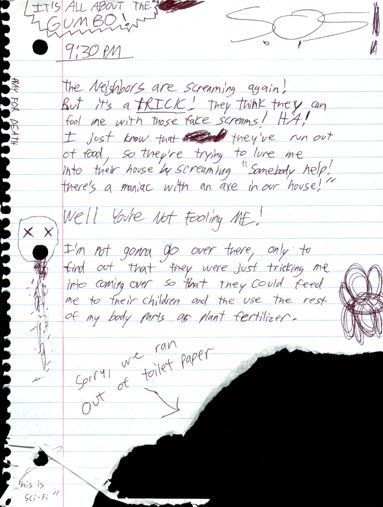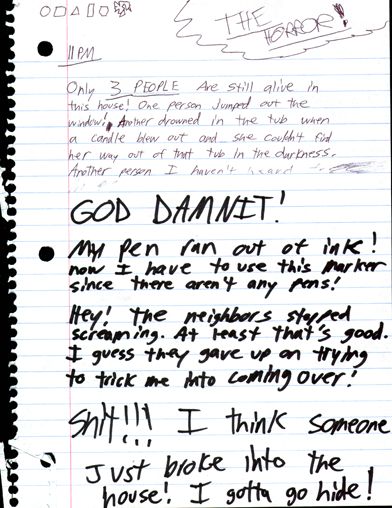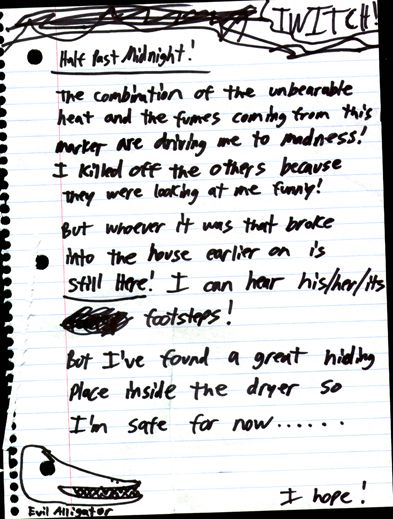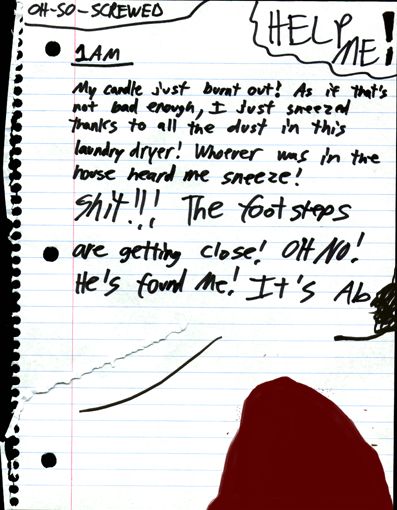 (yes kids that's real blood, don't touch!)
MUAHAHAHAHAHAH! MUAHAHAHAHAHAHAHAHAHAHHAHA!
NOW I CONTROL THIS SITE! I HAVE KILLED -RoG-!
THANKS TO THAT BLACKOUT I WAS ABLE TO MAKE MY WAY INTO
HIS HOUSE AND KILL HIM WITH EASE! NOW NOTHING CAN STOP ME!
"WHO... WHO ARE YOU!?!?" YOU SAY? WHY I AM NONE OTHER THAN...
ABE LINCOLN!


"I AM YOUR NEW WEBMASTER! HA HA HA! OBEY ME!"
******************************************
IS -RoG- REALLY DEAD!?
CLICK HERE TO FIND OUT!
******************************************
---
Running a big site like I-Mockery takes a lot o' time and costs moola too.
Want to help show your support?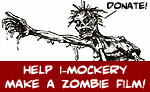 DONATE TO OUR ZOMBIE MOVIE!
Come talk about this piece & more on our Message Forums!
click here for more minimocks!

---


[Minimocks] [Articles] [Games] [Mockeries] [Shorts] [Comics] [Blog] [Info] [Forum] [Advertise] [Home]


Copyright © 1999-2007 I-Mockery.com : All Rights Reserved : ()
No portion of I-Mockery may be reprinted in any form without prior consent
We reserve the right to swallow your soul... and spit out the chewy parts.