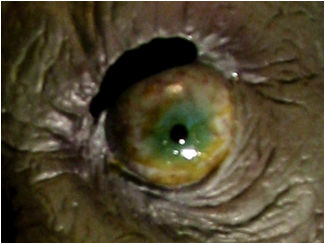 Hello there my walking fleshy treats, it's your old pal Glom here, coming at you with some culinary consultation for Halloween! Some of you may not remember me, but that's because I used to be a lot uglier. Fortunately, due to some wise investments in the stock market on my part, I was able to get some pretty extensive cosmetic surgery. Now I'm a hunky sex machine with a lust for a lot more than just simple sugary sweets.
But enough about me and my good looks, you're here because you want to learn how to be a real chef. A chef that can make the tastiest Halloween brownies on earth from scratch instead of buying those wimpy, pre-made "heat 'em and eat 'em" packages. If you want to buy one of those copout brownie deals, get the hell out of here right now! However, if you're ready to get down and dirty with me, let's get started on what I like to call HALLOWEEN BROWNIE MADNESS!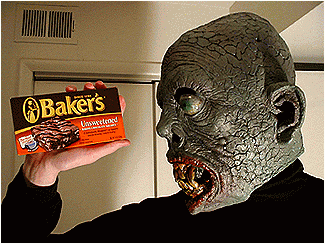 The first thing you need is a box full o' Baker's brand unsweetened baking chocolate squares. Don't let the name fool ya, that chocolate will taste plenty sweet once it's a brownie. Heck, it might even be as sweet as my pretty face!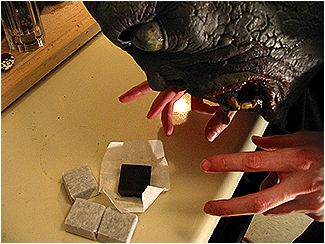 Now these chocolate squares are like the building blocks of life. You can't make your tasty brownies without 'em. Me, I couldn't make my house without 'em, and let me tell ya... it's a bitch keeping those suckers intact on a hot summer day. It's also a bitch keeping them intact on the count that I have a sweet tooth. Ok, I have 13 teeth with a penchant for chocolate. Guess it's a good thing I didn't spend all the money I made from the stock market on my pretty face, eh?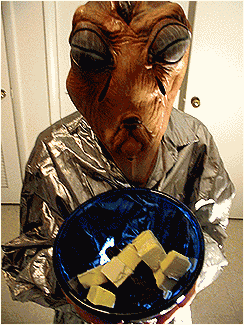 Oh yeah, this here's my buddy Probe. He and I go way back, and now Probe is here today to be my assistant chef, isn't that right Probe? Oh yeah, he uses that big alien noggin' of his to communicate with telepathy, so you won't hear him making too much of a racket.
Well anyway, Probe has a bowl with four of the chocolate squares and 1½ sticks of butter in it. Now while that sounds like a ready-to-eat meal if I've ever heard of one, it's not quite a batch of brownies now is it? That being said, it's time to melt the chocolate squares and the butter. Alrighty Probe, work your melting magic!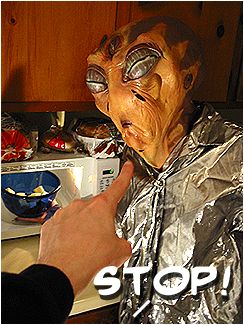 STOP!!!! What kind of powerful alien being are you Probe!? You of all people trying to use a microwave? That's for those puny sacks of flesh called humans to do, not for mighty culinary champions such as ourselves! Now put that big brain of yours to good use and melt that bowl of butter and chocolate the old fashioned way!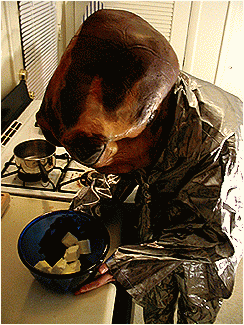 ALIEN MIND MELT POWER!

Now that the chocolate and butter, or as I like to call it "Chocky Butt", is all melted into to a delicious goo, it's time to sweeten it up even more. So in goes 2 cups of glorious sugar! Suuuuuuuuuuuuugaaaaaaaaar! Sometimes, when I stare at the sugar long enough, I swear I can start to hear each granule speak to me. Sometimes they say things like "Don't eat us!" or "It's not as much fun being a sugar crystal as you'd probably think." or "Did you know that the Slope-Intercept Form is Y=MX+B?"
While I enjoy all of these enthralling conversations with my sugar crystals, they had a different message for me today. Today they yelled, "HAHAH! YOU FORGOT THE EGGS YOU FOOL! NOW YOU CAN'T EAT US BECAUSE YOU DON'T HAVE EGGS TO MAKE YOUR BROWNIES! STUPID! STUPID! STUUUUUUUPID!"
Indeed I had forgotten the eggs. What was I to do? My magnificent brownie recipe would be completely useless without two eggs! I had to think fast, so I did the only thing a creature like me was capable of doing when face with such a dire culinary crisis: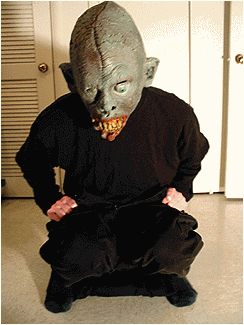 I LAID THE EGGS MYSELF!
That's right, old Glom isn't too proud to squat down, drop his drawers and pinch out a few eggs to make Halloween brownies with! Though, I must say, making brownies with eggs that could've been hatched to become my future offspring is a little twisted. But hey, I'm Glom and that's just the way I do things around here ok? If you humans would eat a few of your kids here 'n there, overpopulation would be a thing of the past!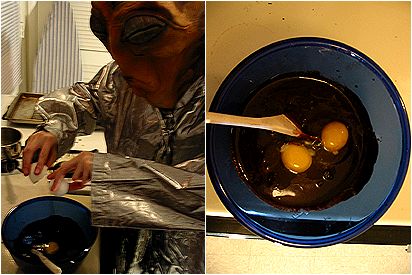 So while I used a few ice cube suppositories to soothe my aching rectum, Probe took the eggs I hatched and mixed them in with the chocolate, butter, and sugar concoction. He also told me that seeing the two eggs side by side reminded him of his planet's two suns that eventually collided with one another. This collision eventually led to the death and destruction of everyone and everything on his home planet. Let's hope these brownies don't cause quite as much damage.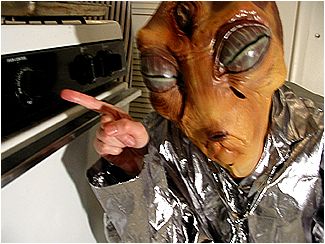 No, Probe isn't pointing at the oven dial with the wonder of an infant who just witnessed his first bloody homicide, he's letting you know what temperature to preheat that old oven to — 350°. After all, you're going to be cooking these brownies aren't you? Sure, if you're hardcore like us you'd eat 'em raw, but you're not hardcore. You people need to have everything cooked. You want to know what freedom is? True freedom? I shaved my taste buds off with a Bic razor long ago and now I can eat anything I set my eyes on! THAT is true freedom my friends!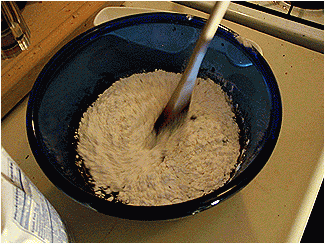 Next thing to do is to stir in 1 cup of flour. Make sure you're using flour and not flowers. Only I can make that mistake because, as I already stated, I have been freed from taste buds which once enslaved me. Heck, one time I through some shark meat into the browning mix... just because I could!
The following step is completely optional, though why anybody wouldn't want the delight of having something hard and crunchy inside their brownies is beyond me. Personally, I prefer the bones of iguanas, but whatever. Walnuts will do just fine. Just remember to crack open the walnuts since your weak human stomachs and teeth can't handle the shells.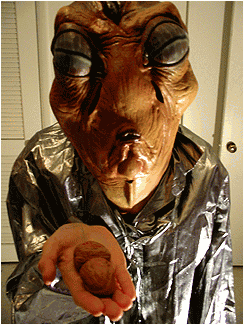 ALIEN WALNUT
CRUSHING POWER!
Hey now wait a second. That doesn't look hard at all Probe! You're just trying to show off in front of the weakling humans! Gimme some o' those! I'll crush 'em I will!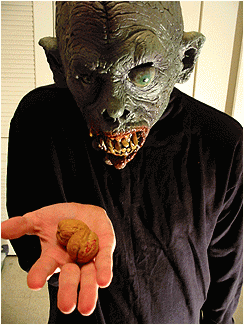 GAH!!!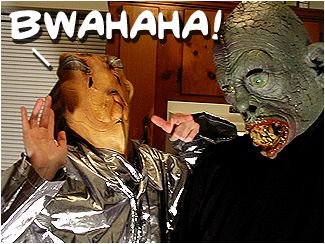 Goddamnit! It would figure that the one time Probe actually speaks out loud is used to laugh in my face because I can't crack open walnuts with my bare hands. So what if I can't, huh? I'M STILL PRETTIER THAN ALL OF YOU PUT TOGETHER! THAT'S RIGHT BROTHER! AND WHATCHA GONNA DO WHEN GLOM RUNS WILD ON YOU!!!?

Back to the Brownie-making madness... it's time to drink some vanilla extract. Er, I mean pour in 1 teaspoon of vanilla! Sorry, I just had a flashback to that episode of Family Ties in which Alex (Michael J. Fox) watches his uncle (Tom Hanks) hits rock bottom with his alcoholism by drinking the vanilla extract since there's no liquor in the house. It's a fun scene to reenact. Only in my version of that episode, after drinking the vanilla extract, I go on a drunken rampage and wake up the next day quivering, naked on the floor, with the heads of the Keaton family in my arms. And the head of their pet ferret. They had a ferret didn't they? Jeez, I sure hope so.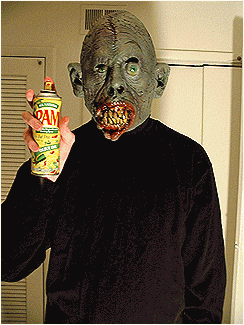 Now your brownie mixture is ready to go, but before you heat it, you've gotta grease up a 13x9-inch baking pan. While I recommend Quaker State brand oil to get it lubed up nicely, you'll probably want to use something like Pam instead. Can't say I'm a big fan of Pam for cooking brownies, but it does make for a pretty decent underarm deodorant!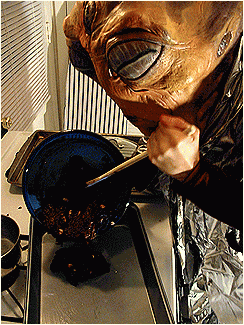 That's right Probe, pour the mixture into the baking pan and spread it out nice 'n even! Then just pop 'em into the oven and wait for what will surely the ultimate brownies!
— 30 MINUTES LATER —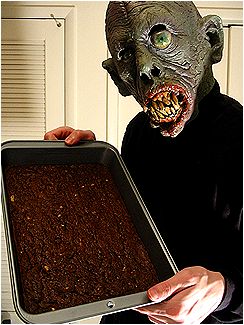 And there you have it! Do I know how to make the ultimate brownies or what? You're damned right I do! I'm salivating just looking at them. Then again, my lips have never been able to close completely, so uncontrollable salivation is a fairly common thing in my life. A SEXY common thing in my life!

Other than making these in the month of October, to truly be able to call these the ultimate Halloween brownies, you've gotta add a lil' something more to 'em! You can either go to your local graveyard and find all sorts of wonderful toppings conveniently stored in a bunch of boxes that are 6-feet underground. I guess that's how they keep those ingredients cool. But hey, I just happen to have a bag of Halloween colored M&M's candies and some candy corn pieces.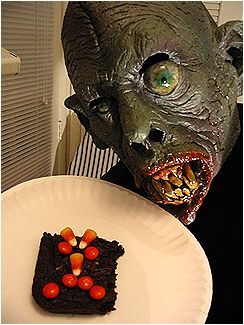 BEHOLD THE FACE OF EVILICIOUS SPOOKY BROWNIE DOOM! BOW BEFORE YOUR BROWNIE MASTER! ALL OF YOU SHALL COWER BEFORE HIS AWESOME MIGHT! Well, at least cower until I eat him, ok?
Say! Probe apparently came up with a design for his Halloween brownie too, let's see it!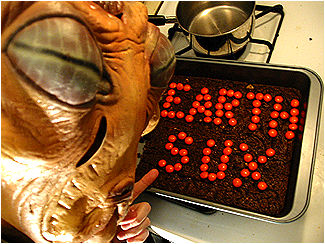 That's the one thing I can't stand about Probe... he always finds a way to one-up me.
the end.
---
Want your own GLOM or PROBE mask?
No problem! Visit these guys...




Big thanks to Fright Catalog for supplying us with a bunch of great Halloween items such as "Glom" and "Probe" to review this year! We'll be featuring more of their crazy items this season, and they've got an awesome Halloween supplies site, so please check it out and support their business - FrightCatalog.com!
---
help support I-Mockery by supporting our sponsors:

---
Running a big site like I-Mockery takes a lot o' time and costs moola too.
Want to help show your support?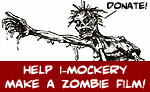 DONATE TO OUR ZOMBIE MOVIE!
Come talk about this piece & more on our Message Forums!
click here for more minimocks!

---


[Minimocks] [Articles] [Games] [Mockeries] [Shorts] [Comics] [Blog] [Info] [Forum] [Advertise] [Home]


Copyright © 1999-2007 I-Mockery.com : All Rights Reserved : ()
No portion of I-Mockery may be reprinted in any form without prior consent
We reserve the right to swallow your soul... and spit out the chewy parts.