...CONTINUED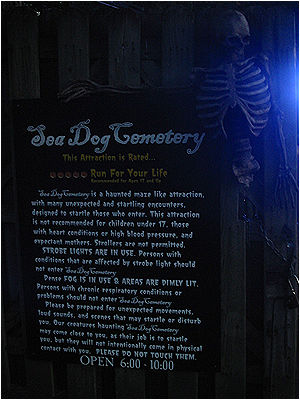 After eating what I hope was a hamburger for dinner, I decided it was time to venture out into the darkness that was Busch Gardens' "Howl-O-Scream" in full effect. The first stop on my list was the Sea Dog Cemetery. It had a 5-pumpkin rating, which according to the chart, is as scary as things can get. The sign at the entrance of the cemetery once again warned me of the horrors that were waiting just around the corner.
Horrors such as: STROBE LIGHTS! EEEEEEEEEEK! FOG! AAAAAAAACK! AREAS THAT ARE DIMLY LIT! NOOOOOOOO!
And of course the sign stated that we should not touch the creatures. It never really explained why, but when it comes to the undead, I guess it's best to not poke them.
I'll warn you now, since some areas were really well lit and others were pitch black, the quality of these photos will vary quite a bit. Some of them will look great, and others will look like they were taken on a near-broken camera from the 1920's because I had the brighten them up so much in Photoshop and most of the attractions didn't allow flash photography. But hey, at least I went out of my way to take all of these damned pics, and that's all that matters right? RIGHT!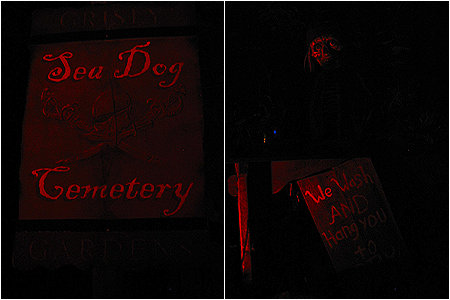 Right from the start, the Sea Dog Cemetery looked like a place where only true evil would dwell. Everything was dimly lit with red lights. No longer were there gay pirate skeletons running rampant, now we had some REAL pirates! It was almost as if Busch Gardens was like "Pirates of the Caribbean" — only trapped in a Bizarro world in which the pirates were gay skeletons during the day, and then bloodthirsty scalawags when the moon came out. Gay by day. Fright by night. Indeed!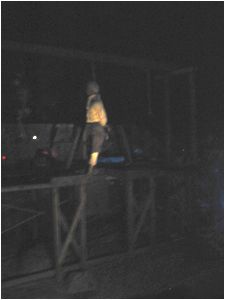 They were very strict about not shooting any photos as I walked through this particular attraction, but I slyly held the camera at my side and managed to get some that came out. What you're looking at there is a guy hanging from a noose. What was cool about it, is they had him moaning and flailing about wildly while he hung from the rope. Combined with the cool lighting, it was definitely a good effect.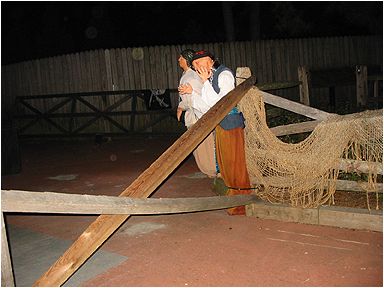 The only other pic that came out from inside the attraction was when my camera accidentally flashed. I'm sure I pissed off some undead seadogs with that little mishap. Still, the dummies that were tied to the post didn't seem to matter. It's funny how completely non-horrific they look when you see them in bright light. The cheese cloth still manages to look cool though. Ok, I only said that so I could actually say the phrase "cheese cloth" just once in this piece. Now I can sleep well tonight.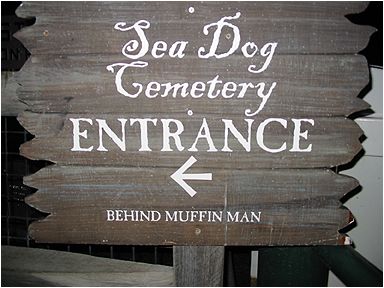 All in all, it was a good start, but I definitely wouldn't give the Sea Dog Cemetery the coveted 5-pumpkin rating. It definitely wasn't anywhere near that scary, but it did look pretty awesome. As I left the cemetery, I noticed a sign that said the entrance was behind the Muffin Man. THE MUFFIN MAN!? Tell me, do you know the Muffin Man? The Muffin Man? THE MUFFIN MAN? Do YOU know the Muffin Man?
Well, I never did find the goddamned Muffin Man, but I did find something more insane...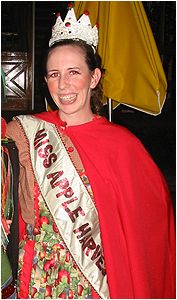 MISS APPLE HARVEST! I asked her if she knew the Muffin Man, but she just gave me a strange look and waved her apple wand at me. I think she put a curse on me too, cuz everything I eat now tastes like applesauce. You people have no fucking clue what it's like to bite down on a juicy Philly cheesesteak sandwich, only to taste applesauce. Damn you Miss Apple Harvest, DAMN YOU!!!!!!!!!!!!!!!!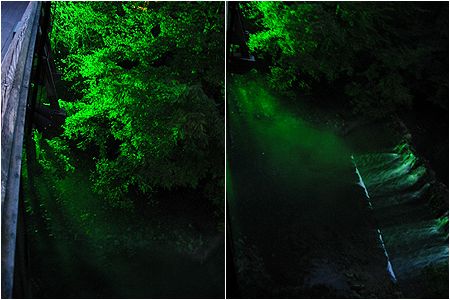 Before we move on, I just had to show you these pics simply to demonstrate the awesome work they did on lighting all areas of the park. Crossing this bridge late at night provided a great view of an eerie green waterfall and huge trees. Sure, it wasn't part of any of the main attractions, but it's the attention to little details like this that I can really appreciate.
As I made my way further along the path, I ran into an assortment of odd characters...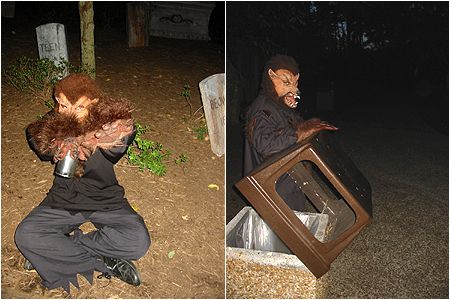 THE TIN-CAN-SHAKING WOLFMAN!
So there he was, just sitting on the ground shaking a tin can. He wasn't making any sounds with his voice whatsoever, so I can only assume that he had a sore throat and was sadly reduced to shaking a tin can in a pathetic attempt to scare the onlookers. Shortly after, I saw him lifting a trashcan lid and slamming it down in hopes of scaring people. I think it just made us all pity poor ol' wolfie that much more.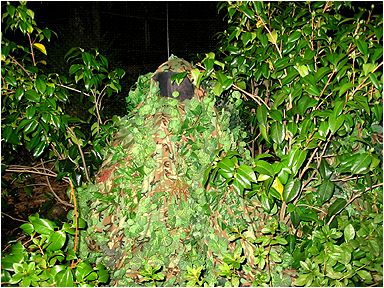 THE PLANT THINGS!
Now these bastards actually did manage to catch me off guard. Hidden under some excellent camouflage in a poorly lit area, these tree-mutants popped up out of nowhere. Granted, they probably could've scared the crap out of people if they would've yelled or something, but still seeing something just pop-up out of nowhere when you're least expecting it is still a pretty good way to scare someone. Especially when the creature jumping out at you looks a lot like Swamp Thing.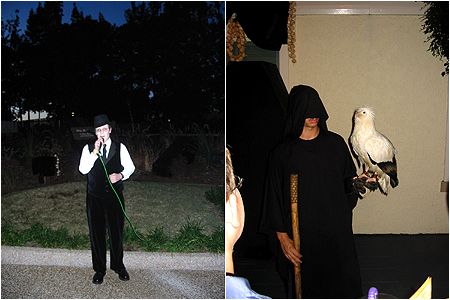 COFFIN SALESMAN AND BIRD... GUY!
Next up, I ran into this lonely guy, armed to the teeth with bad one-liners, who was trying to sell some of his used coffins. He was like an incredibly unfunny version of Stan the salesman from Monkey Island. Shortly after that, I came upon Birdman. I think he was supposed to be a blind grim reaper or an undead monk or something, but that doofy lookin' bird just wasn't helping him create much of a chilling atmosphere.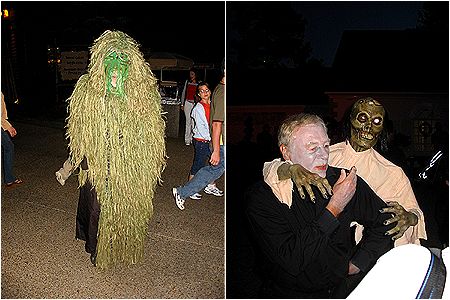 HAY CREATURE AND MR. ZOMBIE HOST!
Then there were these two freaks of nature. First off was the "Hay Creature" who really wasn't all that scary, but really enjoyed dancing to all of the spooky music they had playing. I guess when you're made up of hay, you'll do just about anything to keep yourself entertained. After I got tired of watching Hay Creature dance (approximately 15 seconds after meeting him/her/it), I found "Mr. Zombie Host" in my path. Apparently he had developed a symbiotic relationship with this badass looking zombie in which he would tote the legless zombie around in exchange for the zombie drinking most of his blood. Hey, as long as they're happy, who am I to question their loving relationship? What was odd, is that Mr. Zombie Host was still able to reminisce with some elderly folk about some historical facts of Williamsburg. Let's see YOU do that after you've lost 80% of the blood in your body!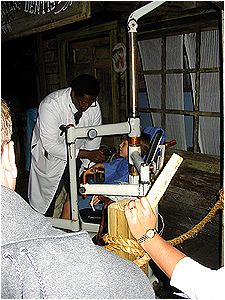 DOCTOR ROT!
Ah ha! There he was... Doctor Rot himself, standing in front of the crowd and asking a kid innocently spooky questions such as, "So Timmy, tell me, do you drink..... SODA?" Whoah! I thought he was gonna say alcohol for sure! Doctor Rot may not be able to spell the word "painful" properly on his sign, but he's surely a master of verbal trickery! Well, that was really all there was to Doc Rot — more bad one-liners. So I decided to leave all the weird creatures behind and check out the next big attraction.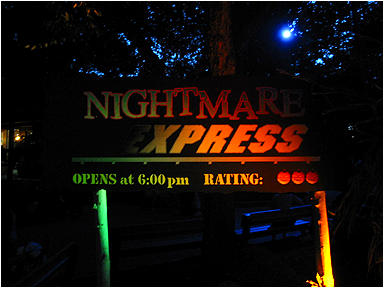 With a 3-pumpkin rating and rainbow sign, I was worried that the "Nightmare Express" wouldn't be a very fun ride, but then someone walked right up to me and changed that in a heartbeat...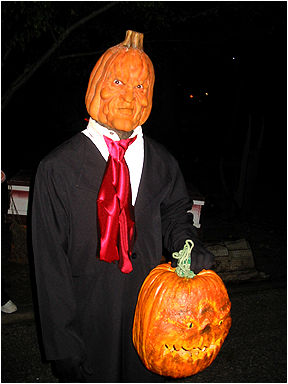 IT'S JACK, THE STAR OF THE SHOW!
Yep, Jack of the Lantern was walked right up to me and I got this great photo of him and his pumpkin. You'd think a ghoul like Jack wouldn't be to receptive to cameras, but just look at the smile on his face. He's obviously thrilled to see me! In all seriousness though, they really did a damned fine job on his mask and even the twisted pumpkin he was carrying around.

So with a newfound sense of hope for horrific high jinks, I boarded the Nightmare Express and set off on my journey into the unknown. It was hard enough taking pictures in the dark, but it's even harder when you're taking them for a train that moves at various speeds. One of the coolest things from the start was how they lined a bridge with pumpkins from one end 'til the other. Just one of the many sights that reaffirms my strong belief that Halloween is the greatest holiday.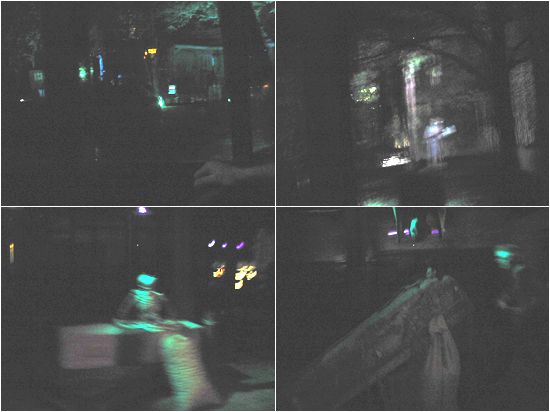 These photos came out looking quite spectral and ghoulish, but believe me that's not camera trickery, the places we passed on the train really did look like this. Graveyards, skeletons of the non-gay variety, people carrying coffins, moaning zombies wandering aimlessly in the woods.

They even had Leatherface! Well, it wasn't the Leatherface, but it was a pretty good spinoff of the guy, and his chainsaw was carving through some bloody corpse on a table. This was already gorier and creepier than the Sea Dog Cemetery, so why they were giving it only 3 pumpkins is beyond me. Well, maybe they just wanted to scare the crap out of a bunch of unknowing kids.

Here was some weird stuff, I couldn't make out what it was exactly, but there was some glowing pink thing out in the woods. So either a disgruntled Busch Gardens employee slipped some acid into my burger, or they had some strange phenomenon taking place out there. And speaking of strange, we passed an old VW Beetle that was decked out with all sorts of 70's hippie decorations. Ok now that was a truly scary thought: UNDEAD ZOMBIE HIPPIES FROM HELL!

One of the more brightly lit areas on the ride was the circus. It wasn't just any circus though, it was a circus of nightmarish freaks... and a guy in a monkey suit. The signs promoted them as "2-FACED MAN: A HIDEOUS FREAK OF NATURE!", "THE HUMAN FLY: AN ATOMIC ACCIDENT - POSITIVELY ALIVE!", and "PIG WOMAN: THE BLIND DATE NIGHTMARE!" The 2-Faced Man and the Human Fly were just kinda stumbling about and the Pig Woman was nowhere to be found. Perhaps she ate herself to death? I guess we'll never know. But wouldn't you know it, the guy in the monkey suit stole the show. This guy was totally into his act, flailing about in the dark like a madman with no regard for anything or anyone in his path. Oh and just for the record, dancing around like a maniac in a monkey suit all night long? BEST. JOB. EVER.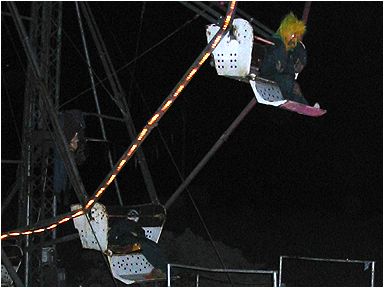 And here was THE FERRIS WHEEL OF THE UNDEAD! It wasn't moving or anything, but it was finally real proof that even zombies need a little bit of recreation. "All brains and no play makes Zombie Bob a sour grape" ...or something like that.

Did I mention graves and tombstones galore? Well, there sure were plenty of them. While not the most exciting thing to see, it all looked very realistic and again the lighting work was spectacular.

There were some other peculiar displays, many of which were too far off in the distance to really make out in the darkness. For all I know it could've just been people making S'mores and reading porn, but when you see them from a distance with the addition of colored lights and a fog machine they look like PURE EVIL! But nothing, and I mean nothing could compare to the awesomeness that snuck up behind us next....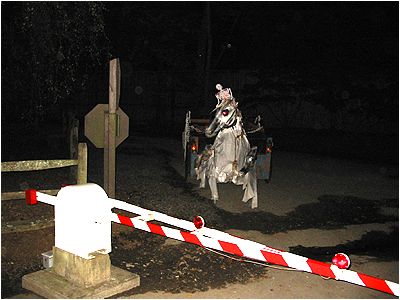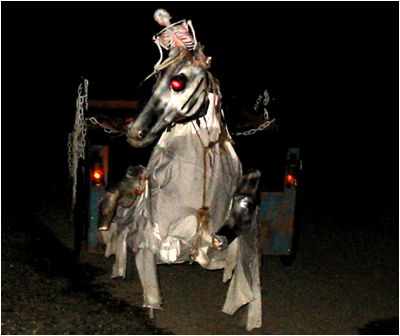 Pictures just can't do this thing enough justice, it was easily my favorite spooky sight of the night. While our train slowly moved forward, I happened to turn around and notice that there was a glowing skeleton on a glowing spectral horse riding along beside us on a hidden track. It was seriously one of the best things I had ever seen at a Halloween attraction, and that's saying a lot because I've been to a ton of Halloween events over the years.
All in all, the Nightmare Express was a really long train ride and the amount of work they put into it was obvious. So I have to give it a 5-pumpkin rating because while it didn't scare me, it was such a spectacle that I wish I had time to ride it again. But who has time to ride on a train all night when you have this?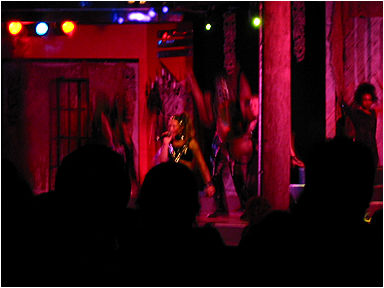 THE FAILED DRAMA STUDENT
SQUAD OF BROKEN DREAMS!
Oh yes, they would sing and dance their hearts out in the hopes that some Hollywood producer just happened to be in the crowd and would notice their thrusting pelvic regions. Well, to be honest, with horror-themed leather outfits like those, I think they were more likely to be offered a job from GWAR.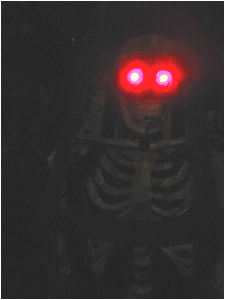 Ok, so in "Germany" there were these two identical skeletons hanging across the street from one another in metal racks. The German accents of these two skeletons were more exaggerated than Hanz & Franz. Still, it was a hell of a lot funnier to hear those two go at it than listen to the Coffin Salesman go through his spiel, that's for damned sure.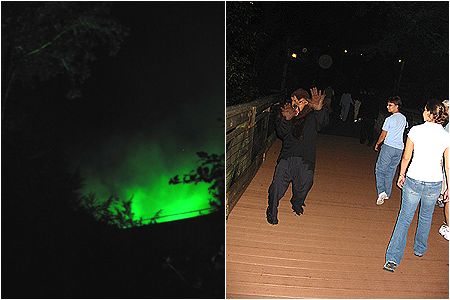 Did I mention I love the lighting and the fog? Well guess what, I'm mentioning it again because it was that good. And as I crossed another bridge, look who I bumped into again! WOLFMAN! He didn't even have his tin can to shake at people anymore, and you know what? He was in a much happier mood as a result of it. Wolfie was dancing around and very excited to pose for my camera. You go Wolfman, that Zoloft is really working!

And my final destination was when I came up to a huge crowd that was gathered around a giant jack-o-lantern for the "Monster Street Party". My brochure stated "Get down with the groovy ghoulies lurking in Oktoberfest!" How do you pass up an offer like that? YOU DON'T.
There were a bunch of scarecrows on stilts dancing around the jack-o-lantern in a ritualistic frenzy. They all had wireless mics on and were singing fairly well for a bunch of lunatics on stilts, even though the music itself was pretty bad. Come to think of it, who was the DJ spinning those scary songs?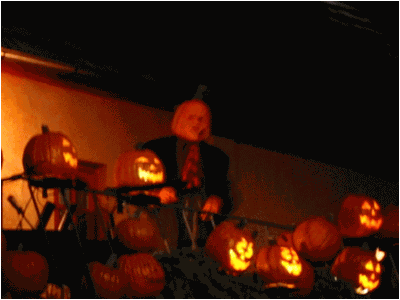 Holy shit it was Jack! That's right, the star of the show was whoopin' it up on top of a building. He was hoppin' and boppin' about behind his wall of pumpkins. And no matter how much you may hate the music, trust me, you just can't help but stand and watch in awe. I mean, how many times in your life do you see a pumpkin-headed guy singing a bunch of bad showtunes? Well unless you count that freaky uncle of yours who's now behind bars, this is probably it.
So that was the the end of my big day at Busch Gardens. I also made it to a few other attractions that night which I was unable to photograph. "Sleepy Hollow Manor" was your basic haunted house attraction, and while it looked cool on the inside, it didn't make me (or anybody else that I saw) jump once. Definitely nowhere near worth of the 5-pumpkin rating... maybe a 2-pumpkin at best. I also saw some of the 3D, er excuse me... the "4D" movies (you know, the kinds that have moving chairs and/or tubes that squirt water at you to make the experience more realistic) including "The Haunted Lighthouse" It was cool, but it was also kinda sad to see some of the washed-up actors that were performing in it. Christopher Lloyd, Lea Thompson, Michael McKean and even Weird Al Yankovic all had parts in the flick. When the only jobs you can get are in cheezy theme park movies, it's time to pack your bags and start enjoying your retirement for a change.
Well, for those of you who are unable to attend Howl-O-Scream, I hope this in-depth look at all of the morbid events helped make you feel like you were right there in the midst of the madness. It's definitely an event that any fan of Halloween would enjoy and easily buries any typical "haunted hayride" attraction six feet under. Maybe seven feet under, I just it all depends on how far down Wolfman can dig with that tin can of his before he passes out.
the end.
---
help support I-Mockery by supporting our sponsors:

---
Running a big site like I-Mockery takes a lot o' time and costs moola too.
Want to help show your support?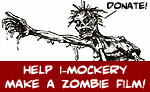 DONATE TO OUR ZOMBIE MOVIE!
Come talk about this piece & more on our Message Forums!
click here for more minimocks!

---


[Minimocks] [Articles] [Games] [Mockeries] [Shorts] [Comics] [Blog] [Info] [Forum] [Advertise] [Home]


Copyright © 1999-2007 I-Mockery.com : All Rights Reserved : ()
No portion of I-Mockery may be reprinted in any form without prior consent
We reserve the right to swallow your soul... and spit out the chewy parts.