by: -RoG-
When it comes to novelty architecture worth paying a visit to on american road trips, there's perhaps no greater sight than Claude Bell's Dinosaurs on Interstate 10 in Cabazon, CA. Also known as the Cabazon Dinosaurs, this attraction features two huge dinosaur sculptures that you can walk inside of - a Brontosaurus (Apatosaurus) named "Dinny" and a Tyrannosaurus rex named "Mr. Rex".
Anybody who's a big fan of kitsch and roadside attractions is no doubt already well aware of these prehistoric monstrosities, but most people probably remember them from Pee-wee's Big Adventure. After riding with the ghost of Large Marge, Pee-wee is dropped off right in front of the Cabazon Dinosaurs at the Wheel Inn restaurant. He then befriends a waitress there and they hang out in one of the dinosaurs. Pee-wee also has a nightmare about Mr. Rex eating his beloved bicycle.
As soon as I saw that movie, I wanted to visit the Cabazon Dinosaurs, but they were on the other side of the country. Now, many years later, I'm finally living on the West coast and it's high time I pay a visit to these amazing dinosaurs. Let's take a look at these awesome architectural anomalies:

Not a bad view on the opposite side of the highway...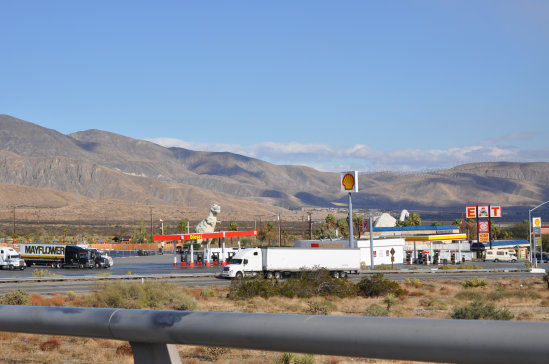 ...but we came for the Cabazon Dinosaurs and there they are, about to attack a Shell gasoline station.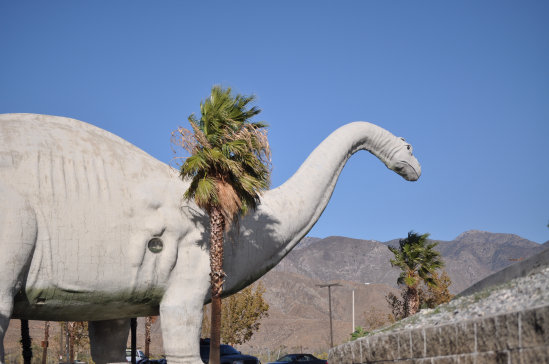 Here we see Dinny, the mighty Brontosaurus... naturally standing next to some palm trees.
And yes, you can also call it an Apatosaurus, but it'll always be Brontosaurus to me just as Pluto will always be a planet.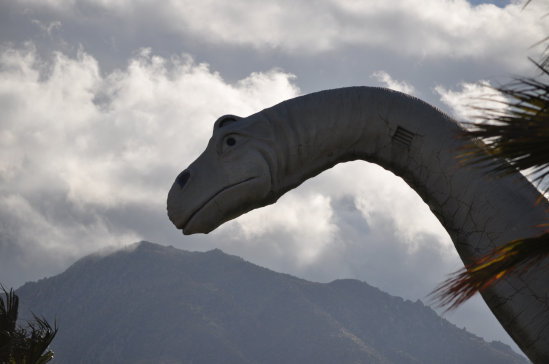 No, those aren't gills on his neck, it's an air vent.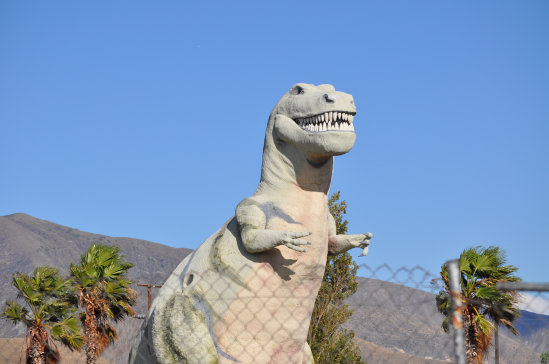 And here's the mighty Tyrannosaurus Rex!
(also known as "Mr. Rex")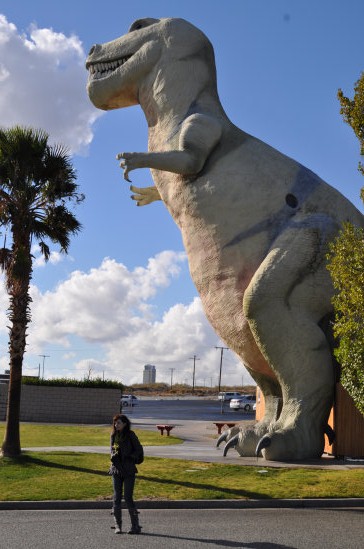 Re helps show the scale of Mr. Rex. I'm pretty sure he could floss with her.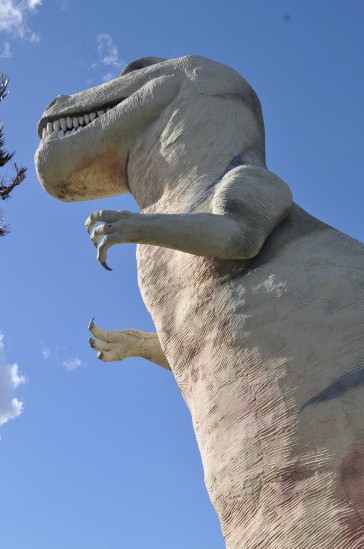 If a T-Rex lost its arms, do you really think it'd matter that much?
I'm pretty sure it wouldn't have to alter its lifestyle.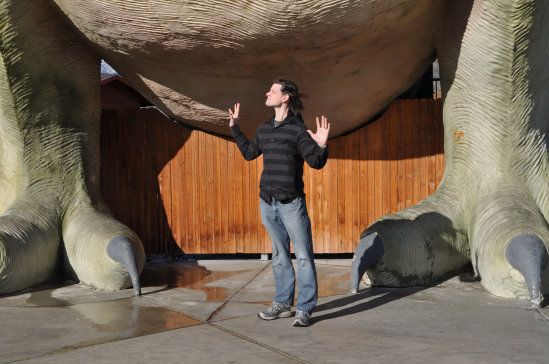 Even Mr. Rex's huge body couldn't block the high winds that day.
Guess that's why they set up that big wind farm in Cabazon too.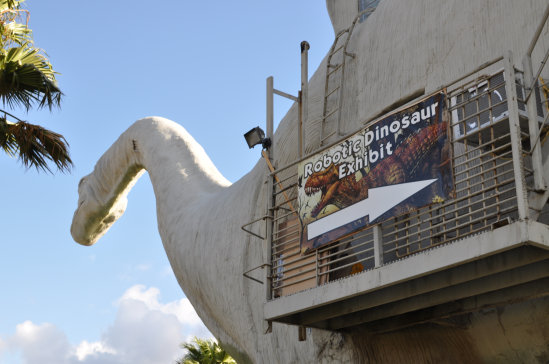 Did you know that some dinosaurs had built-in ladders and platforms on them?
You won't learn about that in any ol' dinosaur book... you only learn these things by seeing 'em in person.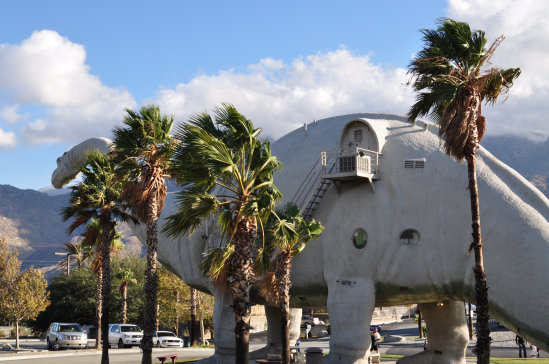 Another nice view of the big bronto. Ok, time to go inside!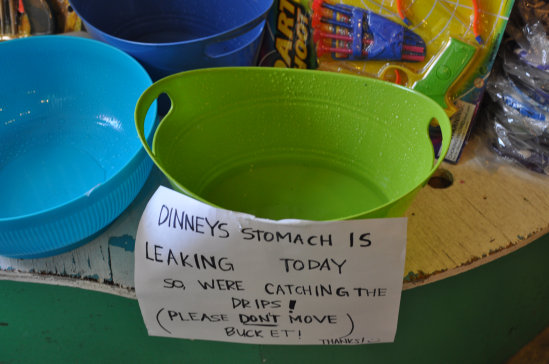 Hey, if you were inside a dinosaur's stomach, I'm sure you'd find that it was leaking on you too.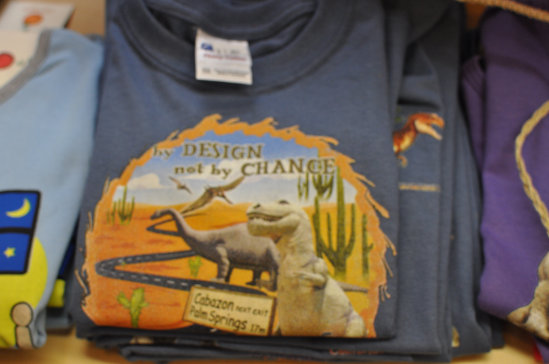 So it turns out the dinosaurs were purchased by creationists who insist on pushing
their beliefs on children who are simply there to marvel at the giant dinosaur attractions.
This stuff also contradicts some of the other artwork on display by Claude Bell, such as his Cro-Magnon Man.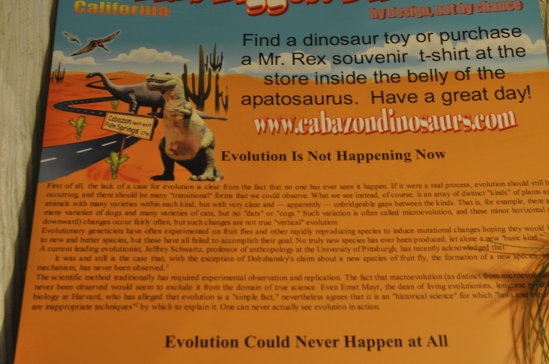 Here's an idea: KEEP IT TO YOURSELF.
Look, I honestly don't care what your religious beliefs are (to each his own),
but they simply don't need to be a part of a classic roadside dinosaur exhibit.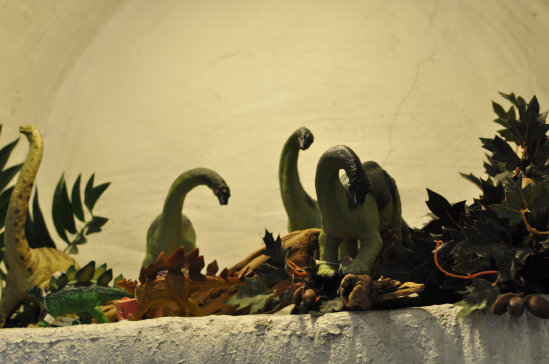 That's more like it. Dinosaur toys. Now that's what a kid wants to find in the belly of a brontosaurus!

Next it was time to check out the robotic dinosaur exhibit. Actually, I think they were checking me out instead.
Also, come on... they should've named this the Dinobots exhibit.

Velocibot.

Pterobot.

Roll them bones!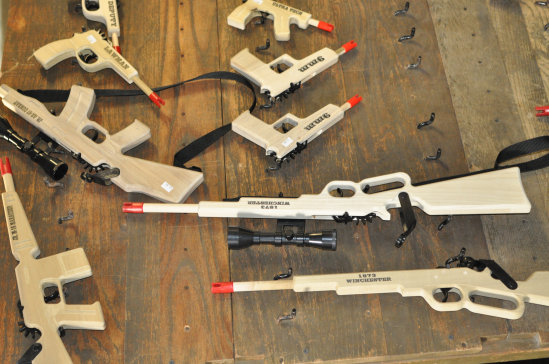 Wooden guns! Don't worry, I'm sure they're prehistoric guns, so they totally belong here.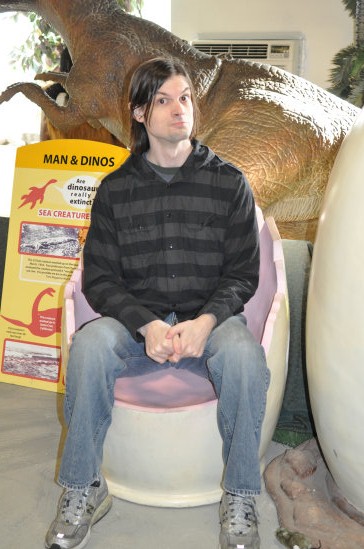 While in the shop, you can kick back in a chair shaped like a cracked dinosaur egg.

Dino-turtle devours small yard lights with fury!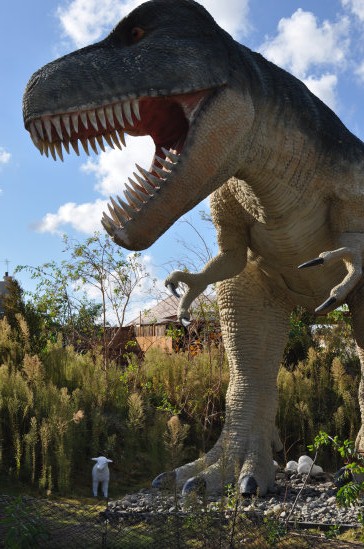 I'm pretty sure this isn't the best place for a lamb to be hanging out... even if it is a prehistoric lamb.
There's still more of the Cabazon Dinosaurs to see!
Click here to continue onward to page 2!