by: -RoG-
When I was in high school I occupied my time like any sensible student would: I fucked with the other students as much as humanly possible. Who wanted to learn about Patrick Henry's "Give me liberty or give me death!" speech when they could be removing every nut and bolt from a desk? Not I. So, one of the things I was fortunate enough to learn in high school was how to turn ChapStick into a deadly weapon. No, I did not attend a prison or anything. It was your average, useless suburban high school, and coming up with deadly weapons was a great way to pass the time. So I now share my knowledge with all of you on how to make your very own ChapStick Dartgun™.
First off, you're gonna need some supplies. So, hop on your bike and ride to a local Wal-Mart or 7-11, but don't ride there until you read this piece first, otherwise you won't know what to buy! You'd be all like "HEY! I CAME ALL THE WAY OUT HERE AND DIDN'T EVEN WRITE DOWN WHAT I NEEDED TO BUY!" and the people in the store would be all like "HAAHAHAHAHA! LOOK AT THE DUMB GALOOT WHO DOESN'T KNOW WHAT SUPPLIES ARE NEEDED TO MAKE A CHAPSTICK DARTGUN!" and you would be all like :(.
So yeah, before you rush out, read all this: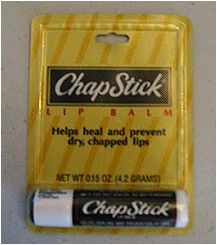 The first thing you need to make a ChapStick Dartgun is... *drumroll* ...CHAPSTICK! Now I know that one caught you off guard, but it really is necessary. There are many different kinds of ChapStick out there, so be wary of what you buy. I prefer to just go with the original kind, but any of the "sticks" with the twisty bottom parts will do. Just don't buy that squeezable lip gel crap because that won't cut it.
Next you're going to need a sewing needle. I prefer to get a nice variety pack like this one so that my options are left open. Remember kids, it's always good to have several options when it comes to killing a person.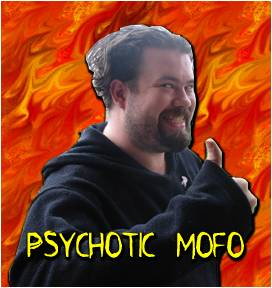 Now if you're like me, you prefer to hire somebody else to do the killing so that you can't be tied to the murder. So go out and find yourself one hell of a psychotic mofo. As you can see above, I found myself a jim-dandy who goes by the name "Jaeger"!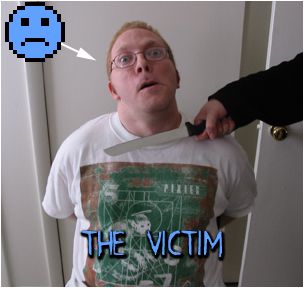 Another key element for a successful Chapstick Dartgun exercise is a victim. I mean, what the hell is the point of making a deadly weapon if you don't have somebody to kill? So here we have "Protoclown". He's been slacking off lately here on I-Mockery, so we figured we'd teach him a lesson that he'd never forget. Yes, we all feel sad to see him go, but hey... better him than us right? RIGHT.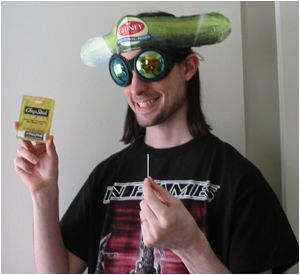 Ok kiddies, now I've shown you the basic supplies you'll need, now it's time to actually start putting them to use. But remember, if you don't follow my instructions exactly, you may not only end up with chapped lips, but even worse... with a victim who didn't die! So follow the step-by-step directions carefully and you'll be killing in no time!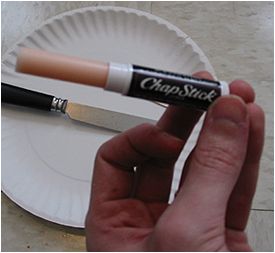 First remove the cap and twist the bottom part until all of the stick's contents are exposed just like in the above pic. Boy, that sure is a lot of chap-coverage for such a little stick eh? Well it's not gonna be there much longer!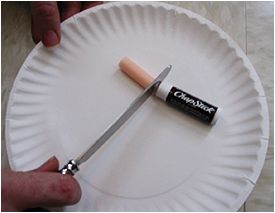 Lay the ChapStick down and cut of all of its chappy goodness. Bye bye chap! And just in case you didn't know already, the mean doctors do something just like this to babies right after they're born too. Think about that when you're chopping the ChapStick.

This next part is where some people get lost, so pay close attention. Pull the twisty base out completely and then use it to push down the top end where you cut out all the chappy stuff from. Push it down until it's back at the bottom. Now screw the twisty part back into the bottom and it should be re-attached so you can pull it in and out with ease.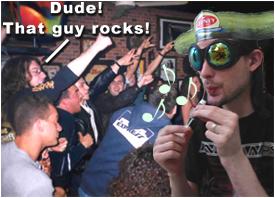 Now there is an instrument known as the Chapman Stick, but did you know that regular ChapStick can play a tune as well? We discovered that at this point that the ChapStick make a pretty decent slide-flute. I ran down to a nearby club, got on stage, and started playing my custom Chap-Flute™ like a mad bastard and the crowd went absolutely wild! WILD I SAY!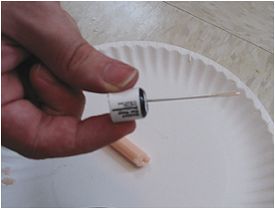 Ok, back to the construction of your deadly weapon. Take one of the needles and use it to puncture the center of the cap. Now the cap is hard plastic, so you might need to hammer it in with something. But we didn't have a hammer...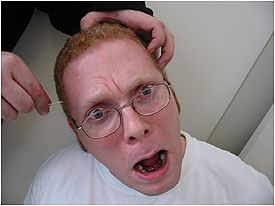 So we used our victim's HEAD.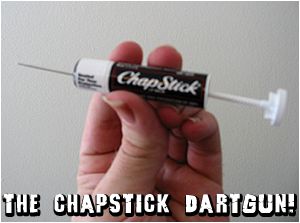 Now just remove the needle from the top of the cap and push it through the inside.
Re-attach the cap to the stick, pull out the bottom twisty thing and you're ready to go! Yes, we know it looks like a syringe, but I assure you, you can't get high off of it. But it sure did piss off this junkie when we told him it would get him high!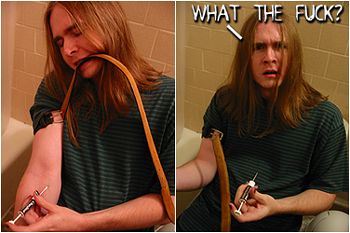 Playing practical jokes on junkies:
GOOD TIMES!

A PERFECT SHOT EVERY TIME!
Ok, now before you put your Chapstick Dartgun to use on a real victim, I suggest that you make a target and practice a little bit. Practice until you hit the bull's-eye every time just like I can. (note: the above image was in no way Photoshopped. I SWEAR).
The best way to get it to shoot nicely is to smack the extended twisty-end with the palm of your hand quickly. That should send the cap 'n needle shooting out perfectly.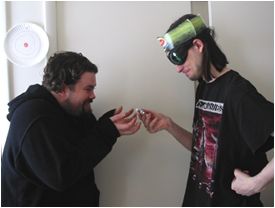 Now is the really fun part. You're finally ready to put the ChapStick Dartgun to use. Hand it over to whatever Psychotic Mofo you were able to find and tell him to have fun with it. Just look at the little tyke, he's so excited to have a new deadly toy!
Any last words Protoclown?

"YES! PLEASE ROGER! MAKE THIS PSYCHOTIC MOFO STOP!"

Oh I'm sorry Protoclown, I can't do that. You see, he's been looking forward to this for far too long. I wouldn't want to upset the lad.

"DAMN YOU ROGER! I'LL SEE YOU IN HELL!"

But it's not cold in hell Protoclown, you won't need ChapStick there! Oh well...

"NOOOOOOOOOOOOOOOOOOOO!!!!"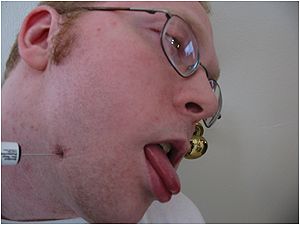 "EUUNNGH..."
Sorry, but Protoclown is no longer available for comment.
So there you have it folks, it heals lips and it kills your enemies. It's the one, the only, the ChapStick Dartgun! But wait a second, what do you do with all of that excess stuff that you removed from it earlier on? Well, if you want, you can reward your Psychotic Mofo for a job well done by giving him the tastiest treat he'll ever eat: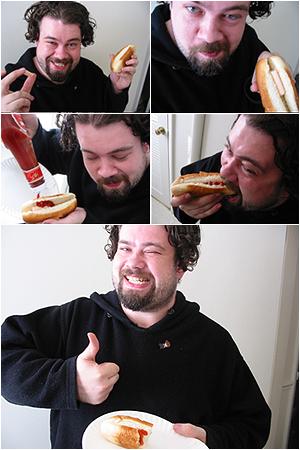 CHAP DOGS!
AMERICA'S #1 FAVORITE MEAL!
(kiss my ass Oscar Meyer!)
the end.
---
Running a big site like I-Mockery takes a lot o' time and costs moola too.
Want to help show your support?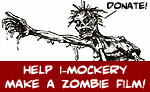 DONATE TO OUR ZOMBIE MOVIE!
Come talk about this piece & more on our Message Forums!
click here for more minimocks!

---


[Minimocks] [Articles] [Games] [Mockeries] [Shorts] [Comics] [Blog] [Info] [Forum] [Advertise] [Home]


Copyright © 1999-2007 I-Mockery.com : All Rights Reserved : ()
No portion of I-Mockery may be reprinted in any form without prior consent
We reserve the right to swallow your soul... and spit out the chewy parts.