...CONTINUED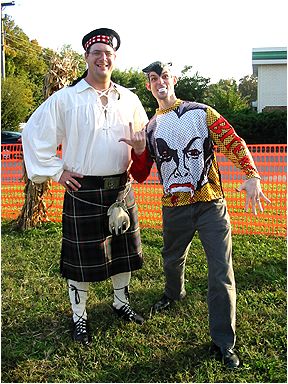 WHOAH HO HO! LOOKEE WHAT COUNT POP FOUND! HE FOUND A KILTED MAN! HEY MISTER KILTY MCKILT! ARE YOU WEARING ANYTHING UNDERNEATH THAT KILT? HAHAHA! DON'T YOU LOVE IT WHEN PEOPLE ASK YOU THAT? THEY ASK YOU THAT BECAUSE THEY HEARD COUNT POP SAY IT ONCE BACK IN THE 50'S AND THAT JOKE HAS BEEN THE TALK OF THE TOWN EVER SINCE! YOU SEE, EVER SINCE COUNT POP MADE THAT JOKE, PEOPLE IN KILTS HAVE STARTED TO NOT WEAR UNDERWEAR! COUNT POP WOULD BET A PEPSI THAT YOU'RE ONE OF THEM!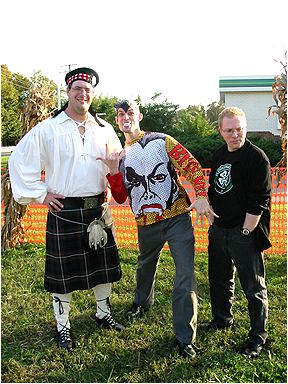 HEY PROTOCLOWN! LOOK AT THIS GUY! HE'S WEARING A KILT! WHY DON'T YOU STICK YOUR HEAD UP UNDER THERE TO SEE IF HE'S WEARING ANY UNDERWEAR! COME ON PROTOCLOWN, DON'T BE A LAME-O SQUARE! COUNT POP THINKS IT WOULD BE GROOVY! OH ALRIGHT, COUNT POP KNOWS YOU WANT TO GO SEE SOME OF THE SUPER PUMPKINS, SO LET'S GET A MOVE-ON WITH OUR GROOVE-ON!
WEEEEEE HEEEEEE! HOP INTO THE PUMPKIN-O-LICIOUS FUN, PROTOCLOWN! COUNT POP REALLY DIGS PUMPKINS OF ALL SIZES! PUMPKINS AND BREASTS! HA HA HA! HA! COUNT POP IS A LADIES MAN! YES HE IS! COUNT POP CAN GET YOU A DATE IF YOU WANT PROTOCLOWN! A DATE WITH A PUMPKIN THAT IS! HAHAHAHAHA!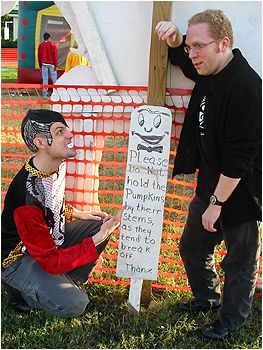 SAY PROTOCLOWN, THAT LOOKS LIKE A PADDLE! WOULD YOU LIKE TO PLAY SOME PING-PONG WITH YOUR FAVORITE PAL, COUNT POP? HAHAHAHAH! FOOLED YOU AGAIN! IT'S NOT A PADDLE, IT'S A WARNING SIGN! UH OH! "PLEASE DO NOT HOLD THE PUMPKINS BY THEIR STEMS, AS THEY TEND TO BREAK OFF." DID YOU READ THAT PROTOCLOWN? COUNT POP READ IT. COUNT POP THINKS READING IS COOL! READING IS RADTASTIC! DISCOVER THE FEELING, LEARN TO READ!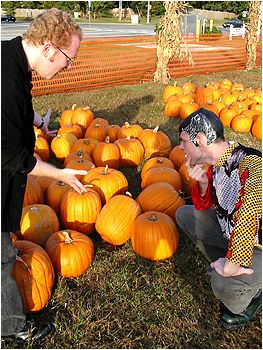 WHEN CHOOSING A PUMPKIN, COUNT POP LIKES TO TAKE HIS TIME. COUNT POP REQUIRES A MINIMUM OF FIVE HOURS TO EXAMINE EACH AND EVERY PUMPKIN. HOPE YOU BROUGHT A MAGAZINE TO READ PROTOCLOWN!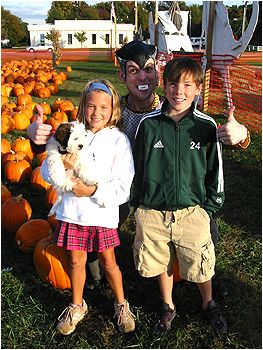 THESE KIDS ARE DOWN WITH THE COUNT POP HYSTERIA THAT'S SWEEPING ACROSS THE NATION LIKE A SPOOKY HALLOWEEN VACATION! EVEN THEIR DOG LIKES COUNT POP! GIVE A DOG A BONE? NO. COUNT POP GIVES A DOG A PUMPKIN! HE'LL HAVE TO GO TO THE GRAVEYARD IF HE WANTS A BONE! HEY PROTOCLOWN? WOULDN'T THAT BE A SIGHT — SEEING A DOG DIGGING UP SOME BONES IN A GRAVEYARD?? IF WE EVER SEE ONE DOING THAT WE SHOULD GO RIGHT UP TO IT AND SAY "KNICK KNACK PADDYWHACK, GIVE A DOG A BONE! THIS OLD MAN CAME ROLLING HOME!" IT WOULD BE THE BEST OF TIMES!
AFTER CAREFUL EXAMINATION OF THE PUMPKINS, COUNT POP THINKS HE'S FOUND THE ONE! WHAT DO YOU THINK PROTOCLOWN? IT'S A BEAUTIFUL PUMPKIN, ISN'T IT?
OH NO!! WHEN COUNT POP PICKED UP THE PUMPKIN, THE PUMPKIN BROKE APART! GUESS IT WASN'T MEANT TO BE, EH PROTOCLOWN? IT IS A SAD DAY IN PUMPKINLAND :(

10/23/04 — NEVER FORGET
COUNT POP WILL PRAY TO THE FLAG OF THE UNITED STATES OF ROCKERICA! MAY IT BE A GUIDE TO COUNT POP AND PROTOCLOWN IN THEIR DARKEST HOUR! NOW LET'S SING SOME PATRIOTIC SONGS TO LIFT UP OUR SPIRITS, PROTOCLOWN! "MY COUNTRY TIS OF ME, SWEET LAND OF ROCKABILLY, OF THEE I PEE! LAND WHERE THE PROTO CRIED, LAND WHERE OUR PUMPKIN DIED... FROM EVERY PUMPKIN PATCH, LET COUNT POP RING!"
OK PROTOCLOWN, HOW ABOUT THIS FELLA? HE'S A TALL PUMPKIN WITH YOUR NAME ON IT! HAHA FOOLED YOU AGAIN! THEY DON'T GROW PUMPKINS THAT SAY YOUR NAME ON IT, YOU'D HAVE TO USE A MAGIC MARKER TO DO THAT! SILLY PROTOCLOWN, HE ALWAYS FALLS FOR COUNT POP'S WILDLY RAZOR-SHARP WIT!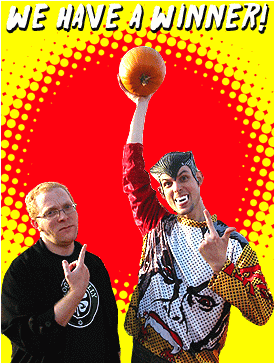 COUNT POP DECLARES THIS TO BE THE GREATEST PUMPKIN IN THE HISTORY OF MANKIND!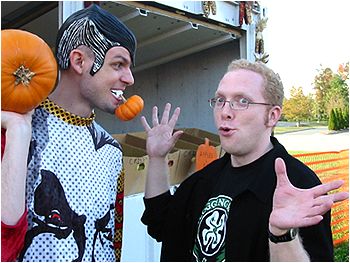 LOOKEE HERE PROTOCLOWN! COUNT POP FOUND A BABY PUMPKIN! IT'S NOT EVEN WEARING DIAPERS LIKE YOU DO! HAHAH! COUNT POP MADE ANOTHER ZINGER! UH OH! COUNT POP IS HOLDING IT BY THE STEM! DON'T TELL THAT SIGN THAT COUNT POP WAS BREAKING THE RULES OR IT WILL COME PADDLE US BOTH! HA HA!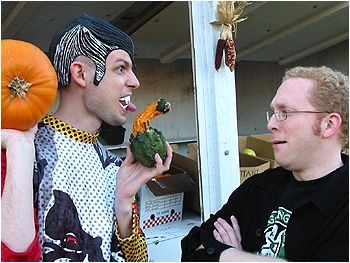 THIS SURE IS ONE FUNKY PUMPKIN, EH PROTOCLOWN? GOSH! I BET IT MAKES ONE HECK OF A TRIPPY PUMPKIN PIE! DO YOU KNOW HOW TO MAKE PUMPKIN PIE? WELL DO YOU PROTOCLOWN? NO? OKAY THEN! LET COUNT POP GIVE YOU THE SECRET RECIPE SINCE COUNT POP IS THE INVENTOR OF PUMPKINS, PIE, AND PUMPKIN PIE!
INGREDIENTS: PIE, PUMPKIN.

STEP ONE: PUT PUMPKIN IN PIE.

STEP TWO: EAT PIE!!!!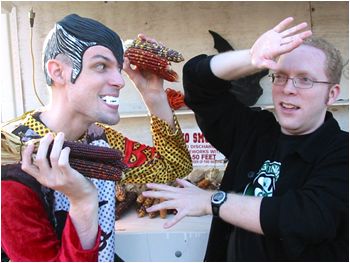 HAHA DON'T FRET MY PROTOCLOWNY PROTOCLOWN! THE GOOD COUNT POP WASN'T REALLY GOING TO STAB YOU! COUNT POP WAS ONLY KIDDING! THIS IS JUST SOME DECORATIVE CORN! OH COME ON STOP CRYING PROTO! IT WAS JUST A JOKE! DO YOU WANT PEOPLE TO LAUGH AT YOU BECAUSE YOU'RE CRYING LIKE A BABY WHO WAS ALMOST STABBED WITH DECORATIVE CORN?
HAHAHAH! SEE? COUNT POP WARNED YOU THAT IF YOU DIDN'T STOP CRYING WE WOULD LAUGH AT YOU! AND NOW YOU'RE SEEING THAT COUNT POP WASN'T KIDDING! THIS IS MISTER "I'LL WEIGH YOUR PUMPKIN AND TAKE YOUR MONEY" GUY! HE IS NOW LAUGHING AT YOU BECAUSE YOU CRIED OVER BEING STABBED WITH THE DECORATIVE CORN! MAYBE HE SHOULD PUT YOU ON THE PUMPKIN SCALE TO WEIGH HOW MUCH OF A WUSSY YOU ARE! HA HA HA HA HA HA HA!!! YOU KNOW COUNT POP IS ONLY TEASING, RIGHT PROTOCLOWN? YOU'RE COUNT POP'S GOOD BUDDY! FRIENDS 4EVER!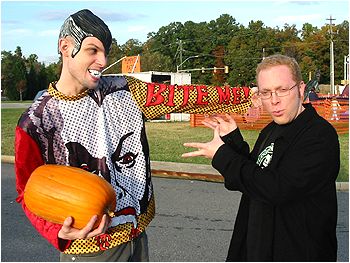 WELL PROTOCLOWN, WE SURE HAD A GOOD TIME AT THE PUMPKIN PATCH DIDN'T WE? COUNT POP THINKS IT WAS TOTALLY CRACKERJACK COOL! NOW LET'S GO TAKE OUR DOOZIE OF A PUMPKIN BACK HOME AND PUT ON THE FINAL TOUCHES! AND IF YOU DISAGREE, YOU'LL HAVE TO TALK TO THE SLEEVE! SEE, PEOPLE RIPPED OFF COUNT POP WHEN THEY STARTED SAYING "TALK TO THE HAND" A FEW YEARS AGO. COUNT POP ORIGINALLY SAID "TALK TO THE SLEEVE" BECAUSE COUNT POP'S SLEEVE SAYS "BITE ME!" BUT GUESS WHAT? THEIR HANDS? THEY DON'T SAY BITE ME! THEY DON'T SAY ANYTHING EXCEPT "I WASN'T WASHED PROPERLY AFTER THE LAST TIME I USED THE TOILET!" HA HA HA HA! COUNT POP IS TRULY A DICTIONARY OF DERISION! OH YEAH!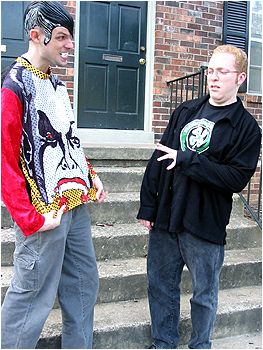 HEY BEFORE WE GO INSIDE WOULD YOU LIKE TO BITE COUNT POP, PROTOCLOWN? JUST LOOK WHERE THE FANGS ON COUNT POP'S SHIRT ARE AND THAT'S WHERE YOU CAN BITE! GO ON, TAKE A BITE OUT OF YOUR PAL COUNT POP! COME TO WHERE THE FLAVOR IS! COME TO COUNT POP TOWN — POPULATION: YOUR MOUTH.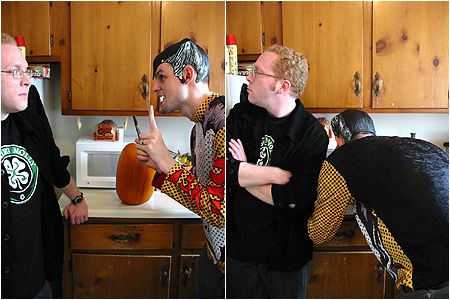 OH OK, SINCE YOU DON'T WANT TO TASTE THE SAVORY POP WITH AN EAGER BITE, COUNT POP WILL GO AHEAD AND DECORATE YOUR PUMPKIN FOR YOU MISTER FROWNY PROTO! YOU WAIT JUST A MINUTE AND COUNT POP WILL HAVE A SPOOKY MASTERPIECE READY FOR YOU TO SEE! MAYBE THEN YOU'LL BE HAPPY ONCE AGAIN!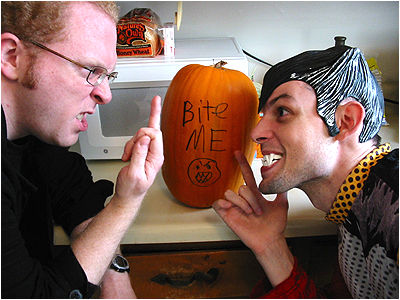 SUCCESS!!!!!!! LOOK EVERYBODY! PROTOCLOWN IS
HAPPY ONCE AGAIN! COUNT POP HAS SAVED THE DAY!
HOORAY FOR COUNT POP! HOORAY FOR PROTOCLOWN! HOORAY FOR HALLOWEEN! HOORAY FOR THE INDIANS! HOORAY FOR COUNT POP AGAIN AND AGAIN! HOORAY!!!
THE END.

Questions or comments about this piece?
Email -RoG-
---
Be sure to check out the newest Count Pop adventure!


COUNT POP VISITS THE CHESTERFIELD
BERRY FARM WITH A NEW FRIEND!
---
help support I-Mockery by supporting our sponsors:

---
Running a big site like I-Mockery takes a lot o' time and costs moola too.
Want to help show your support?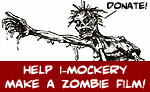 DONATE TO OUR ZOMBIE MOVIE!
Come talk about this piece & more on our Message Forums!
click here for more minimocks!

---


[Minimocks] [Articles] [Games] [Mockeries] [Shorts] [Comics] [Blog] [Info] [Forum] [Advertise] [Home]


Copyright © 1999-2007 I-Mockery.com : All Rights Reserved : ()
No portion of I-Mockery may be reprinted in any form without prior consent
We reserve the right to swallow your soul... and spit out the chewy parts.