...CONTINUED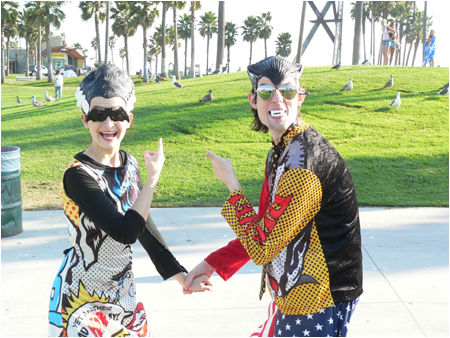 COUNT POP: WHEN I WAS A YOUNG BAT, I USED TO FLY AROUND JUST LIKE THOSE BIRDS BACK THERE! SOMETIMES I WOULD EVEN FLY WITH THEM AND WE'D SING SOME ROCKABILLY TUNES IN THE SKIES TOGETHER WHILE SEARCHING FOR THE NEAREST HOTDOG STAND! HEY, LET'S GO SAY HI TO THOSE BIRDS AND SEE IF THEY REMEMBER ME!
COUNT POP: I DON'T KNOW IF YOU GUYS HEARD THAT, BUT AS THE BIRDS FLEW AWAY THEY SAID, "YES COUNT POP! WE REMEMBER YOU AND THINK YOU ARE THE BEST HOPPIN' DRAC-U-ROCKIN' DUDE IN THE WEST, BUT WE ARE TOO INTIMIDATED BY YOUR SUPERSTAR PRESENCE AND MUST FLY AWAY TO FIND A HOTDOG STAND AND CALM OUR NERVES!" IT'S OK BIRDS, I TOTALLY UNDERSTAND! I USUALLY NEED TO CALM MY NERVES WITH A HOT DOG OR A CORN DOG OR AT THE VERY LEAST A KOOKY WIENERSCHNITZEL, BIG DADDY!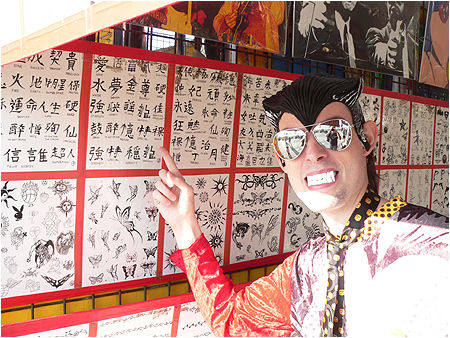 COUNT POP: WHILE MY FLESH MAY BE FILLED WITH TOO MANY SUPER-WHEELIE POWERS TO BE PENETRATED BY A REGULAR TATTOO ARTIST, I CAN STILL GET A HENNA TATTOO NO PROBLEM! AND LOOK! I THINK I FOUND JUST THE ONE THAT TRULY DEFINES YOUR POPSTER PAL AS THE MAN HE IS DEEP DOWN INSIDE!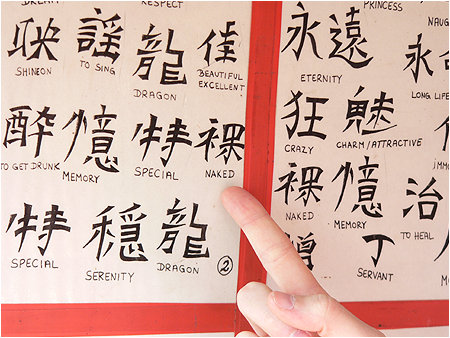 COUNT POP: "NAKED" WAS SUCH AN IMPORTANT CHOICE THAT IT WAS OFFERED NOT ONCE, BUT *TWICE* ON THEIR BOARD. THE NAKEDNESS WAS CALLING OUT TO ME, AND I WAS MORE THAN WILLING TO WELCOME IT INTO MY OPEN ARMS AND BRING IT TO THE WARM SANDY BEACHES SO IT WOULDN'T GET ANY GOOSE BUMPS! REMEMBER, WE ALL KNOW THAT GOOSE BUMPS ARE AN EARLY SIGN OF CANCER AND I'M NOT TALKING ABOUT THE ZODIAC KIND! GET YOURSELF CHECKED FOR GOOSEBUMPS TODAY! EARLY DETECTION IS YOUR BEST DEFENSE! THAT AND STAYING AWAY FROM GEESE!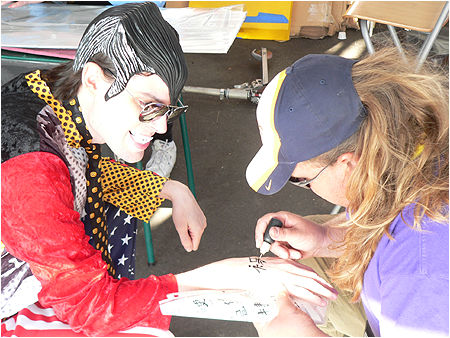 COUNT POP: WHY YES MR. HENNA TATTOO ARTIST, I DO USE CURÉL MOISTURIZING LOTION ON MY HANDS AND I APPRECIATE YOU COMPLIMENTING ME ON THEIR SOFT SMOOTHNESS! MIGHT I ADD THAT YOUR HAIR FLOWS FORTH FROM THE BACK OF YOUR BASEBALL CAP LIKE A RIVER OF SILKY GOLD? YES I MIGHT!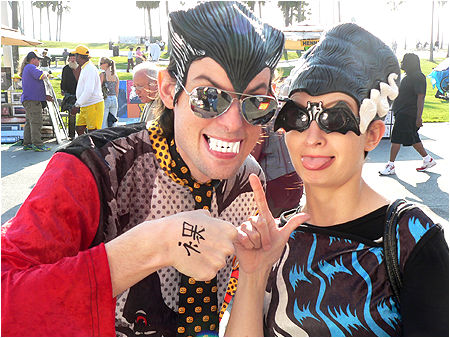 COUNT POP: UH OH GUYS! SHE'S MAKING THE "L" SYMBOL! YOU KNOW WHAT THIS MEANS, RIGHT? THAT'S RIGHT FELLAS, IT MEANS SHE'S FALLEN IN LOVE WITH MY NAKED SELF! THERE'S ONLY ONE THING TO DO NOW!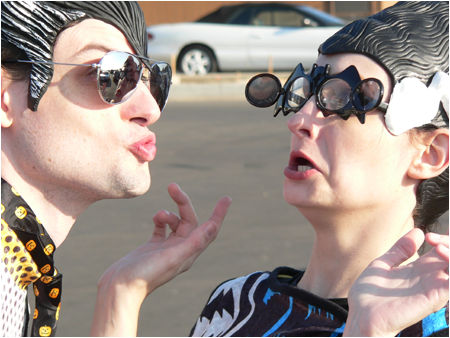 COUNT POP: THESE LIPS WERE MADE FOR WALKIN'! AND THAT'S JUST WHAT THEY'LL DO! ONE OF THESE DAYS THESE LIPS ARE GONNA KISS YOU ON THE FACE! DO YOU LIKE HOW I CHANGED THOSE SONG LYRICS? THAT'S HOW I CHARM THE LADIES BEFORE I GO IN FOR THE ROMANTIC KILL! JUST LOOK, I BLEW HER GLASSES WIDE OPEN WITH MY RADIOACTIVE CHARM! BUT OK, SHE'S STILL PLAYING HARD-TO-GET. I CAN APPRECIATE THAT. THIS IS A LADY WITH DYNAMIC DIGNITY! IT'S TIME TO TAKE HER BACK TO THE "POP PAD" FOR A ROMANTIC CANDLELIGHT DINNER TO CLOSE THE DEAL AND SHOW HER I'M FOR REAL!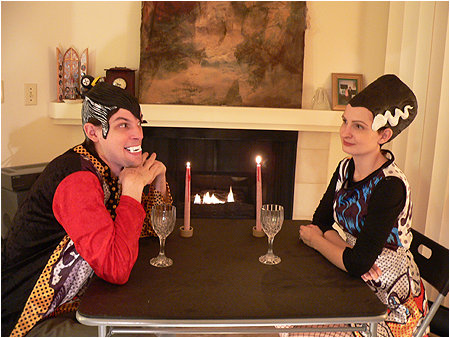 COUNT POP: A BLEEDING CANDLELIGHT DINNER BY THE FIREPLACE ON A DUSTY FOLDING CARD TABLE? WHAT COULD BE MORE ROMANTIC? OH AND DON'T WORRY MY LADY, I BROKE OUT THE FANCY CRYSTAL GLASSES FOR A DRINK I'VE BEEN KEEPING IN MY SECRET CELLAR RESERVE FOR A VERY SPECIAL SOMEBODY!
COUNT POP: A VINTAGE 2006 BOTTLE OF JONES "MONSTER MOJITO" FLAVORED SODA! SEE MY LITTLE SASSAFRAS? I TOLD YA IT'D BE NOTHING BUT THE BEST FOR YOU! I'M SURE YOU'LL LOVE ITS RICH, OAKY, BUTTERY FLAVOR THAT GOES DOWN SMOOTH LIKE A MOJITO MOSQUITO ON A WATERSLIDE OF BEE-BOPPIN' BODACIOUSNESS! BOTTOM'S UP! DOWN THE HATCH! CHUG-A-LUG MY LOVELY LADYBUG!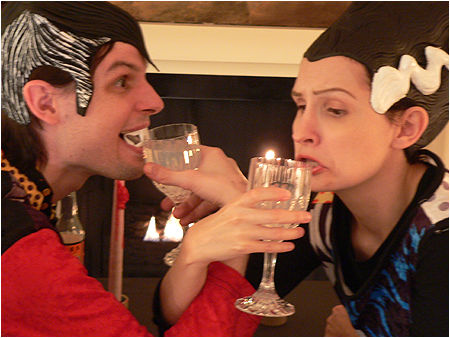 COUNT POP: YES DRINK! DRINK THE MOJITO! DRINK TO OUR LOVE! DRINK TO THE FUTURE! DRINK TO BACKSEAT BINGO! NOW YOU JUST HOLD ON TIGHT WITH YOUR HAIR THAT LOOKS MORE DELICIOUS JUST LIKE THE TOP OF A HOSTESS CUPCAKE! YOU JUST HOLD ON TIGHT AND FINISH UP YOUR DRINK WHILE I GO CHECK ON THE FINE CUISINE I'VE BEEN PREPARING US!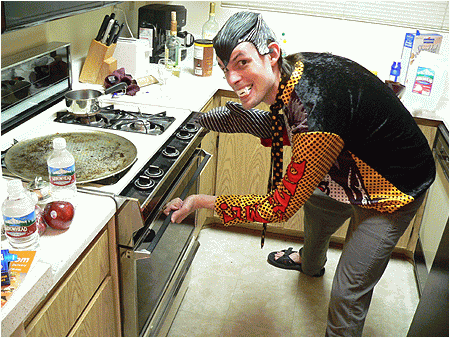 COUNT POP: LITTLE DOES SHE KNOW THAT I'VE BEEN COOKING UP QUITE A FEAST! WHAT BETTER WAY TO FIRE UP HER ENGINES THAN TO GIVE HER THE HOT, ZESTY GOODNESS OF DORITOS! I CAN'T THINK OF A BETTER WAY TO SPICE THINGS UP A BIT! WELL I COULD, BUT IT WOULD INVOLVE INTERGALACTIC SPACE DOLPHINS AND HOT-RODS! BUT STILL, THIS SHOULD WORK TOO!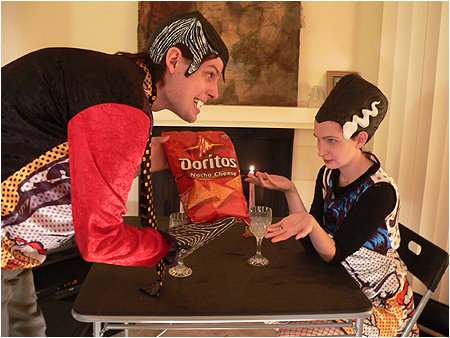 COUNT POP: HERE YOU GO MY FRISKY FELINE FROM ROCK CENTRAL, U.S.A.! ENJOY THE BOLD FLAVOR OF SOME WARM DORITOS! NOTICE HOW THEY RECENTLY CHANGED THEIR PACKAGE DESIGN TO LOOK MORE RADICAL? THAT'S BECAUSE THE OLD BAGS WERE CRUISIN' FOR A BRUISIN' AND COULDN'T HANDLE THE PUNCH THAT THESE DOO-DADS PACKED WITH EACH AND EVERY CRUNCH!
WHAT'S WRONG? OHHHH I GET IT! I SEE YOU'RE NOT REALLY HUNGRY AND I KNOW HOW YOU GROOVY GALS ARE ALWAYS WATCHING YOUR FIGURES... ALMOST AS MUCH AS I'M WATCHING YOUR FIGURES HAHAHAHA! SO TELL YA WHAT, LET'S END THIS DAY RIGHT! NO, I'M NOT TAKING YOU TO "LOVER'S LANE" OR ANYTHING, THAT'D BE FAR TOO HOKEY. THE COUNT POP KNOWS EXACTLY WHERE TO TAKE A SPECIAL LADY LIKE YOU!
*MOMENTS LATER*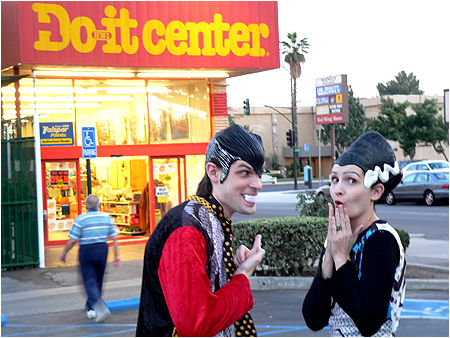 COUNT POP: SOOOOO... WHADDAYA THINK MY LUCKY LADY, MY BOMBASTIC BABE! DID I READ YOUR MIND OR WHAT?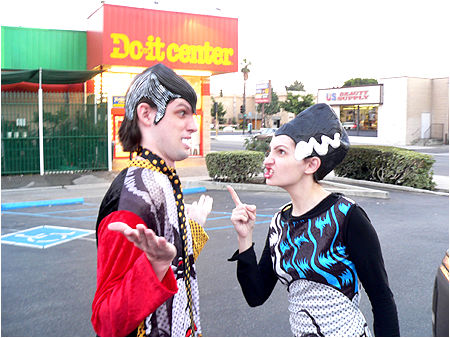 POP BRIDE: GRRRRRRRRRRRRRRRRRRRR!!!
COUNT POP: WHOAH! SETTLE DOWN THERE MY CHEETAH WOMAN, WE'RE IN A PUBLIC PLACE! SAVE THAT FIERY LUST FOR THE BACKSEAT BINGO I MENTIONED EARLIER ON!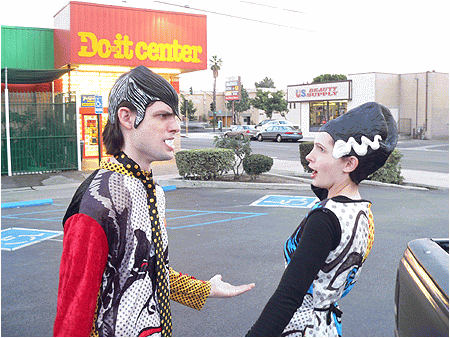 COUNT POP: *BFWAARG!*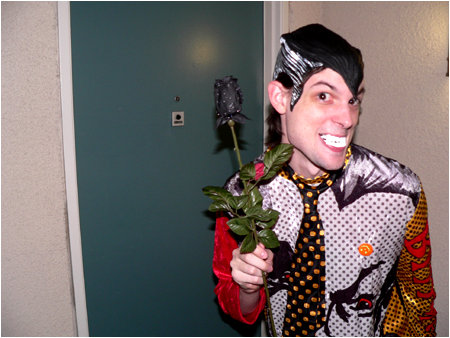 COUNT POP: I THINK OUR FIRST DATE WENT REALLY WELL, BETTER THAN ALMOST ANY OTHER I'VE BEEN ON IN RECENT MEMORY! THEN AGAIN, ALL THE LADIES ARE CONSTANTLY BANGIN' DOWN MY DOOR FOR A SHOT AT THE POPSTER, SO MY MEMORY DOES GET A BIT HAZY! WHO KNOWS, MAYBE IF THIS RELATIONSHIP DOESN'T WORK OUT ONE OF YOU LUCKY LADIES WILL PERHAPS GET A RAP-A-TAP-TAP ON YOUR DOOR AND WHEN YOU OPEN IT, YOU'LL FIND YOUR DREAMY KNIGHT IN SHINING HAIR GEL WAITING TO TAKE YOU ON THE BIGGEST ADVENTURE YOU'VE EVER BEEN ON! WISHFUL THINKING, BUT YOU NEVER KNOW... COUNT POP JUST MIGHT COME RATTLE YOUR CAGE WITH ALL THE ROCKABILLY RAGE OF HIS INTERNATIONAL STARDOM!
UNTIL THEN, HAVE A HAPPY HALLOWEEN, HEPCATS!
Questions or comments about this article?
Email -RoG-
---
SUGGEST THIS PIECE TO A FRIEND!
---
if you enjoyed this article, be sure to also
check out last year's Count Pop adventure!


COUNT POP VISITS THE CHESTERFIELD
BERRY FARM WITH A NEW FRIEND!

---
help support I-Mockery by supporting our sponsors:

---
Running a big site like I-Mockery takes a lot o' time and costs moola too.
Want to help show your support?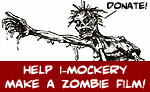 DONATE TO OUR ZOMBIE MOVIE!
Come talk about this piece & more on our Message Forums!
click here for more minimocks!

---


[Minimocks] [Articles] [Games] [Mockeries] [Shorts] [Comics] [Blog] [Info] [Forum] [Advertise] [Home]


Copyright © 1999-2007 I-Mockery.com : All Rights Reserved : ()
No portion of I-Mockery may be reprinted in any form without prior consent
We reserve the right to swallow your soul... and spit out the chewy parts.