...CONTINUED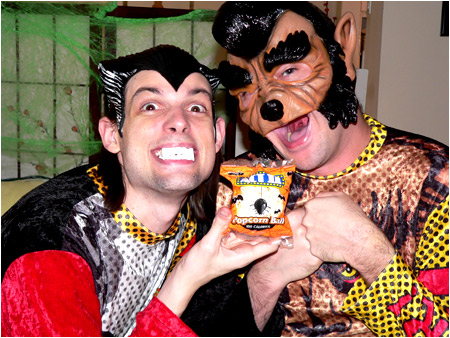 COUNT POP: LOOK WHAT I GOT FOR YOU!
WEREWOLF POP: OOOOOHHH! A POPCORN BALL!!!!!!!
COUNT POP: YES! IT IS POPCORN AND IT IS A BALL! MOST PEOPLE DON'T REALIZE BUT THAT'S WHERE POPCORN COMES FROM! YOU PICK IT FROM TREES LIKE AN APPLE! ORVILLE REDENBACHER HIRED EXTREMELY SKILLED TECHNICIANS WHO SEPARATE EACH POPPED CORN FROM THESE BALLS. WITHOUT THEM, THE WORLD WOULD NEVER EVEN SEEN WHAT THEY NOW CONSIDER TO BE REGULAR POPCORN!
WEREWOLF POP: HISTORY IS INTERESTING!
COUNT POP: LEARNING IS FOR HAPPENIN' HEPCATS!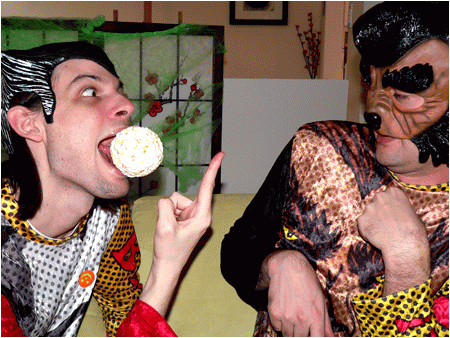 COUNT POP: AND HAPPENIN' HEPCATS ALSO KNOW THAT SHARING IS CARING! COME HAVE A BITE!
WEREWOLF POP: WAIT! NO! WEREWOLF POP WANTS TO EAT THE POPCORN BALL BY HIMSELF!
COUNT POP: SOUNDS GREAT! YOU CAN EAT THE POPCORN BALL ALL BY YOURSELF, WITH ME!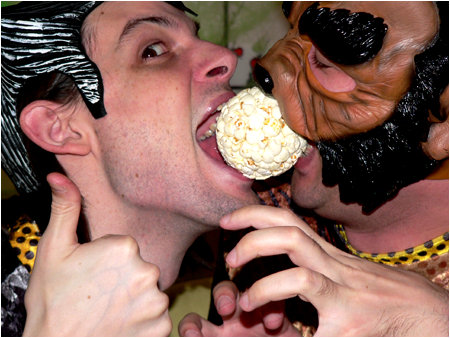 COUNT POP: HOORAY FOR POPCORN BALL FRIENDSHIPS!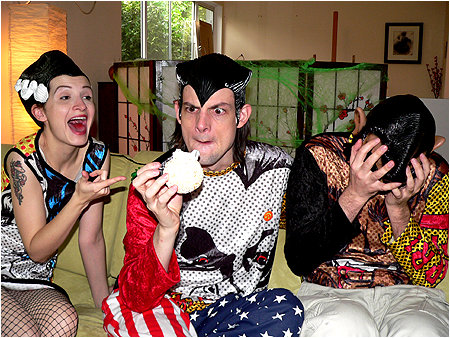 POP BRIDE: AHAHAHAHAHAHA! COUNT POP LOOKS LIKE AN OLD MAN! WHY DON'T YOU GO PLAY "KICK THE CAN" OUTSIDE WHILE YOU EAT APPLESAUCE, OLD MAN!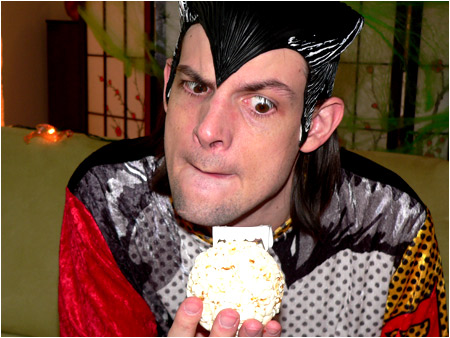 COUNT POP: GOOD GROOVIN' GRAVY! THESE POPCORN BALLS HAVE THE POWER TO REMOVE MY FANGS! NO WONDER THEY POWER NUCLEAR GENERATORS WITH THESE POPCORN BALLS! OKAY GUYS, I'LL BE RIGHT BACK!
POP BRIDE: OK, SO WHAT MADE YOU COME TO THIS PARTY ANYWAY?
WEREWOLF POP: COUNT POP SAID SOME GOOD ROCK BANDS WOULD BE PLAYING HERE LATER ON, BUT IT TURNS OUT HE WAS TALKING ABOUT HIS OWN GUITAR PLAYING. WHAT ABOUT YOU? I HEARD YOU GUYS WENT OUT ON A DATE LAST HALLOWEEN!
POP BRIDE: YEAH BUT I'M NOT SURE I WOULD CALL IT A DATE BECAUSE HE ENDED UP TAKING ME TO—
COUNT POP: BOOM-SHAKA-LAKA-BOOM! HAHAHA!
POP BRIDE: WHAT THE HELL?
WEREWOLF POP: PUPPETS?
COUNT POP: THAT'S RIGHT! THE ENTERTAINMENT AT THIS PARTY KEEPS SOARING TO NEW HEIGHTS IN THE HIMALAYAS! I'M PUTTING ON A PUPPET SHOW FOR YOU GUYS WITH MY TWO FAVORITE PUPPETS: "AUDREY II" THE PIRANHA PLANT AND "BOG-O-BONES" THE BOGLIN!
POP BRIDE: I CAN'T BELIEVE THAT YOU WOULD—
COUNT POP: THINK OF SUCH A GREAT WAY TO KEEP MY GUESTS HAPPY AS A HARPOON IN A WHALE'S BELLY? I KNOW! THIS IS GONNA BE A GREAT SHOW! OK, LET'S BEGIN!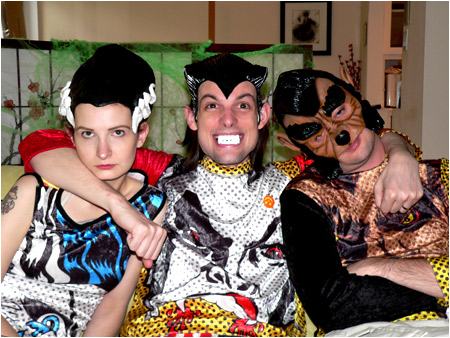 COUNT POP: WASN'T THAT A BLAST FROM THE PAST!? YEAH I'VE BEEN STUDYING PUPPETRY AND THE LONG LOST EXQUISITE ART OF VENTRILOQUISM FOR THE PAST MONTH! I THINK I'VE GOT THE HANG OF IT NOW! ALMOST LIKE I'VE GOT THE HANG OF HANG GLIDING! BUT NOW I'M TUCKERED OUT FROM THE PUPPETRY PERSONAS AND I WANT TO BE ENTERTAINED WITH A SHOW TOO. LET'S WATCH A MOVIE!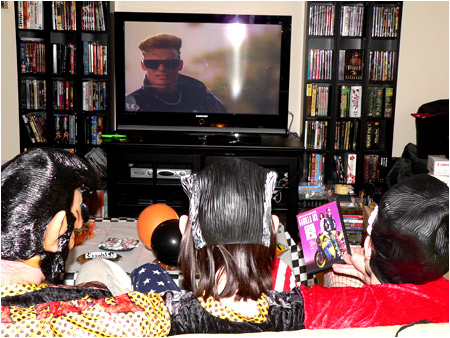 COUNT POP: COOL AS ICE! IT'S THE PRIDE AND JOY OF THIS POPSTER'S COLLECTION AND THAT'S SAYING A LOT SINCE I HAVE ALL THE ROCKABILLY CLASSICS LIKE "STARSHIP TROOPERS" AND "BENJI: THE HUNTED"!
WEREWOLF POP: THIS IS ONE OF THE WORST MOVIES I'VE EVER SEEN!
POP BRIDE: THIS IS ONE OF THE SCARIEST MOVIES I'VE EVER SEEN!
COUNT POP: YEAH I WAS SCARED TOO BECAUSE I THOUGHT TO MYSELF, "WHAT IF ICE DOESN'T HAVE THE DANCE MOVES TO WIN OVER THE GIRL HE LOVES? THEN WHERE WILL HE GO? WHAT PURPOSE WILL HIS LIFE HAVE ANYMORE?" IT'S A SCARY THING TO THINK ABOUT BECAUSE I FACE SITUATIONS LIKE THAT ALL THE TIME WHERE I HAVE TO RELY ON MY BE-BOPPIN' BOOGIES TO GET ME OUT OF A HAIRY SITUATION!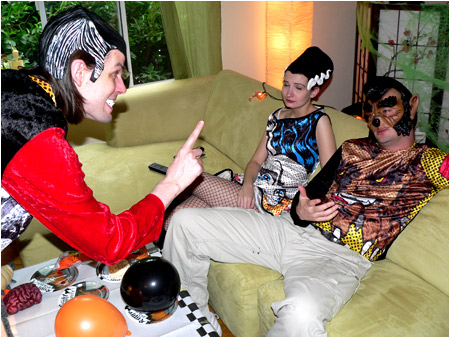 COUNT POP: OKAY GUYS, I KNOW YOU'RE ITCHIN' FOR SOME MORE INTOXICATING, RIP-ROARING PARTY FUN! I'LL BE RIGHT BACK!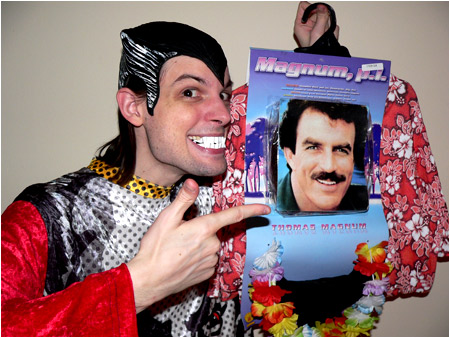 COUNT POP: CHECK THIS OUT, DADDIO! IT'S MY SUPER SPIFFY MAGNUM, P.I. HALLOWEEN COSTUME! I DIDN'T TELL THOSE TWO THAT THIS WAS A HALLOWEEN COSTUME PARTY AND BOY-OH-BOY ARE THEY EVER GONNA BE SURPRISED!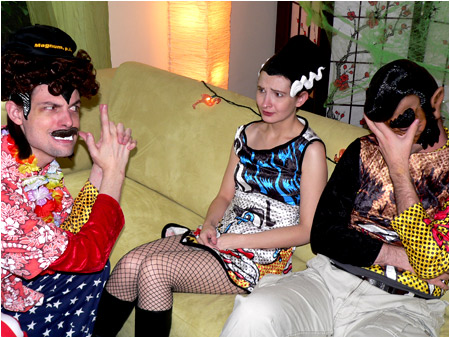 MAGNUM, P.I. POP: HEY THERE, IS THIS A CRIME SCENE!?
WEREWOLF POP: YOU HAVE *GOT* TO BE KIDDING ME!
POP BRIDE: WHY ARE YOU DRESSED LIKE MAGNUM, P.I.?
MAGNUM, P.I. POP: THAT'S MAGNUM, P.I. POP TO YOU MA'AM! I'M HERE ON A KOOKY CASE THAT'S ABOUT TO BE BUSTED WIDE OPEN! ALL I NEED IS YOUR HELP IN SOLVING IT!
POP BRIDE: SOLVING WHAT!?
MAGNUM, P.I. POP: WORD ON THE SKEDADDLIN' STREET IS THAT YOU TWO DIDN'T WEAR COSTUMES TO THIS COSTUME PARTY!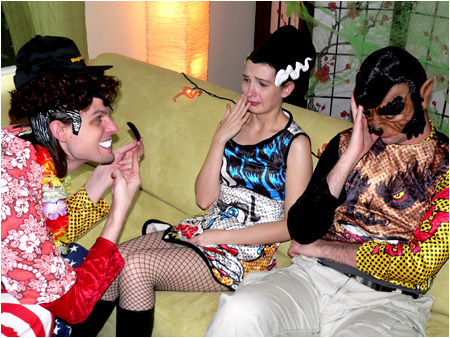 COUNT POP: HAHAHA! I'M JUST KIDDING GUYS! IT'S ME, COUNT POP! YOU THOUGHT I WAS MAGNUM, P.I. DIDN'T YOU!
POP BRIDE: NO NOT REA—
COUNT POP: I'M DRESSED UP LIKE THIS BECAUSE THIS IS THE COSTUME CONTEST PART OF MY HALLOWEEN HOOTENANNY HULLABALOO!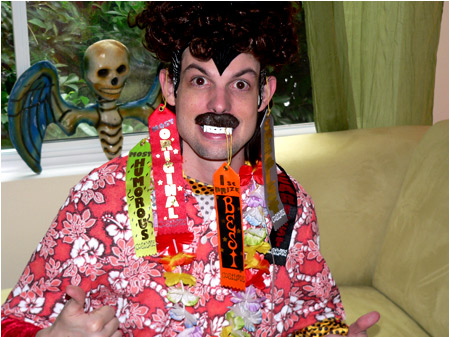 COUNT POP: BUT SINCE YOU GUYS DIDN'T DIDN'T WEAR ANY COSTUMES, I GUESS THAT MEANS I GET ALL OF THE COSTUME AWARDS! AWARDS LIKE MOST HUMOROUS COSTUME, MOST ORIGINAL COSTUME, SCARIEST COSTUME, AND EVEN 1ST PRIZE BEST COSTUME!!! GOSH, THE MAESTRO OF ALL THINGS POP HASN'T WON THIS MANY AWARDS SINCE FIELD DAY WAY BACK IN THE SECOND GRADE! I WAS REALLY GOOD AT THE THREE LEGGED RACE BECAUSE I BROUGHT A LEG OF LAMB WITH ME AND THEY COULDN'T ARGUE! THE LAMB LEG AND I CELEBRATED OUR VICTORY AND THEN I ATE IT! IT WAS SUCH A FINE DAY OF FIELDTASTIC FUNTIVITIES!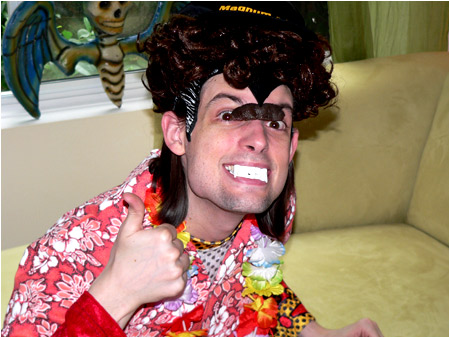 COUNT POP: SAY, DID YOU GUYS KNOW THAT THIS MACABRE MOUSTACHE HAS A MIND OF ITS OWN? SOMETIMES I'LL WAKE UP IN THE MORNING AND IT WON'T BE A MOUSTACHE ANYMORE, IT'LL BE A UNIBROW!
WEREWOLF POP: YEAH, THAT'S GREAT COUNT...
COUNT POP: I REALLY LIKE THIS HAWAIIAN SHIRT TOO! IT'S EVEN BETTER THAN HAWAIIAN PUNCH WHICH COMES FROM SPECIAL PUNCH TREES THAT ONLY GROW IN HAWAII! DID YOU GUYS KNOW THAT? ALOHA!
POP BRIDE: UH-HUH...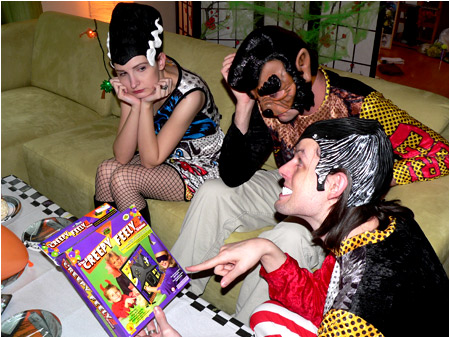 COUNT POP: DON'T WORRY GUYS! THERE'S PLENTY MORE TO BE WON WHILE WE HAVE FUN IN THE SUN!
POP BRIDE: BUT WE'RE INDOORS!
COUNT POP: AND THE SUN IS INVITED! CHECK THIS OUT! I GOT US A BRAND NEW PARTY GAME! IT'S CALLED "THE CREEPY FEELY GAME" AND IT'S ALL ABOUT FEELING THINGS THAT ARE CREEPY!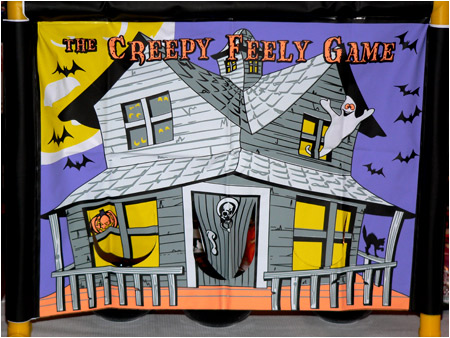 WEREWOLF POP: THIS ALREADY SOUNDS AW—
COUNT POP: AWESOME TO THE MAX! I KNOW!
WEREWOLF POP: NO I WAS GONNA SAY AWF—
COUNT POP: NO NEED TO THANK ME, LET'S START PLAYING!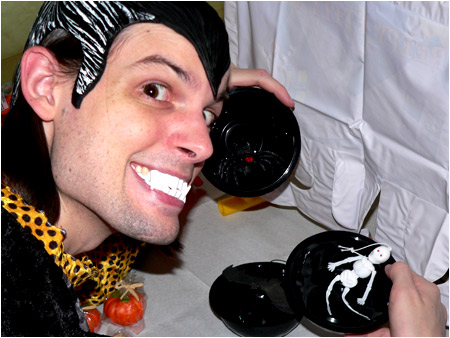 COUNT POP: SO I'M HERE BEHIND THE CREEPY FEELY WALL, ROCKIN' AROUND THE CLOCK TO PUT THESE KOOOKY CREATURES OUT FOR THEM TO READ THROUGH THE WALL AND FEEL! I BET THIS WILL BE A A SUPER HAIR-RAISING EXPERIENCE FOR THESE HEPCATS! AND POP BRIDE'S HAIR IS ALREADY RAISED PRETTY HIGH!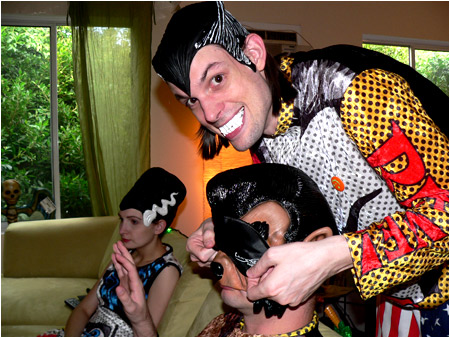 COUNT POP: BEFORE YOU PLAY, YOU HAVE TO WEAR THIS EYE MASK SO YOU DON'T KNOW WHAT YOU'RE FEELING, IT COULD BE A BUG, IT COULD BE THE CEILING!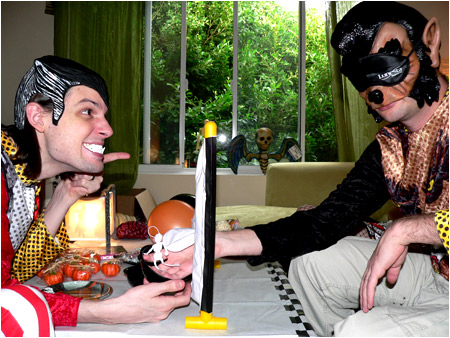 WEREWOLF POP: OK, THIS FEELS LIKE A CHEAP, PLASTIC TOY SKELETON...
COUNT POP: WHOAH THAT'S AMAZING! YOUR SENSES MUST BE SUPER-SENSUAL BECAUSE YOU GUESSED RIGHT!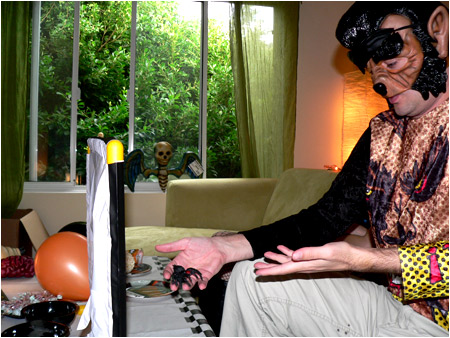 WEREWOLF POP: AND THIS FEELS LIKE A CHEAP, PLASTIC TOY SPIDER...
COUNT POP: IT'S LIKE YOU'RE A REAL PSYCHIC! TOO BAD I DON'T HAVE AN ELECTRONIC BUZZER LIKE DR. PETER VENKMAN IN GHOSTBUSTERS SO I COULD SHOCK YOU EACH TIME YOU MAKE A GUESS, EVEN IF YOU ANSWERED RIGHT! THEN I COULD ALSO LET THE PRETTY GIRL NEXT TO YOU GET AWAY WITHOUT GETTING SHOCKED JUST LIKE IN GHOSTBUSTERS! BECAUSE THAT'S WHAT FUNNY DOCTORS DO AND I'M THE HIPPEST DOOZIE OF A DOC YOU'LL EVER COME ACROSS!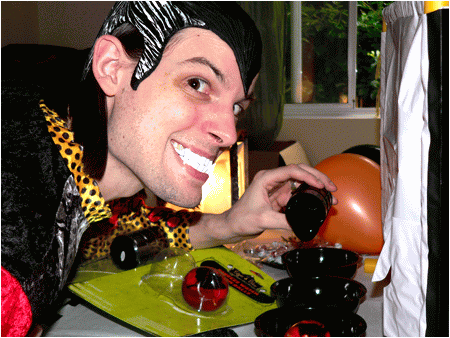 COUNT POP: FOR POP BRIDE I'M ACTUALLY PUTTING IN SOME GROSSER STUFF IN THE BOOGIE BOWLS LIKE BARRELS O' SLIME AND MAGGOT BALLS, BECAUSE MAKING GIRLS SQUEAL IS LIKE MAKING THE WORLD A BETTER BOPPIN' PLACE TO LIVE IN!
CLICK HERE TO CONTINUE TO PAGE 4
OF THE COUNT POP STORY!
---
help support I-Mockery by supporting our sponsors:

---
Running a big site like I-Mockery takes a lot o' time and costs moola too.
Want to help show your support?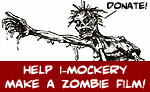 DONATE TO OUR ZOMBIE MOVIE!
Come talk about this piece & more on our Message Forums!
click here for more minimocks!

---


[Minimocks] [Articles] [Games] [Mockeries] [Shorts] [Comics] [Blog] [Info] [Forum] [Advertise] [Home]


Copyright © 1999-2007 I-Mockery.com : All Rights Reserved : ()
No portion of I-Mockery may be reprinted in any form without prior consent
We reserve the right to swallow your soul... and spit out the chewy parts.